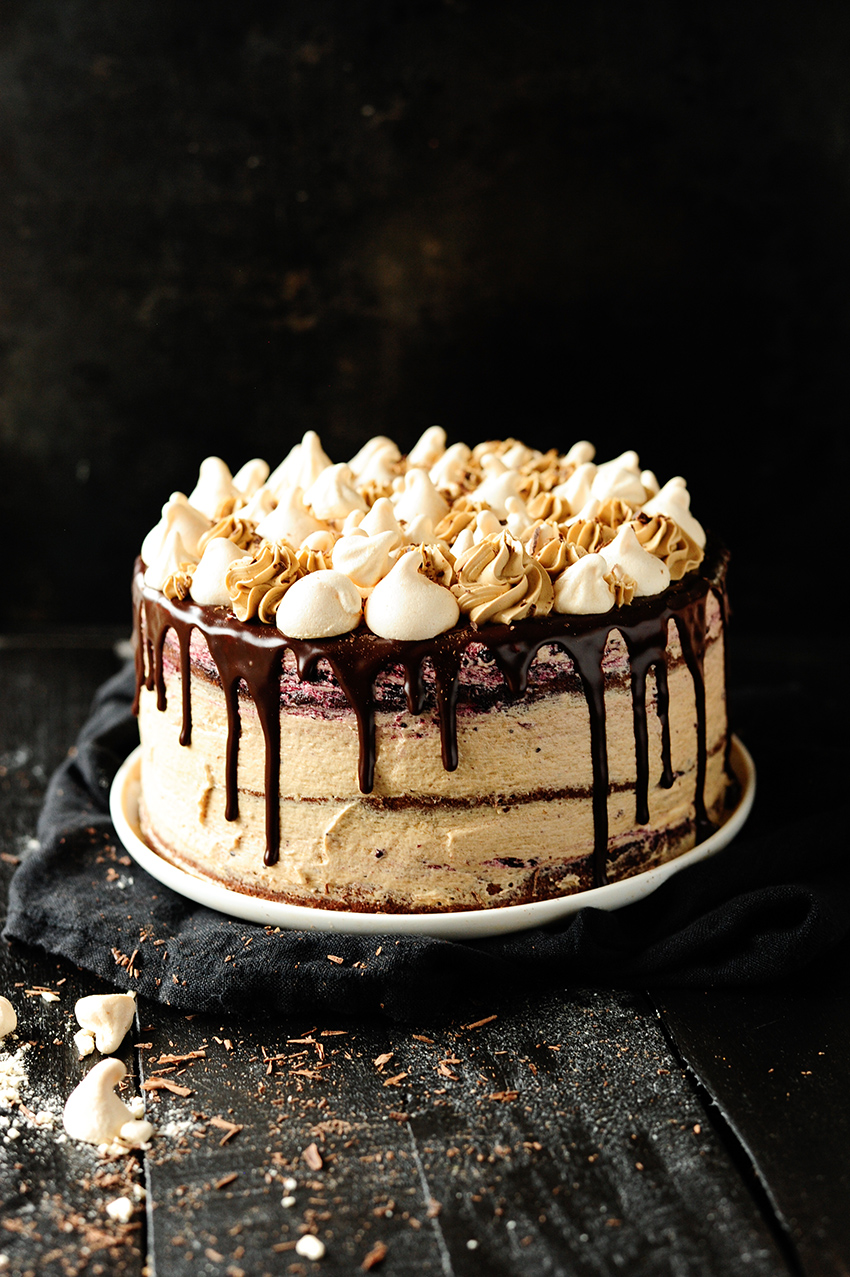 Weekends require a decadent cake and this three layer beauty is on the menu today. I'm pretty excited about this elegant and unique chocolate cake spread with a generous amount of blueberry jam and layered with a crunchy meringue. The cake is really amazing and super moist, but it would be nothing without this delicate Swiss meringue cream with a touch of coffee. It could be your next favorite cake, I hope you love it as much as I do!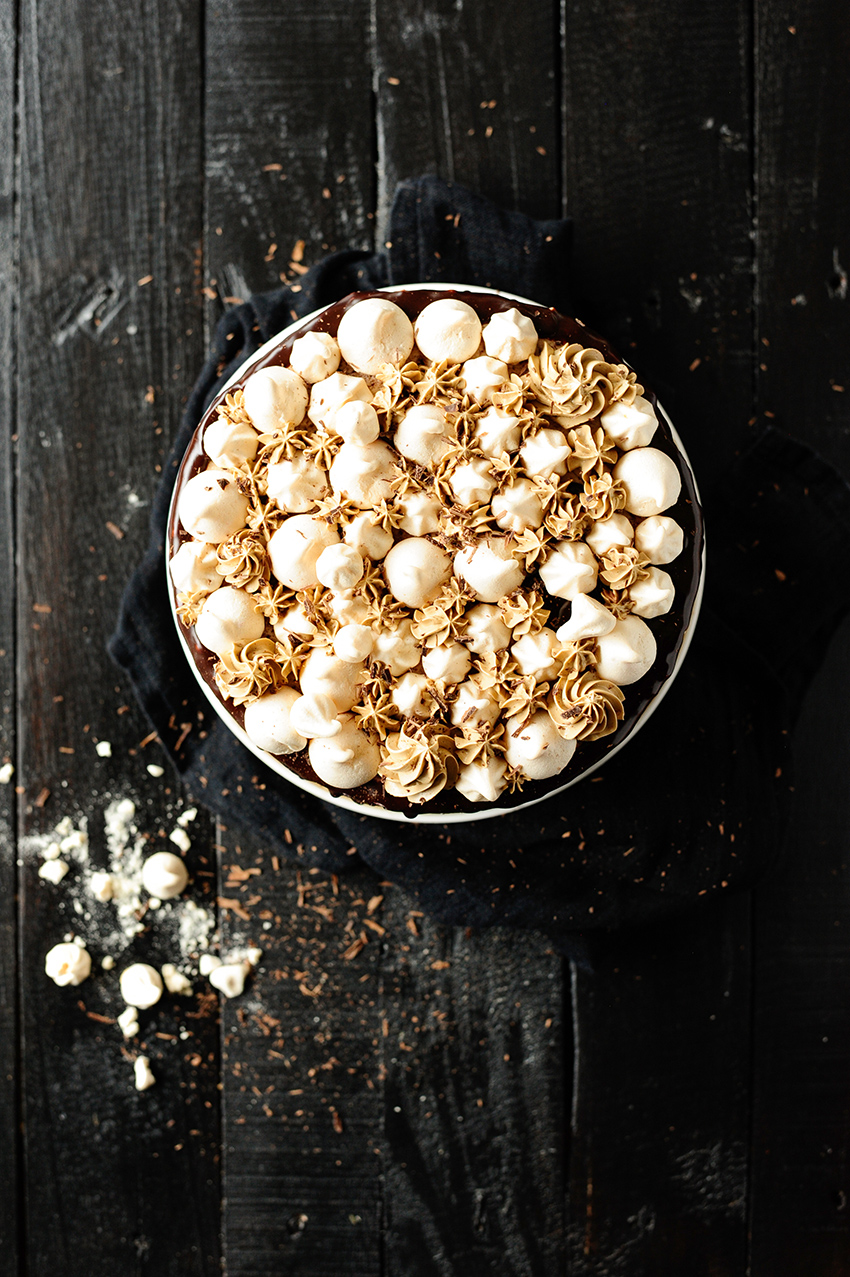 If you give this recipe a try, be sure to leave a comment or don't forget to tag me on Instagram. I'd love to see what you come up with.
Ingredients
chocolate sponge cake
50 g flour
50 g potato starch
4 organic eggs
40 g cocoa powder
1/2 teaspoon baking powder
150 g sugar
meringue
75 g egg whites
150 g sugar
pinch of salt
coffee Swiss meringue buttercream
120 g egg whites
200 g sugar
360 g butter, cut into small pieces
seeds from 1 vanilla pod
1 tablespoon milk
2 tablespoons instant coffee
blueberry jam
1 jar of blueberry jam (200 g)
30 ml water
1 teaspoon lemon juice
chocolate ganache
80 g dark chocolate
60 ml heavy cream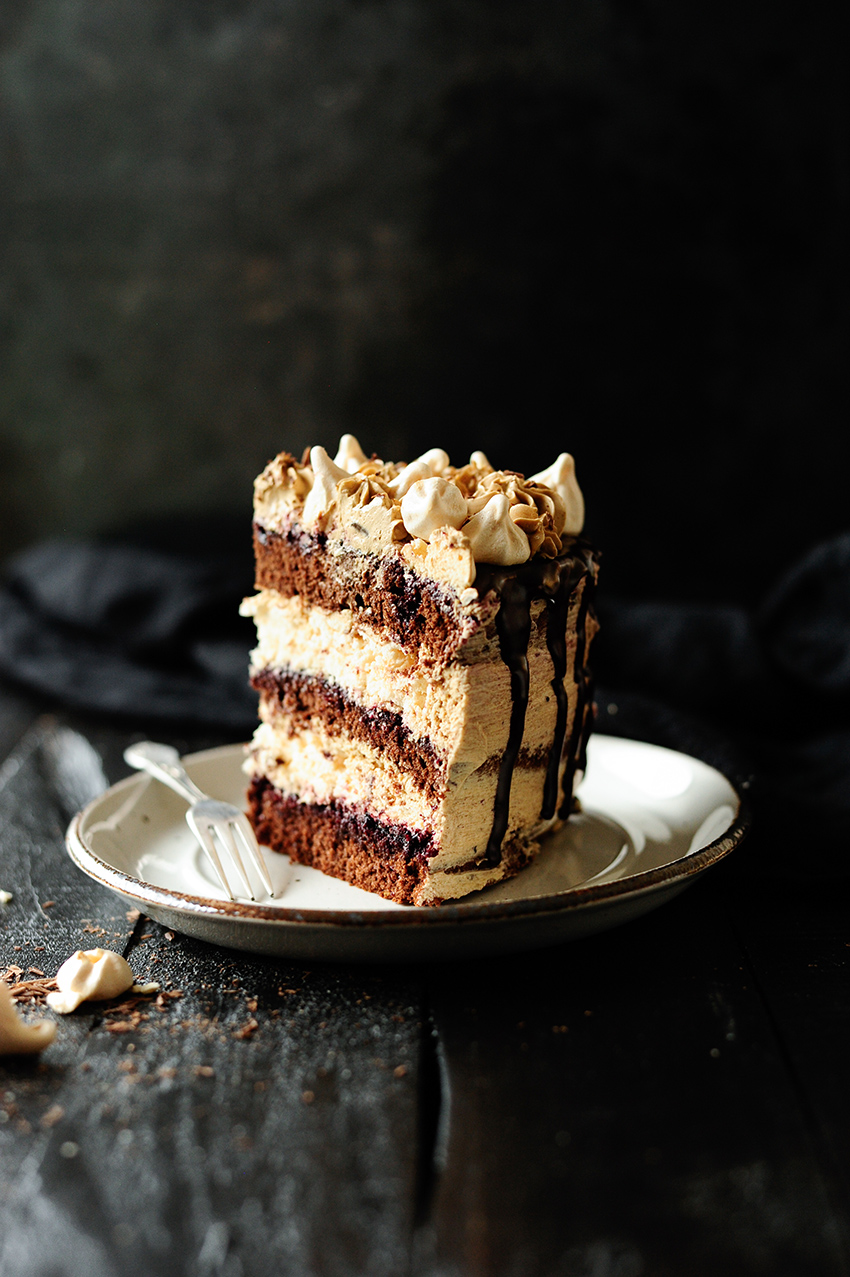 Instructions
chocolate sponge cake
Combine the flour with the potato starch, baking powder and cocoa powder.
Crack the eggs and beat the egg yolks with half of the sugar until a very light mixture. Beat the egg whites until stiff, then gradually add the remaining sugar, whisking constantly, until a stiff and shiny mixture. Add the egg yolks and gently stir with a spatula. Then sift the dry ingredients and stir gently with a spatula just until combined.
Line a 18 (or 20) cm springform with parchment paper and grease the sides with butter. Pour the batter and bake until a toothpick inserted into the center comes out dry, about  35-40 minutes at 170°C. Let cool completely.
meringue
Start to beat the egg whites, add salt and beat until fluffy. Then slowly add the sugar, little by little, beating constantly until a thick and glossy meringue mixture.
Prepare 2 sheets lined with baking paper and draw two 17 (or 19) cm circles. Put three tablespoons of the mixture on the drawn circles and smooth the top. Put the rest of the mixture into a piping bag with a decorative tip and squeeze tiny meringues for the decoration.
Place the meringue in the oven preheated to 150°C, after 5 minutes, reduce the temperature to 110°C and dry for 60 minutes with the door slightly open. Then reduce the temperature to 100°C and dry further for 120 minutes with the door slightly open.
Turn off the oven, close the door and leave the meringue to cool completely. If you have the time, make the meringue the day before and leave to dry overnight.
coffee Swiss meringue buttercream
Dissolve the coffee in warm milk. Place the egg whites into your mixer bowl, add the sugar and place the bowl over a saucepan with simmering water. Stir constantly with a whisk until all sugar is dissolved. It takes about 3 to 5 minutes. Rub the egg whites between your fingers, when sugar has dissolved, it's ready. Transfer the bowl to the mixer and start beating using a whisk attachment until glossy stiff peaks form and the bowl is cool. This takes about 10 minutes. Remove the bowl and start gradually, piece by piece, adding butter, beating with a hand mixer on the smallest gear. First, it will get curdled, but keep mixing on low until smooth and silky. At the end add the vanilla and coffee.
jam
Put the blueberry jam into a saucepan, add water and lemon juice and heat over low heat.
chocolate ganache
Put the chocolate and the cream in a saucepan and heat over low heat. Stir until a smooth chocolate sauce.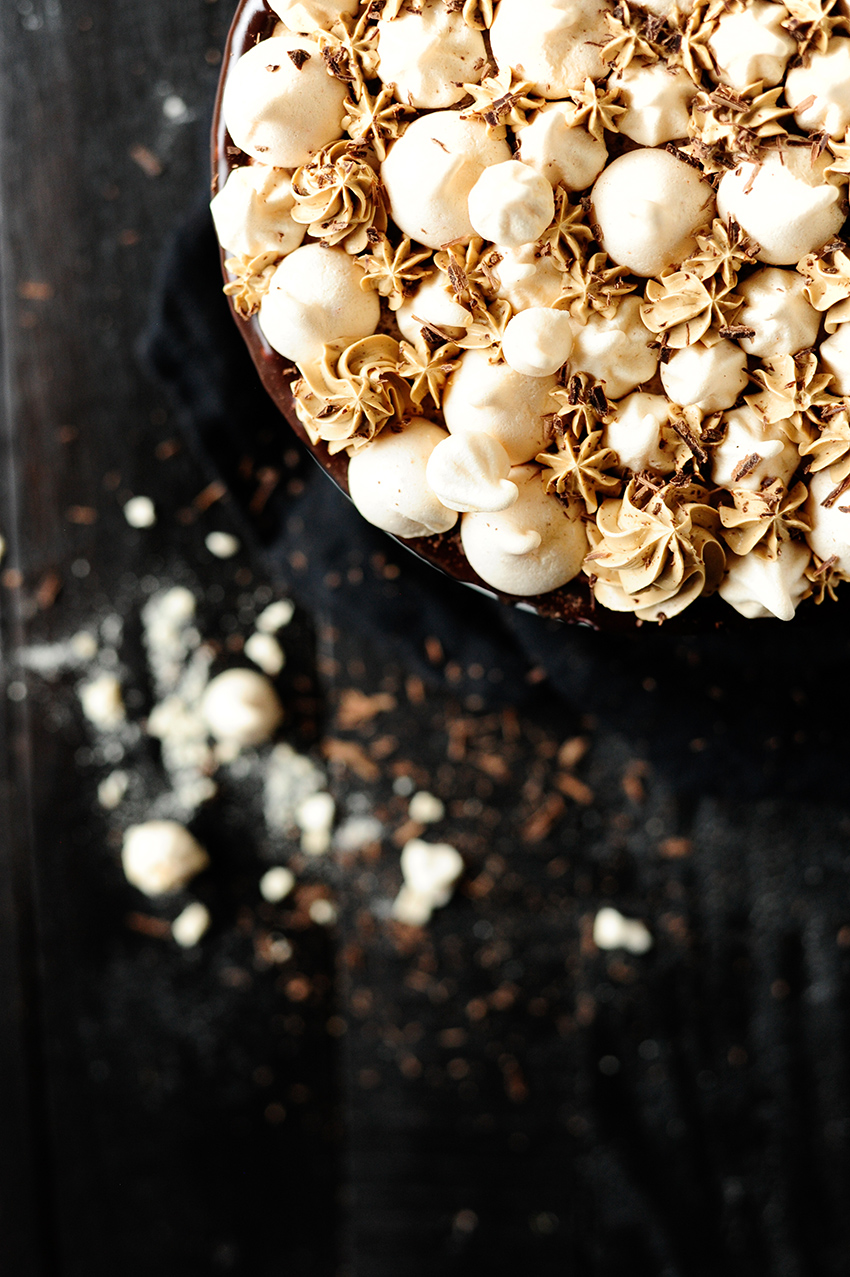 To assemble cut the cake into three layers, place one layer, flat side up, on a plate or cake stand, spread 3 tablespoons of blueberry jam, then 2 tablespoons buttercream, place the meringue and spread with 2 tablespoons buttercream. Place the second cake layer, spread with jam, then the buttercream, put the meringue and spread with buttercream. Add the third cake layer and spread with jam.
Cover the top and sides of the cake with a thin layer buttercream, pour the ganache over the top, decorate with the mini meringues and the remaining buttercream. Chill 30 minutes or until ready to serve. Enjoy!

//= __('Print recipe (no photos)', 'servingdumplings' );?> //= __('Print recipe (with photos)', 'servingdumplings' );?>