Chicken chili with pumpkin. Surprisingly delicious, made with ground chicken, white beans and meltingly tender pumpkin chunks. It only gets better when jazzed up with smokey chipotle peppers for a nice spicy punch. Together these ingredients create a rich chili that's wholesome and flavorful. This simple chicken chili is made all in one pot and a real crowd pleaser. Your table guests will go nuts about it!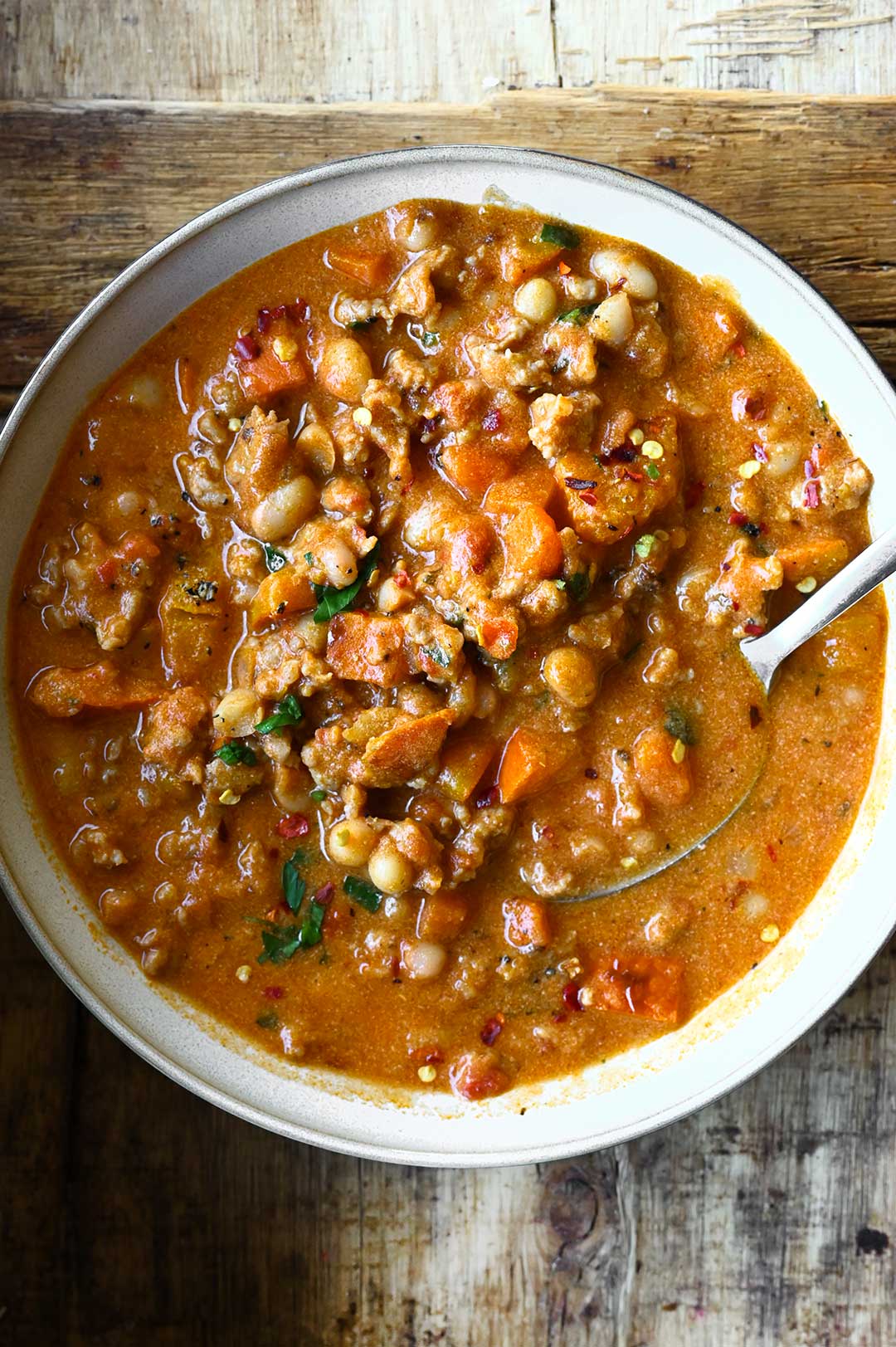 There's so much flavor in a simple and easy cooking recipe where the pumpkin is the key ingredient. It adds a little earthiness and a subtle sweetness, it makes the chili rich, without being overly heavy. And adding pumpkin is a delightful surprise.
This chili is perfect for game day, family dinners, and any night in between. Made with a blend of herbs, chipotle peppers and juicy ground chicken. It's spicy, creamy and so delicious. Top each bowl with plenty of cheese, cilantro or scallions.
Let me guide you through the recipe with this step-by-step VIDEO.
THIS IS HOW WE MAKE IT
We start by cooking the pumpkin until nicely browned. Next we add onion, garlic and vegetables, then cook until they smell fragrant. For the seasonings, we're using smoked paprika, cumin, oregano, thyme and chipotle.
Next, ground chicken goes in, followed by chicken broth and crushed tomatoes. We simply simmer everything until a nice rich thick chili.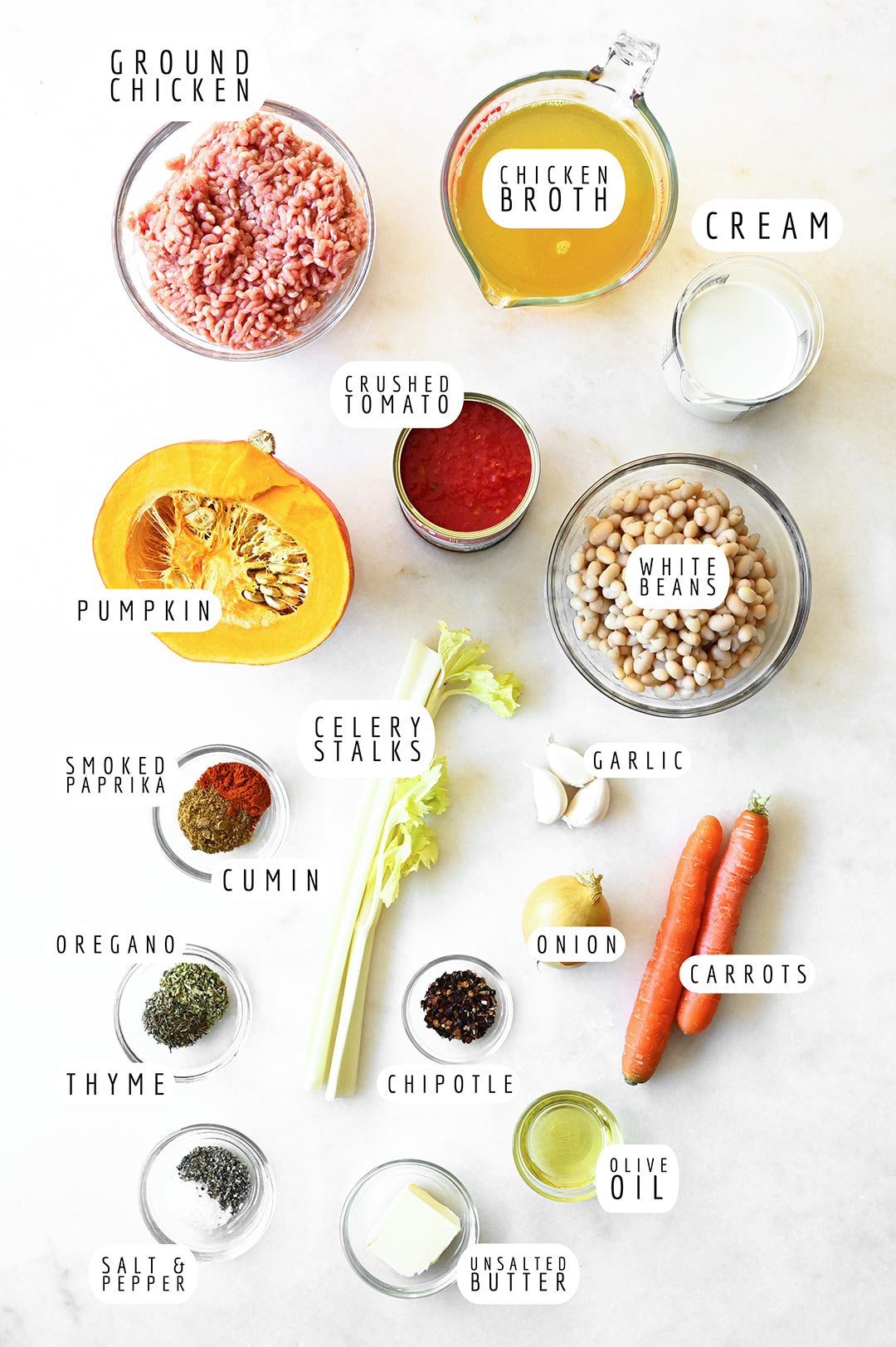 Here's What You Need
Pumpkin: For best result, use a pumpkin or squash variety with a soft skin like Hokkaido pumpkin or Red Kuri squash. You can also use pre-cut pumpkin cubes.
Ground chicken: It becomes super tender and juicy when cooked down. But, you can use ground beef or pork to replace it.
Onion, garlic, celery stalks and carrots: They are the flavor base.
Seasonings: salt, black pepper, smoked paprika, oregano and thyme, for a nice flavor blend. We also use chipotle pepper flakes for a smoky spicy kick, if you can't find it, use chili powder or chili flakes.
Chicken broth: It adds so much flavor, the chili would never taste the same if we'd use water.
Crushed tomatoes: They have a smooth texture and add thickness that's ideal for the chili.
White beans: You can also use cannellini beans, black beans or kidney beans.
Cream: Use a lighter version, like 20% fat or half-and-half.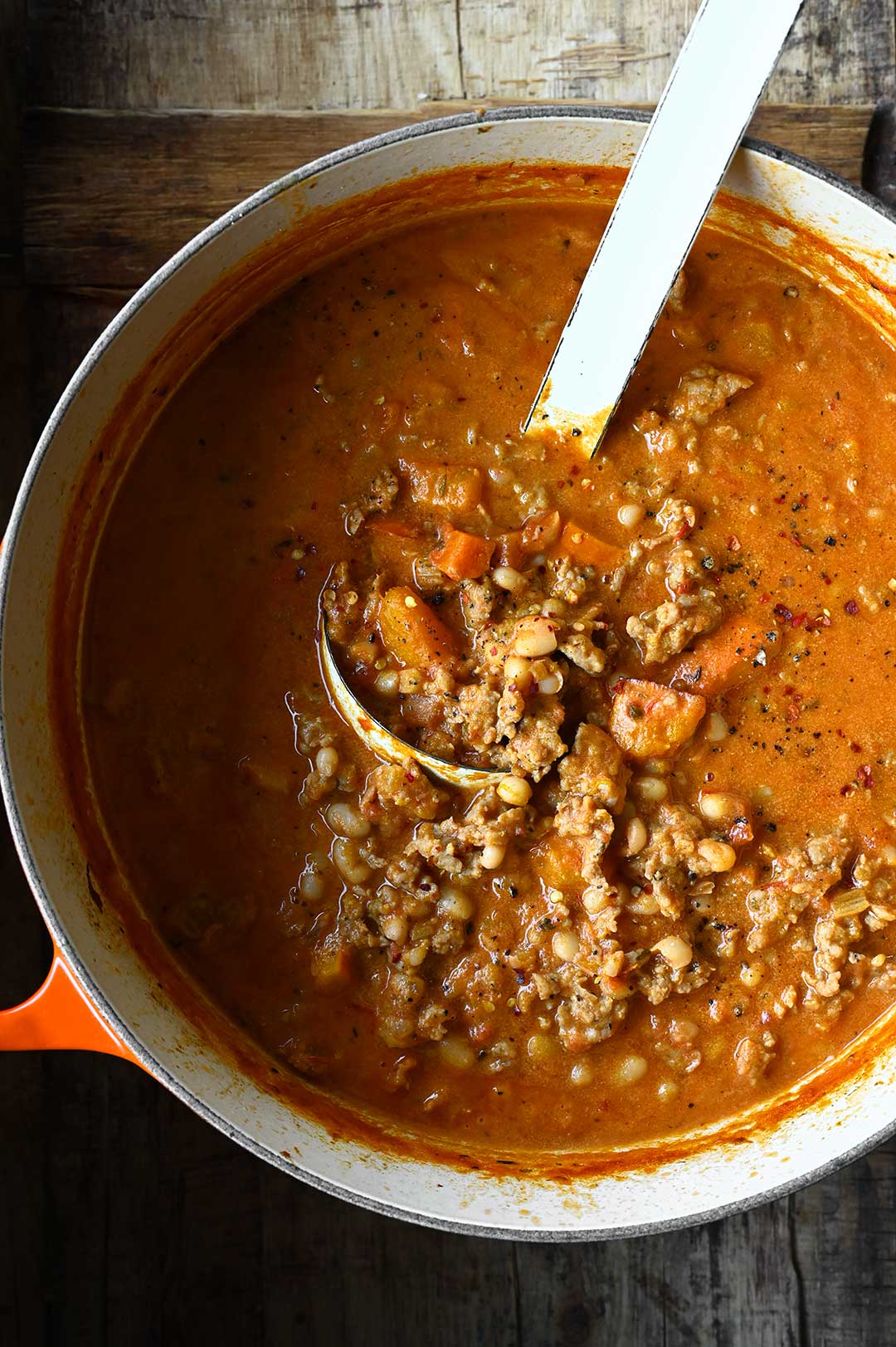 RECIPE NOTES
It's super easy to make this chili vegetarian. Just swap out the ground chicken for an extra can of beans or lentils. And use vegetarian broth instead of chicken broth.
As with any other chili, the toppings are key. You can add a dollop of Greek yogurt, cheddar cheese, cilantro, avocado or scallions.
This is not a spicy recipe, it's only as spicy as the amount of chili peppers you use. If you want to add more heat, feel free to add more chipotle peppers or dice up some jalapeños and sauté them together with onion and garlic.
Make ahead: You can make this chili 1 day before serving, refridgirate and simply reheat on the stovetop.
Storage: The chili will keep for 3 days in the fridge.
Freezing: This chili freezes very well!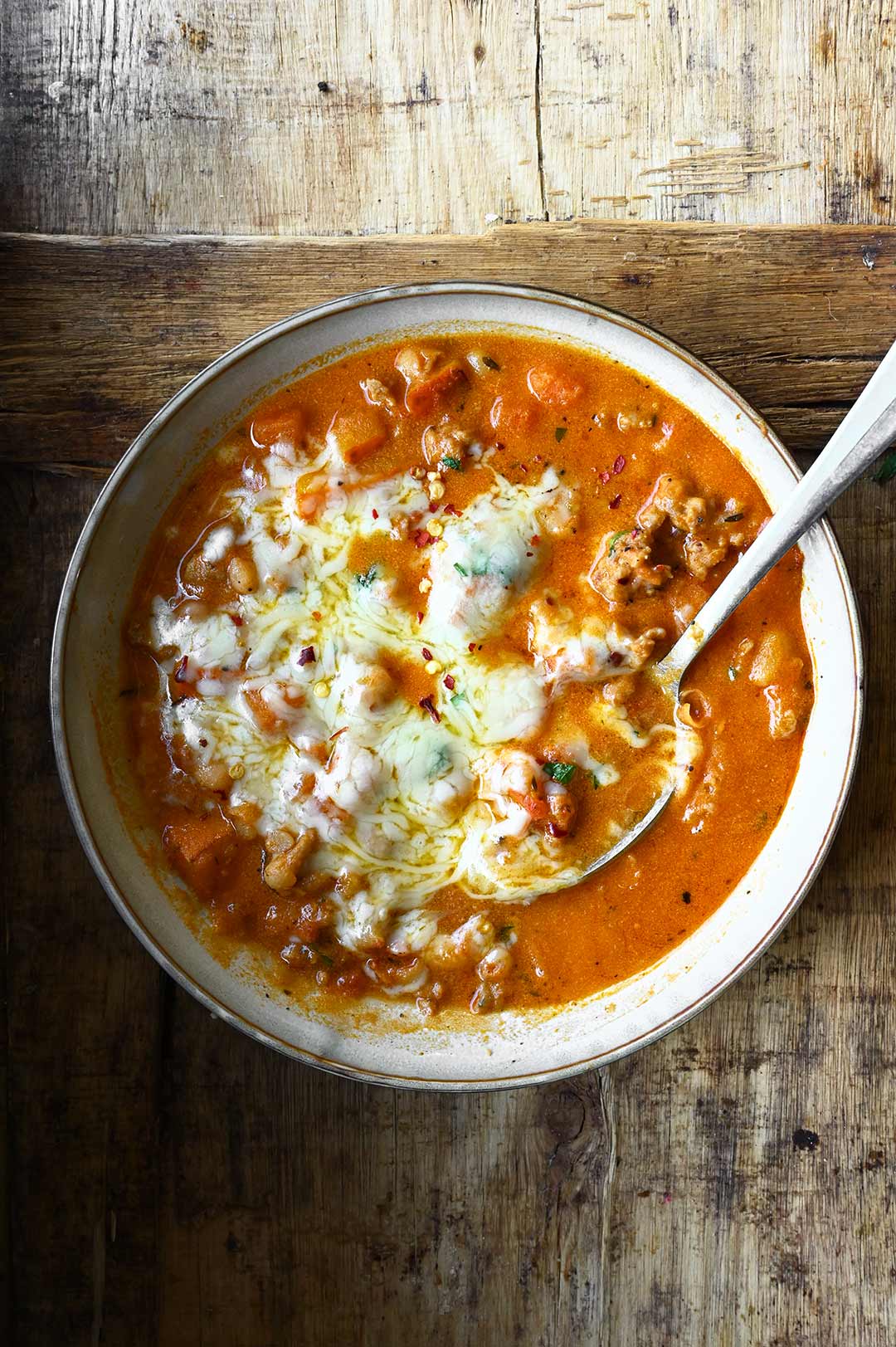 TRY THESE NEXT
COOKING VIDEO
Yield: serves 4
Chicken Chili with Pumpkin
Ingredients
1 tbsp olive oil
1 tbsp unsalted butter
½ small pumpkin, with skin, seeded (like hokkaido pumpkin/red kuri squash)
1 onion, finely chopped
3 garlic cloves, minced
2 carrots, peeled and chopped
2 celery stalks, chopped
1 tbsp dried thyme, dried oregano, smoked paprika, ground cumin,
1 tsp salt, black pepper, chipotle pepper flakes
1 ½/700 g pounds ground chicken
2 cups/500 ml chicken broth
1 can (14 oz/400 g) crushed tomatoes
1 can (14 oz/390 g) white beans, drained
½ cup/120 ml cream 20% fat
Instructions
Get the prep done before you start cooking. Cut the pumpkin into bite-sized pieces, finely chop the onion, celery stalks and carrots. Mince the garlic cloves.
Heat a large heavy bottomed pot over medium. Add oil, butter and pumpkin cubes. Cook until it starts to brown and soften, about 5 minutes. Add garlic, onion, celery and carrots. Cook for 3 minutes until fragrant.
Stir in salt, pepper, thyme, oregano, paprika, chipotle pepper and cumin.
Add ground chicken, break up into pieces and cook until nicely browned.
Pour in chicken broth, add crushed tomatoes and white beans. Give it a good stir and bring to a boil. Cover, reduce heat and simmer for 20-30 minutes until slightly thickened.
Before serving, stir in cream and adjust salt to taste. Serve hot with your favorite toppings. Enjoy!
Notes
Calories Per Serving: 566 kcal
Nutritional information is only an estimate. The accuracy of the nutritional information for any recipe on this site is not guaranteed.