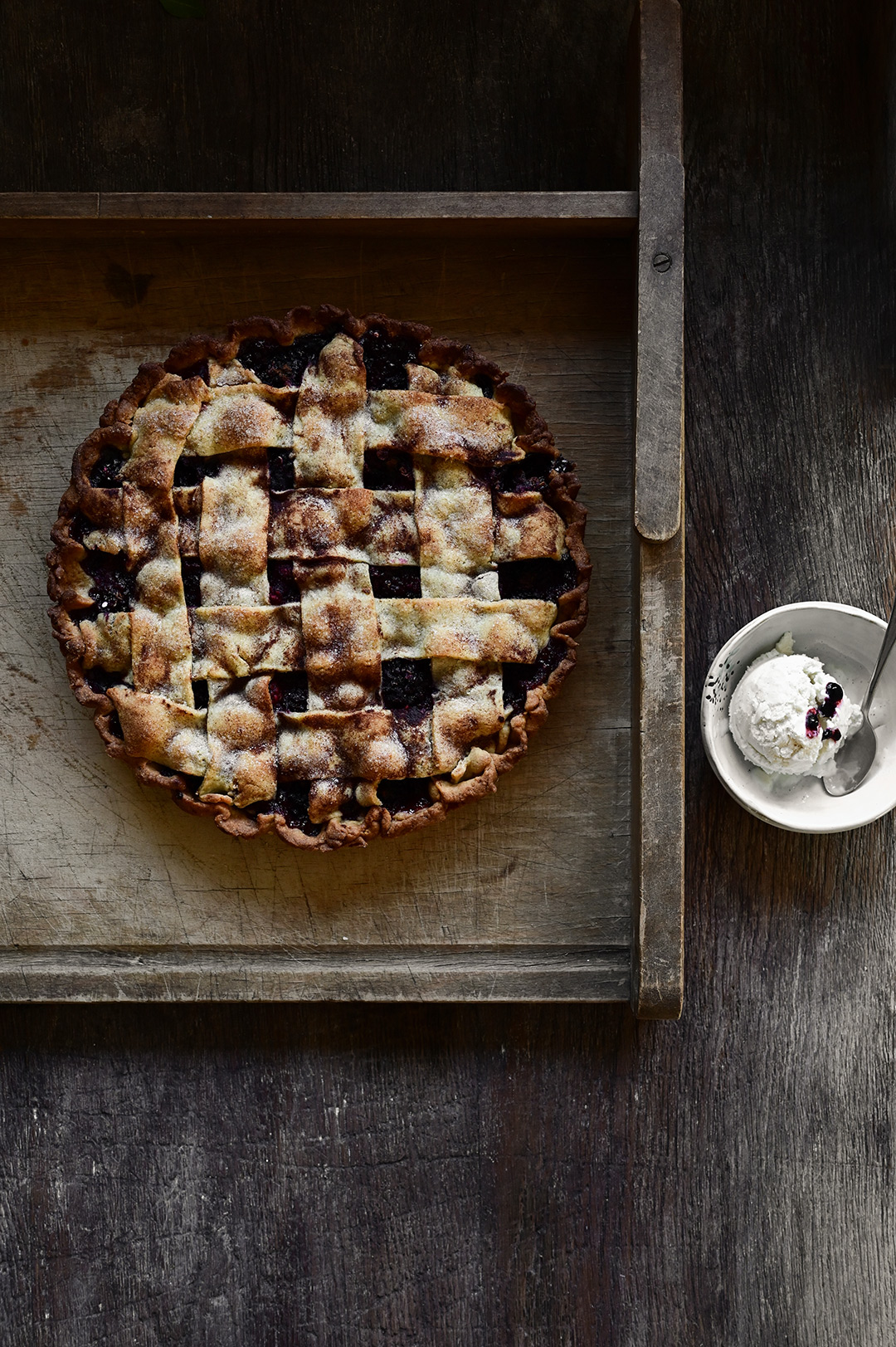 Blackberry pie to end the berry season.
There is something special about the light and the air this time of year. The days are getting shorter but are still bright, the air is crisp and the temperatures are dropping a little but are still comfortable. This is my favorite season and I've come to realize that I just picked the very last blackberries and raspberries in my garden. They were perfectly ripe and just begging to get thrown into a pie. 
I love to add a little extra taste and the delicate frangipane goes so wonderfully well together with the berries. The trick for a perfect pie is binding the berries enough to keep them together in a neat slice, therefor I combined the fruit with oats to soak up the juices instead of using starch.
This pie with a perfectly crunchy lattice crust and a thin layer of buttery frangipane filling is really amazing. No matter what, you need to taste this wonderful treat.
Ingredients
pie crust
200 g all-purpose flour
60 g spelt flour
120 g cold butter
1 large egg
80 g icing sugar
20 g vanilla sugar
pinch of salt
frangipane filling
60 g ground almonds
45 g soft butter
45 g sugar
1/2 tsp potato starch
1 egg yolk
seeds from 1/2 vanilla pod
1 tbsp almond liqueur
blackberry filling
500 g blackberries (it can be a mix of blackberries with raspberries or blueberries)
80 g sugar
50 g instant oats
1 tbsp lemon juice
1/2 tsp cinnamon
to finish
egg wash
brown sugar for sprinkling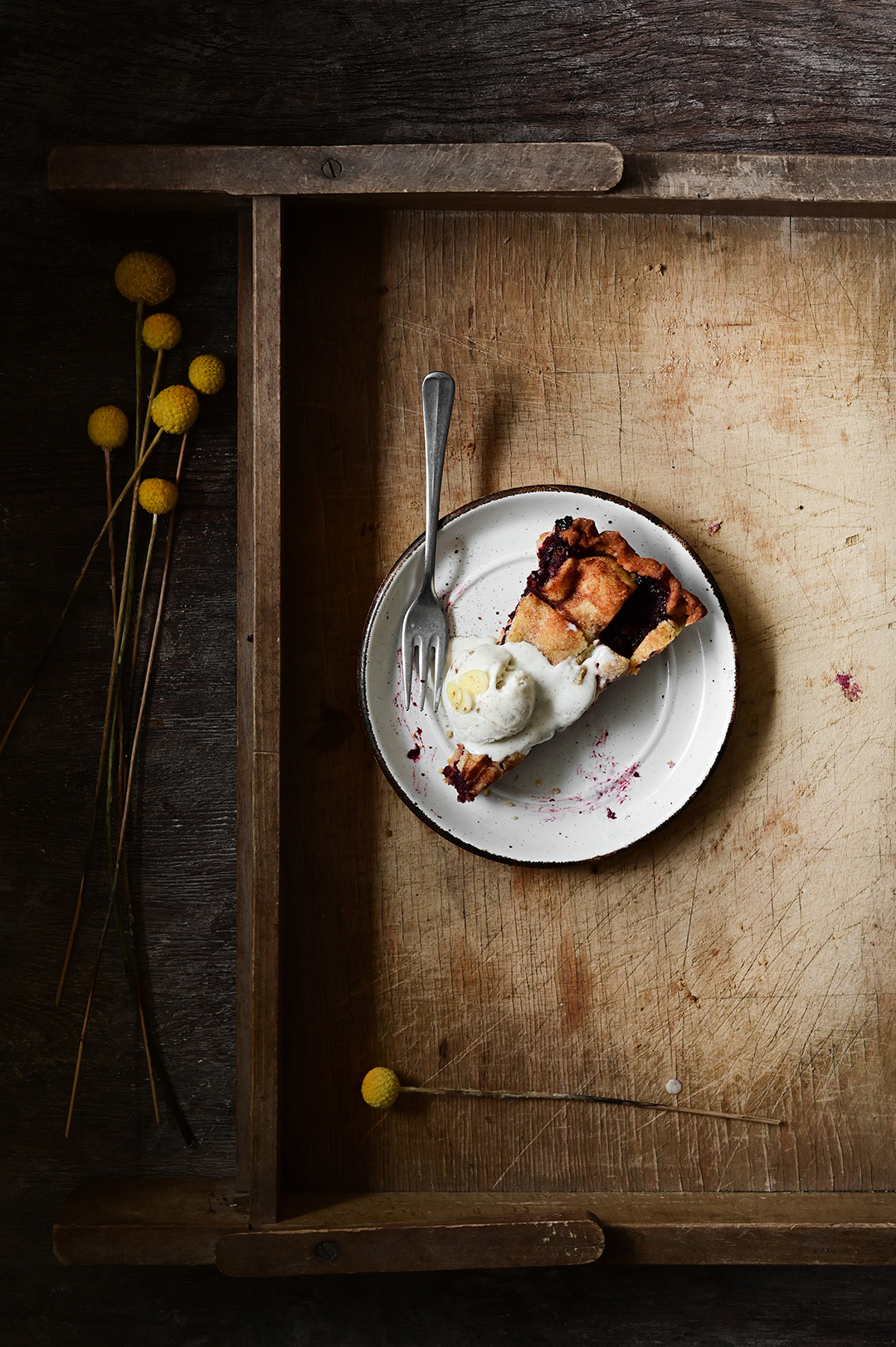 Instructions
In a large bowl, stir the butter with sugar, salt and flour. Add the egg and knead the dough. Divide the dough into two pieces, one slightly bigger than the other. Flatten into discs, wrap in cling film and place in the fridge for at least 30 minutes.
In the meantime, make the frangipane filling. Combine the butter with the sugar, add the rest of the ingredients and stir until smooth.
Combine the berries with the sugar, oats, cinnamon and lemon juice. Set aside.

Remove the dough from the fridge. Grease a 23 cm pie pan and sprinkle with flour. Roll out the bigger piece of the dough to a large circle and place into the pan. Crimp the edges and prick the bottom with a fork. Spoon the frangipane filling into the pie pan and cover with the berry filling.
Roll out the second piece of the dough and cut into strips. Place the strips in a lattice pattern on top of the filling.

Brush the top of the pie with egg wash and sprinkle with brown sugar. Bake for 45 minutes at 180°C. Remove the pie from the oven and let cool completely before serving with vanilla ice cream. Enjoy!

//= __('Print recipe (no photos)', 'servingdumplings' );?> //= __('Print recipe (with photos)', 'servingdumplings' );?>