Ondanks het feit dat ik heel graag vis eet, lijkt het erop dat ik op mijn blog niet zo veel visrecepten te vinden zijn. Ik weet niet waarom, maar het is tijd om dit te veranderen.
Deze zalm met asperges, lookboter en citroen is een echte winnaar. Gemaakt in 1 pan en klaar in slechts 20 minuten! Het is overigens makkelijk te maken, smaakvol en gezond. En niet te vergeten, het opruimen is echt een makkie! Eén pan = minimale afwas. Behoorlijk indrukwekkend, nietwaar?!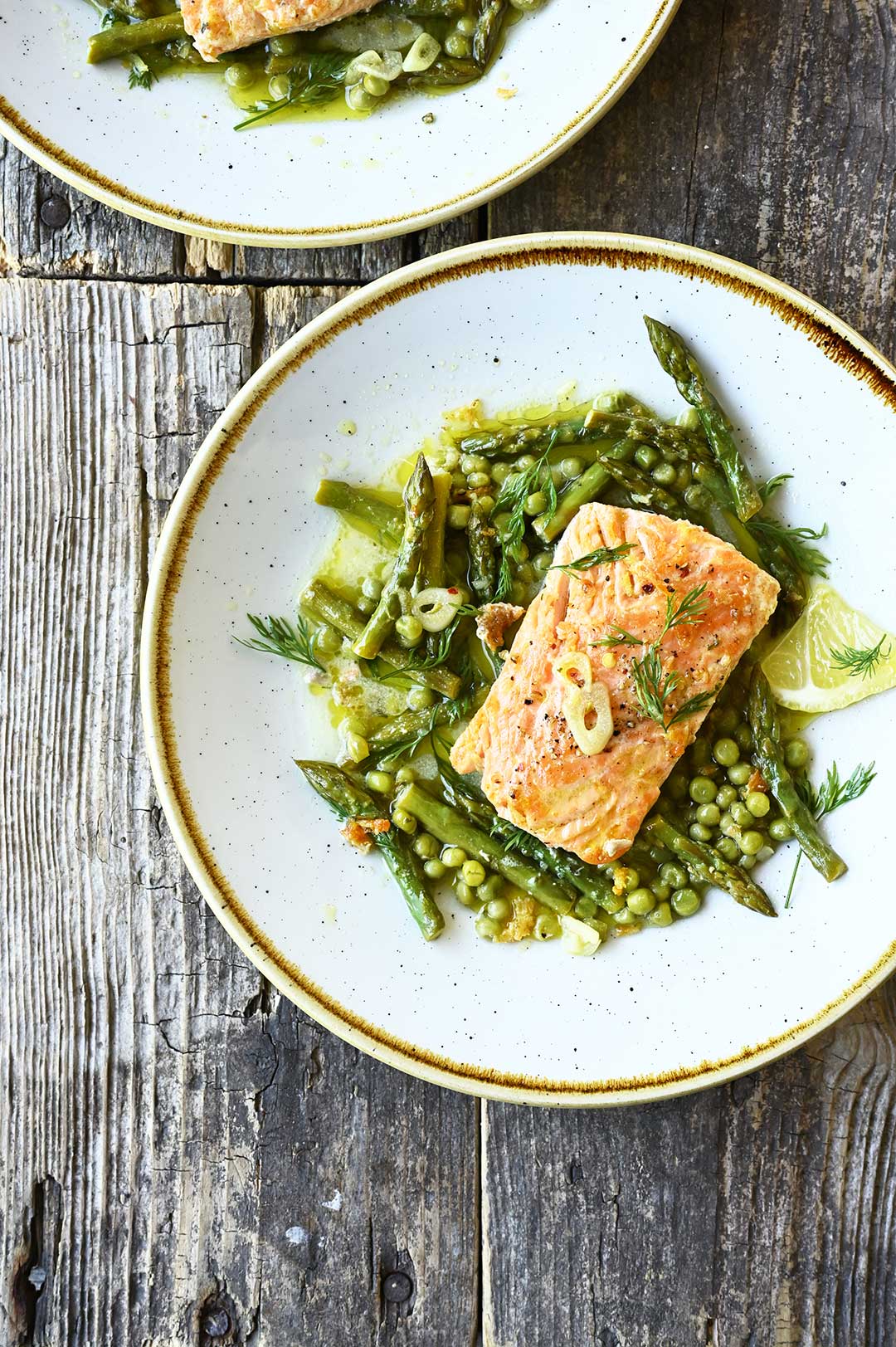 De gebakken zalm is knapperig aan de buitenkant en mals van binnen. Asperges, een handvol erwtjes en een vleugje citroen geven aan dit gerecht een frisse lentetoets.
In principe heeft dit gerecht alles waar je naar verlangt aan het einde van een lange dag. Een heerlijke, snelle en gezonde maaltijd.
Geen asperges bij de hand? Geen probleem, spinazie, broccoli of boerenkool werken hier prima.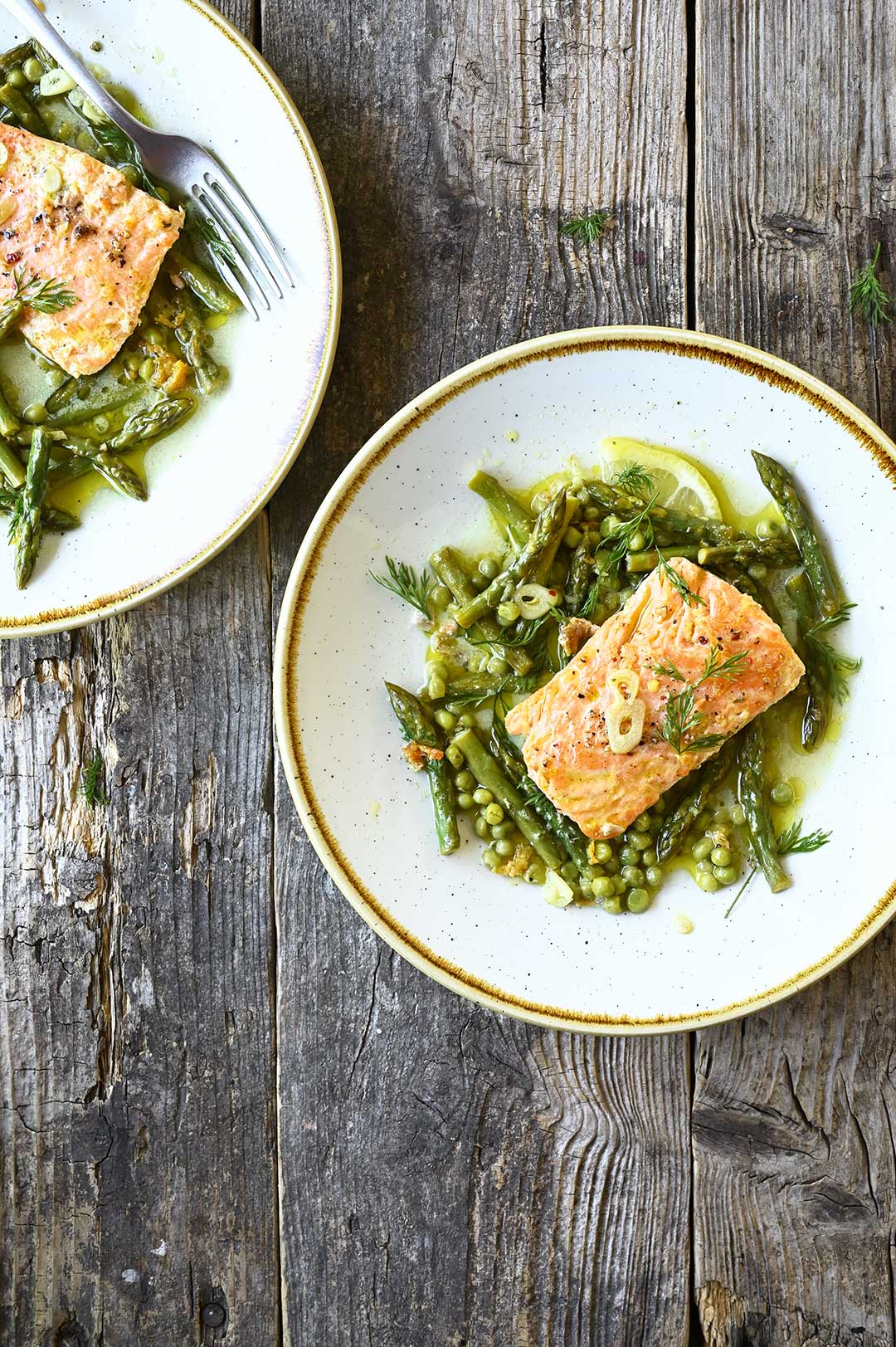 Wil je op de hoogte blijven van mijn nieuwe recepten? Abonneer je dan op mijn NIEUWSBRIEF.
Dit heb je nodig
2 zalmfilets, zonder vel
100 g asperges
50 g erwten, vers of uit de diepvries
4 tenen knoflook, fijngehakt
2 el citroensap
1/2 tl citroenzeste
2 el olijfolie
30 g boter
200 ml groentebouillon
zeezout + zwarte peper
2 el gehakte dille
Zo maak je het
Dep de zalmfilets droog met keukenrol en bestrooi beide zijden met zout en peper. Knijp ongeveer 1/2 tl citroensap over elk stukje vis.
Verhit de olie in een grote koekenpan met antiaanbaklaag op middelhoog vuur. Leg de zalmfilets erin. Bak gedurende 3 minuten tot ze goudkleurig en knapperig zijn.
Draai om en bak nog 2 minuten verder. Haal de filets eruit en leg ze op een bord.
Zet het vuur lager en smelt de boter. Fruit de knoflook, voeg dan asperges en erwten toe, laat het geheel 2 minuten koken. Voeg citroensap en zeste erbij en blus met groentebouillon, waarbij je de eventuele bruine stukjes van de pan afschraapt. Breng het geheel aan de kook en reduceer het vocht tot ongeveer de helft, gedurende 5 minuten. Proef en breng op smaak met zout en peper, voeg desgewenst meer citroensap toe.
Doe de zalmfilets terug in de pan en laat ze even meekoken, gedurende 2 minuten. Werk af met citroenschijfjes en gehakte dille. Smakelijk.
Als je dit recept uitprobeert, laat dan hieronder een reactie achter of deel je foto's op Instagram en vergeet niet om mij te taggen @anna_s_table. Ik kijk ernaar uit!