Dit overheerlijk eenpansgerecht met zalm is niet alleen een streling voor het oog maar is ook nog eens makkelijk te maken en klaar in 30 minuten. De knapperig geschroeide zalm is gestoofd in een romige kokossaus rijkelijk gevuld met groenten en gegarneerd met wat verse basilicum. En ja… natuurlijk ook wat extra chilivlokken! Eén ding is zeker, deze maaltijd zal echt niemand aan tafel onberoerd laten.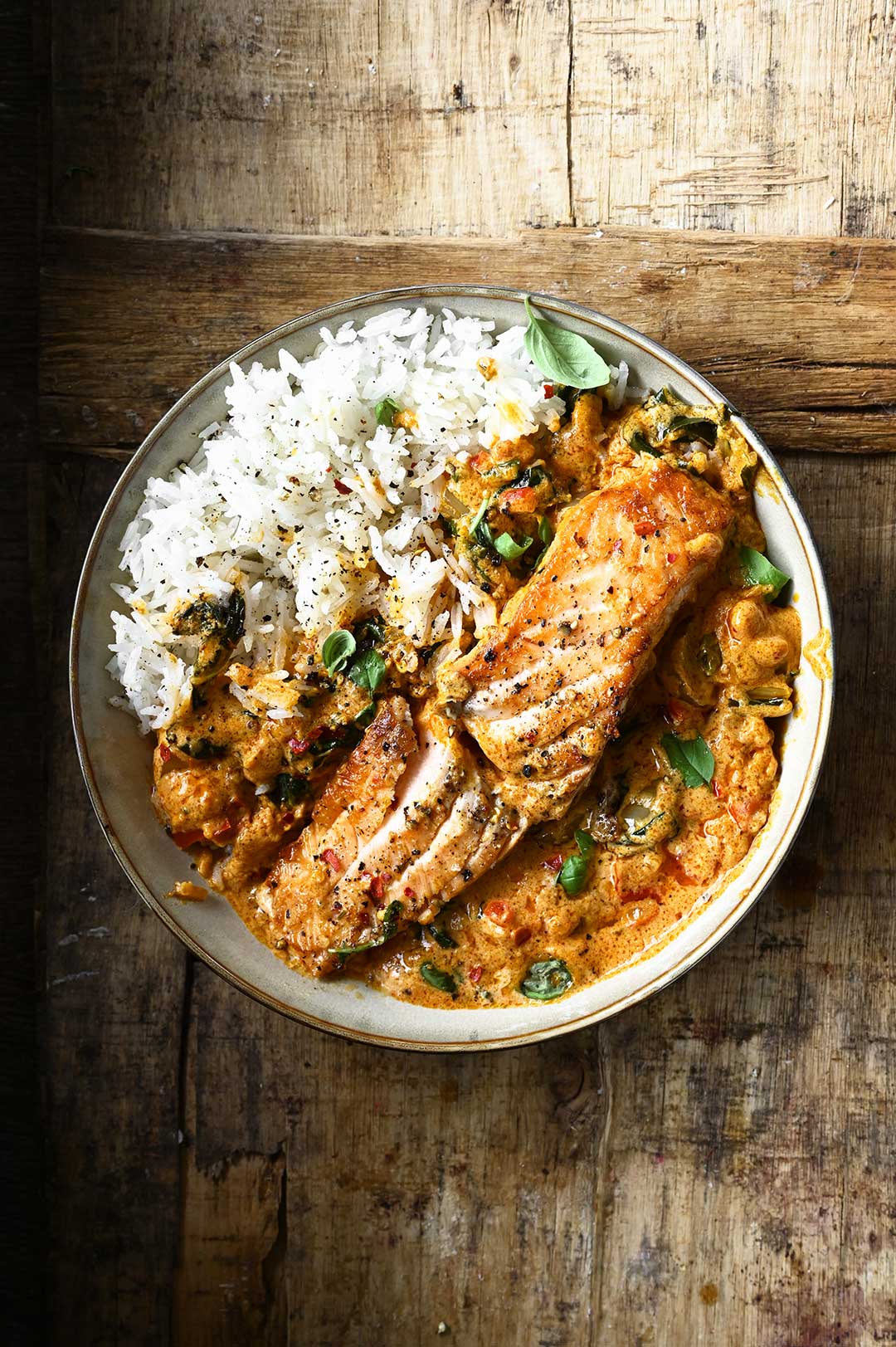 Dit gerecht is een absolute aanrader voor een doordeweekse avond of op je volgende dinner party. De zoete, pittige combinatie van rode curry, kokosmelk en pindakaas is om duimen en vingers af te likken. We voegen ook een vleugje vers citroensap toe om de andere smaken mooi af te ronden. 
En dit is hoe we het maken. We schroeien de zalmfilets, sauteren wat paksoi en paprika (of andere groenten die je in huis hebt), roeren er wat kokosmelk en kruiden doorheen om de ultra hartelijke en romige currysaus te maken. We serveren dit gerecht met rijst, garneren met basilicum of verse koriander en wat extra chilivlokken.
Bekijk mijn VIDEO om te zien hoe makkelijk je dit gerecht kan maken.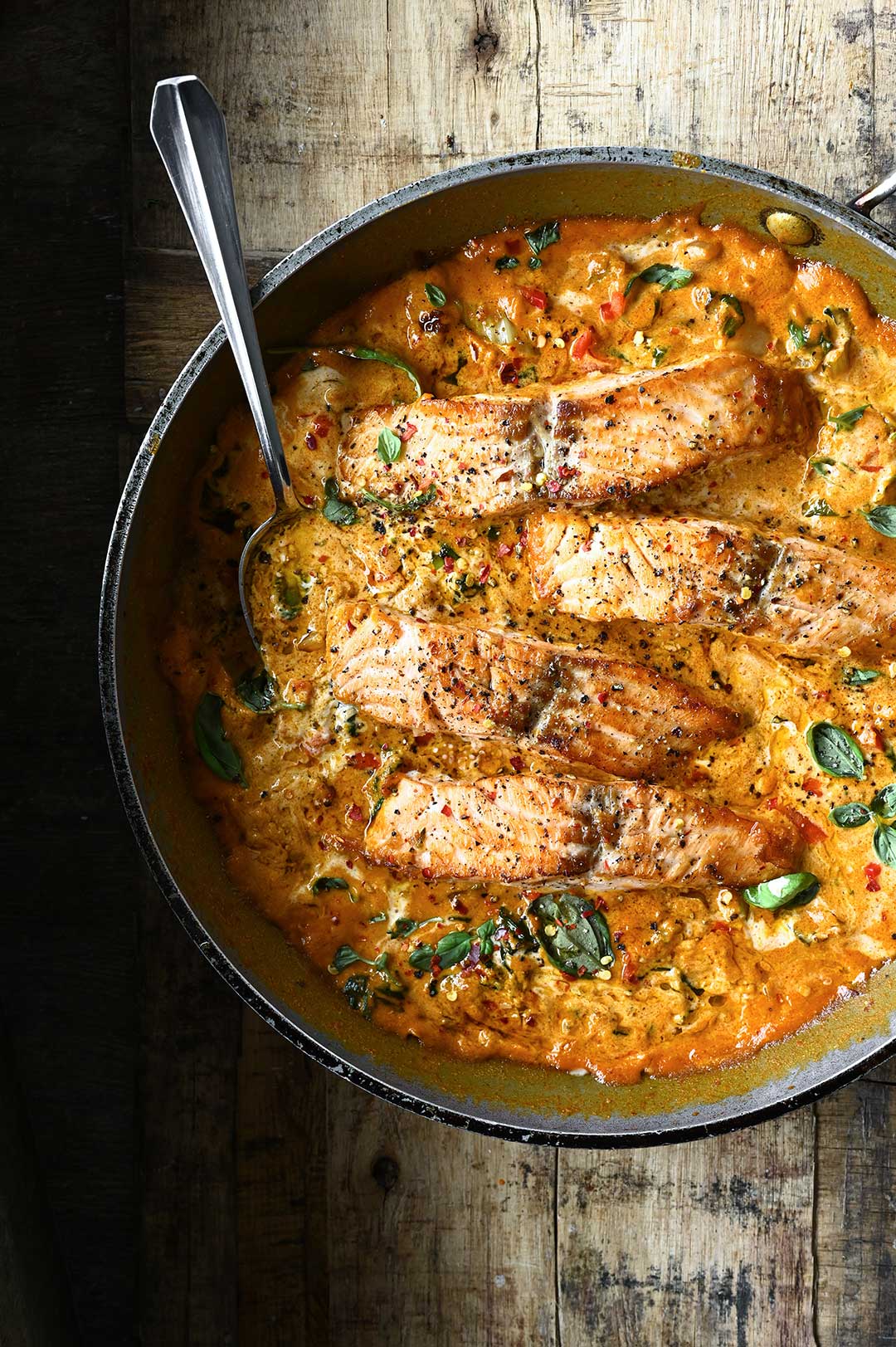 TIPS
– je kan andere groenten gebruiken, zoals baby maïs, spinazie, courgette, broccoli of erwten
– schroei de zalm om een ultra-krokante korst te bekomen, best maak je hiervoor gebruik van een anti-aanbak koekenpan. Bak op hoog vuur in plantaardige olie of kokosolie in combinatie met boter
– in plaats van basilicum, gebruik Thaise basilicum of koriander
– je kam de zalm vervangen door kip, scampi's of tofu
– maak het gerecht milder of pittiger
meer zalm graag!  
Zalm met een romige tomatensaus en crunchy chorizo
Sashimi van zalm met miso dressing
Zalm met mascarpone en geroosterde paprika's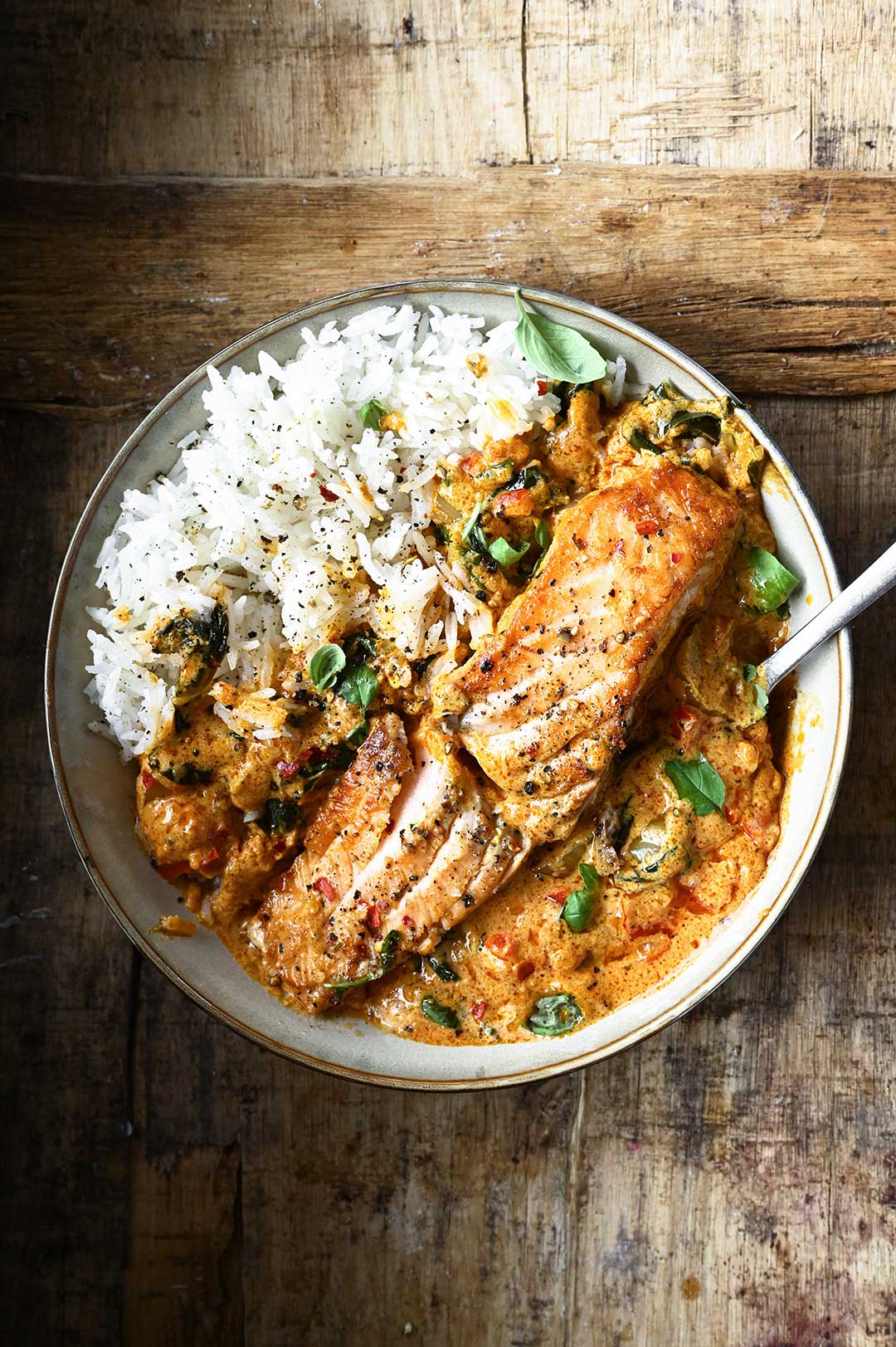 Dit heb je nodig
4 zalmfilets, zonder vel
1 rode paprika, fijngesneden
1 baby paksoi, grof gehakt
2 el kokosolie, of plantaardige olie
1 el boter
1 kleine ui, fijngehakt
4 teentjes knoflook, geplet en fijngehakt
1 el geraspte gember
400 ml ongezoete kokosmelk
125 ml groentebouillon
3 el rode curry pasta
2 el tomatenconcentraat
1 el pindakaas
2 el citroensap
1 el vissaus
zout + zwarte peper
1/2 tl elk: gemalen koriander, gemalen komijn, zoete paprikapoeder
1 tl rode chilivlokken
basilicumblaadjes
gestoomde jasmijnrijst of brood, om te serveren
Zo maak je het
Bekijk mijn VIDEO om te zien hoe makkelijk je dit gerecht kan maken.
Dep de zalmfilets droog met keukenpapier en kruid met zout, peper en paprikapoeder. Verhit de kokosolie en boter in een grote koekenpan met antiaanbaklaag. Voeg de zalmfilets toe en bak op hoog vuur, ongeveer 3-4 minuten aan beide kanten. Haal uit de pan.
Voeg in dezelfde pan de ui, knoflook en gember toe. Fruit gedurende 2 minuten op laag vuur. Voeg paprika toe en bak ongeveer 3 minuten, roer af en toe. Roer tomatenconcentraat en currypasta erdoor, bak nog een minuut. Voeg koriander, komijn en rode chilivlokken toe. Breng op smaak met zout en peper. Giet de bouillon erbij en breng aan de kook.
Voeg paksoi, vissaus en pindakaas toe. Doe kokosmelk erbij en breng het geheel aan de kook.
Leg de zalm in de saus. Besprenkel met citroensap en laat nog 3 minuten sudderen of tot de zalm net gaar is en de saus iets is ingedikt. Haal van het vuur. Roer de basilicumblaadjes erdoor.
Serveer met rijst of knapperig brood. Werk af met extra rode chilivlokken. Smakelijk!