Taco's met scampi's, koolsla en miso aioli. Deze smaakbommetjes zijn klaar in ongeveer 30 minuten en je zal er niet genoeg van krijgen.
De fajita's met scampi's krijgen hier een Aziatisch tintje, we serveren ze samen met een salade van Chinese kool tussen een warme tortilla en werken het geheel af met een miso looksausje. Serveer met verse koriander en een limoenschijfje.
Deze taco's zijn snel en makkelijk te maken, en geven je iets om naar uit te kijken aan het eind van de dag. Met andere woorden, tacos forever.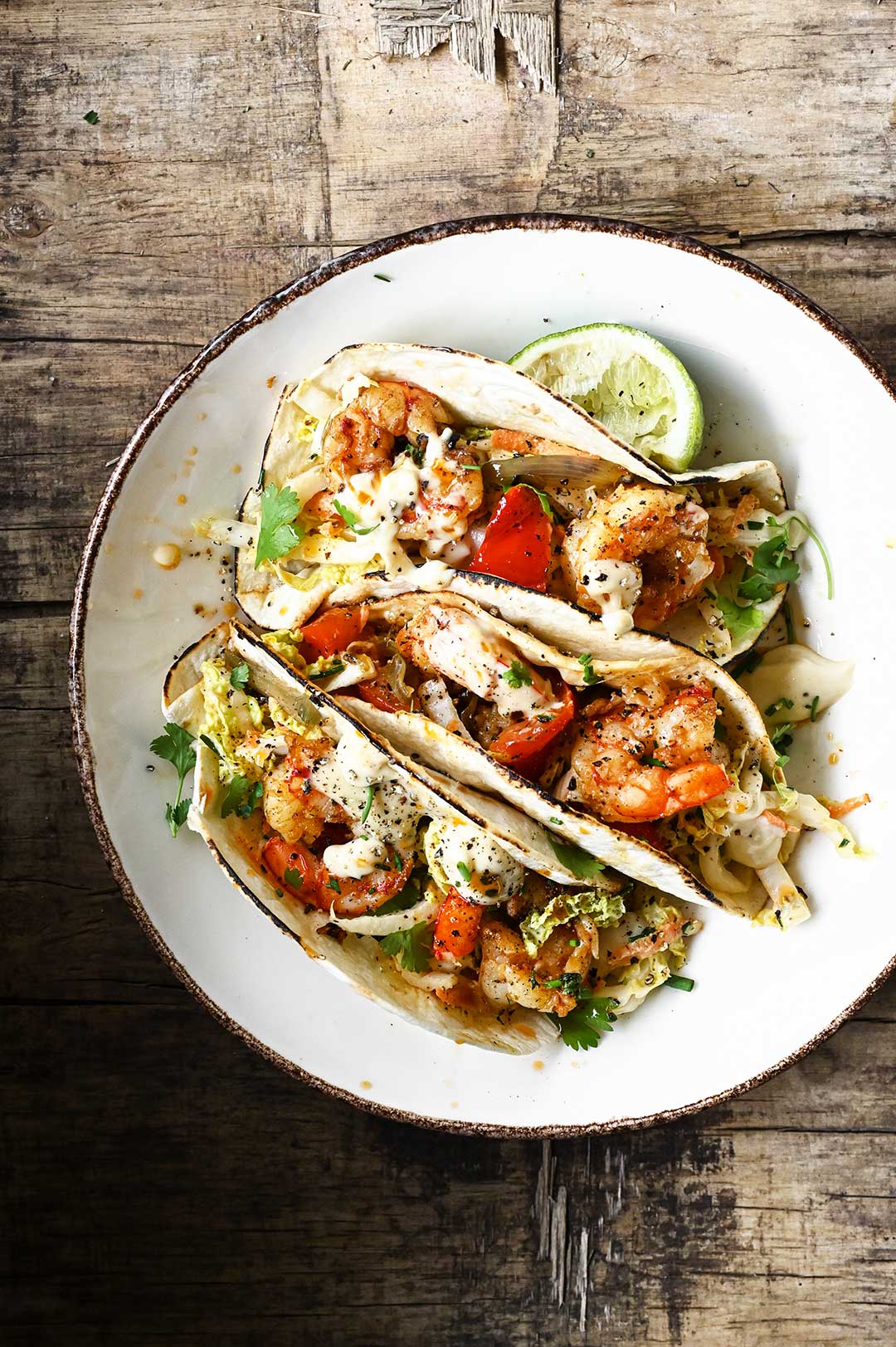 Tip: Om de taco's nog sneller op tafel te kunnen zetten, kan je de kool al op voorhand snijden en de saus maken. Of een zakje gesneden witte kool gebruiken. Hoe dan ook, taco-vibes guaranteed!
En ook, dit recept is voor 4 personen, maar als je echt honger hebt, voor 2:)
Bekijk mijn VIDEO om te zien hoe makkelijk je dit gerecht kan maken!
Meer heerlijke recepten met scampi's:
Pikante wok met scampi en szechuanpeper
Spaghetti met scampi, look en beurre noisette
Scampi's met cashews, honing en look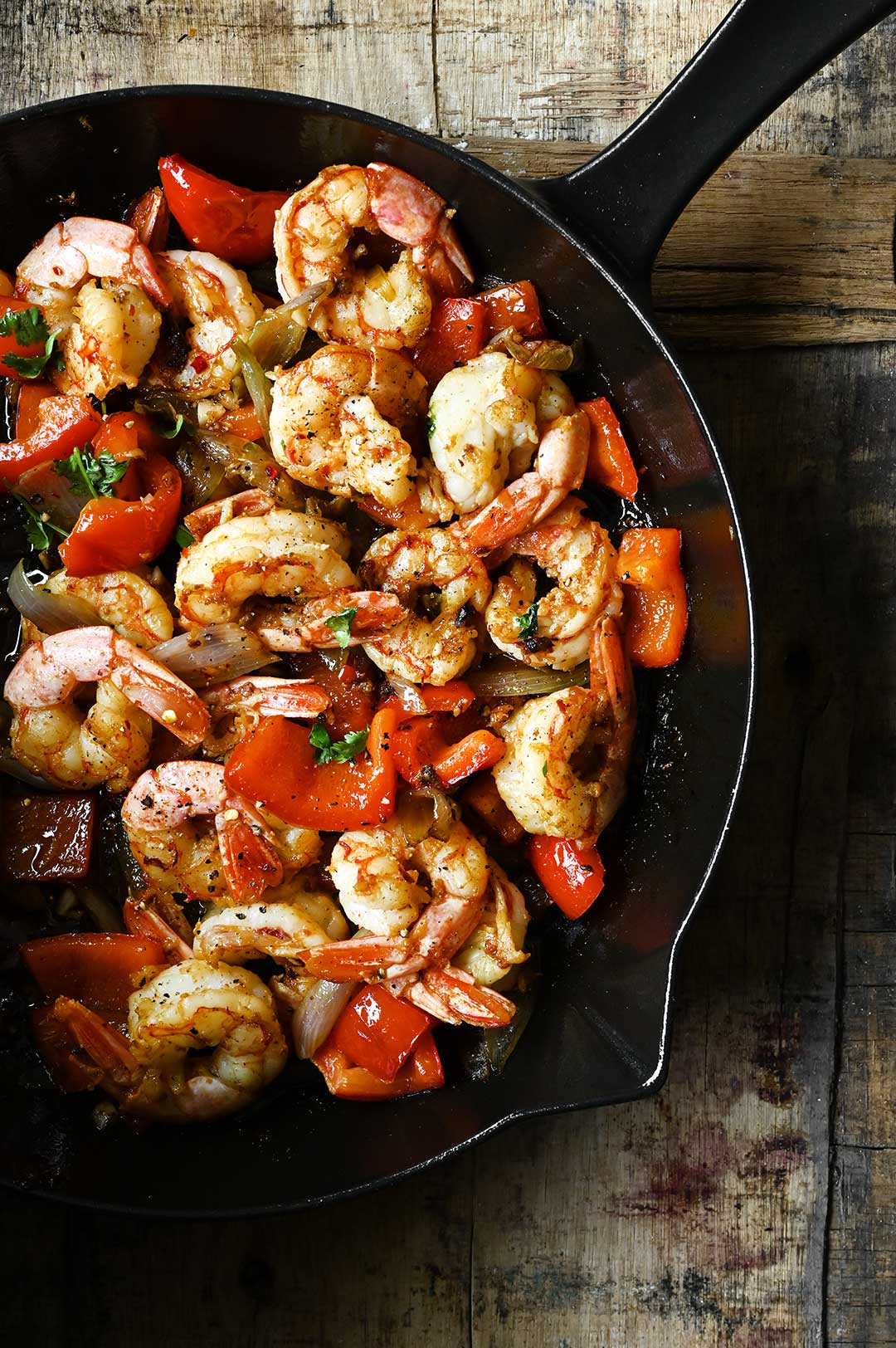 Wil je op de hoogte blijven van mijn nieuwe recepten? Abonneer je dan op mijn NIEUWSBRIEF. 
Dit heb je nodig
scampi's
450 g scampi's, gepeld
1 rode paprika, in grote stukken
2 sjalotten, in dikke plakken
4 tenen knoflook, fijngehakt
1/2 tl elk: gerookte paprika, komijn, koriander
1 el geraspte gember
2 el vers limoensap
arachideolie
zout + zwarte peper
pittige aioli met miso
5 el mayo
2 tenen knoflook
1 tl miso
1 tl sambal
1/2 tl sojasaus
1 tl citroensap
koolsla
1/2 grote chinese kool, fijngesneden
1 wortel, geraspt
2 el bieslook, fijngehakt
1 el miso aioli, meer indien nodig
1 tl sojasaus
1 tl mirin
1 el zoete chili knoflooksaus
1 el plantaardige olie
zout + zwarte peper
+
kleine tortilla's, om te serveren
verse koriander
limoen
Zo maak je het
Meng in een grote kom de gerookte paprika, komijn, koriander, gember en knoflook. Voeg 5 el arachideolie, limoensap, zout en peper toe. Doe de scampi's in de marinade, roer en zet opzij.
Maak ondertussen de aioli. Doe de knoflook in een vijzel.Maal tot een relatief gladde pasta. Voeg miso toe en roer krachtig met de stamper tot alles gemengd is, 1 à 2 minuten. Doe de pasta in een kom. Voeg mayo, sambal, sojasaus en citroensap toe. Meng het geheel onder elkaar.
Maak de koolsla door de ingrediënten in een grote kom goed onder elkaar te mengen.
Snij de paprika en de sjalotten in grote plakken. Verhit in een grote koekenpan op middelhoog vuur en giet 3 el arachideolie erin. Voeg de paprika en de sjalotten toe en bak ongeveer 5-6 minuten. Haal de paprika's en sjalotten uit de pan en zet opzij.
Doe nu de scampi's in dezelfde koekenpan en schik ze langs elkaar in één enkele laag. Bak op hoog vuur. Draai de scampi's na 2 minuten om en bak verder tot ze roze zijn. Doe de paprika, sjalotten en de overgebleven marinade van de scampi's terug in de koekenpan en roer alles goed onder elkaar.
Haal van het vuur en serveer onmiddellijk met warme tortilla's en koolsla. Werk af met miso aioli, koriander en wat limoensap. Smakelijk!
Bekijk mijn VIDEO om te zien hoe makkelijk je dit gerecht kan maken!
Als je dit recept uitprobeert, laat dan hieronder een reactie achter of deel je foto's op Instagram en vergeet niet om mij te taggen @anna_s_table. Ik kijk ernaar uit!
AND… IF YOU LOVE THESE RECIPES … please consider supporting my work for just the cost of a cup of coffee.