Een super makkelijk vleessausje met groene paprika's. Hiermee maak je zonder veel moeite een hartige, gezellige pasta die perfect past als doordeweekse gezinsmaaltijd, maar die zonder twijfel ook geweldig werkt op een dinner party met vrienden. Deze saus zit boordevol malse gestoofde paprika's, gemalen rundvlees, een helder frisse tomatensaus en wat rode chilivlokken. Buitengewoon eenvoudig en minimalistisch, maar desalniettemin een volbloed crowdpleaser.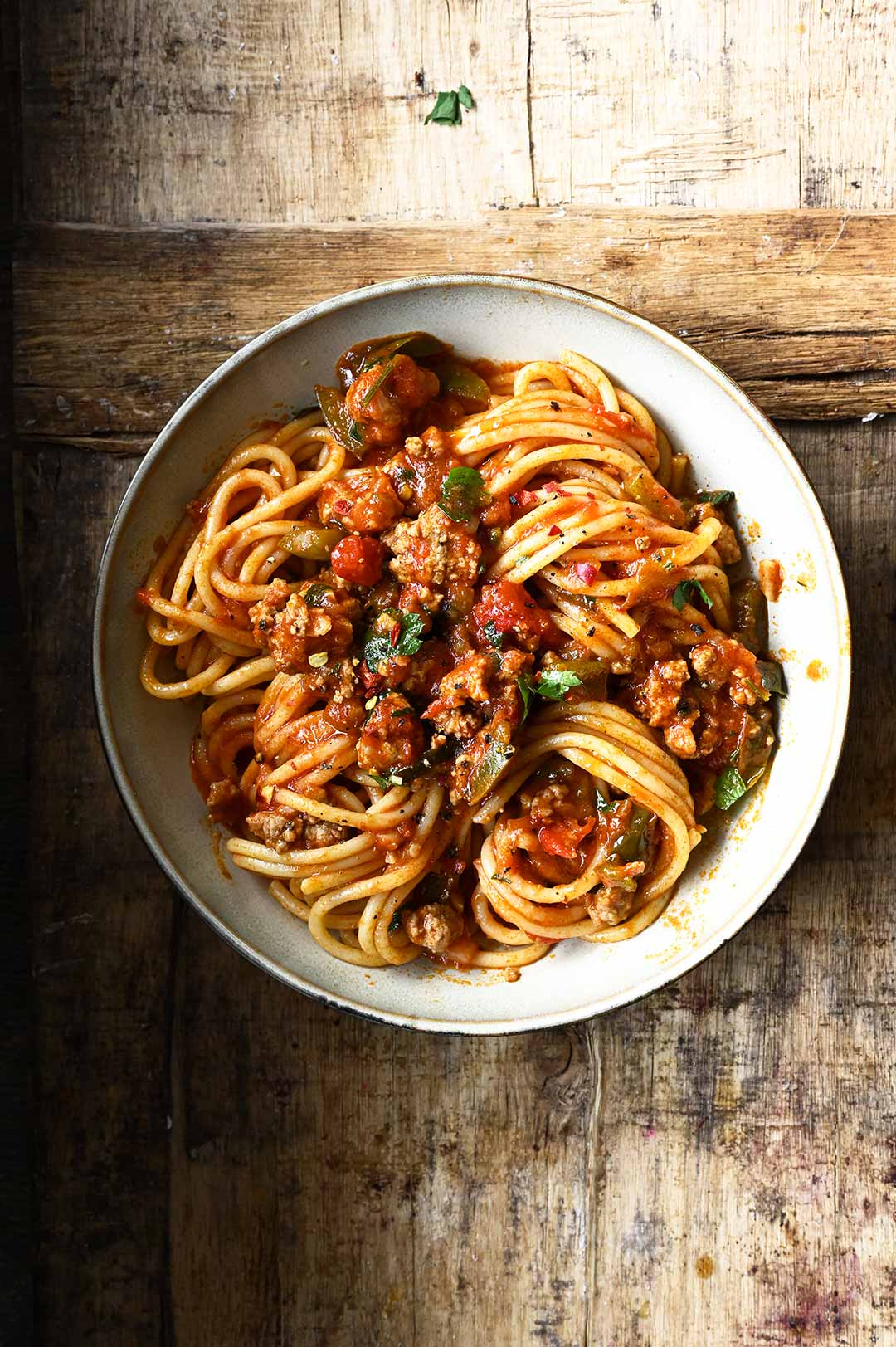 Het is een dikke saus vol gemalen rundvlees, wat kruiden en paprika's. De tomatenblokjes samen met tomatenconcentraat geeft het een extra intense smaak en je zal zeker houden van het vleugje gerookte paprika in dit gerecht. We flitsen er ook een beetje gemalen komijn, koriander en kerriepoeder in, dit klinkt misschien een beetje vreemd, maar het geeft een aangename smaak zonder dat je precies weet waar het vandaan komt. Als je het liever bij traditionele smaken houdt, ga dan voor wat Italiaanse kruiden zoals oregano en tijm. Al de vakjes zijn afgevinkt: makkelijk, veelzijdig, en kookt in ongeveer dertig minuten.
Bekijk mijn VIDEO om te zien hoe makkelijk je dit gerecht kan maken.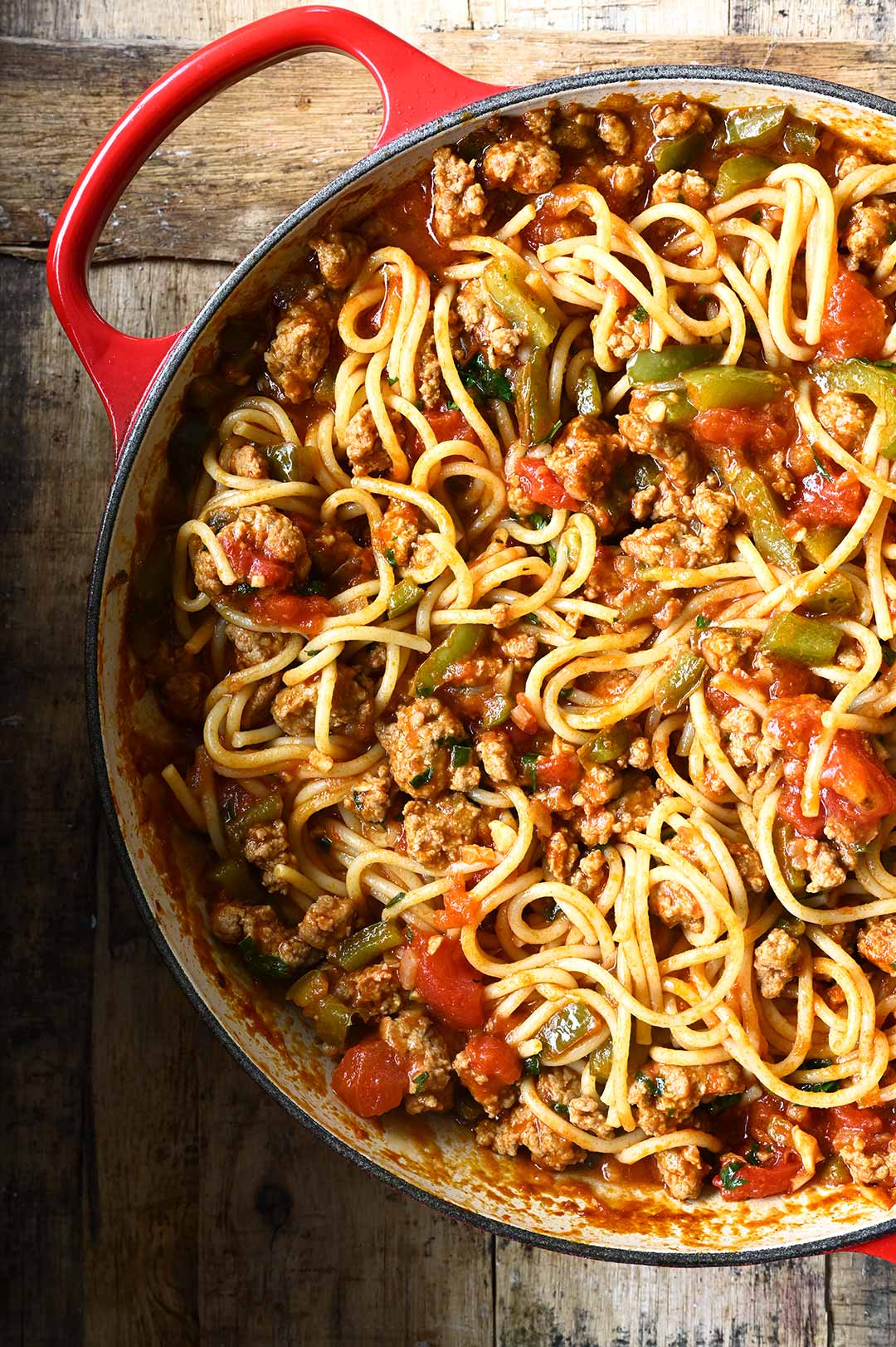 TIPS
– vervang rundvlees door gemalen varkensvlees of kip
– gebruik eender welke pasta zoals linguine, capellini, bucatini,… jij beslist!
More easy pasta, please! 
Pasta met gerookt spek in tomatensaus
Pasta met romige bolognese en geroosterde paprika
Pasta met pesto van zongedroogde tomaten en ricotta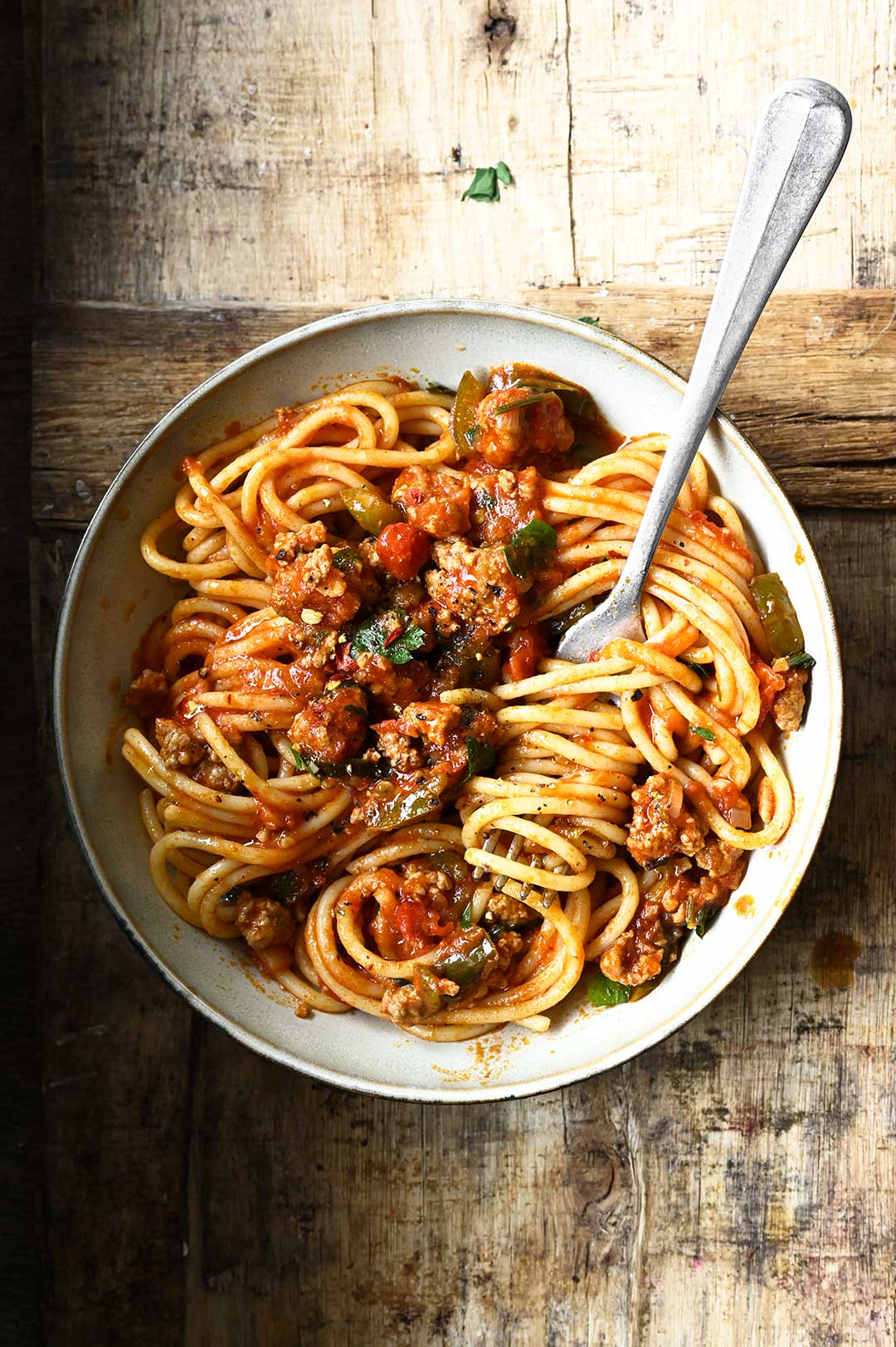 Dit heb je nodig
250 g spaghetti
450 g (1 pond) gemalen rundvlees
2 kleine groene paprika's, in blokjes gesneden
3 el olijfolie
1 kleine ui, fijngehakt
4 teentjes knoflook, fijngehakt
250 ml (1 kop) kippen- of groentebouillon
3 el tomatenconcentraat
1 blikje (400 ml) gehakte gepelde tomaten
2 el gehakte peterselie
specerijen
1/2 tl elk: gemalen komijn, gemalen koriander, kerriepoeder
1 tl elk: gerookt paprikapoeder, rode pepervlokken, zout, zwarte peper
Zo maak je het
Bekijk mijn VIDEO om te zien hoe makkelijk je dit gerecht kan maken!
Verhit de olie in een grote pan op middelhoog vuur. Voeg paprika's toe en bak ze 5 minuten, roer af en toe. Voeg ui en knoflook toe en bak nog 5 minuten. Zet het vuur lager. Voeg gehakt toe, breek het vlees in kleine stukjes met een houten lepel en bak gedurende 6 minuten. Roer de kruiden, het tomatenconcentraat en de kippenbouillon erdoor. Breng aan de kook en laat ongeveer 5 minuten sudderen. Voeg de tomatenblokjes toe, zet het vuur lager en laat het gerecht, zonder deksel, 10-15 minuten sudderen.
Kook intussen de spaghetti in een grote pot met ruim gezouten kokend water beetgaar. Giet af en bewaar 1/4 kopje kookwater.
Voeg wat kookvocht toe aan de saus als deze te dik wordt. Roer de gehakte peterselie erdoor. Voeg zout en peper naar eigen eigen smaak toe. Haal van het vuur en schep de spaghetti erdoor. Smakelijk!