Op zoek naar een eenvoudig en superlekker pastagerecht?
Deze romige pasta is klaar in ongeveer 25 minuten klaar. Geroosterde rode paprika's gemixt met zongedroogde tomaten, melk, wat kookvocht en Parmezaanse kaas, vervolgens gemengd met pasta. Boem, het eten is klaar!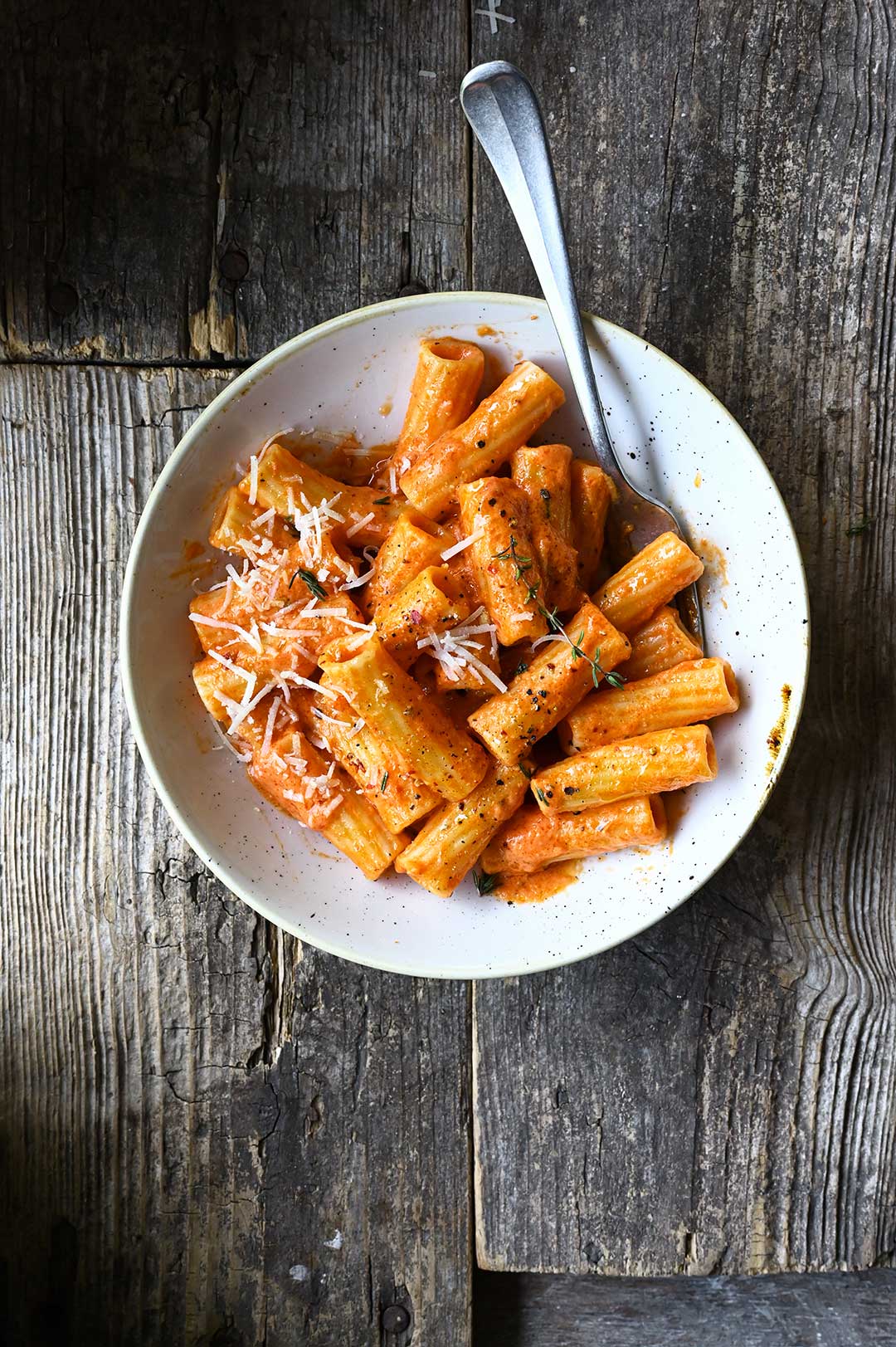 Hier staat meestal twee keer per week pasta op het menu. En deze pasta is een variatie op eentje die ik vrij vaak maak.
Een heerlijk verrassend gerecht, romig doch licht met een behoorlijke yum-status. Een echte aanrader.
Ga naar mijn Instagram Highlights om te zien hoe ik deze pasta maak!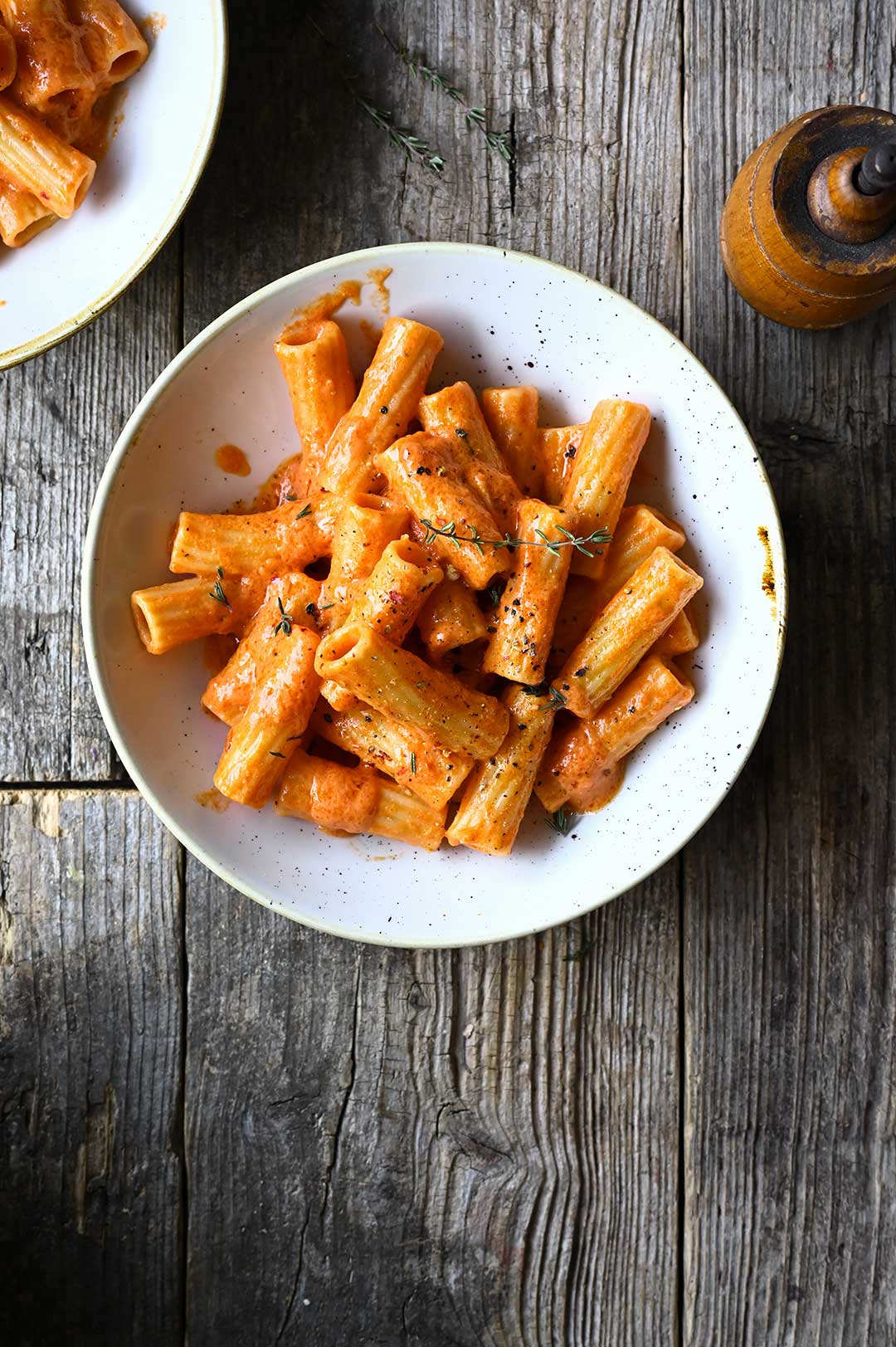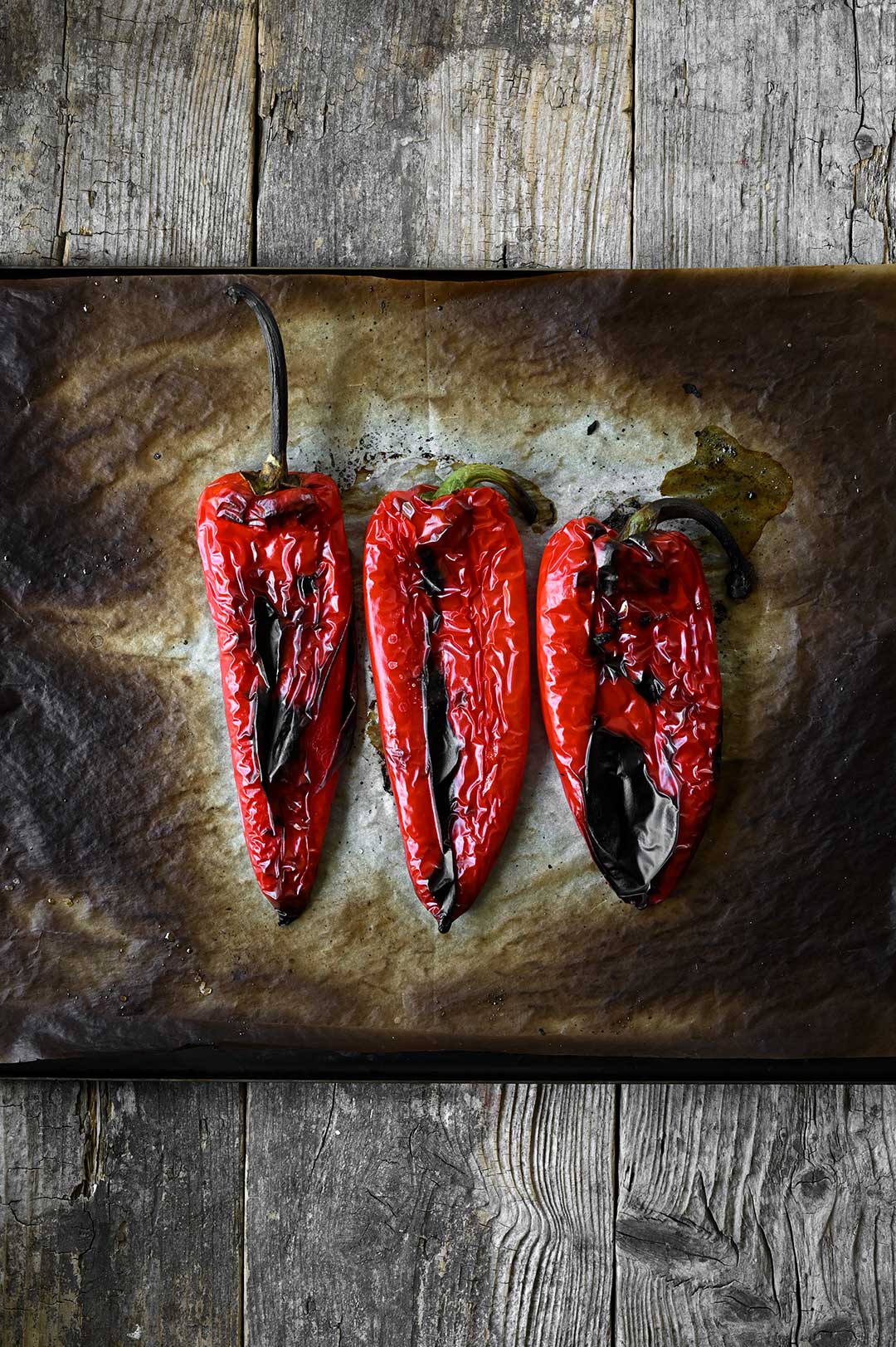 Wil je op de hoogte blijven van mijn nieuwe recepten? Abonneer je dan op mijn NIEUWSBRIEF.
Dit heb je nodig
250 g pasta
3 rode paprika's OF 1 bokaal geroosterde rode paprika's
1o0 g zongedroogde tomaten, olie uitgelekt maar bijgehouden
50 g geraspte parmezaan
200 ml melk
1 sjalot, fijngehakt
2 tenen knoflook, fijngehakt
2 el olijfolie
1 tl citroensap
1 el tomatenpuree
zeezout + zwarte peper
1/2 tl gemalen gedroogde chilipeper
+
tijm + geraspte parmezaan, voor de afwerking
How to
Leg de paprika's op een met bakpapier beklede bakplaat. Zet de oven op de grillstand en verwarm tot 250°C. Plaats de paprika's op het hoogste rekje, dicht bij het verwarmingselement. Rooster de paprika's ongeveer 5 minuten of tot er zwarte vlekken verschijnen, draai de paprika's om en ga door met roosteren tot beide kanten gegrild zijn. Doe de paprika's in een plastic zak, sluit af en laat ze ongeveer 5 minuten stomen. Trek de vellen eraf en verwijder de zaadjes.
Breng ondertussen een grote pot met gezouten water aan de kook. Kook de pasta beetgaar. Giet af en behoud een deel van het kookwater.
Verhit de olie in een middelgrote pot en fruit hierin de knoflook en sjalot. Roer de geroosterde paprika's, zongedroogde tomaten, citroensap, tomatenpuree en Parmezaanse kaas erdoor. Doe melk, 50 ml olie van de zongedroogde tomaten en 150 ml kookwater erbij, breng op smaak met zout en peper. Breng het geheel aan de kook.
Zet het vuur uit en mix met een staafmixer tot een gladde saus (of gebruik een blender of je keukenmachine). Verdun de saus met meer kookvocht indien gewenst.
Meng met de  gekookte pasta. Kruid met chili, zout en zwarte peper naar eigen smaak en serveer onmiddellijk met Parmezaanse kaas en tijm. Smakelijk!
Ga naar mijn Instagram Highlights om te zien hoe ik deze pasta maak!
Als je dit recept uitprobeert, laat dan hieronder een reactie achter of deel je foto's op Instagram en vergeet niet om mij te taggen @anna_s_table. Ik kijk ernaar uit!