Een supersnel gerecht met sperziebonen en gehakt in een aromatisch sausje met een mooi gebalanceerd spectrum aan zoute en zoete smaken. Serveer met een spiegelei, lente-uitjes en wat geroosterde pinda's. Een ding is zeker, deze smaakexplosie zal je smaakpapillen ontzettend blij maken.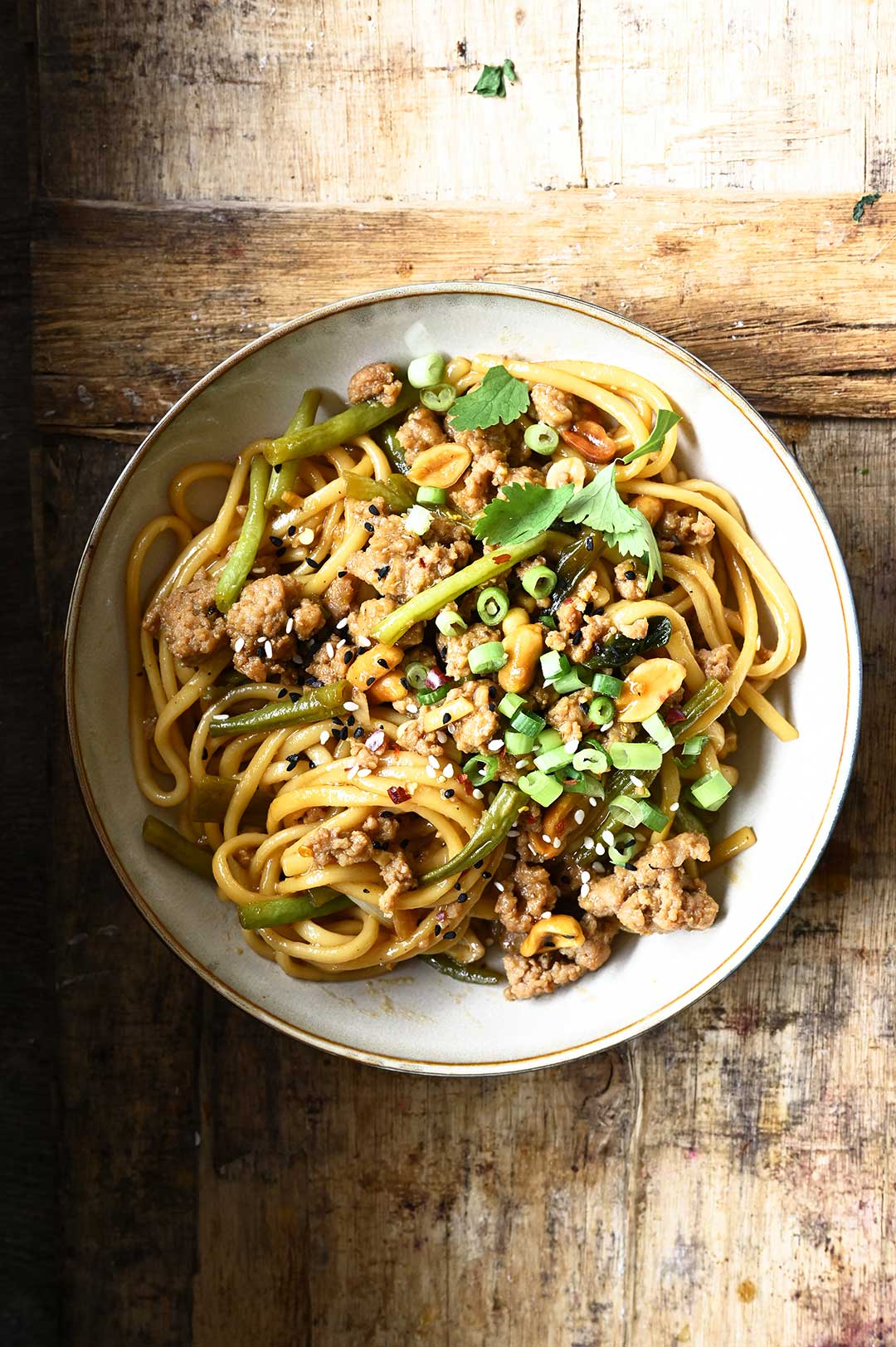 De sterren in dit gerecht zijn ongetwijfeld de sperziebonen met hun verslavende bite. Het gehakt in combinatie met de saus maken dit gerecht in één klap 'next level' hartelijk. Een echte aanrader!
Bekijk mijn VIDEO om te zien hoe makkelijk je dit gerecht kan maken.
 ⁠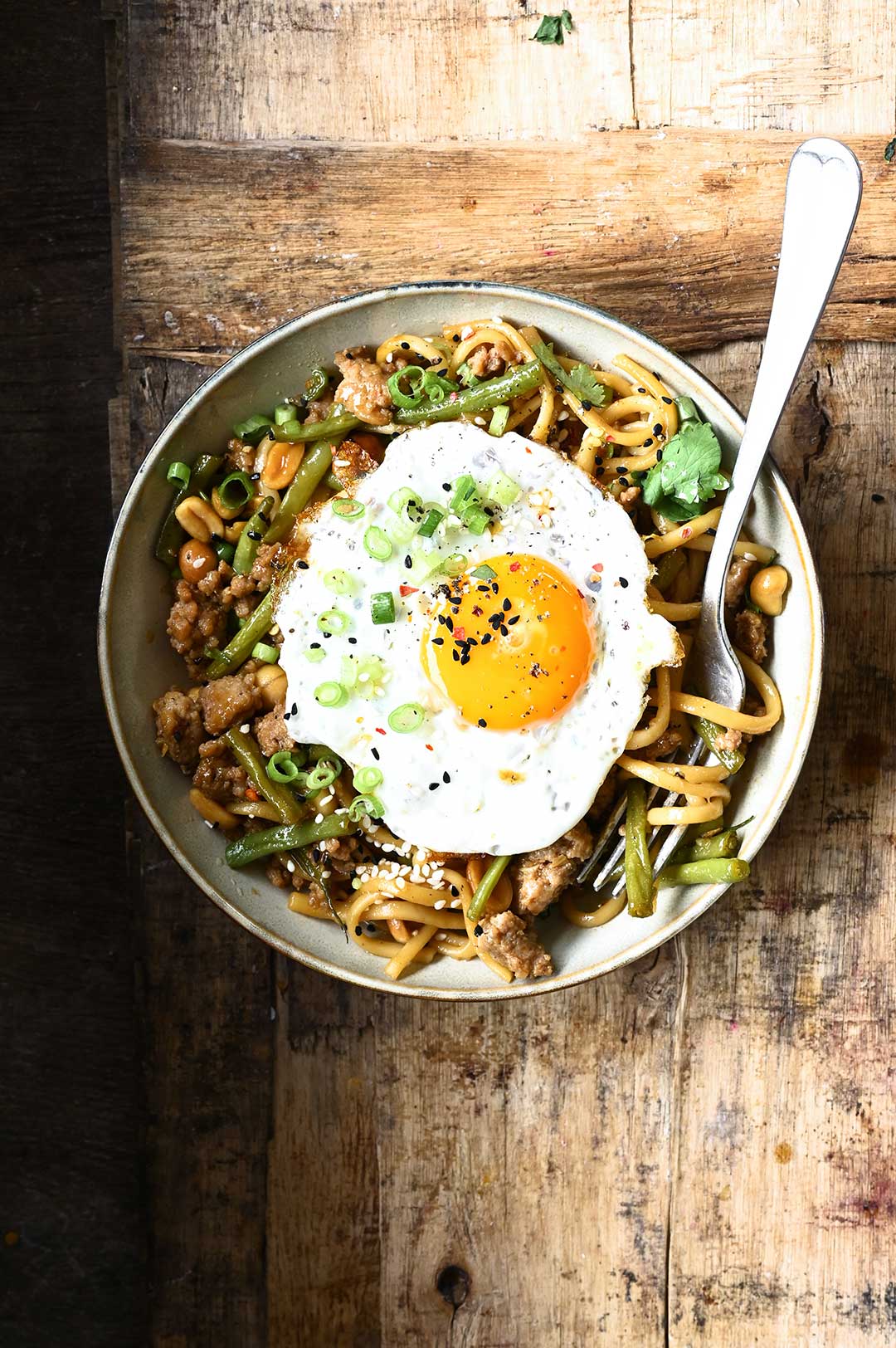 TIPS
– je kan de sperziebonen vervangen door gehakte paksoi, suikererwten of kool
– vervang varkensvlees door rundvlees, gemalen kip of tempeh
– of serveer met gestoomde rijst
More stir-fry recipes, please!
Wok met kip, broccoli en pinda's
Pikante wok met scampi en szechuanpeper
Spicy wok met runderreepjes en spinazie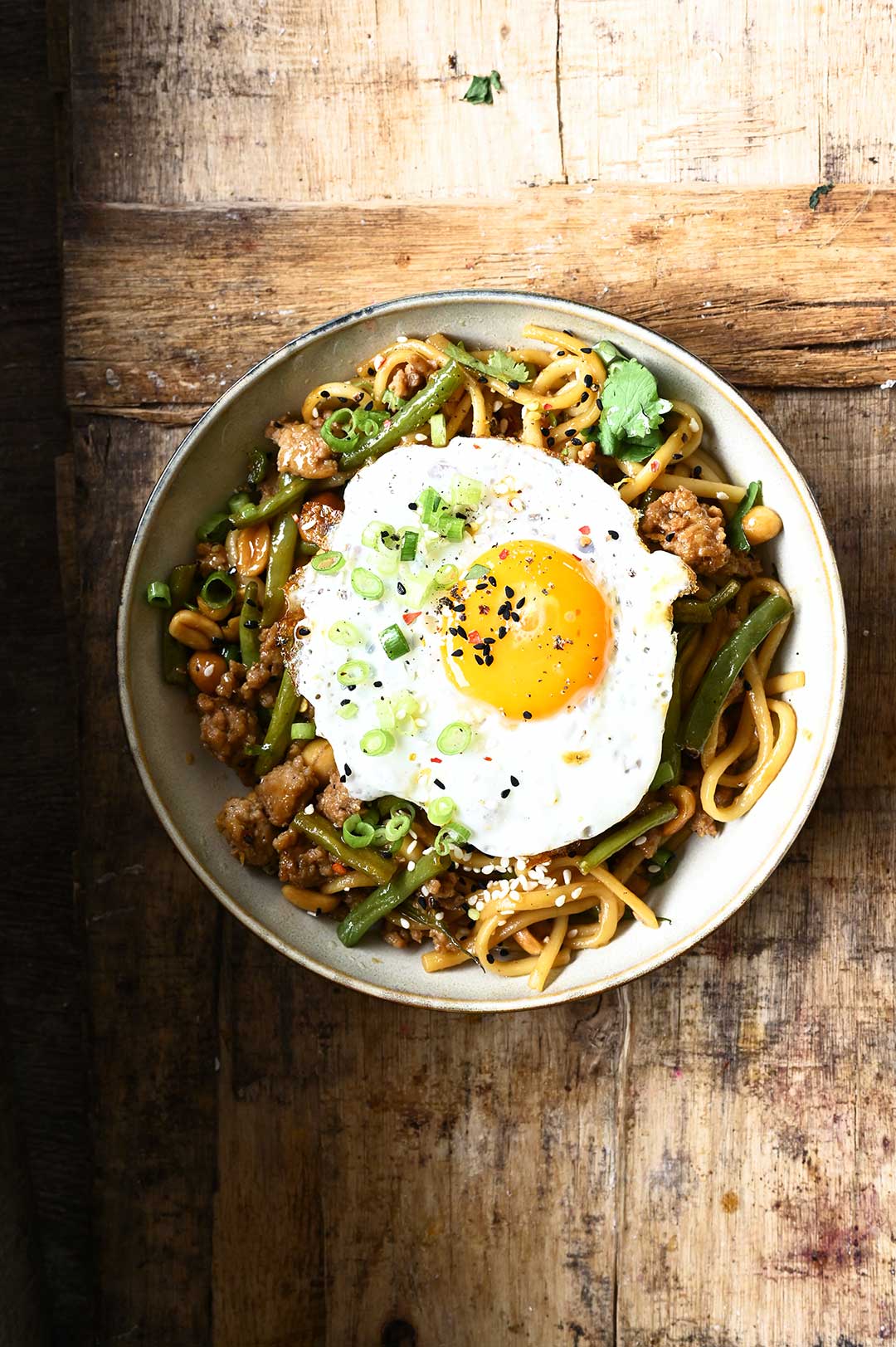 Dit heb je nodig
180 g udon noedels
350 g varkensgehakt
200 g sperziebonen, in kleine stukjes gesneden
3 el plantaardige olie
4 teentjes knoflook, geplet en fijngehakt
4 gesnipperde lente-uitjes, meer om te serveren
1 el geraspte gember
3 el geroosterde pinda's
2 eieren
sesamzaadjes, om te serveren
koriander, om te serveren (optioneel)
saus
120 ml sojasaus met laag natriumgehalte
60 ml mirin
1 tl bruine suiker
1 el geroosterde sesamolie
1 tl elk: zwarte peper, rode chilivlokken
60 ml water
Zo maak je het
Bekijk mijn VIDEO om te zien hoe makkelijk je dit gerecht kan maken.
Meng alle ingrediënten voor de saus in een kleine kom.
Breng een grote pot water (zonder zout) aan de kook, voeg de sperziebonen toe en blancheer gedurende 3 minuten. Haal ze eruit met een schuimspaan en spoel onder koud water. Zet apart.
Kook in dezelfde pot de noedels volgens de aanwijzingen op de verpakking. Giet af en spoel onder koud water.
Verhit intussen de olie in een grote pan op laag vuur. Voeg knoflook en gember toe en fruit, 2 minuten. Voeg het gehakt toe en bak op middelhoog vuur tot het lichtjes gebruind is, 5 minuten. Voeg de lente-uitjes toe en bak nog 2 minuten. Roer de sperziebonen erdoor en giet de saus erover, laat 5 minuten koken.
Smelt intussen een beetje boter op laag vuur in een pan met antiaanbaklaag en bak de eieren. Breng op smaak met zout en peper.
Meng de noedels met het varkensvlees en de bonen. Laat 1 minuut sudderen. Bestrooi met geroosterde pinda's en serveer.
Verdeel de noedels over kommen, leg er een spiegelei op, besprenkel met sesamzaadjes en wat extra lente-uitjes op. Eet smakelijk!