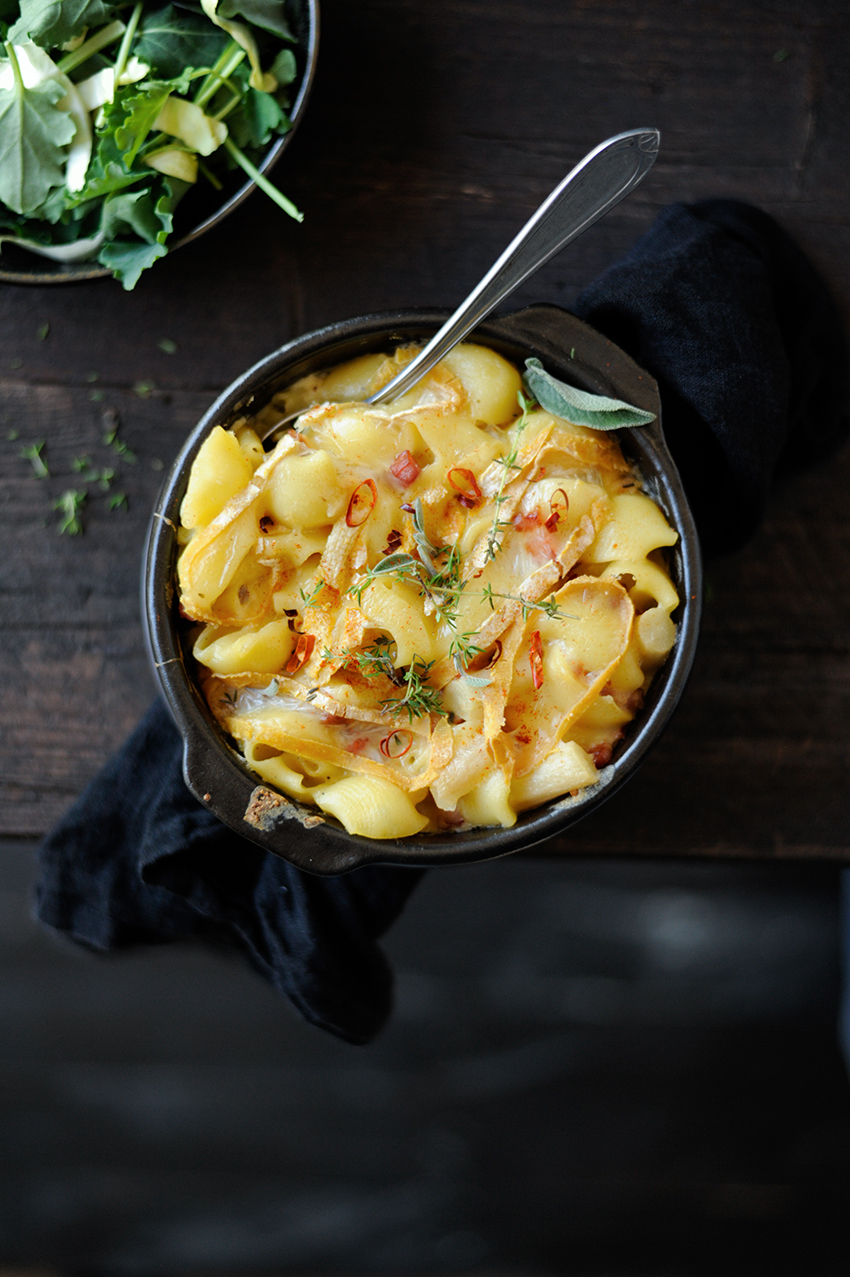 Dit receptje voor een mac and cheese is winterse comfort food op z'n best, hij is gevuld met alles wat een echte macaroni met  kaas moet bevatten en dit geval zijn het enkele super romige Franse kazen.
Geïnspireerd door de Franse keuken, heb ik de kazen die ik ken en lekker vind in dit ovengerecht verwerkt. Voor de saus heb ik Abondance en Beaufort gebruikt met wat spek en schorseneren en afgewerkt met Reblochon, dit is naar mijn smaak de beste smeltkaas. Als je niet van schorseneren houdt, kan je ze vervangen door bloemkool, dat is zonder twijfel ook superlekker. Serveer met salade en witte wijn.
Bestaat er iets beters dan pasta met gesmolten kaas? Ik dacht het niet (: 
Dit heb je nodig
500 g macaroni
500 g schorseneren of 1 bloemkool
300 g gezouten spek, in kleine stukjes gesneden
1 teentje knoflook, fijngehakt
1 sjalot, fijngesneden
60 g boter + 1 el
30 g bloem
800 ml melk
200 g geraspte Beaufort
200 g geraspte Abondance
200 g Reblochon
2 tl Dijon mosterd
1/4 tl cayennepeper
1/4 tl nootmuskaat
citroensap
zout + zwarte peper
1 tl gedroogde salie
blaadjes van 2 tijmtakjes
Zo maak je het
Maak een kom klaar met koud water en citroensap. Schil de schorseneren boven een krant of een groot stuk papier en gebruik keukenhandschoenen, want je handen komen onder een plakkerig sap te zitten dat moeilijk af te wassen is. Doe de geschilde wortels in de kom met water. Was en snijd in kleine stukjes. Breng een grote pot gezouten water aan de kook, voeg de schorseneren en wat citroensap toe en kook tot ze zacht zijn gedurende maximaal 10 minuten.
Breng een grote pot gezouten water aan de kook. Kook de pasta al-dente.
Smelt een klontje boter in een pan, voeg het spek toe en bak het goudbruin. Voeg knoflook en sjalotten toe en laat 5 minuten bakken op een zacht vuurtje . Zet opzij.
Smelt de boter in een pan op een laag vuurtje en voeg er bloem aan toe. Laat het al roerend opdrogen en voeg dan de melk toe. Blijf roeren tot de saus gebonden is. Zet het vuur uit, voeg Beaufort en Abondance toe, roer en breng op smaak met alle kruiden, 1 el citroensap en mosterd, proef en voeg zout en peper naar smaak toe.
Giet de pasta af en voeg het spek en de schorseneren toe, roer de kaassaus erdoor. Doe het in een ovenschaal en bedek met plakjes Reblochon. Bak gedurende 10 – 15 minuten op 200°C.
Serveer met een frisse salade, besprenkeld met een honingvinaigrette. Smakelijk!