Kip Katsu met noedels, miso en superveel knoflook. Romig, licht pikant, ongelooflijk lekker met een umami-rijke hartelijke bouillon. Bonus? Makkelijk te maken en klaar in ongeveer 30 minuten.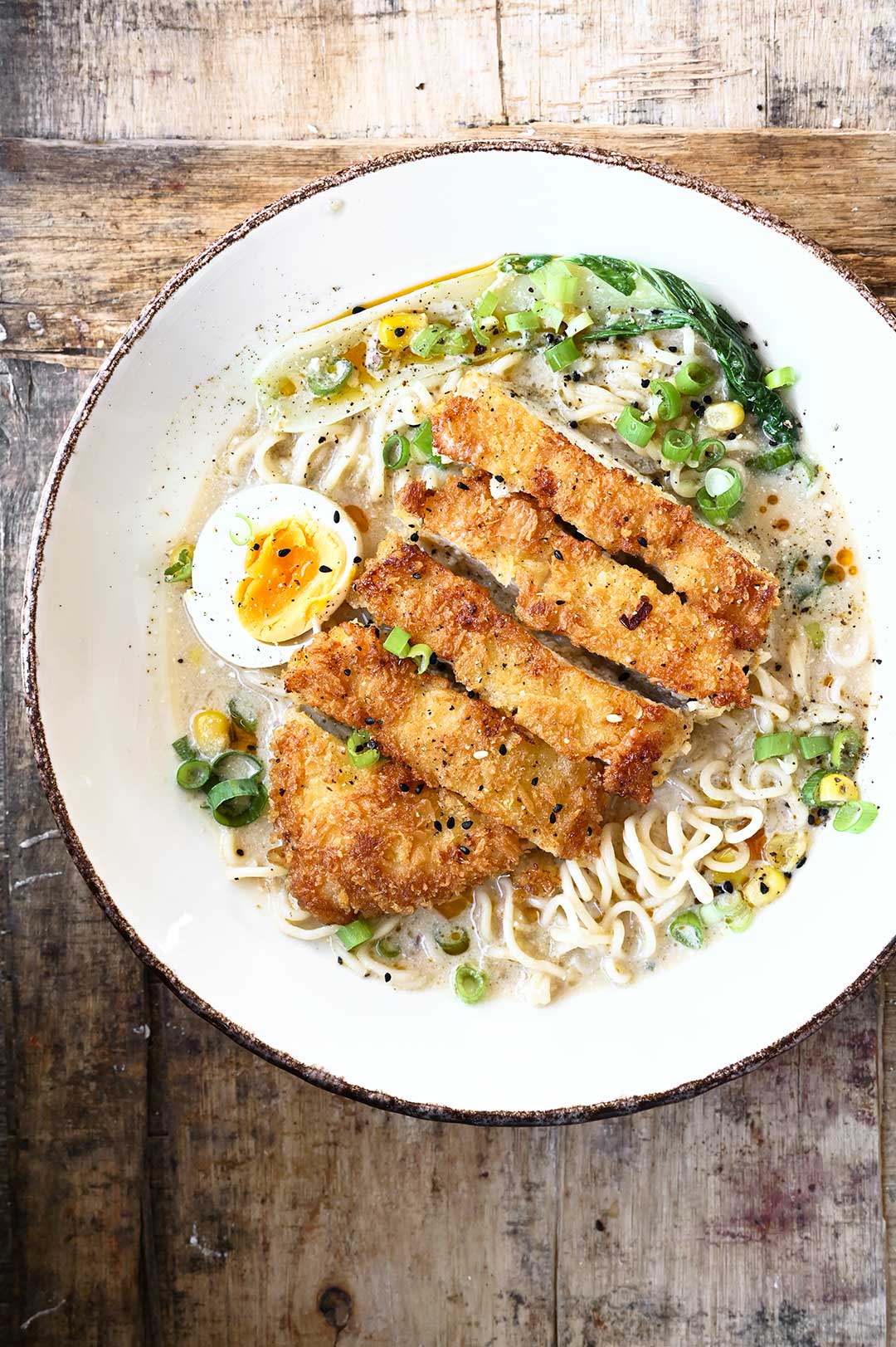 Kip Katsu is eigenlijk een Japanse versie van een kipschnitzel. De korst is extra knapperig dankzij de panko, een soort paneermeel uit Japan.
We serveren de kip met noedels, geblancheerde paksoi en maïs.
Je kan er makkelijk andere groenten bij serveren, zoals broccoli, spinazie, verse sojascheuten of champignons. Als je het graag wat pittiger wil, mag je er gerust jalapenos bij serveren. Een aanrader!
Bekijk mijn VIDEO om te zien hoe makkelijk je dit gerecht kan maken.
Meer makkelijke gerechten:
Honing knoflook kip
Spicy noedels met shiitakes en knoflook
Snelle ramen soep met kaas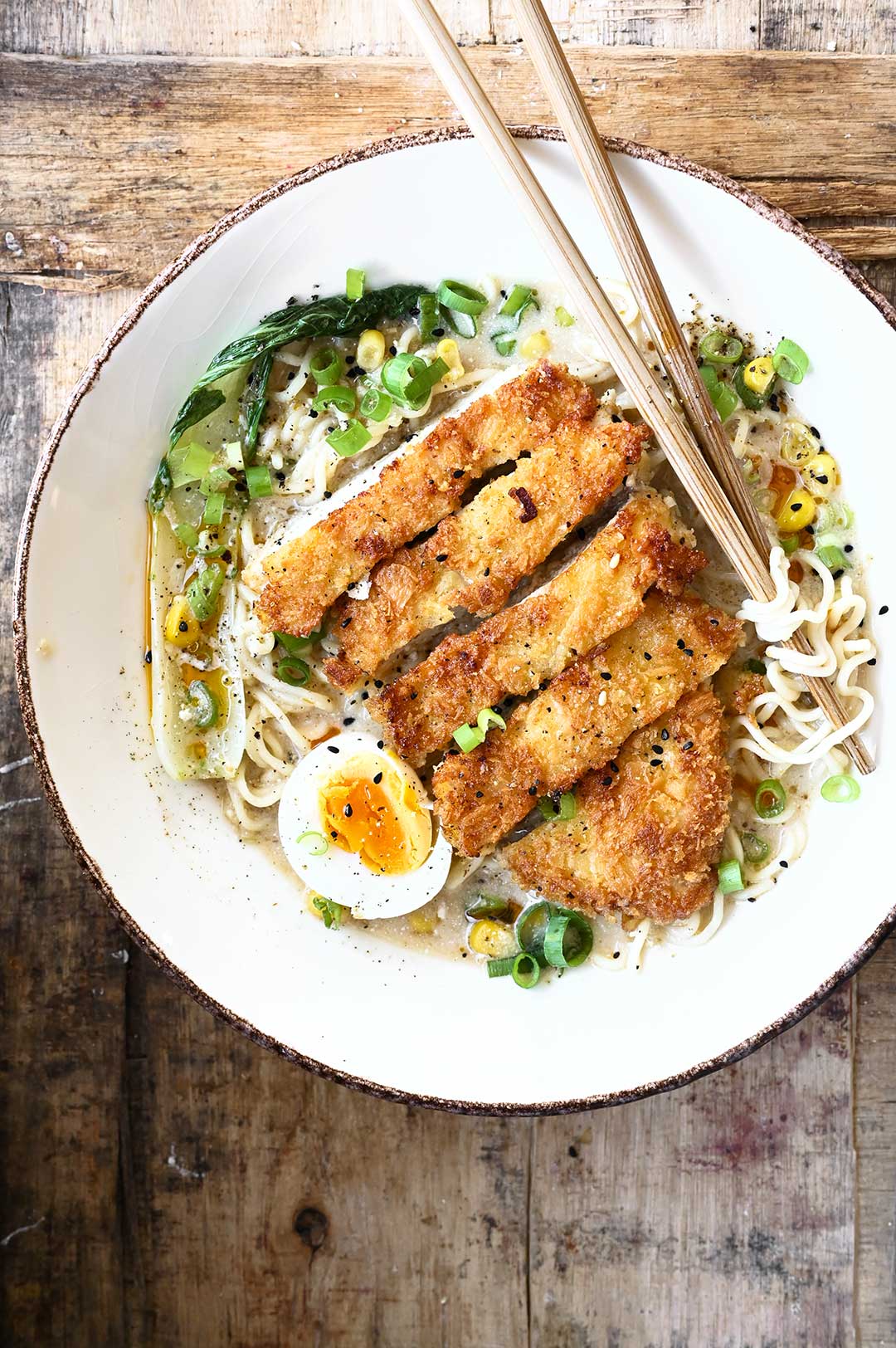 Dit heb je nodig
kip katsu
1 grote kipfilet
3/4 kopje panko
3 opgehoopte eetlepels bloem
2 kleine eieren
1 el melk
1 tl zout
1/2 tl elk: knoflookpoeder, cayennepeper
50 ml plantaardige olie
bouillon
1 el plantaardige olie
6 teentjes knoflook, fijngeraspt
1 el geraspte gember
1 liter kippenbouillon
2 tl balsamicoazijn
3 el sojasaus
1 tl sambal saus
1 el geroosterde sesamolie
1/2 tl witte peper
3 el witte misopasta
120 ml sojaroom
1 kleine paksoi
1 blikje maïskorrels (150 g)
2 vierkantjes instant ramen noedels
voor de afwerking
2 eieren, zacht gekookt (7 minuten)
4 fijngehakte lente-uitjes
2 el sesamzaad
chiliolie
Zo maak je het
Bekijk mijn VIDEO om te zien hoe makkelijk je dit gerecht kan maken.
Snij de kipfilet horizontaal doormidden, zodat er 2 gelijke stukken ontstaan. Klop de kipfilets met een vleeshamer tot ongeveer 1 cm dikte.
Doe de bloem in een ondiepe kom. Klop de eieren op in een middelgrote kom met melk, zout, knoflookpoeder en cayennepeper. Doe daarna de panko op een groot bord. Wentel de kippenlapjes één voor één in de bloem, schud overtollige bloem lichtjes af. Dip vervolgens in het eimengsel. Wentel tenslotte in de panko. Leg op een bord.
Verhit een grote pan op laag vuur, voeg 1 eetlepel olie, vervolgens de knoflook en gember toe. Fruit, 2 minuten. Giet de bouillon erbij. Voeg sojasaus, balsamicoazijn, sambal, sesamolie en witte peper toe. Breng aan de kook, dek af en laat op laag vuur sudderen terwijl je de kip bakt.
Maak de kip Katsu. Verhit de olie in een grote koekenpan op middelhoog vuur. Voeg de kip toe en bak deze aan beide zijden goudbruin en krokant, ongeveer 3-4 minuten per zijde. Zet het vuur lager als de kip te snel bruin wordt. Leg de kip op een snijplank. Snij in dunne reepjes.
Kook ondertussen de eieren.
Kook de noedels volgens de aanwijzingen op de verpakking beetgaar. Giet af en spoel de noedels onder koud water om het kookproces te stoppen.
Voeg misopasta toe aan de bouillon en roer tot het is opgelost. Voeg vervolgens de paksoi en maïs toe, blancheer gedurende 30 seconden. Haal de bouillon van het vuur en roer de sojaroom erdoor. Voeg naar eigen smaak meer sojasaus of sambal toe.
Verdeel de noedels over de kommen en schep de bouillon erover. Leg de kip erover. Werk af met eieren, lente-uitjes, sesamzaadjes en een scheutje chili-olie. Smakelijk.