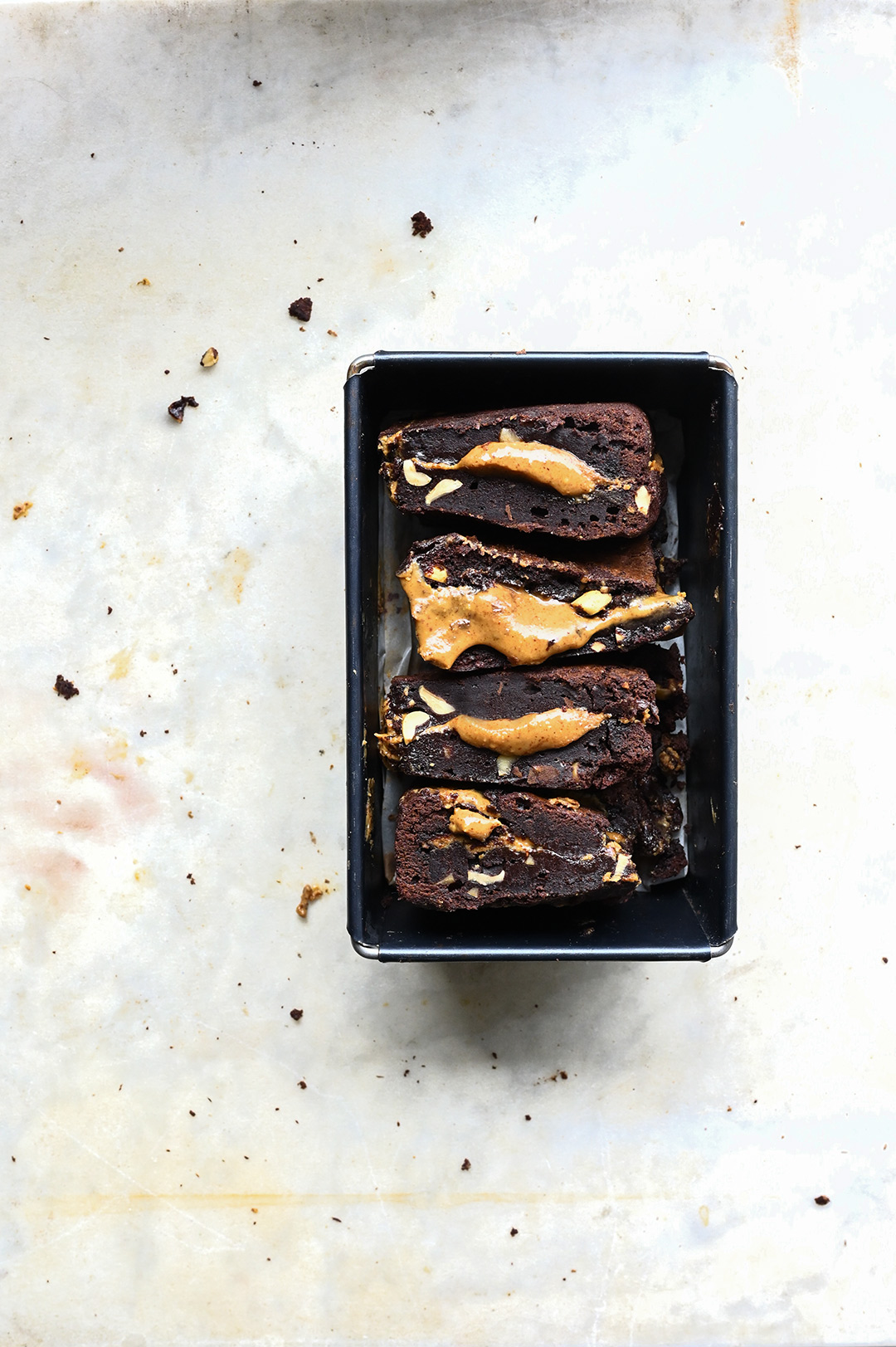 Brownies zijn een must-have, maar ik redelijk kieskeurig. Voor mij zijn ze pas mind blowing als ze een zo-dun-als-papier krokant bovenlaagje hebben met een diepe chocoladesmaak, een zijdezachte textuur en niet te vergeten knapperige noten. Natuurlijk is een lekkere brownie niet voor iedereen hetzelfde. Sommigen hebben ze graag wat lichter, anderen dan weer zwaar en mals. Het is eerlijk gezegd een mengeling van voorkeuren en geen enkele brownie zal aan ieders wensen kunnen voldoen.
Maar deze vinken voor mij alle juiste vakjes aan, ze zijn de droom van een smaak- en textuurliefhebber en bezorgen zelfs een doorwinterde chocoholic zijn dagelijkse fix.
Tip: Als u geen fan bent van pindakaas, laat het dan gewoon weg of gebruik een andere notenpasta.
Je kan de pinda's vervangen door walnoten of amandelen.
Ik heb kokosolie gebruikt in het recept, je kan deze vervangen door roomboter.
Wil je op de hoogte blijven van mijn nieuwe recepten? Abonneer je dan op mijn NIEUWSBRIEF.
Dit heb je nodig
laat alle ingrediënten op kamertemperatuur komen
190 g kokosolie, kan door roomboter vervangen worden
120 g pure chocolade
3 eieren
60 g suiker
160 g bruine suiker
90 g bloem
70 g cacaopoeder
2 tl vanille extract
2 tl oploskoffie
snuifje zout
200 g gehakte ongezouten pinda's
8 el pindakaas
Zo maak je het
Smelt de kokosolie op een laag vuur in een klein steelpannetje. Zet het vuur uit en meng de chocolade erin totdat deze helemaal gesmolten is.
Doe de eieren en de suiker in een grote kom en klop met een elektrische handmixer tot een luchtige en schuimige massa. Zeef de bloem en het cacaopoeder, klop alles kort onder elkaar. Voeg de gesmolten chocolade, vanille-extract, zout en oploskoffie toe. Klop alles tot een gladde massa, probeer het beslag niet te lang te mengen. Roer de gehakte pinda's eronder met een spatel.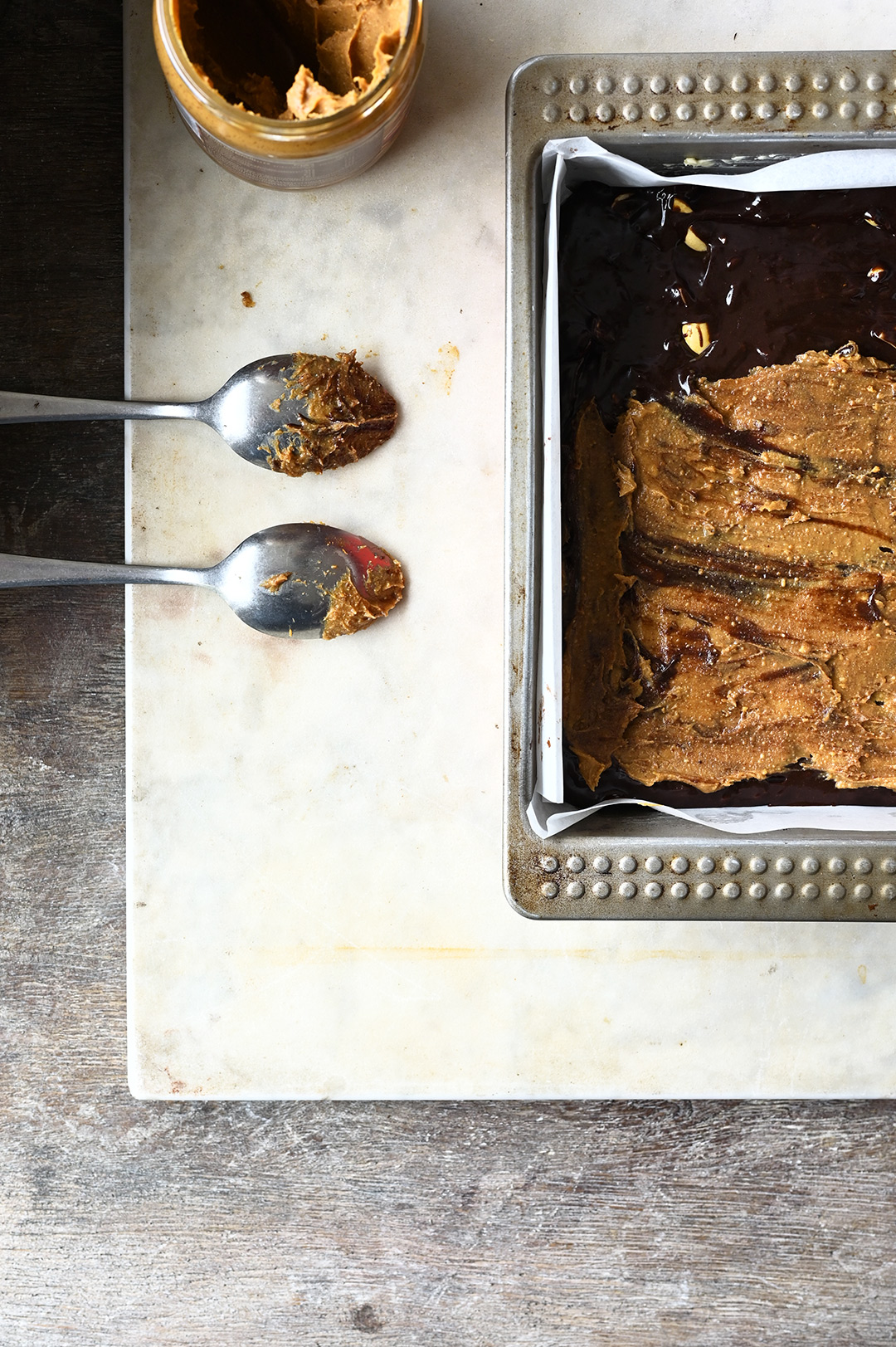 Giet de helft van het beslag in een vorm van 20×20 cm, bekleed met bakpapier. Smeer de pindakaas stilletjes uit en doe het resterend beslag erover. Strijk het vlak. Bak gedurende 30-35 minuten op 180°C. Haal uit de oven en laat het gebak volledig afkoelen! Smakelijk.
Notitie: Als je een brownie maakt zonder pindakaas, bak deze dan gedurende 25-30 minuten op 180°C.
Als je dit recept uitprobeert, laat dan hieronder een reactie achter of deel je foto's op Instagram en vergeet niet om mij te taggen @anna_s_table. Ik kijk ernaar uit!