De meeste pasta recepten beginnen we met het koken van wat water. Hier slaan we die stap over en in plaats daarvan combineren we orzo met tomatensaus, gehakt en aubergine, en koken we alles samen in 1 pan. Dan bedekken we het met courgette, feta en mozzarella, daarna bakken het af in de oven. Yup, dat is het, een eenpansgerecht dat je zelfs op voorhand kan maken, en daarna in de oven schuiven. Makkelijk en klaar in ongeveer 30 minuten, ik ben er vrijwel zeker van dat als jullie het eens proberen, het nog dikwijls op jullie tafel zal belanden.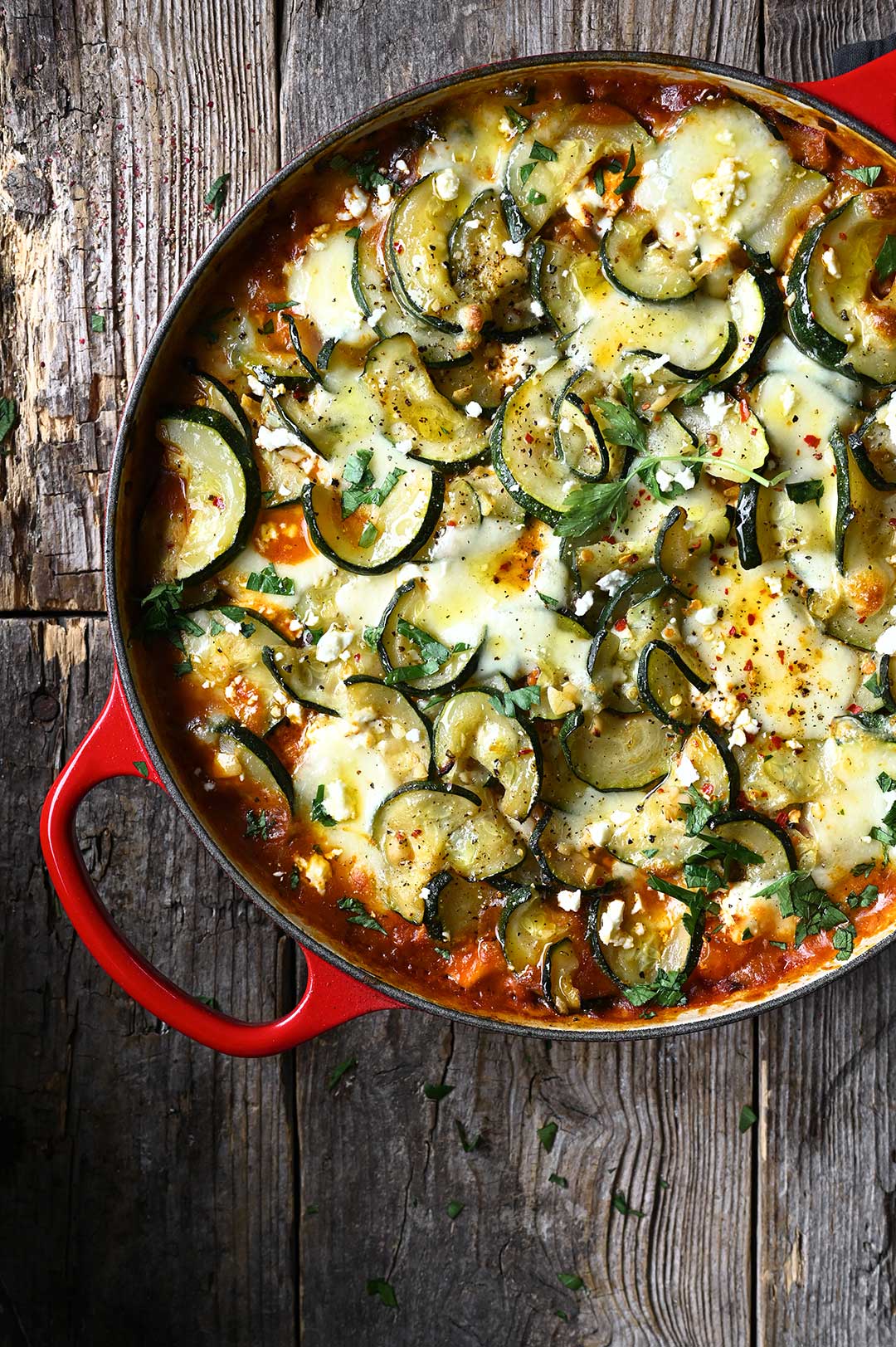 De orzo pasta heeft de ideale grootte om gewoon mee in de saus te laten koken. Het geheim is om een combinatie van tomatensaus en bouillon te gebruiken, zodat de orzo voldoende vloeistof heeft om alles te absorberen terwijl hij kookt.
Om het wat extra textuur te geven, maken we alles in laagjes en gebruiken we twee soorten kaas. Feta wordt direct op de saus met orzo verkruimeld om het extra romig te maken en smaak toe te voegen. Vervolgens bedekken we alles met voorgebakken courgette en nestelen we blokjes verse mozzarella ertussen.
Tip: roer de feta niet in de saus, een handvol kruimels hier en daar creëren kleine zoute kaasballetjes, echt overheerlijk!
En je kan het vlees makkelijk ruilen voor quorn gehakt om er een vegetarisch gerecht van te maken.
Ga naar mijn Instagram Highlights om te zien hoe makkelijk je deze kan maken!
3 andere lekkere gerechten met orzo:
Kipfilet met Parmezaan, spinazie en orzo
Orzo met geroosterde kip en druiven
Dikke kippensoep met orzo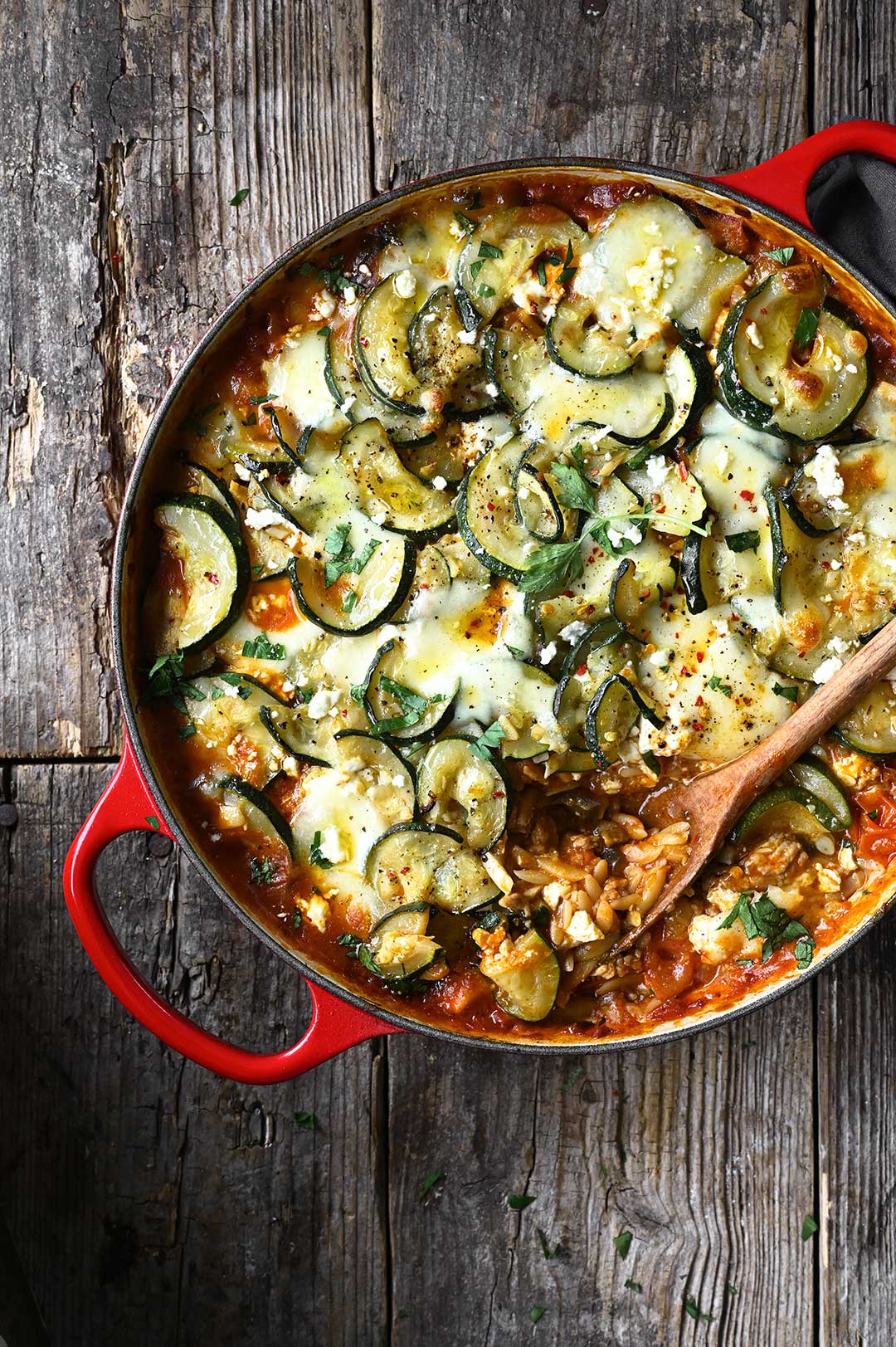 Dit heb je nodig
150 g orzo
350 g  varkensgehakt
1 aubergine, in blokjes gesneden
1 grote courgette, in dikke plakken gesneden
4 tenen knoflook, fijngehakt
1 kleine ui, fijngesneden
200 g kerstomaten, gehalveerd
250 ml  tomatenpassata
250 ml  kippenbouillon
olijfolie
100 g  fetakaas
150 g  mozzarella, in blokjes gesneden
zeezout + zwarte peper
1/2 tl gerookt paprikapoeder
1/2 tl tijm
gedroogde rode chilipeper vlokken
Zo maak je het
Verhit 3 el olijfolie in een diepe grote pan. Voeg courgette, 2 fijngehakte knoflookteentjes, zout, peper en een snufje rode pepervlokken toe. Bak op een matig vuur gedurende 1 minuut. Dek af, zet het vuur lager en bak verder gedurende 5 minuten. Haal uit de pan en leg op een bord.
Ondertussen kan je de aubergine in blokjes snijden en de tomaten halveren.
Verhit in dezelfde pan 2 el olijfolie. Voeg het varkensgehakt toe en bak tot het licht gebruind is, voeg de resterende knoflook, ui en aubergine toe. Bak gedurende 5 minuten op een matig vuur, roer regelmatig. Breng op smaak met zout, peper, gerookte paprika en tijm. Roer de kerstomaten erdoor, voeg de passata en kippenbouillon toe. Doe vervolgens de orzo erbij, breng aan de kook, dek af en laat op zeer laag vuur gedurende 10 minuten sudderen of tot de orzo beetgaar is en de saus licht ingedikt is. Roer af en toe met een houten lepel.
Verwarm ondertussen de oven voor op 200°C.
Zet het vuur uit en verkruimel de fetakaas over de orzo, zonder te roeren. Werk af met courgetteplakjes en bestrooi met blokjes mozzarella. Zet het geheel in de oven en bak gedurende 8-10 minuten of tot de kaas gesmolten is. Smakelijk.
Ga naar mijn Instagram Highlights om te zien hoe makkelijk je deze kan maken!