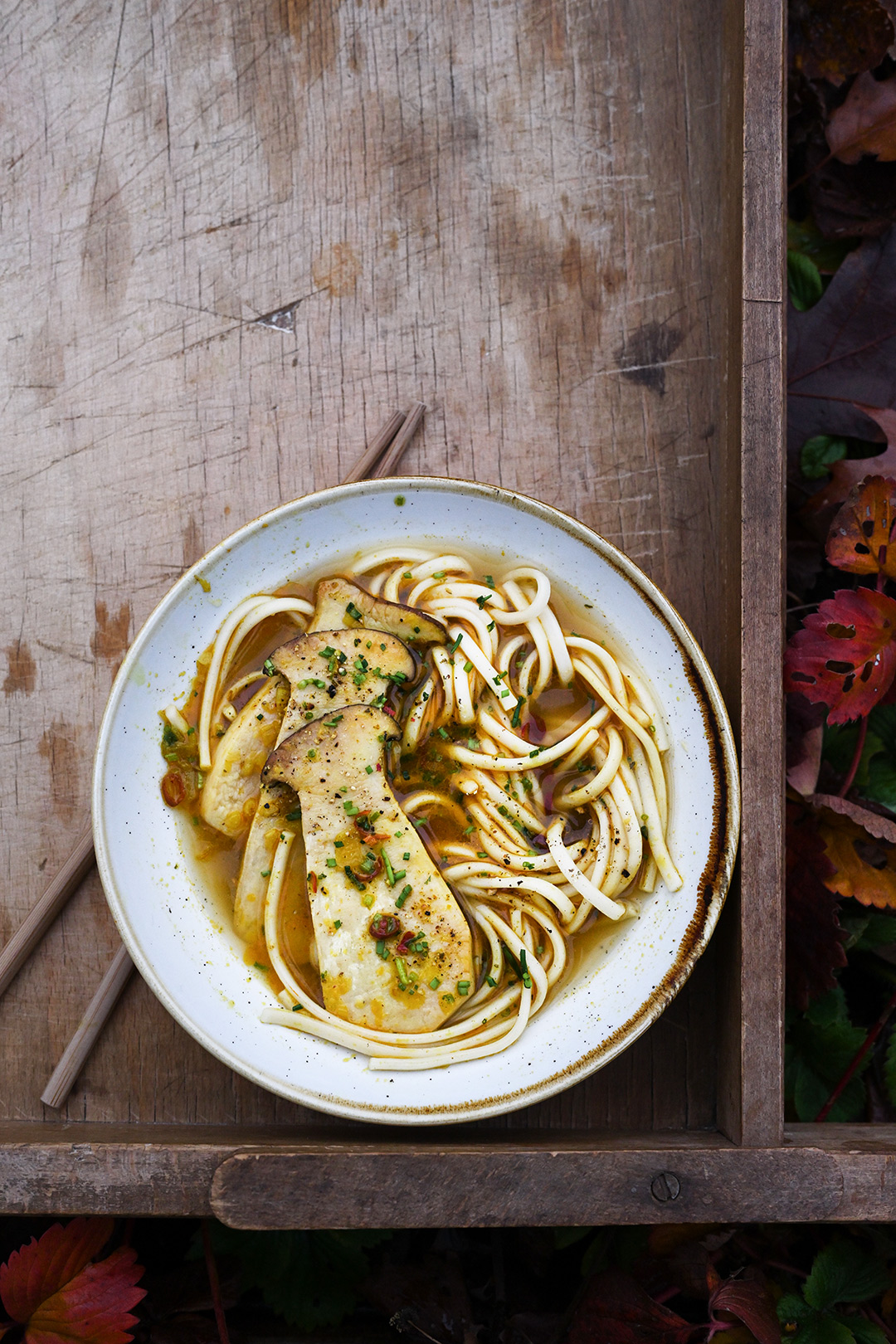 Verse paddenstoelen, een heerlijke bouillon en noedels, meer heb je niet nodig. Duinvoetjes hebben al een heerlijke smaak op zich.  Je hoeft alleen maar wat extra kruiden toe te voegen en ze zullen je wereld op zijn kop zetten. Daarom is deze Aziatisch getinte bouillonsoep met udon noedels een echte aanrader. Wat de bouillon zo smaakvol maakt, zijn de aroma's van geroosterde kruiden.
Roosteren van kruiden is niet iets wat je overhaast moet doen, dus vermijd het gebruik van hoge temperaturen en rooster je ze best langzaam op een middelhoog vuurtje. Hierdoor zullen de kruiden de oliën loslaten en diep in het midden opwarmen zonder de buitenste randen te verbranden.
Dus, gaan we eraan beginnen?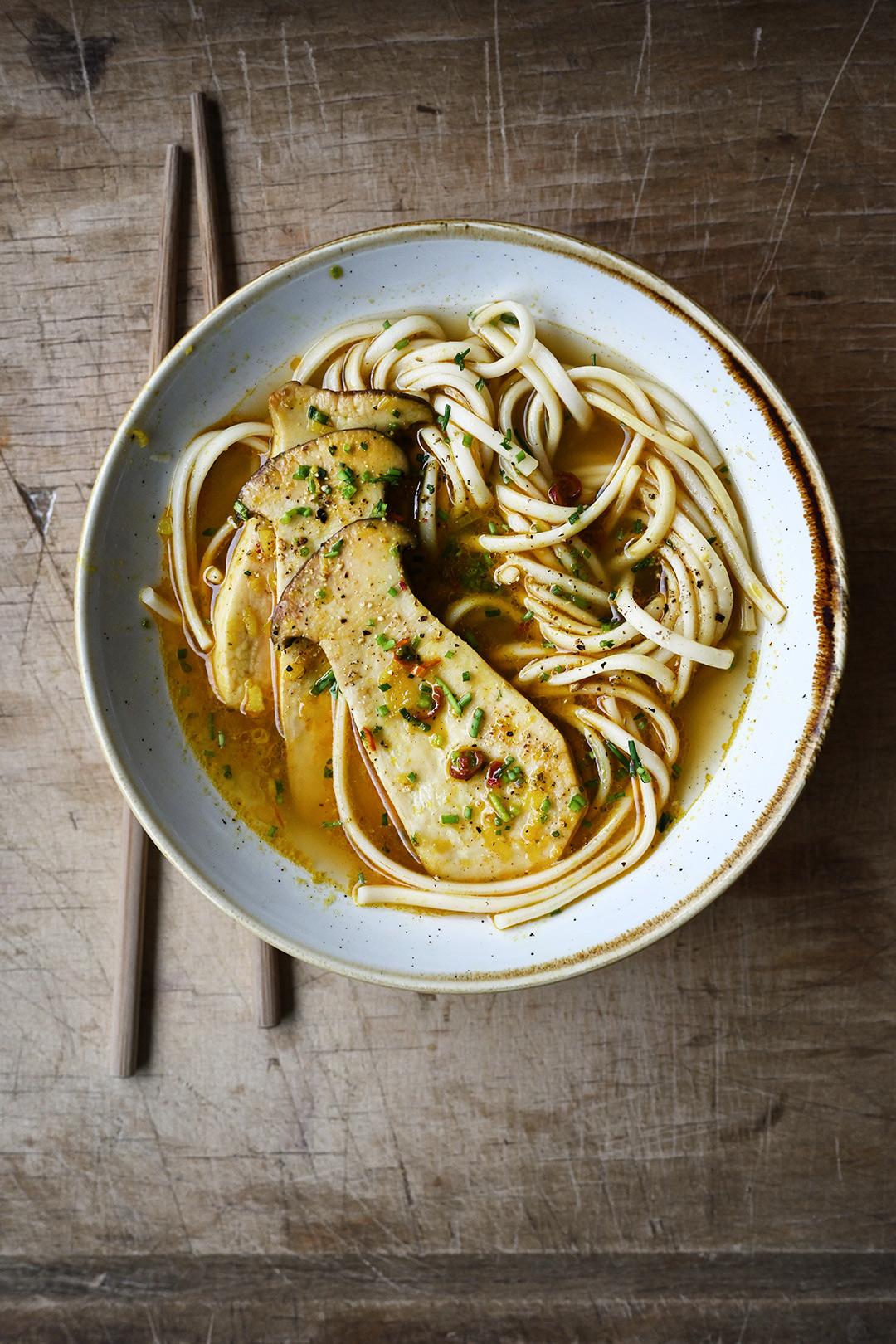 Dit heb je nodig
geroosterde kruiden
1/2 tl sichuan peper
1/2 tl korianderpoeder
1/2 tl komijnpoeder
1/2 tl kurkuma
soep
1 el plantaardige olie
2 teentjes knoflook, fijngehakt
1 sjalotje, fijngehakt
1 tl vers geraspte gember
1 el sojasaus
500 ml dashi of groentebouillon
1 el miso
zeezout + zwarte peper naar smaak
afmaken
150 g duinvoetjes, in plakken gesneden
2 el plantaardige olie
100 g udon noedels
gehakte bieslook
gedroogde chilipeper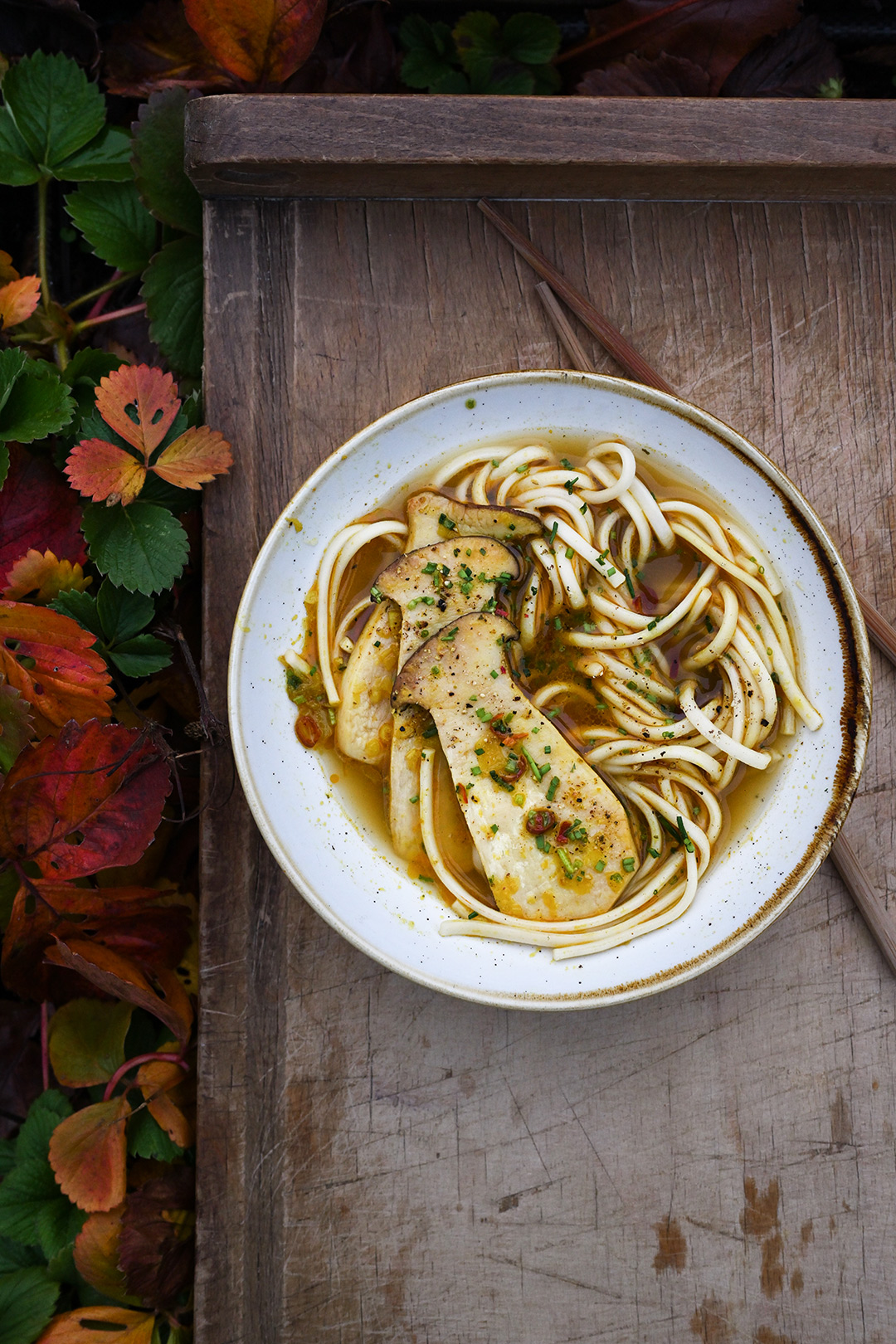 Zo maak je het
Verhit een koekenpan met een dikke bodem op middelhoog vuur, voeg de kruiden toe en rooster ze langzaam. Leg ze op een bord om af te koelen.
Verhit in een grote pot de olie, voeg de sjalot, knoflook en gember toe. Fruit op een zacht vuurtje, voeg de geroosterde kruiden, bouillon, miso en sojasaus toe. Breng aan de kook en laat afgedekt 10 minuten sudderen. Kruid naar eigen smaak met peper en zout.
Verhit de olie in een koekenpan, leg de paddenstoelen mooi naast elkaar zodat ze elkaar niet overlappen. Bak, zonder ze te bewegen, tot ze aan één kant bruin zijn, ongeveer 2 minuten. Keer om en bak nog 2 minuten of tot ze goudbruin zijn. Breng op smaak met zout en zwarte peper.
Breng een grote pot gezouten water aan de kook. Voeg de udon noedels toe en kook ze gaar volgens de aanwijzingen op de verpakking, laat uitlekken.
Verdeel de noedels over twee kommen, leg de paddenstoelen erop en giet de bouillon erover. Serveer met gehakte bieslook en chilipeper. Smakelijk!