A light quick pasta dish with lots of delicious summer zucchini and bacon, this could turn into your favorite pasta in a heartbeat. Super casual and easy to make but truly nourishing and refined.
The base for this dish is a simple zucchini and bacon sauce that delivers mega flavors. This sauce is tender, soft with a nice texture of the zucchini. We use two different ways to cut the zucchini, one zucchini is cut in bite-sized pieces. The other one is shredded, eventually it gets jammy and saucy, ideal to coat big pieces of pasta. Also the addition of pasta cooking water rounds out the meat flavor and gives the bacon something to cook down in without drying out.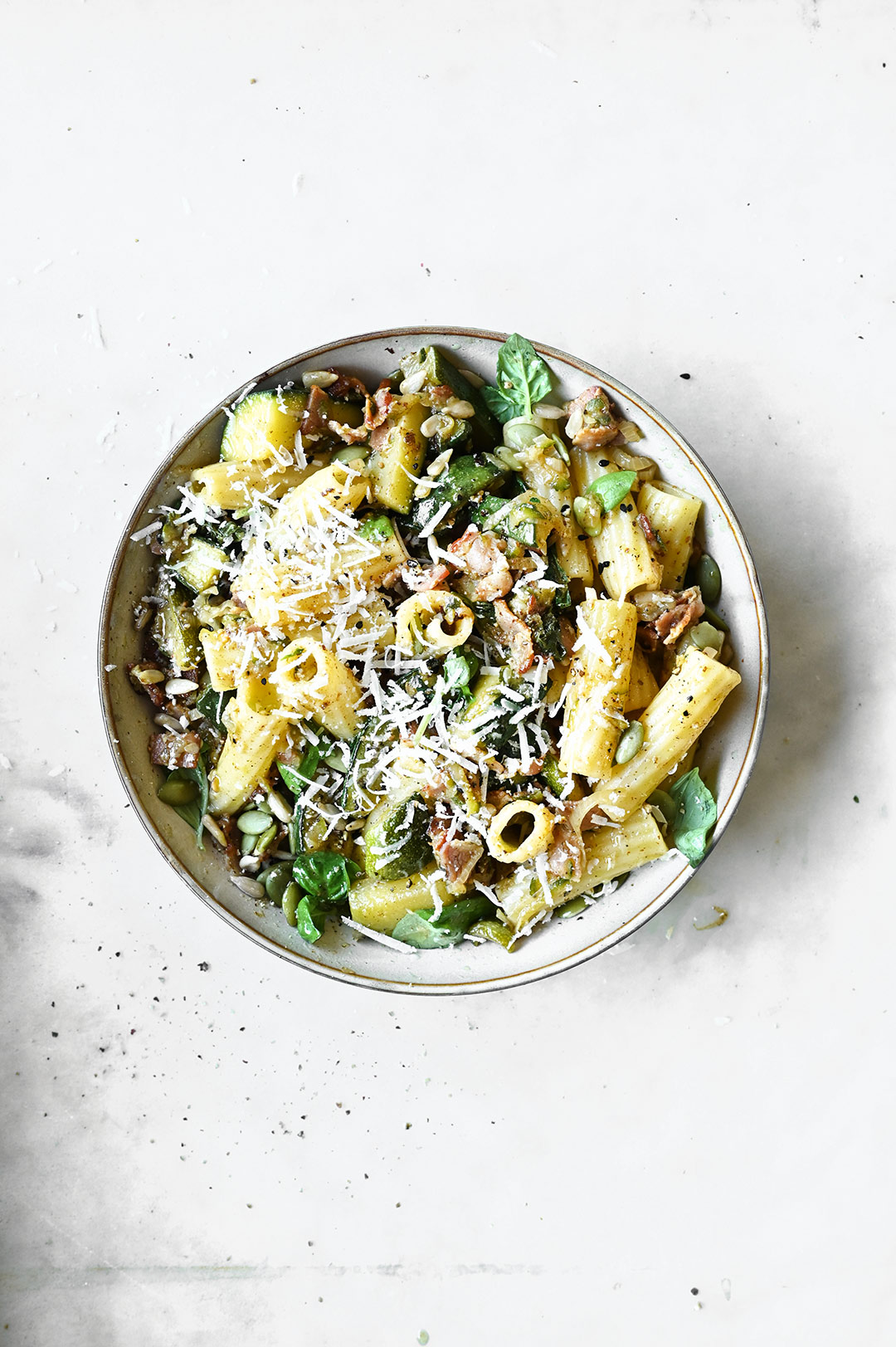 We finish the dish off with a nice addition of fresh basil and lots of sunflower and pumpkin seeds. Serve with grated parmesan. Two words. Really tasty.
This is one of those meals that everyone can love and everyone can make. If you're looking for inspiration for a new pasta dinner, than this is it. Shareable deliciousness.
Zucchini will give this dish a summery twist. Try to buy the freshest ingredients you're able to find, as that's what helps to make this pasta dish delicious. You can even add some cherry tomatoes or swap zucchini for summer squash.
When it comes to the type of pasta, you can serve it with spaghetti or penne.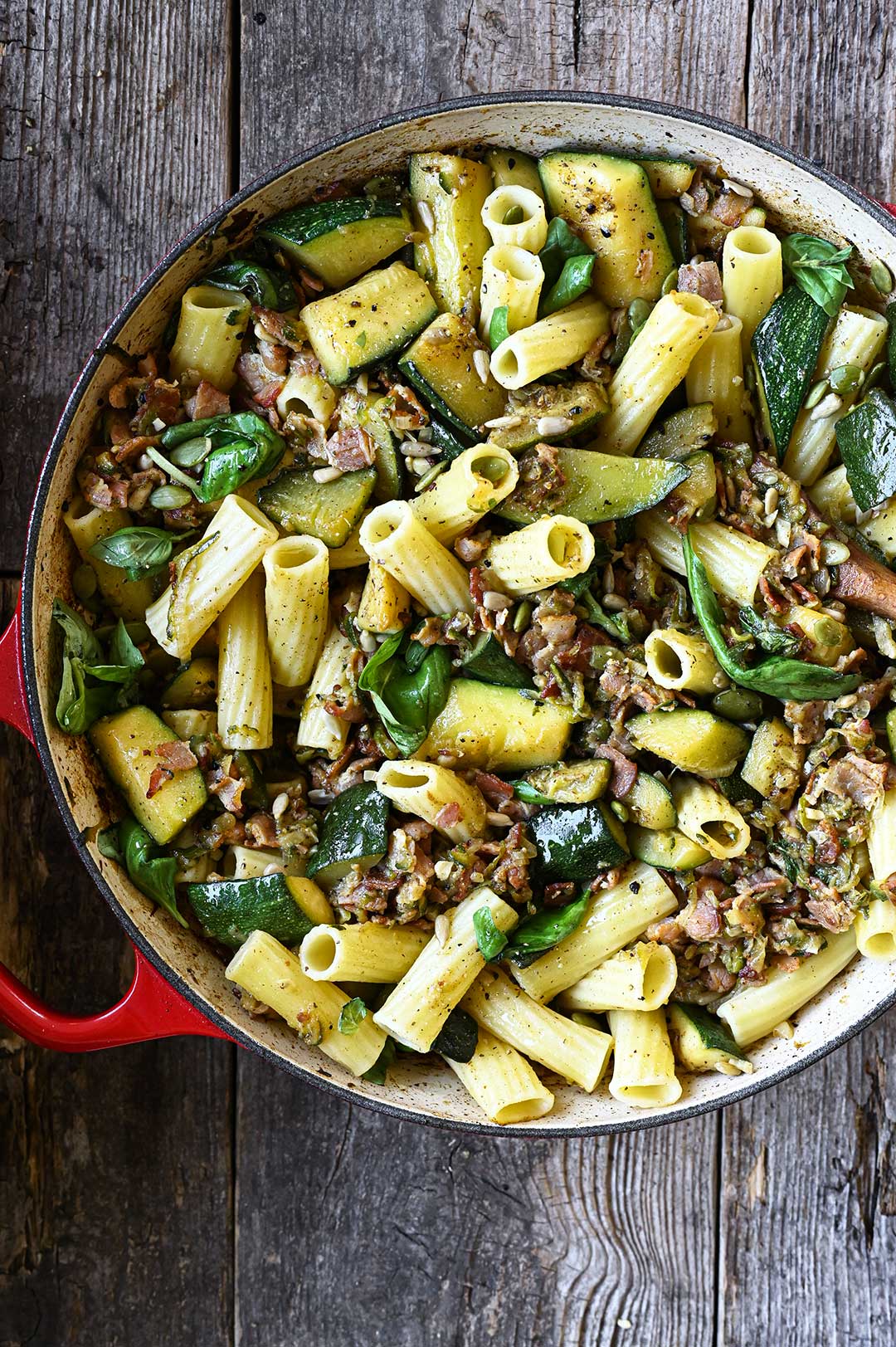 Hungry for more?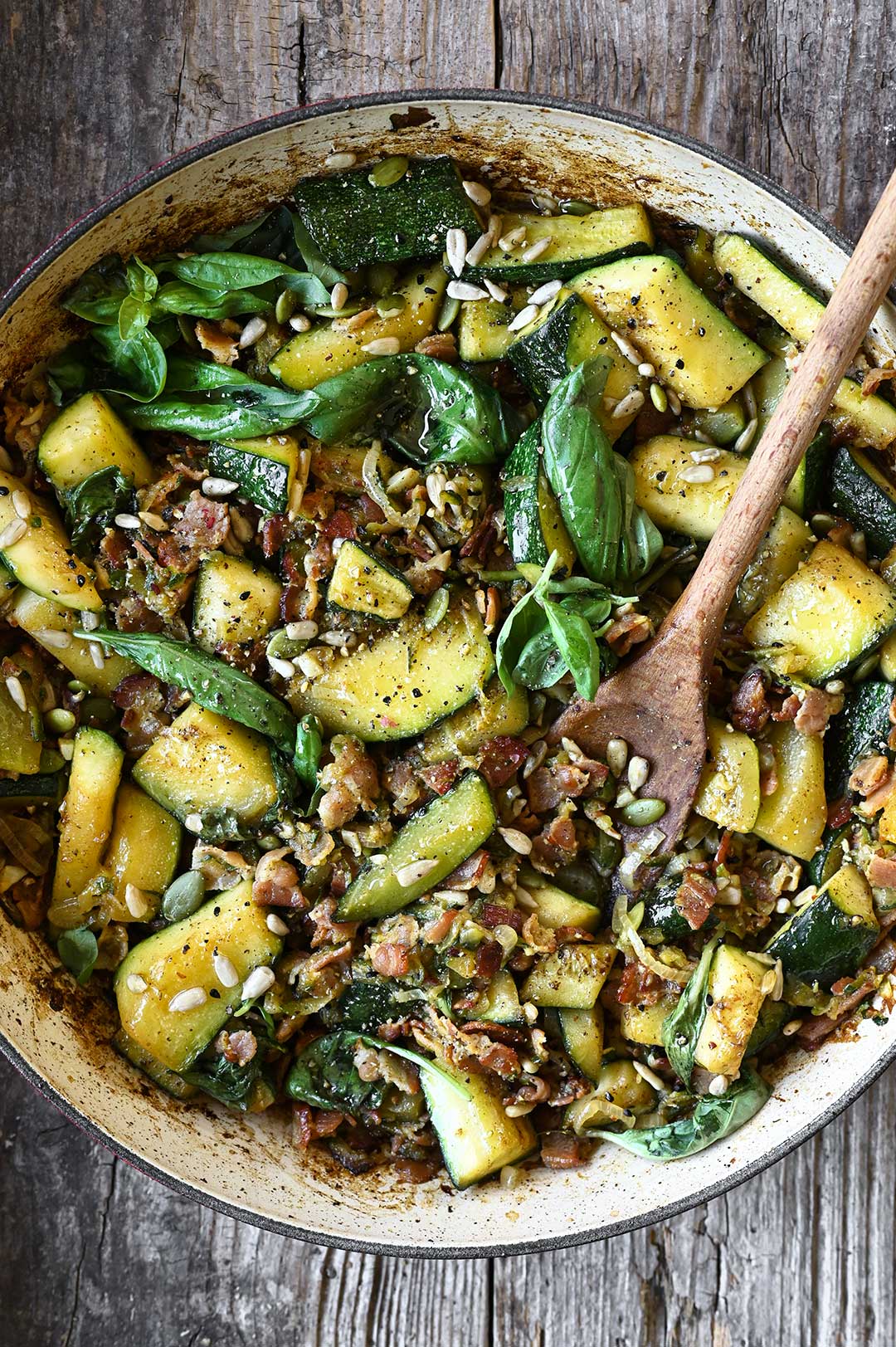 Yield: serves 4
Zucchini and Bacon Pasta with Basil
Ingredients
400 g (4 cups) pasta
300 g (2 cups) bacon slices, cut into thin strips
2 zucchinis or summer squash
4 garlic cloves, minced
1 shallot, thinly sliced
olive oil
sea salt + black pepper
1 tsp chili flakes
2 tbsp lemon juice
1 bunch basil, we use only the leaves
4 tbsp seeds: a mixture of sunflower seeds + pumpkin seeds + black sesame + pine nuts
grated parmesan, for serving
Instructions
Boil the pasta in salted water until al dente. Drain, reserving 1/2 cup of the cooking water.
Cut one of the zucchinis in bite-size pieces, grate the other zucchini on the large holes of a box grater. Set aside.
Heat 3 tbsp olive oil in a (very) large skillet, add the bite-size cut zucchini, season with salt and pepper. Cook, stirring, for 3-4 minutes until zucchini softens slightly. Take out and set aside.
Heat 2 tbsp olive oil in the same pan over high, add bacon and cook for 4-5 minutes until golden. Add grated zucchini, cook for 3 minutes. Add garlic, shallot and lemon juice. Season with salt, lots of black pepper and chili flakes. Add the pasta cooking liquid. Cook until the zucchini is jammy, about 2-3 minutes more. Add the seed mixture and the bite-size zucchini pieces.
Add pasta to the skillet and stir until sauce coats the pasta. Toss in most of the basil. Taste and season with salt and pepper. Serve with grated parmesan and the remaining basil. Enjoy!
Notes
Calories Per Serving: 248 kcal
Nutritional information is only an estimate. The accuracy of the nutritional information for any recipe on this site is not guaranteed.

//= __('Print recipe (no photos)', 'servingdumplings' );?> //= __('Print recipe (with photos)', 'servingdumplings' );?>