Want a seriously delicious potato salad? Potato salads come in many shapes and combinations, but I'm sure this one hits all the notes. Softly roasted baby potatoes, asparagus, pistachios and eggs. All tossed together in a mustard tahini dressing with just a hint of smokiness from za'atar.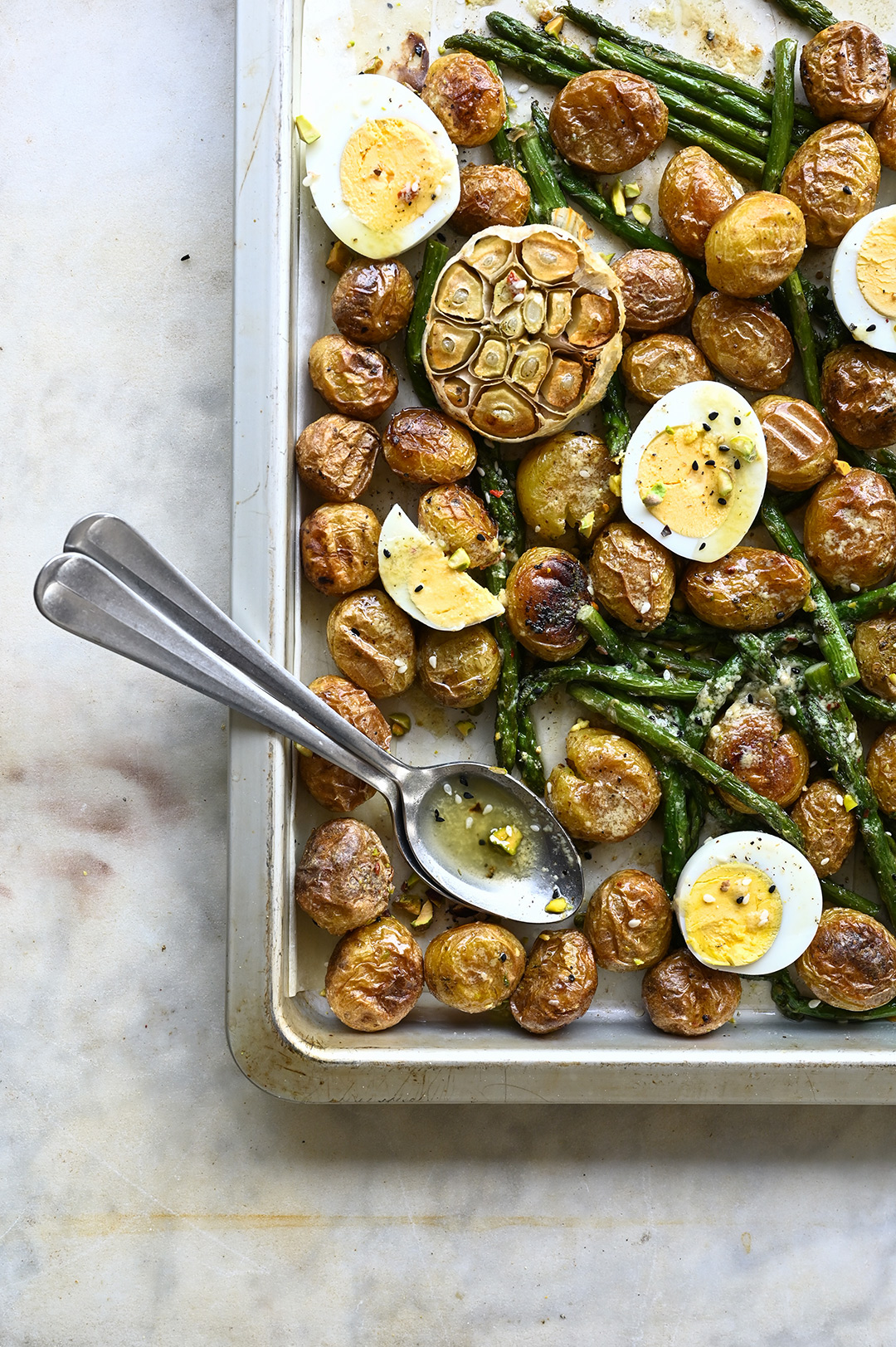 Warmer weather means I'm craving more salads and veggies. This recipe reflects everything I like in an ideal salad: saltiness, texture, and a hearty-spicy balance. I always roast potatoes first for my potato salads and drench them in a dressing when they're still warm so they can soak in all the juices.
This salad matches with just about anything what you can think of to serve it with, it makes a perfect lunch or side dish for dinner. But the whole point is, to enjoy it stand-alone. Yes, this spring salad is a full, satisfying meal all in one bite. It's light, and packed with flavor and texture.
But even with good salad ingredients, a great salad is only as good as its dressing, and this dressing is something you're going to want to use on all of your salads. Crispy potatoes, eggs, roasted asparagus, crunchy pistachios and a creamy dressing, yes please.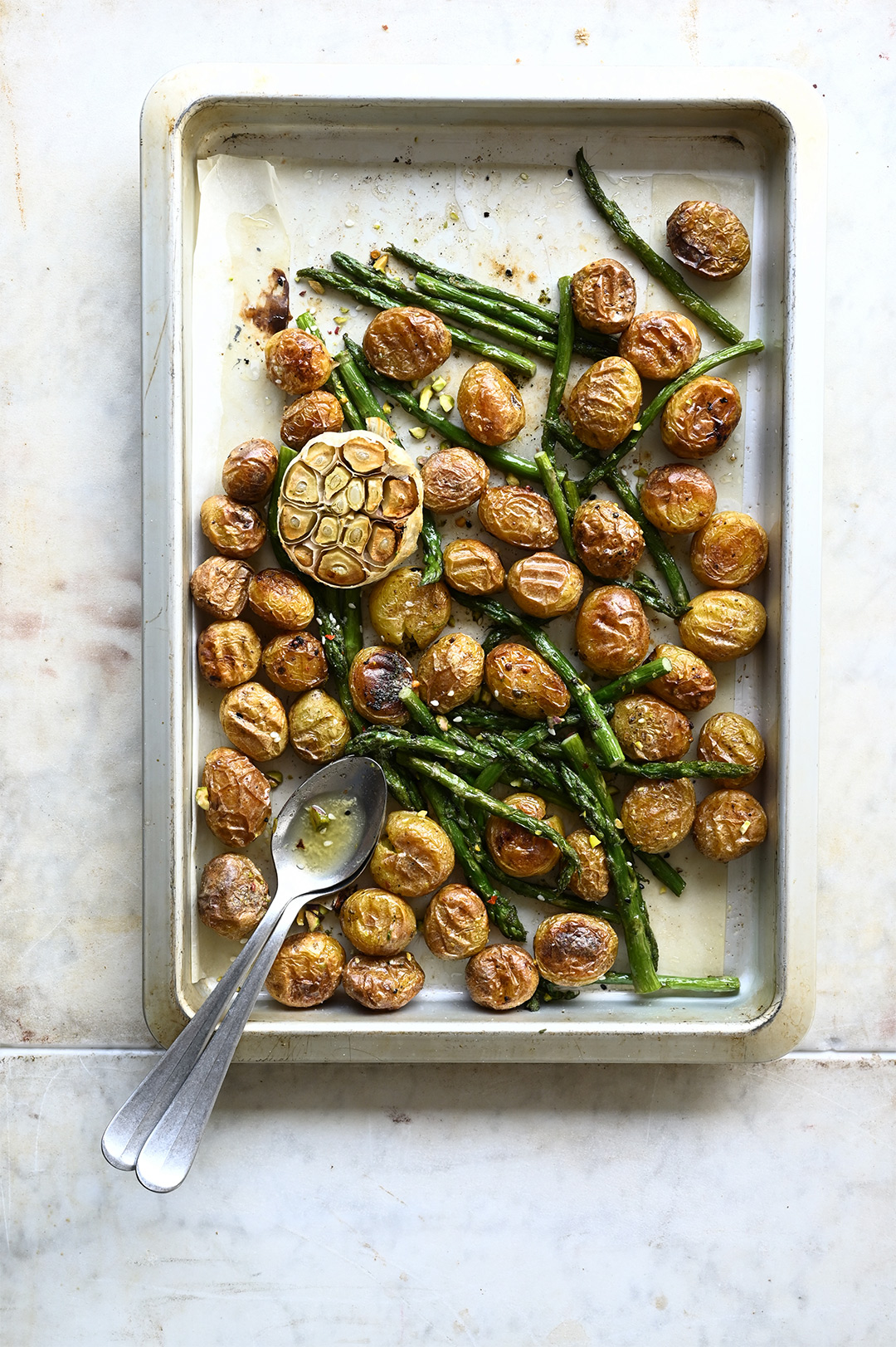 You need
salad
500 g baby potatoes
150 green asparagus
3 tbsp olive oil
1 tbsp lemon juice
sea salt + black pepper
1 tsp za'atar
2 tbsp chopped pistachios
1/2 tsp crushed chilis
4 hard boiled eggs
dressing
2 tbsp lemon juice
2 tsp mustard
1 garlic clove, grated
3 tbsp olive oil
1 tsp tahini
1 tsp za'atar
sea salt + black pepper
1 tbsp apple vinegar
1/2 tsp crushed chilis
1 tsp honey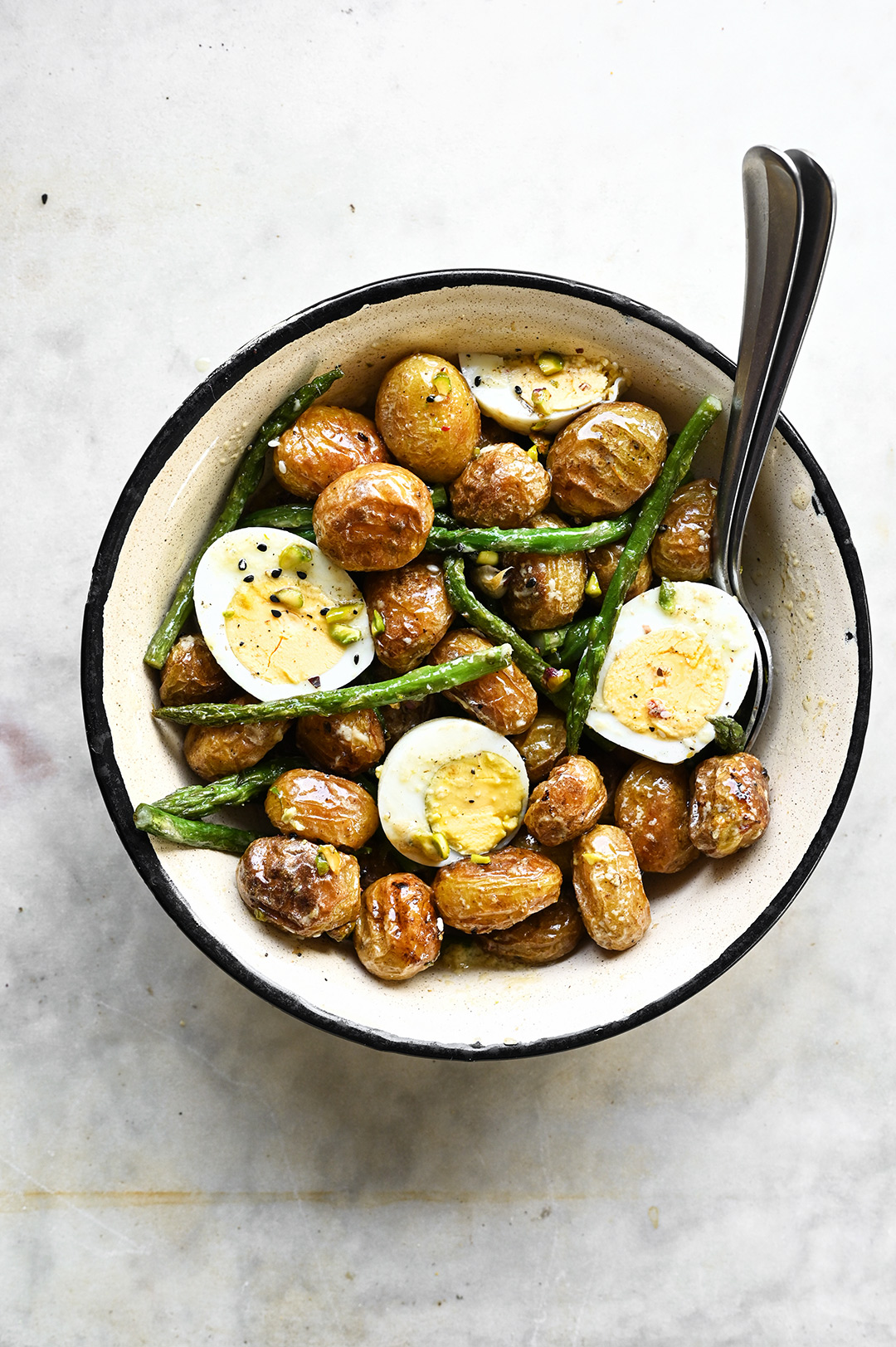 How to
Preheat the oven to 200°C.
On a large rimmed baking sheet, combine the potatoes, olive oil and a pinch of salt and pepper. Sprinkle with lemon juice, toss well to evenly coat. Transfer to the oven and roast for 20-25 minutes, it depends on how big your potatoes are.
Remove the potatoes from the oven and add asparagus, za'atar, chili, pistachios. Toss well to coat evenly. Transfer to the oven and roast for 10-15 minutes or until the asparagus are tender.

Combine the ingredients for the dressing.

To assemble the salad, place the hot veggies in a large bowl. Pour the dressing on top and stir until the vegetables are fully coated. Add eggs, season with salt and pepper and serve warm. Enjoy!

//= __('Print recipe (no photos)', 'servingdumplings' );?> //= __('Print recipe (with photos)', 'servingdumplings' );?>