What about a hearty lentil stew? With chickpeas, sweet potato, mushrooms, herbs and spinach, a hearty vegetable broth base and green lentils cooked to perfection.
Do you love lentils? I do, you can add them to many recipes, they're tasty and loaded with vitamins. And it is said that they're a nutritional fountain of youth, no complains over here!!
Today I made a winter stew with these little pillows and a bunch of vegetables, then simmered to perfection to make a bowl full of comfort that will rock your winter mood!
It's a thick and satisfying stew with classic flavors and great textures, drizzled with a bit of chili olive oil and topped with a spoon of sour cream. Happy cooking!
Ingredients
200 g  green lentils
200 canned chickpeas
250 g brown mushrooms, finely chopped
1 sweet potato, peeled and diced
100 g spinach
1 celery stalk, finely chopped
4 garlic gloves, finely chopped
1 onion, finely chopped
3 tablespoons vegetable oil
4 branches fresh thyme
1 bay leaf
1 tablespoon lemon juice
750 ml vegetable broth
sea salt + black pepper
to finish
sour cream
olive oil with chili pepper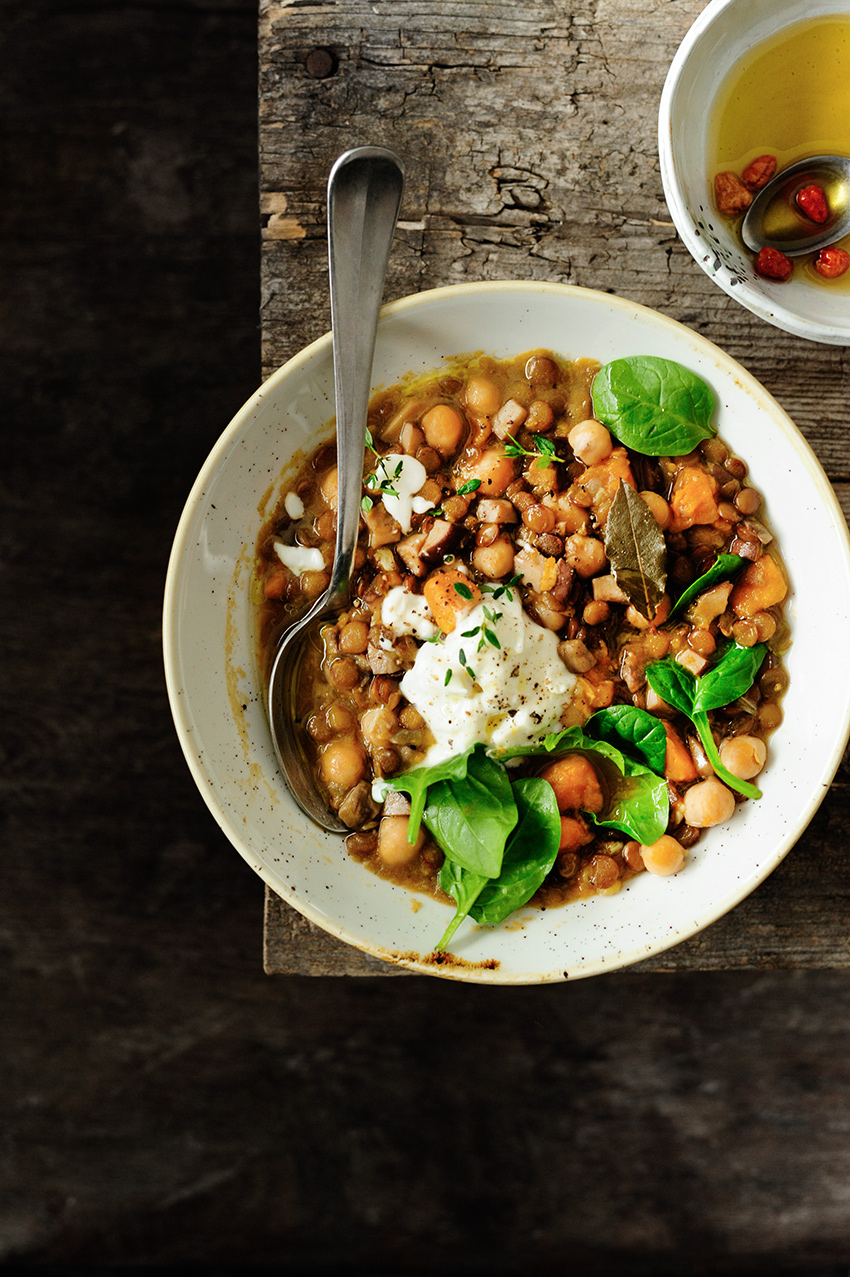 Instructions
Heat the vegetable oil in a deep pan, I used a dutch oven, cook the onion and garlic until soft. Add celery, mushrooms and sweet potato. Turn up the heat and cook for 5 minutes. Add lentils, vegetable broth, thyme and bay leaf. Bring to a boil, cover and allow to cook for 30 minutes.
Then, add the chickpeas and spinach, cook for 10 minutes more. Season with sea salt, pepper and a splash of lemon juice.

Serve drizzled with a bit of chili olive oil and topped with a spoon of sour cream. Enjoy!

//= __('Print recipe (no photos)', 'servingdumplings' );?> //= __('Print recipe (with photos)', 'servingdumplings' );?>