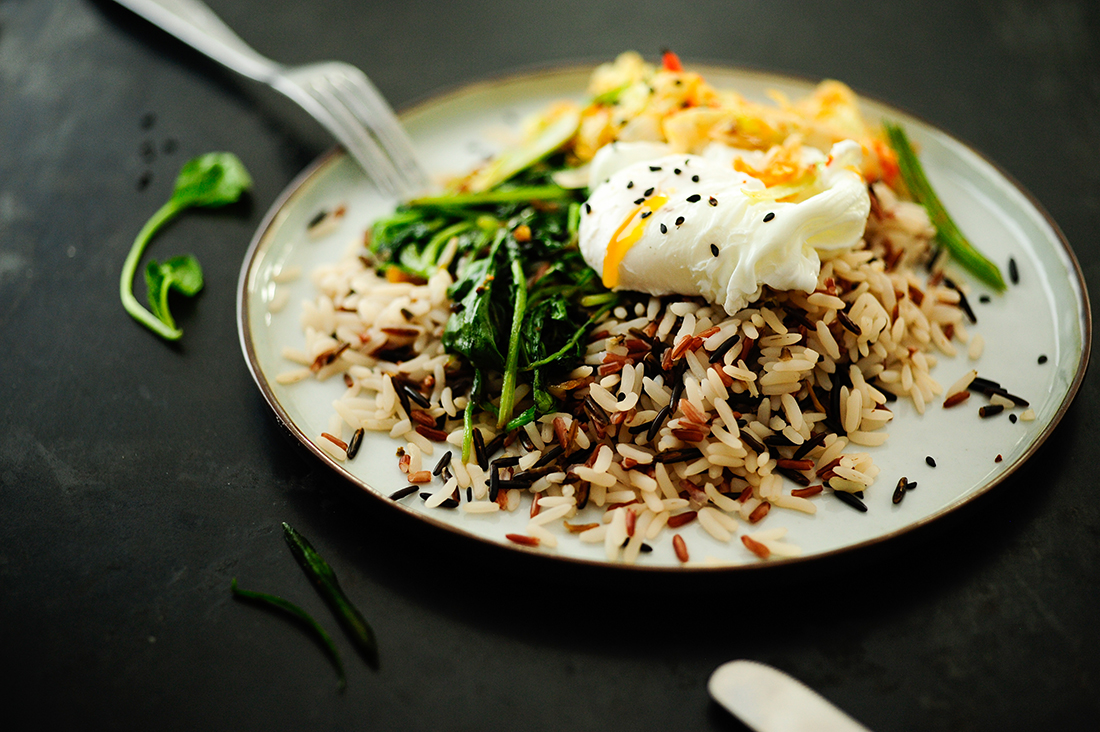 An extremely tasty and healthy vegetarian dish with wild rice, spinach and a poached egg. Seasoned with asian spices  and served with spicy kimchi and crispy sesame seeds. Here's how to make kimchi at home. 
Ingredients
400 g wild rice
4 eggs
1 tablespoon white vinegar
400 g spinach
2 shallots, chopped
2 cloves garlic, chopped
4 tablespoons soy sauce
2 teaspoons grated ginger
2 teaspoons rice vinegar
1/2 teaspoon wasabi
peanut oil
kimchi (kimchi recipe here)
sesame seeds
Instructions
Cook the rice in salted water.
Heat 2 tablespoons oil in a skillet and cook the shallots, garlic and ginger for 5 minutes. Add the washed spinach and simmer another 5 minutes. Season with soy sauce, rice vinegar and wasabi.
Crack the eggs individually into a cup. Boil 1L water with vinegar in a tall pot, create a gentle whirlpool in the simmering water. Pour the (first) egg from a low height in the water and cook for 3 minutes. Remove the egg with a slotted spoon and dry on a paper towel.
Arrange the rice on the plates, add spinach and the poached egg, serve with kimchi and sprinkle with sesame seeds. Enjoy!