A tempting bowl full of healthy happiness?! It's filled with wheat berries stewed with lentils and white asparagus, lots of fresh herbs and a delicate lemon taste, served with a poached egg. It's a dish full of delicious flavors and wonderful textures. Fast and easy, what more could you want in a dish?
Ingredients
2 organic eggs
100 g green lentils
100 g  wheat berries
250 g white asparagus, peeled and cut into pieces
1 shallot, finely chopped
1 garlic clove, finely chopped
2 tbsp lemon juice
2 tbsp lemon zest
3 tbsp chopped dill
1 tbsp lemon thyme leaves
2 tbsp roasted almond flakes
25 ml white wine
750 ml  warm vegetable stock
1 tbsp butter
2 tbsp olive oil
black pepper + salt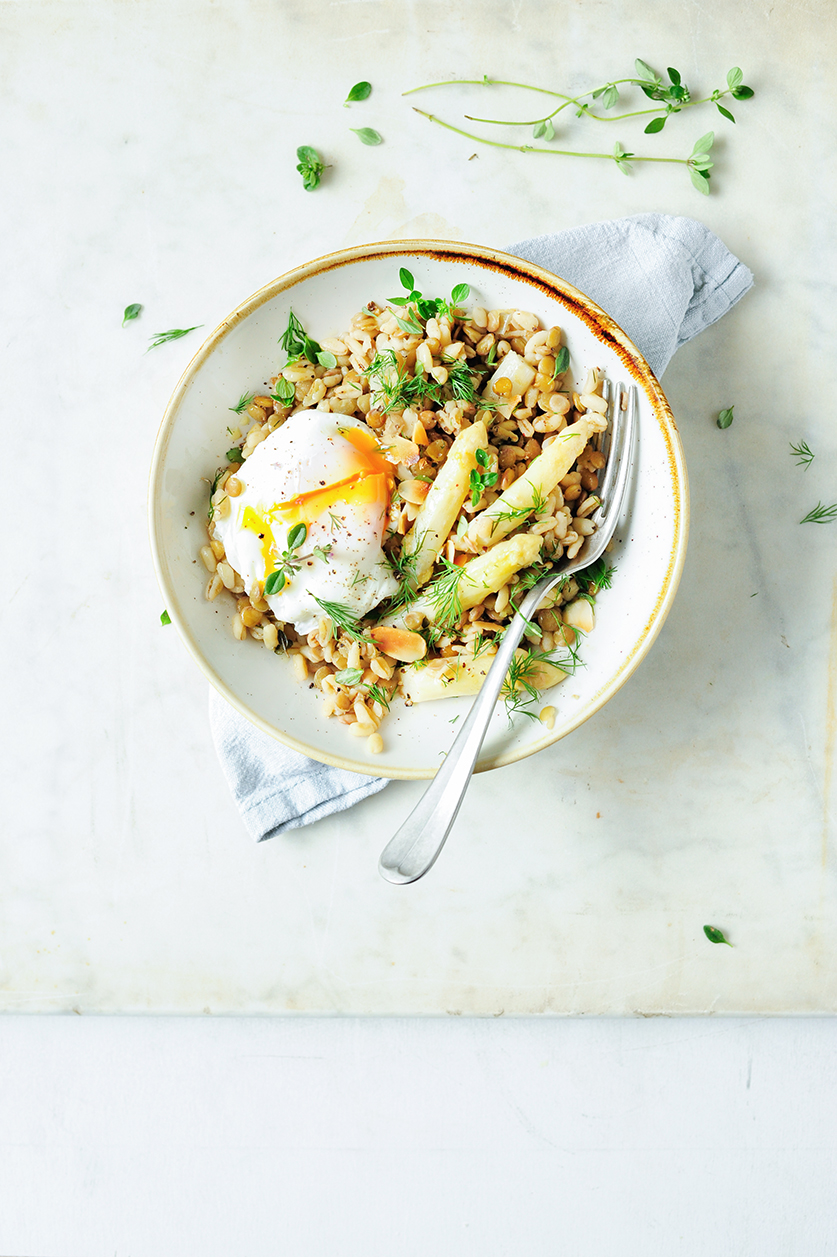 instrutions
Heat the olive oil in a deep pan and fry the shallot and garlic until soft. Add the wheat berries and lentils, stir until they are covered with the olive oil. Add white wine and half of the vegetable stock. Stir until absorbed, then add the rest of the stock.
After 10 minutes, add the asparagus, lemon juice and zest. Simmer for 15 minutes.
Season with butter, dill, lemon thyme, pepper and salt.
Crack the eggs individually into a cup. Boil 1L water with vinegar in a tall pot, create a gentle whirlpool in the simmering water. Pour the (first) egg from a low height into the water and cook for 3 minutes. Remove the egg with a slotted spoon and dry on a paper towel.
Serve the risotto with the poached egg and roasted almonds. Enjoy!