Craving a hearty, comforting soup that's packed with flavor? Look no further than Tuscan tortellini soup! This 30 minute one-pot wonder is made with cheesy tortellini, tender spinach, and spicy Italian sausage. Be sure to serve it with a side of crusty bread for the perfect finishing touch. You won't be disappointed!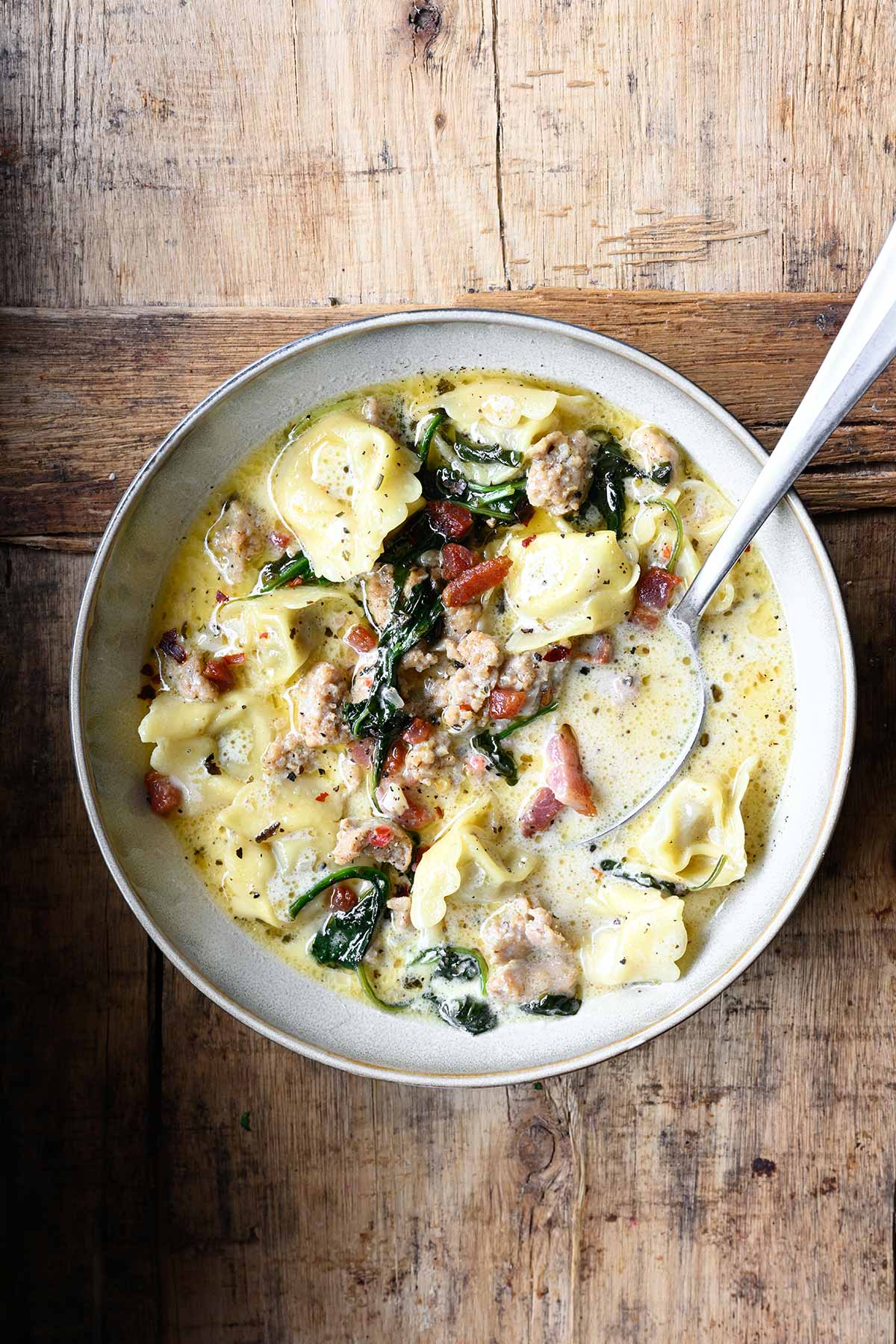 Why You'll Love this Tuscan Tortellini Soup
Discover the magic of Tuscan Tortellini Soup, with this delightful twist on the classic recipe, without the potatoes. Dive into a bowl filled with flavors that'll warm your soul. The best part? It's incredibly easy to prepare, we're talking one-pot simplicity with a handful of ingredients. Say goodbye to extensive cleanup and hello to more quality family time.
This Tuscan soup just hits the spot! With its ultra creamy texture, and just a touch of heat from Italian sausage, this soup promises ultimate satisfaction. Whip up a big batch for freezer storage, or enjoy the leftovers for lunch. And of course, don't forget to pair it with some crusty bread. This truly is a one pot wonder, just make a double batch or you'll be sorry.
Let me guide you through the recipe with this step-by-step VIDEO or follow along on YouTube!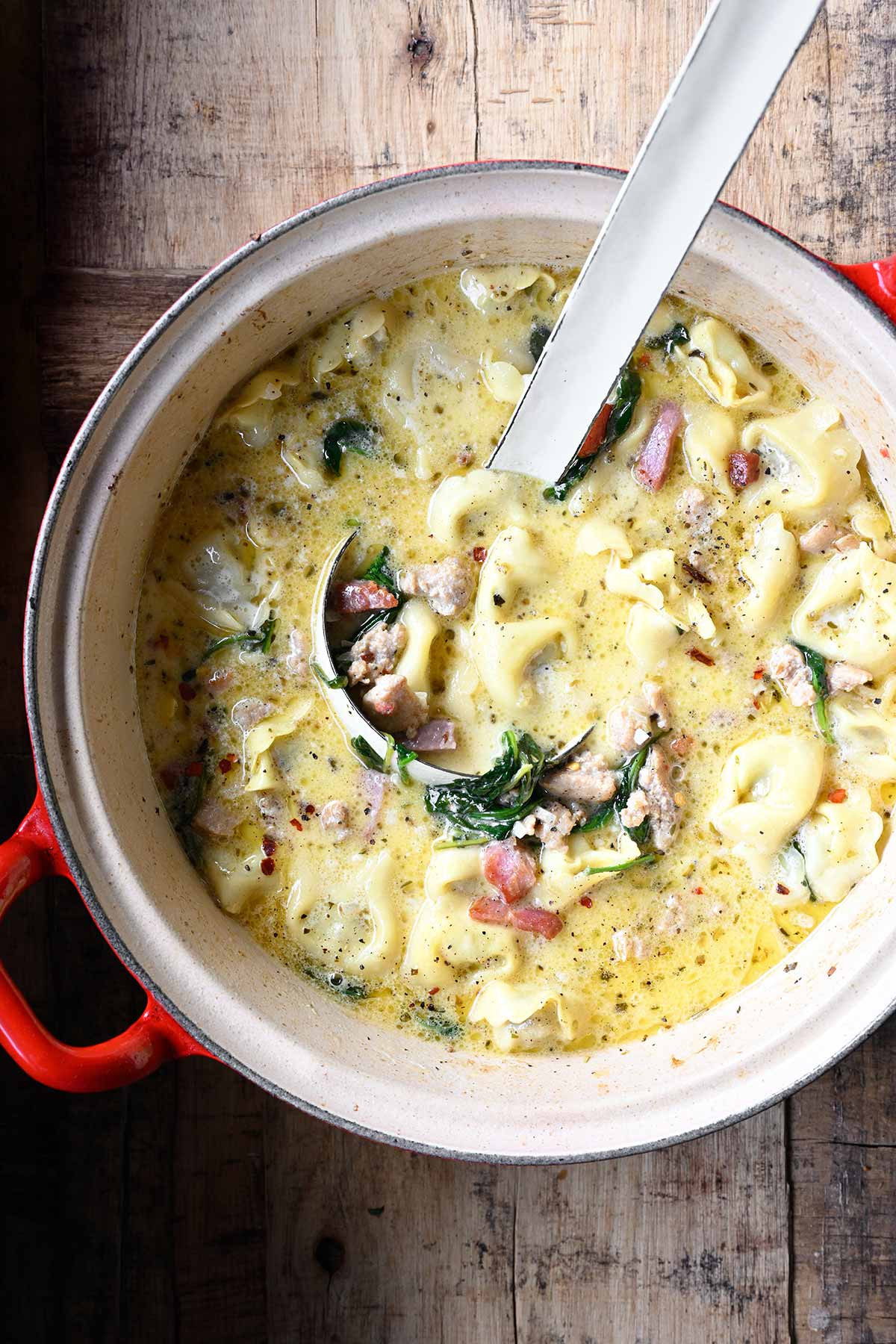 Ingredients and Substitutions
Your going to love how versatile this soup is!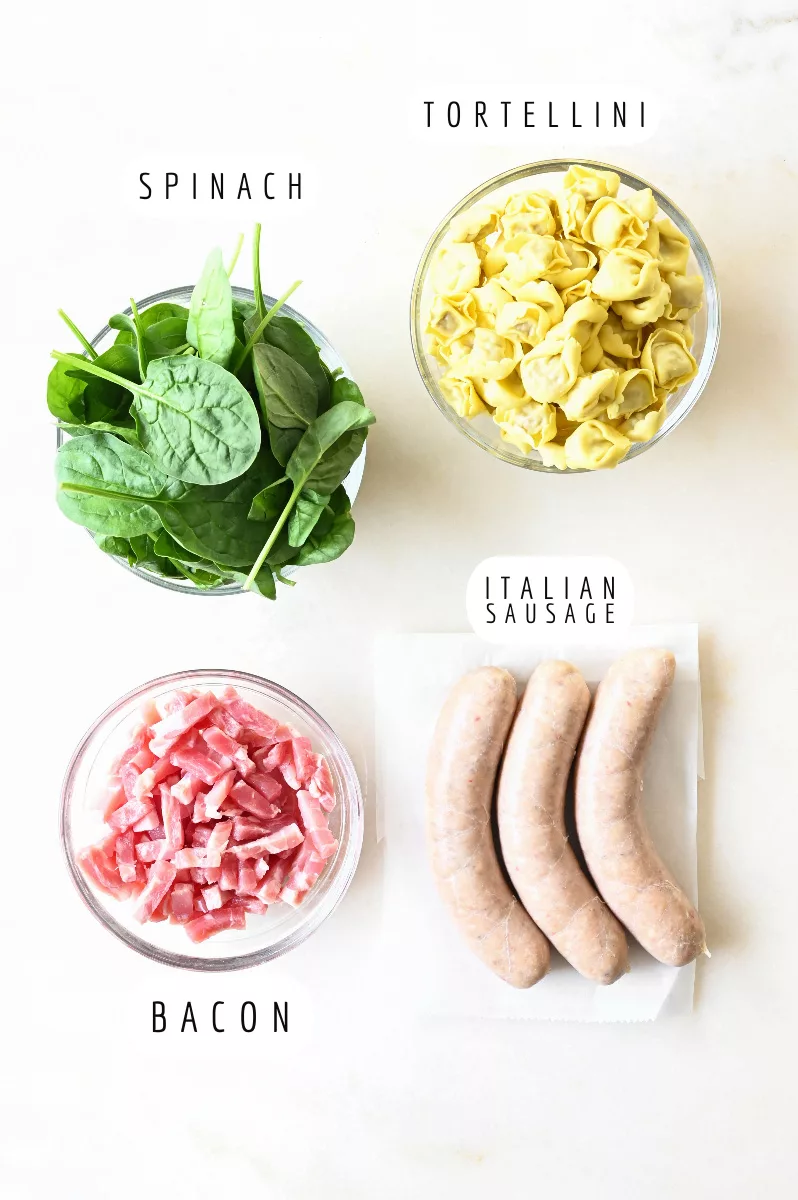 Italian Sausage: Elevate the flavor with spicy Italian sausage or explore milder options like sweet Italian sausage, chicken sausage, ground pork, chicken, or beef.
Tortellini: Opt for tortellini with your preferred filling, or try this soup recipe with ravioli or pasta varieties such as fusilli, campanelle, casarecce, gemelli, or farfalle.
Bacon: Adds a delightful salty touch and an appealing crunchy texture. You can also use pancetta.
Spinach: For a vibrant green touch, consider swapping spinach for kale.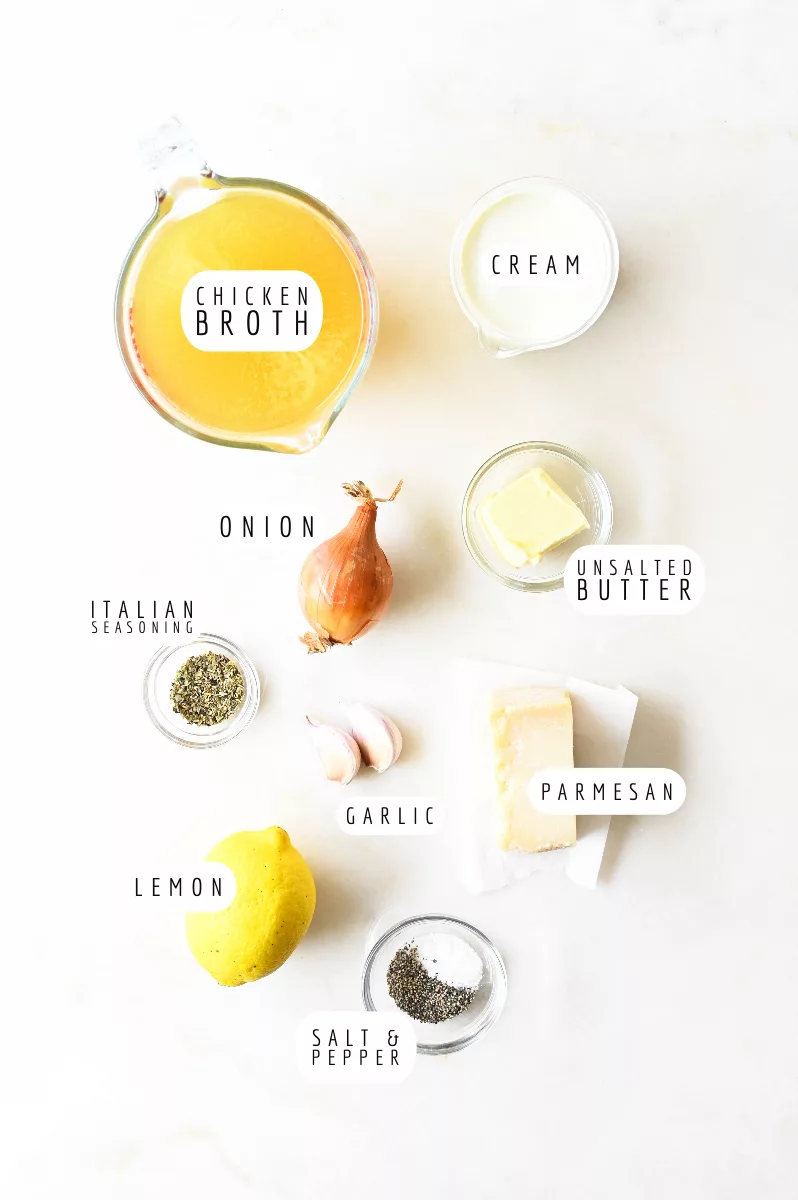 Butter: Choose butter as your cooking fat of choice, as it imparts a richer flavor compared to oil.
Onion and Garlic: These essential flavor enhancers are the backbone of the recipe. Feel free to amp up the garlic if you're a fan, this soup can handle up to 8 garlic cloves.
Seasoning: Create a harmonious blend of salt, black pepper, and Italian seasoning. While optional, a sprinkle of chili flakes can add a hint of heat. If Italian seasoning isn't on hand, dried thyme or basil can work as substitutes.
Chicken Broth: Easily switch to vegetable broth.
Heavy Cream: For an ultra creamy base. A 20% fat cream can also be used, but try to avoid half-and-half to prevent curdling.
Lemon Juice: Brightens up the soup, cutting through the richness without overpowering it.
Parmesan: Freshly grated Parmesan for a creamy texture and a savory, indulgent taste. Consider Pecorino or Grana Padano as suitable substitutes.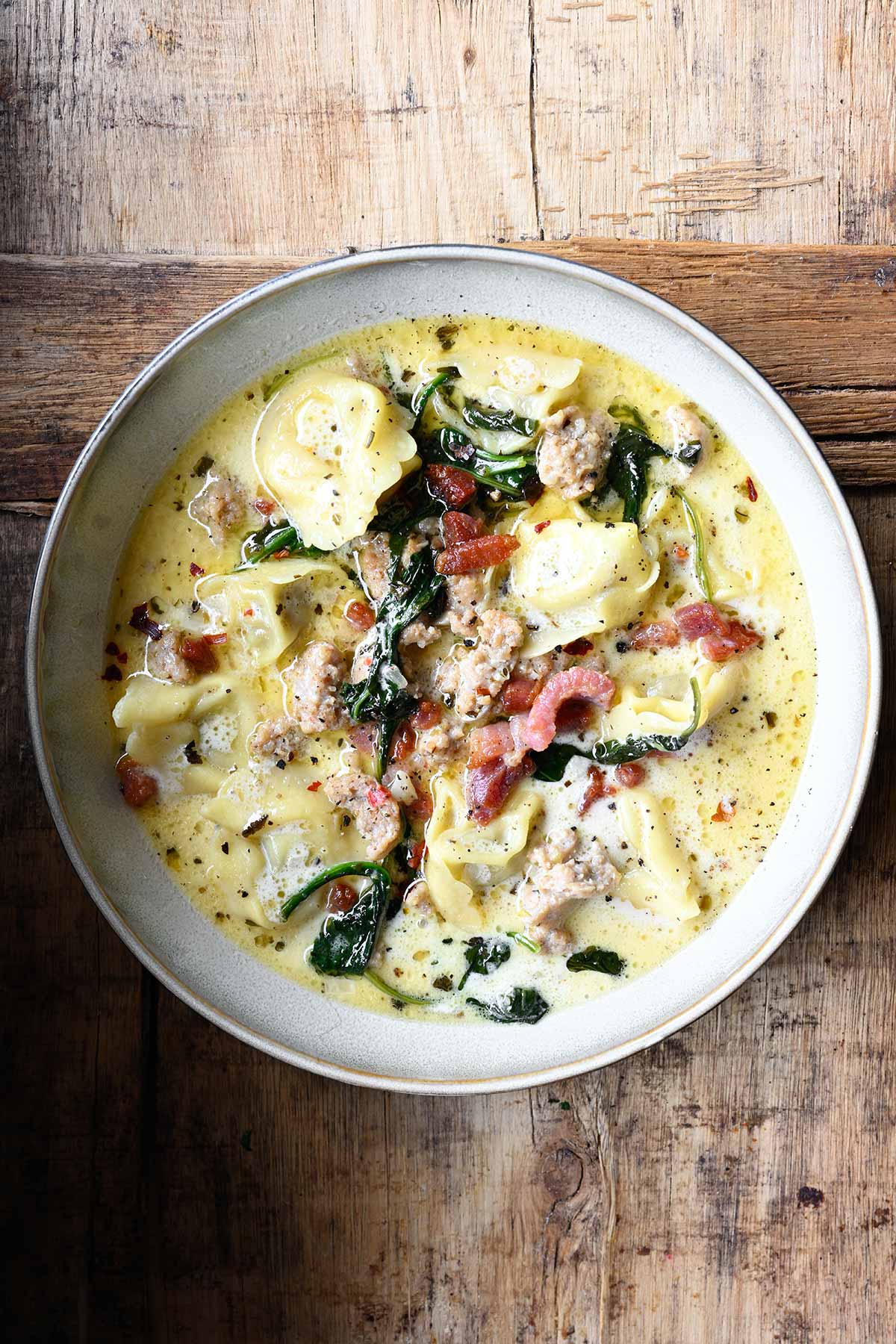 Helpful Tips
Spice It Your Way: This zuppa toscana recipe boasts a gentle kick from Italian sausage and chili pepper flakes. If you prefer a milder experience, switch to sweet Italian sausage and omit the chili flakes. For the bold heat-seekers, don't hesitate to sprinkle in more chili flakes.
Sear Sausage for Flavor: Cooking the sausage over medium heat not only ensures it stays juicy but also infuses the soup with a burst of flavor.
More Veggies: Don't hesitate to add extra veggies like carrots, zucchini, white beans or potatoes.
Perfect Tortellini Timing: For that perfect al dente toothsome texture, if not serving immediately, it's best to add them just a few minutes before serving, as you don't want them getting overcooked or falling apart.
Leftover Brilliance: If you're planning for leftovers or meal prepping, consider cooking the tortellini separately. Add them to the soup when you're ready to eat.
Bread Companionship: Elevate your dining experience by serving this soup with a side of garlic bread or some breadsticks. It's the ideal pairing to complete your meal.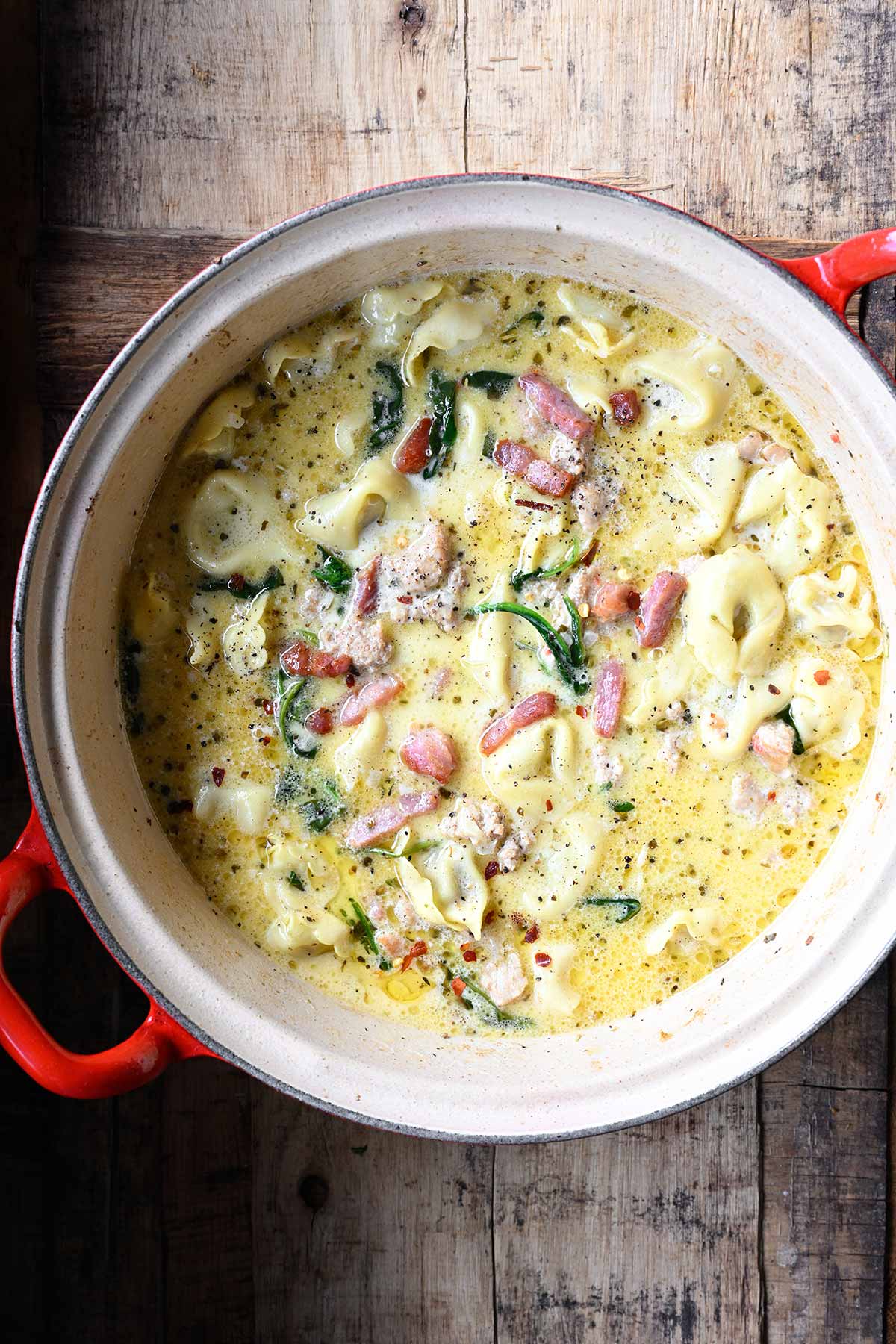 Storage Tips
Leftovers: Store in an airtight container and refrigerate for up to 3 days.
Freezer Friendly: Freeze in airtight containers, separating the tortellini, and enjoy within 3 months.
Reheat: Gently reheat on the stovetop over low to medium heat, stirring occasionally. Creaminess may slightly change, but it'll still be delicious.
Try These Next
Cooking Video
Yield: serves 4
Tuscan Tortellini Soup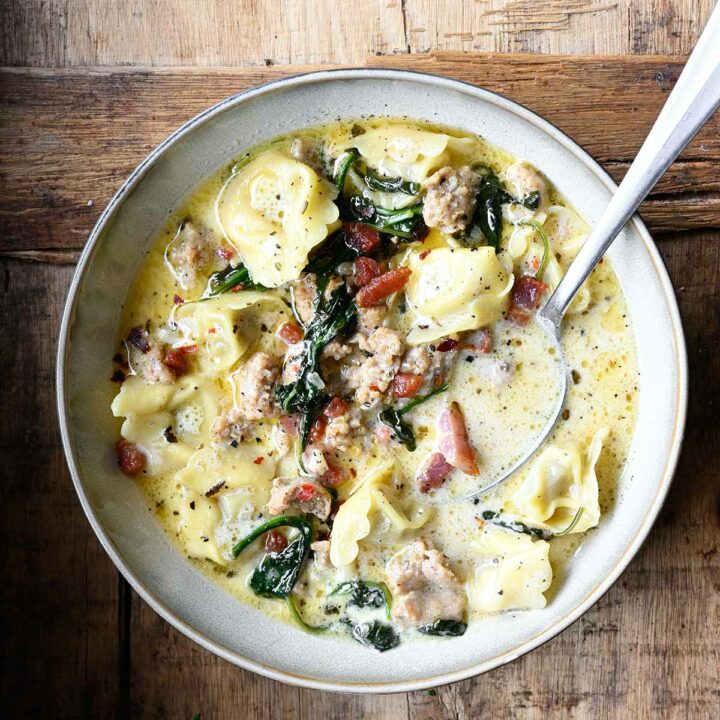 Indulge in Tuscan tortellini soup, a 30-minute flavor-packed one-pot dinner with cheesy tortellini and spicy sausage. Add crusty bread for the perfect meal!
Ingredients
7 ounces/200 g salted bacon bits
1 tbsp unsalted butter
1 pound/450 g hot Italian sausage, casing removed
1 small yellow onion, finely chopped
2 garlic cloves, minced
1 tsp each: salt, black pepper, Italian seasoning
6 cups/1,2 l low sodium chicken broth
¾ cup/200 ml heavy cream
1 tbsp lemon juice
7 ounces/200 g spinach
9 ounces/250 g cheese tortellini
½ cup/50 g grated Parmesan
chili flakes, for serving
Instructions
Get your prep done before you start cooking. Remove casings from sausages. Grate the Parmesan cheese, Finely chop the onion and mince the garlic cloves.
Heat a large pot over medium high and add bacon. Cook until golden brown and crispy. Remove from pot onto a plate layered with paper towel.
Reduce heat to medium and add butter, stir until melted. Add Italian sausages, break up into pieces and cook until brown, about 3 minutes. Add onion and garlic, cook for 2 minutes. Stir in salt, pepper and Italian seasoning. Pour in chicken broth and bring to a boil. Simmer over medium low for 10 minutes.
Add cream and lemon juice. Stir in spinach and cook for 1 minute. Next add tortellini and boil for 2 minutes. If not serving right away, boil the tortellini separately and add them to the soup when ready to eat.
Turn off the heat and stir in Parmesan. Taste and adjust salt. Top with bacon, chili flakes and freshly ground black pepper. Serve immediately. Enjoy!
Nutrition Information:
Yield:
4
Serving Size:
1
Amount Per Serving:
Calories:

429
Total Fat:

26g
Saturated Fat:

16g
Trans Fat:

1g
Unsaturated Fat:

8g
Cholesterol:

94mg
Sodium:

529mg
Carbohydrates:

35g
Fiber:

3g
Sugar:

2g
Protein:

15g
Nutritional information is only an estimate. The accuracy of the nutritional information for any recipe on this site is not guaranteed.