Turkish style eggs with a garlicky whipped ricotta, yogurt and browned chili butter.
The magic of warm runny eggs and cold, creamy yogurt whipped with ricotta and served with spicy browned butter, will definitely blow your mind.
Many serve eggs or yogurt for breakfast, but usually never together. But there's this traditional Turkish dish called çilbir that consists of poached eggs served over garlicky yogurt. But while I love a good poached egg, they're a bit tricky to pull off on a weekday. With this recipe you'll turn your breakfast or lunch into an easy magical dish.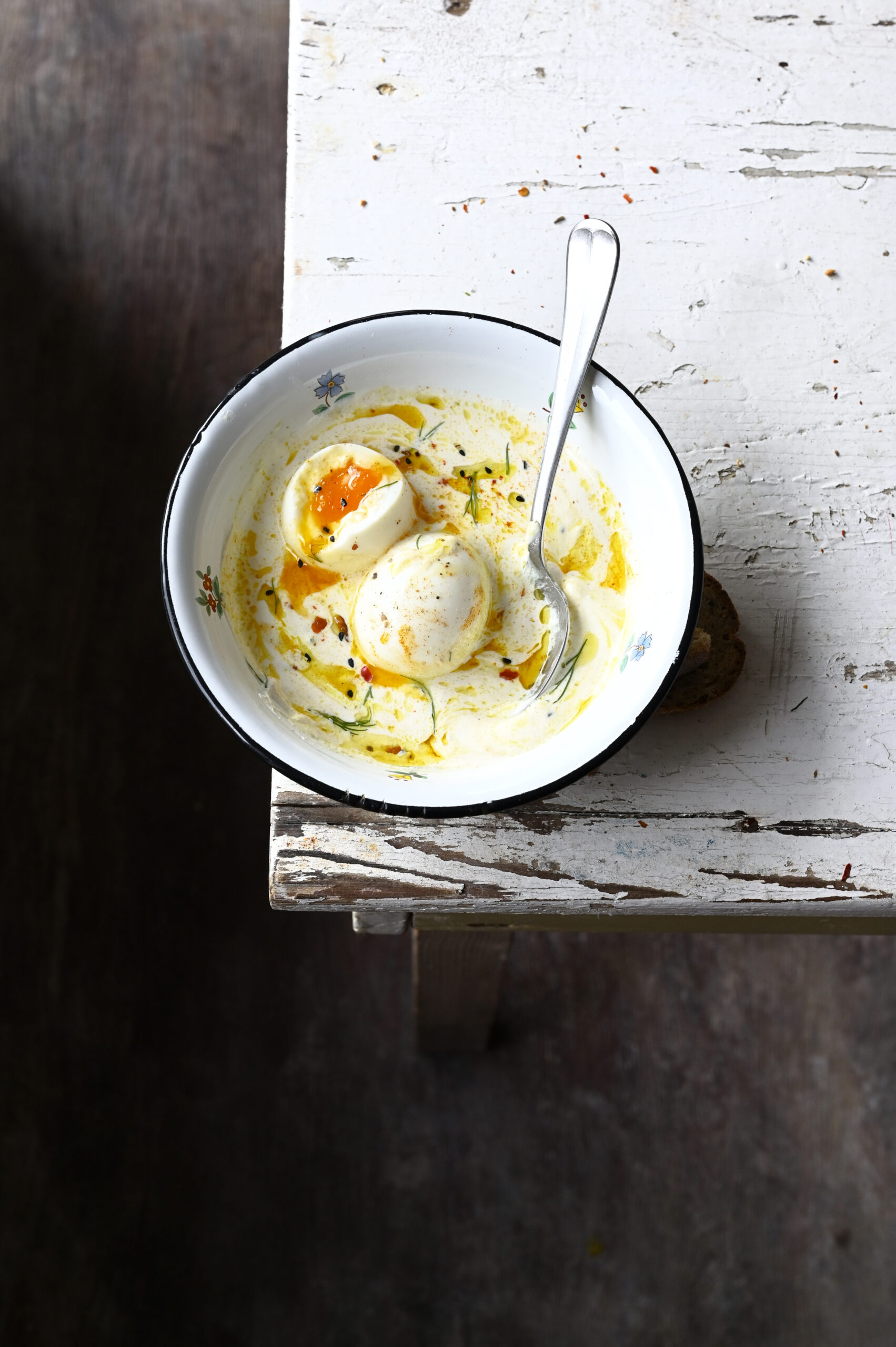 But it's not just the combination of eggs and yogurt that makes this recipe so special. I've put a spin on the classic and combined yogurt with creamy ricotta, a pinch of za'atar and sumac. Although the key to really good Turkish eggs however, is the burnt chili butter. Mine is a mix of butter with olive oil, chili flakes and smoked paprika. Pretty simple, but it really packs in the flavor. One of the best sauces you can spoon over eggs. Serve with a golden toast fried to a crisp in butter. So addictive.
A delicious egg dish, perfect for busy mornings or lunches, but even better for late nights!
3 more delicious brunch recipes:
Baked za'atar egg buns with spinach and feta
Easy fluffy oatmeal pancakes
Creamy mushrooms with egg and shredded chicken on toast
You need
whipped ricotta
100 g (3.5 oz)ricotta
200 g plain (7 oz) (Greek) yogurt
1 clove garlic, minced
1/2 tsp za'atar
1/2 tsp sumac
sea salt + black pepper
2 eggs or 4 if you're very hungry
browned chili butter
2 tbsp unsalted butter
1 tbsp olive oil
1/2 tsp chili powder
1/2 tsp smoked paprika powder
sea salt
for serving
dill, black pepper, sesame seeds, za'atar + sumac
toast
How to
In a pot, bring water to a boil over high heat. Add the eggs and boil for 5 minutes.
Whisk the ricotta with yogurt. Add za'atar, sumac and garlic, season with salt and pepper.
Add unsalted butter and sea salt to a small non-stick skillet. Cook over medium-low heat, stirring frequently until the butter starts to get foamy on the surface. Add olive oil, chili powder and smoked paprika, continue to cook for about 1 minute. Remove skillet from heat.
To serve, spread the yogurt-ricotta mixture into the bottom of each individual bowl. Add the eggs, spoon the chili butter over the eggs. Sprinkle with sesame seeds, fresh dill and black pepper. Season with extra za'atar and sumac. Serve with a golden toast fried to a crisp in butter. Enjoy!