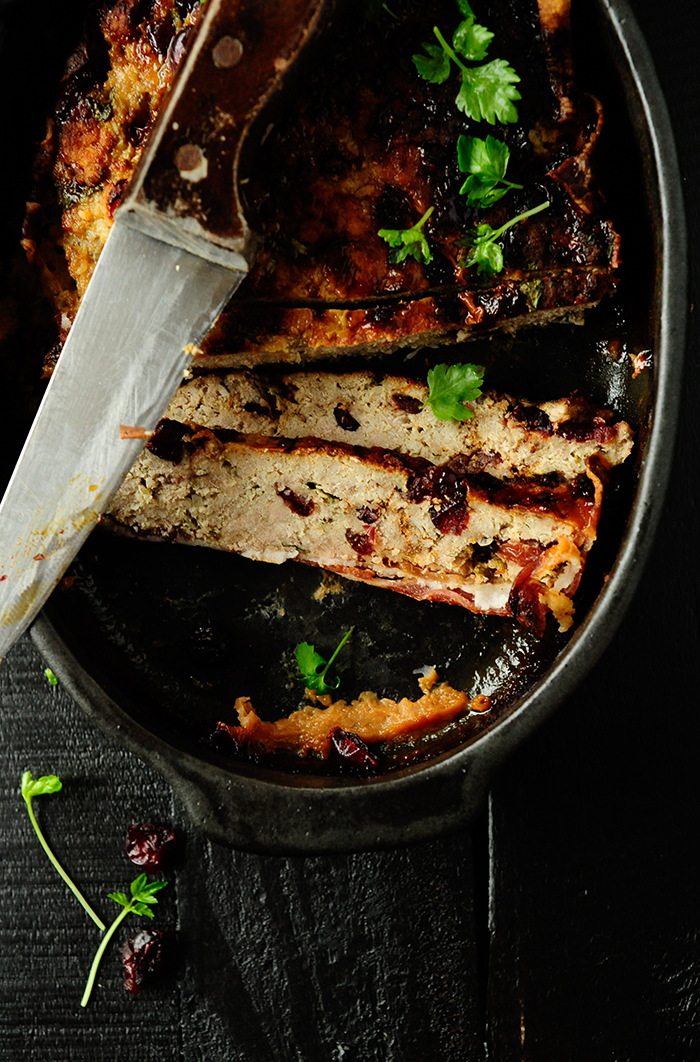 Super easy, delicious and a little boozy flavored turkey terrine with cranberries soaked in whiskey. The smell that it creates while you bake it makes me salivate every time. Terrines are literally my favorite Christmas breakfast stuff.
prepare the terrine one day earlier
prep time 15 minutes | baking time 90 minutes
Ingredients
500 g turkey breast, roasted or cooked
200 g minced veal
50 ml whisky
50 g dried cranberries
10 thin bacon slices
2 shallots, finely chopped
1 clove garlic, finely chopped
1 egg
4 cloves, crushed
1 teaspoon cinnamon
1 teaspoon cayenne pepper
1 teaspoon ground coriander
1 teaspoon ground ginger
1/2 bunch parsley, finely chopped
salt and black pepper
1 tablespoon olive oil
Instructions
Place the cranberries in a bowl, pour whiskey and set aside.
Heat the oil in a frying pan and simmer the shallots with garlic. Place in a food processor, add the sliced turkey, minced veal, egg and all the spices. Pulse and stir with the whiskey, the cranberries and the chopped parsley.
Line a baking mold with bacon and add the mixture. Bake for 90 minutes at 150°C. Cool and place in the fridge overnight. Enjoy!