What can be more comforting and kids friendly than a bowl of tomato soup? Add meatballs and spaghetti and you'll be having a fun twist on the classic.
I find myself craving nothing but cozy meals lately. Does this happen to you too?
There are some recipes that live on repeat at our house and this tomato soup is one of them. It's a simple, hearty meal that tastes like heaven in a bowl. It's comfort food at 100%. Our favorite soup that I like to serve at least once a week.  
Soft and juicy meatballs served up in a tomato spaghetti soup. With black pepper and freshly grated parmesan, always with loads of parmesan.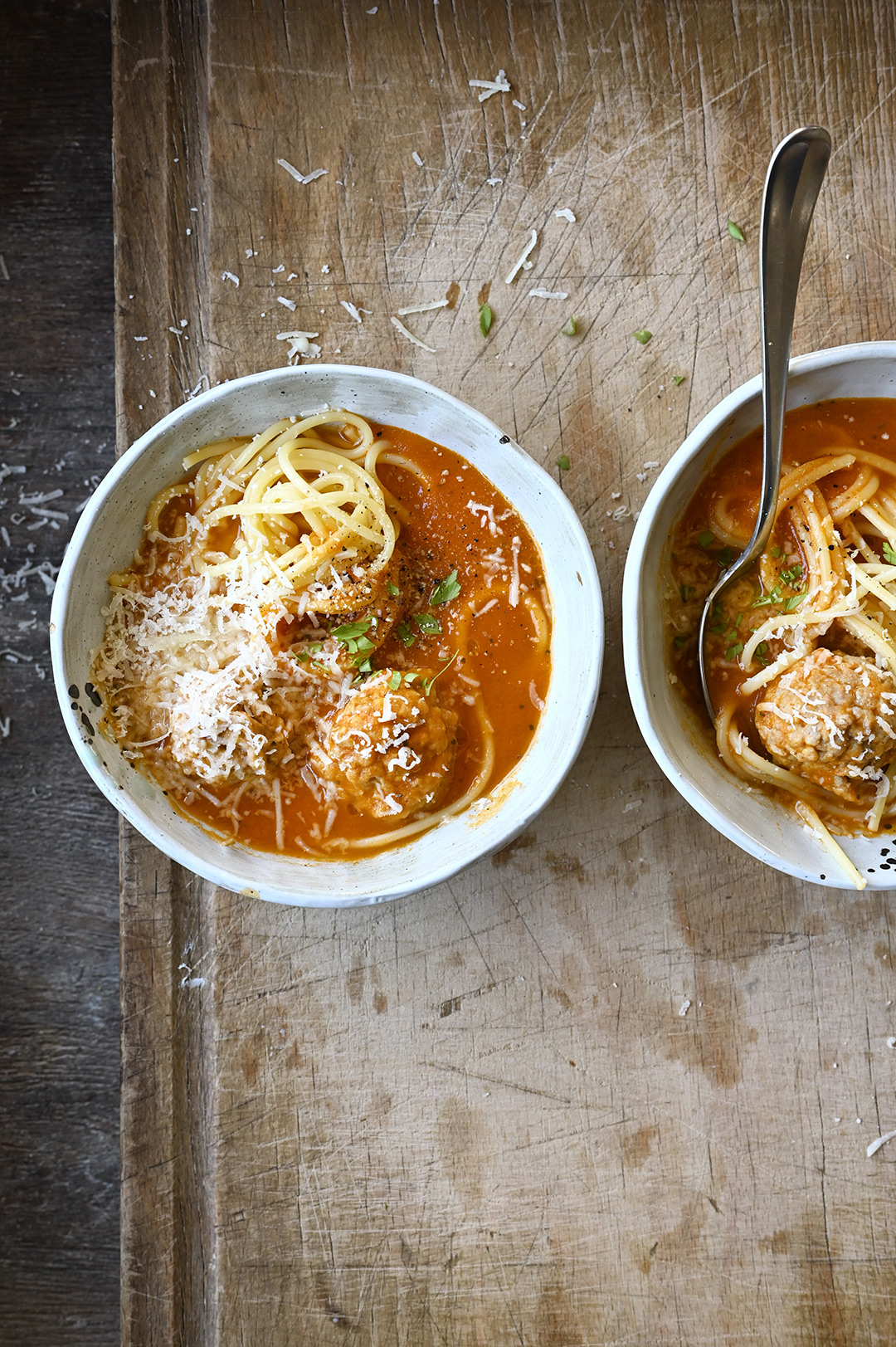 You need
1 kg fresh san marzano tomatoes or canned Italian tomatoes
3 small potatoes, peeled and cubed
1 zucchini, cubed
3 carrots, peeled and cubed
1 small yellow onion, finely chopped
1 garlic clove, peeled and finely chopped
1/2 leek, thinly sliced white part only
1/2 rib celery, finely chopped
1 L chicken broth
1 tsp thyme
3 tbsp olive oil
sea salt + black pepper
300 g ground pork + 100 g ground beef
200 g spaghetti
+ black pepper, freshly grated parmesan for serving
How to
Heat the oil in a large pot, add onion, garlic, leek and celery. Cook until soft on a low heat. Stir in the zucchini, potatoes, carrots and tomatoes. Add broth and thyme, season with salt and pepper. Cover and bring to a boil. Reduce the heat to a simmer and cook, stirring occasionally, for about 20 minutes.
Cook the spaghetti in salted water until al dente, then drain.
Combine the meat in a bowl, add a pinch of salt and pepper, form meatballs.
Use a stick blender to blend the soup until smooth. Add meatballs to the soup, cover and cook through gently for 10 minutes over medium heat.
Serve with spaghetti, loads of grated parmesan and black pepper. Enjoy!