Tomato ricotta pasta. This easy, comforting pasta dish is perfect no matter the season. It's creamy, flavorful, and oh-so-satisfying. With simple ingredients like tomatoes, ricotta cheese, and a touch of chili flakes, you'll be transported to flavor town in no time. Pair it with some crispy garlic bread and a side salad for a complete meal. You've got to give it a shot!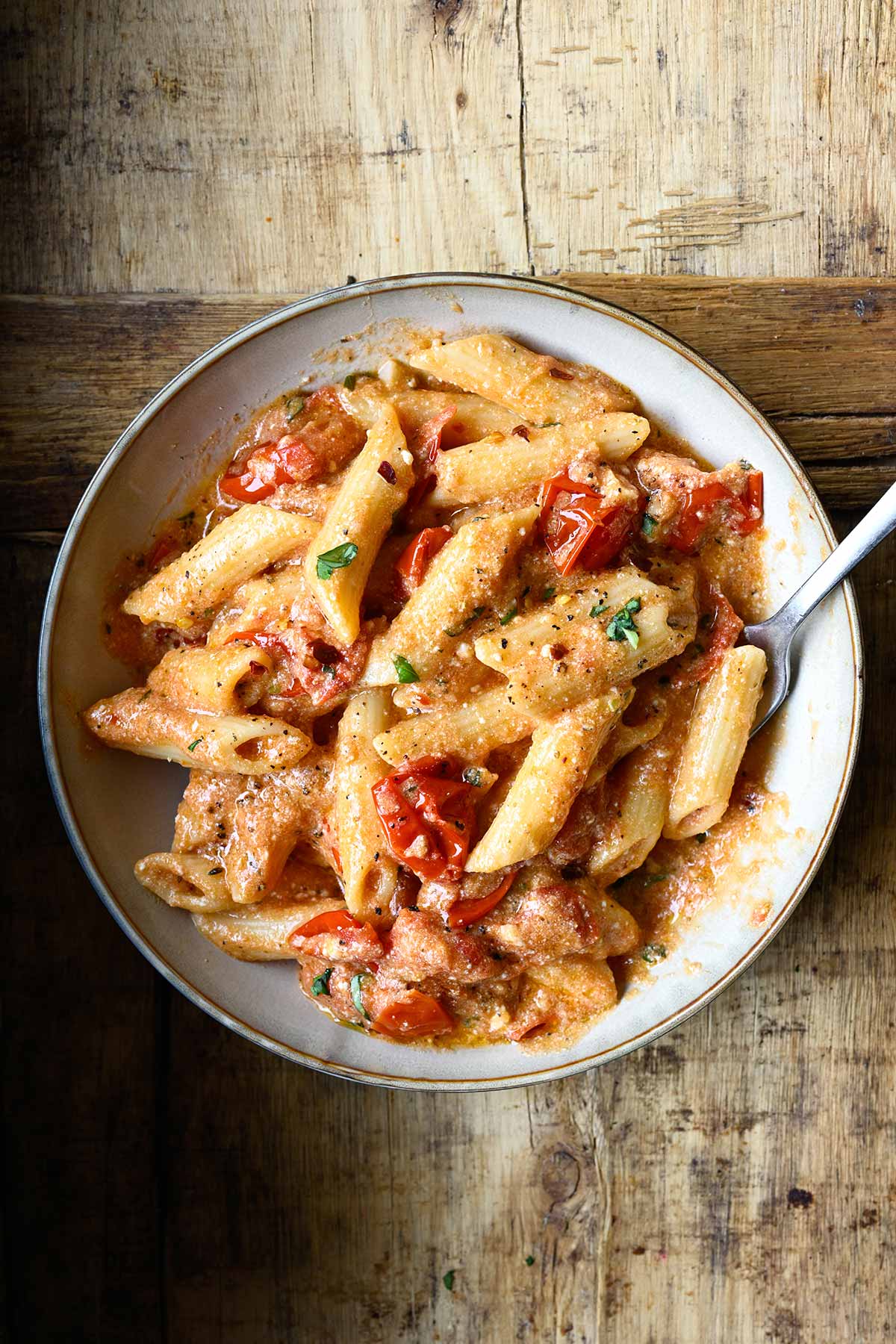 Why You'll Love this Tomato Ricotta Pasta
Get ready to fall in love with this delightful pasta dish. It's a harmonious blend of tomato sauce, basil, ricotta, and a sprinkle of Parmesan! Whipping up this recipe is a breeze, in a mere 15 minutes, you'll unveil a delectable dish that's both effortless and budget-friendly. Say goodbye to those extensive grocery lists, this one's a game-changer!
What's even better? It can be ready almost as quickly as your pasta cooks, making it the perfect solution for those busy weeknight dinners. Plus, it's incredibly versatile. No cherry tomatoes on hand? No worries! Try sun-dried tomatoes or roasted bell peppers for a fun twist. Pick your favorite pasta shape to make it your own or add a crispy touch with some cooked bacon bits.
The star of the show here is the creamy ricotta, which combines flawlessly with the tomato sauce, creating a vibrant and comforting dish that will win over everyone at your table. For an extra indulgent meal, consider adding rotisserie chicken or seared shrimp. To amp up the veggie quotient, toss in some spinach or mushrooms. Trust me, you're in for a treat!
Let me guide you through the recipe with this step-by-step VIDEO or follow along on YouTube.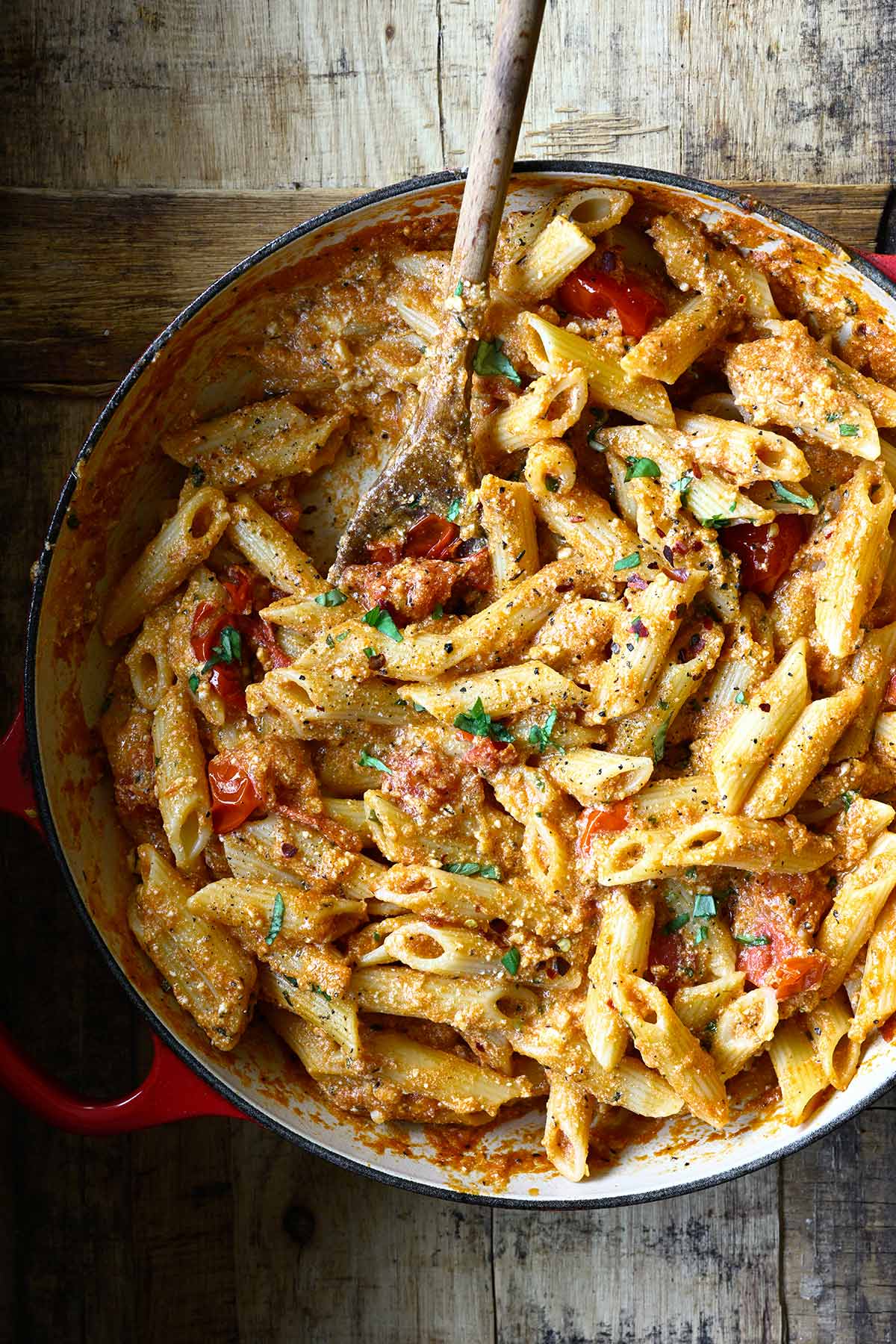 Ingredients and Substitutions
With these ingredients in your kitchen, you're well on your way to creating a dish that's bursting with flavor and comfort.
Cherry Tomatoes: These little gems not only add a burst of color but also a delightful sweetness. Swap them out for roasted bell peppers, sun-dried tomatoes, or simply skip them and go for whole peeled tomatoes.
Puréed Tomatoes: Choosing a quality brand of puréed tomatoes elevates the flavor game. You can opt for crushed tomatoes, passata, or marinara sauce for a slight twist.
Ricotta: Gives the sauce its creamy texture and a distinctive taste that's hard to resist.
Parmesan: For that touch of luxury and extra creaminess, swap for Grana Padano or Pecorino.
Pasta: While penne is the go-to here, feel free to explore with linguine, rigatoni, or even gnocchi – this sauce plays well with all pasta types.
Garlic: An absolute essential to infuse that irresistible flavor.
Olive Oil and Unsalted Butter: For sautéing the tomatoes and adding a rich, buttery note to the dish.
Seasoning: A blend of salt, black pepper, chili flakes, and thyme.
Herbs: Fresh basil is the star, but parsley can step in if needed, lending a vibrant touch.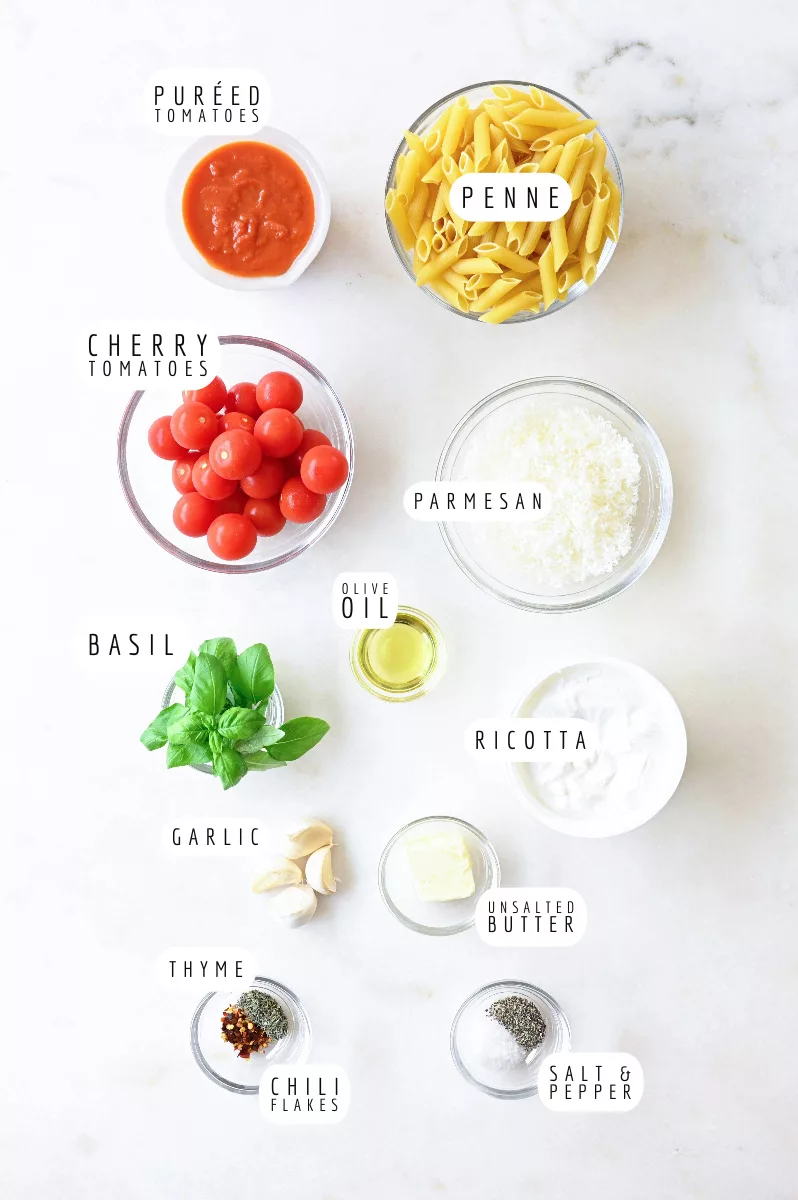 Helpful Tips
Save Pasta Water: Before you drain the pasta, scoop out a cup of that starchy pasta water. It's the secret ingredient to create a glossy sauce that clings to your pasta like a charm.
Veggie Delight: Feel free to toss in your favorite veggies like spinach, kale, or mushrooms. Just give them a quick sauté with the cherry tomatoes for a few minutes, it's a tasty way to sneak in some extra goodness.
Protein Power: Craving something heartier? Go for it! Add rotisserie chicken, seared shrimp, crispy bacon bits, or Italian sausage to make your meal even more satisfying.
Leafy Sidekick: Pair your pasta with a simple leafy salad dressed in olive oil and balsamic vinegar. It'll bring a refreshing contrast to the richness of the dish.
Garlic Bread Love: Don't forget some garlic bread on the side. It's the perfect companion to mop up every last bit of that scrumptious sauce.
Tame the Tartness: If your sauce turns out a tad too tangy due to varying tomato acidity, a pinch of sugar can do wonders to balance the flavors.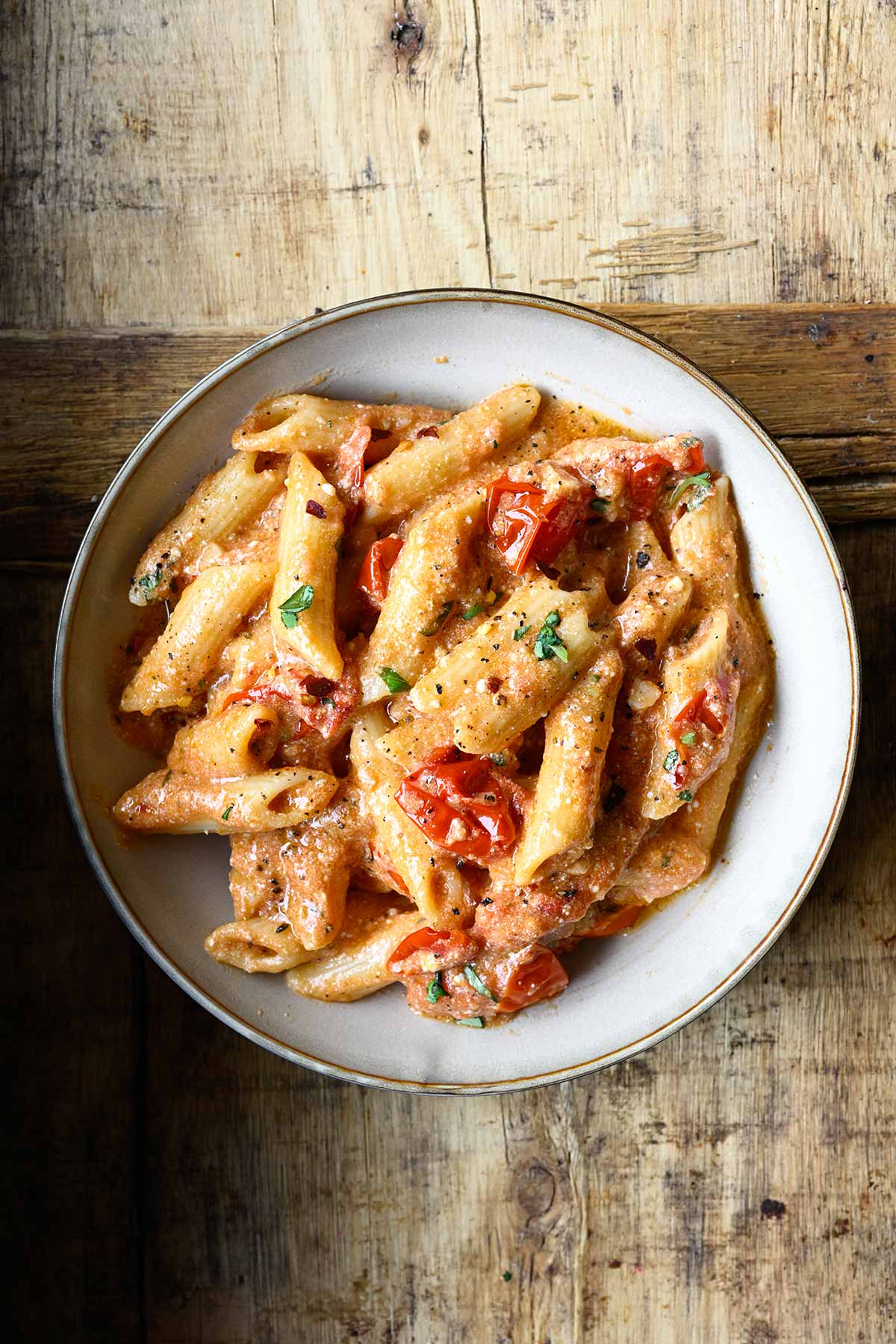 Storage and Reheating Made Easy
Storing: Pop any leftovers into an airtight container and store in the fridge for up to 3 days.
Quick tip: While this pasta is a delight fresh, it's not a freezer's best friend, so steer clear of freezing.
Reheating: When you're ready to savor those delicious leftovers, gently reheat them in a saucepan over low heat. Add a splash of water to ensure your pasta stays perfectly saucy and doesn't get all dried up. Enjoy!
Try These Next
Cooking Video
Yield: serves 4
Tomato Ricotta Pasta (15 Minutes)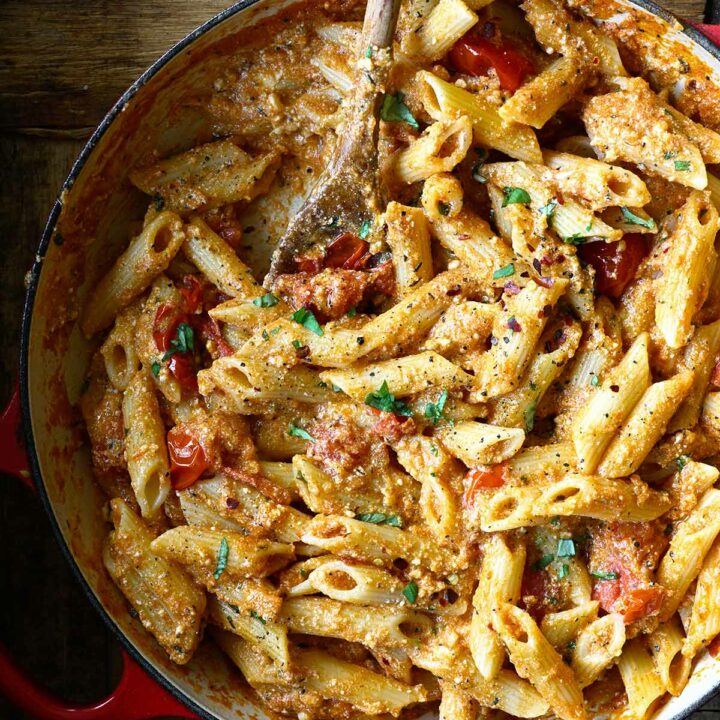 Try this satisfying, creamy pasta with tomatoes, ricotta, and chili flakes. It's perfect year-round; pair with garlic bread and salad for a full meal.
Ingredients
14 ounces/400 g dry penne
1 tbsp olive oil
1 tbsp unsalted butter
10 ounces/300 g cherry tomatoes
4 garlic cloves, minced
½ tsp each: salt, black pepper, chili flakes, dried thyme
1 can (14 oz/400 g) puréed tomatoes
¾ cup/150 g ricotta
¼ cup/30 g grated Parmesan
1 tbsp chopped basil, more for serving
Instructions
Set a large pot with hot salted water over high heat.
Heat oil and butter over medium in a large nonstick skillet. Add cherry tomatoes, cover and sauté for 5 minutes or until the tomatoes start to burst.
In the meantime, add penne to the pot with boiling salted water. Cook until al dente. Drain, reserving ½ cup of the pasta cooking water.
Mince the garlic cloves and chop the basil.
Remove lid from skillet, gently press the tomatoes with a fork to release their juices. Add garlic and cook for 1 minute. Stir in salt, pepper, chili flakes and thyme. Add puréed tomatoes, bring to a boil and simmer for 2 minutes.
Stir in ricotta and Parmesan. Add chopped basil. Then add the cooked penne and ¼ cup cooking water. Toss until glossy and everything is well-coated. Taste and adjust salt. Serve immediately. Enjoy!
Nutrition Information:
Yield:
4
Serving Size:
1
Amount Per Serving:
Calories:

324
Total Fat:

13g
Saturated Fat:

6g
Trans Fat:

0g
Unsaturated Fat:

6g
Cholesterol:

26mg
Sodium:

471mg
Carbohydrates:

40g
Fiber:

4g
Sugar:

4g
Protein:

14g
Nutritional information is only an estimate. The accuracy of the nutritional information for any recipe on this site is not guaranteed.