Tomato Parmesan shrimp pasta with arugula. A delicious 25-minute weeknight dinner fancy enough to serve on a date night. This recipe is absolutely mouth-watering, incredibly easy to make and loaded with flavor. Creamy tomato Parmesan sauce packed with garlic, peppery arugula, juicy cherry tomatoes and shrimp tossed with bucatini. It's pure joy!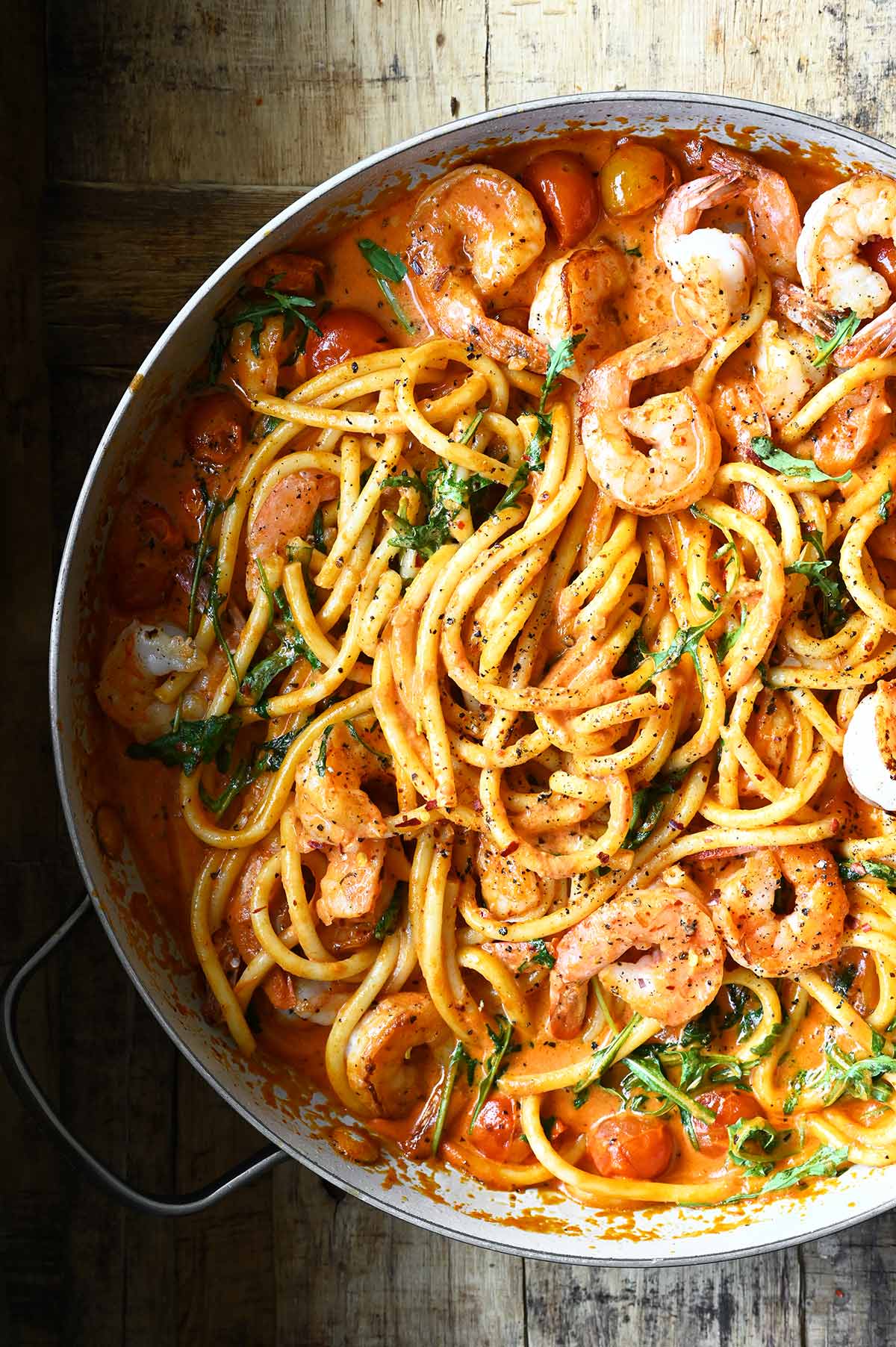 An easy and delicious way for a quick pasta dinner. This pasta is nothing short of luxurious and surprisingly tasty. It's one of my favorites, that I like to make on a busy weeknight or on an evening spend with friends. It's super fast and easy, but extremely flavorful. Just add a big fresh leafy salad and some crusty bread. You're in for a treat!
It comes together in minutes and is so good. This pasta has it all! Straightforward, easy to prepare and out of this world delicious. Everything gets tossed together in a creamy tomato sauce made with tomato paste, puréed tomatoes and cherry tomatoes. The heavy cream adds richness and freshly grated Parmesan cheese really brings it all together, while arugula adds that healthy hit of green. Yup, it's just that simple.
The shrimp are quickly seared and give the pasta depth, the arugula is slightly spicy and the Parmesan adds an earthy nuttiness, so extremely well balanced. If you're not a fan of arugula, spinach will work great here too.
Let me guide you through the recipe with this step-by-step VIDEO.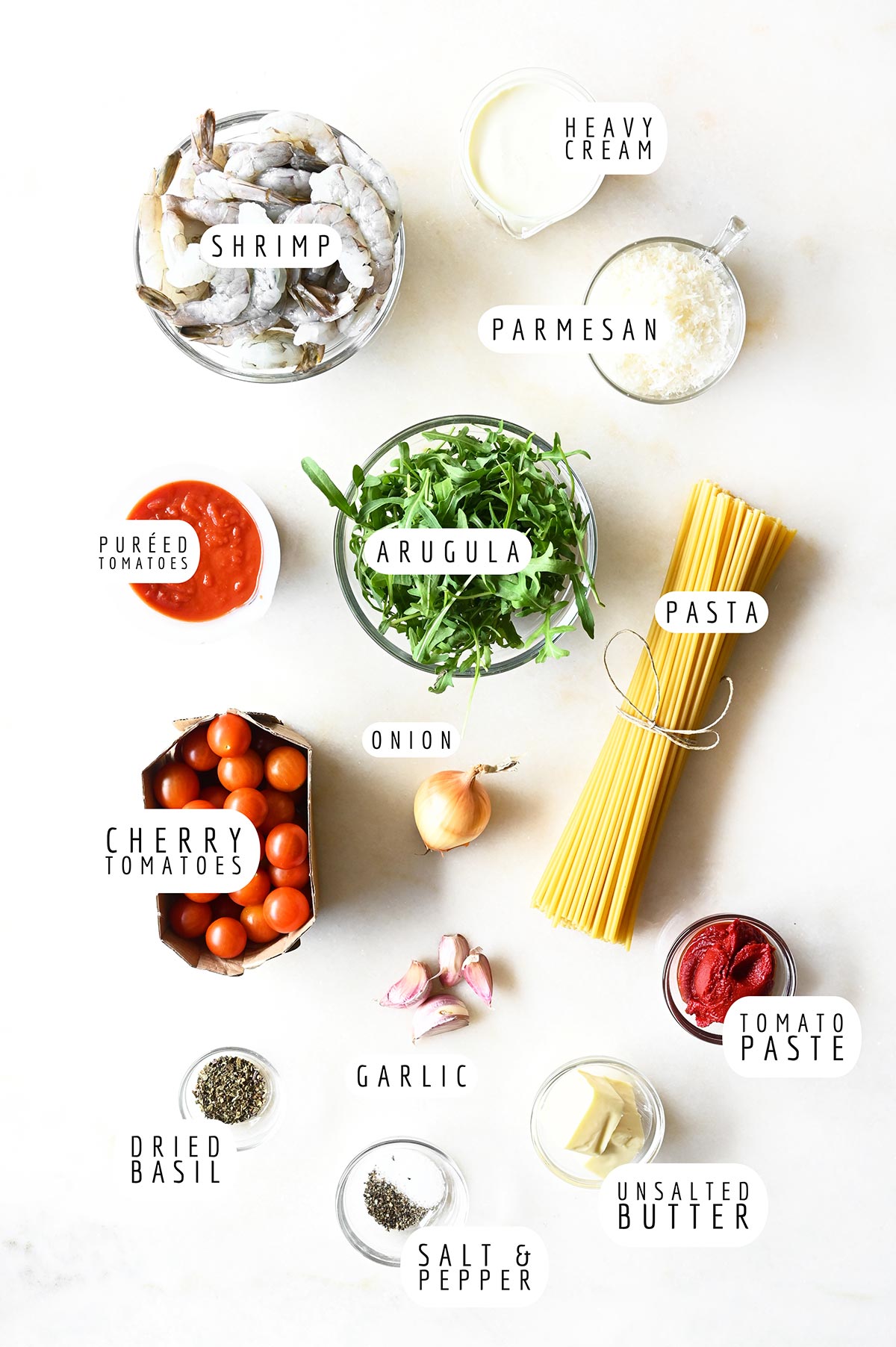 Ingredients, Tips & Substitutions
Pasta: Bucatini is the go-to pasta in this recipe. Never heard of bucatini? It's a thick spaghetti-like noodle with a hole running through the center. If you can't find it, use spaghetti, linguine or casarecce.
Shrimp: For this recipe, medium-large sized shrimp are used, but you can honestly use whatever size shrimp you prefer.
Garlic and Onion: The flavor base in this recipe.
Tomatoes: We use a mix of cherry tomatoes, tomato paste and puréed tomatoes for the best flavor. You can use crushed tomatoes instead of puréed tomatoes.
Seasoning: A mix of salt, black pepper and dried basil. Swap basil for oregano, thyme or Italian seasoning.
Cream: We'll be using heavy cream, you can also try it with 20% fat cream.
Parmesan cheese: I recommend using freshly grated Parmesan in this recipe as opposed to the pre-grated.
Arugula: Peppery arugula adds a little extra flare. Feel free to use fresh baby spinach.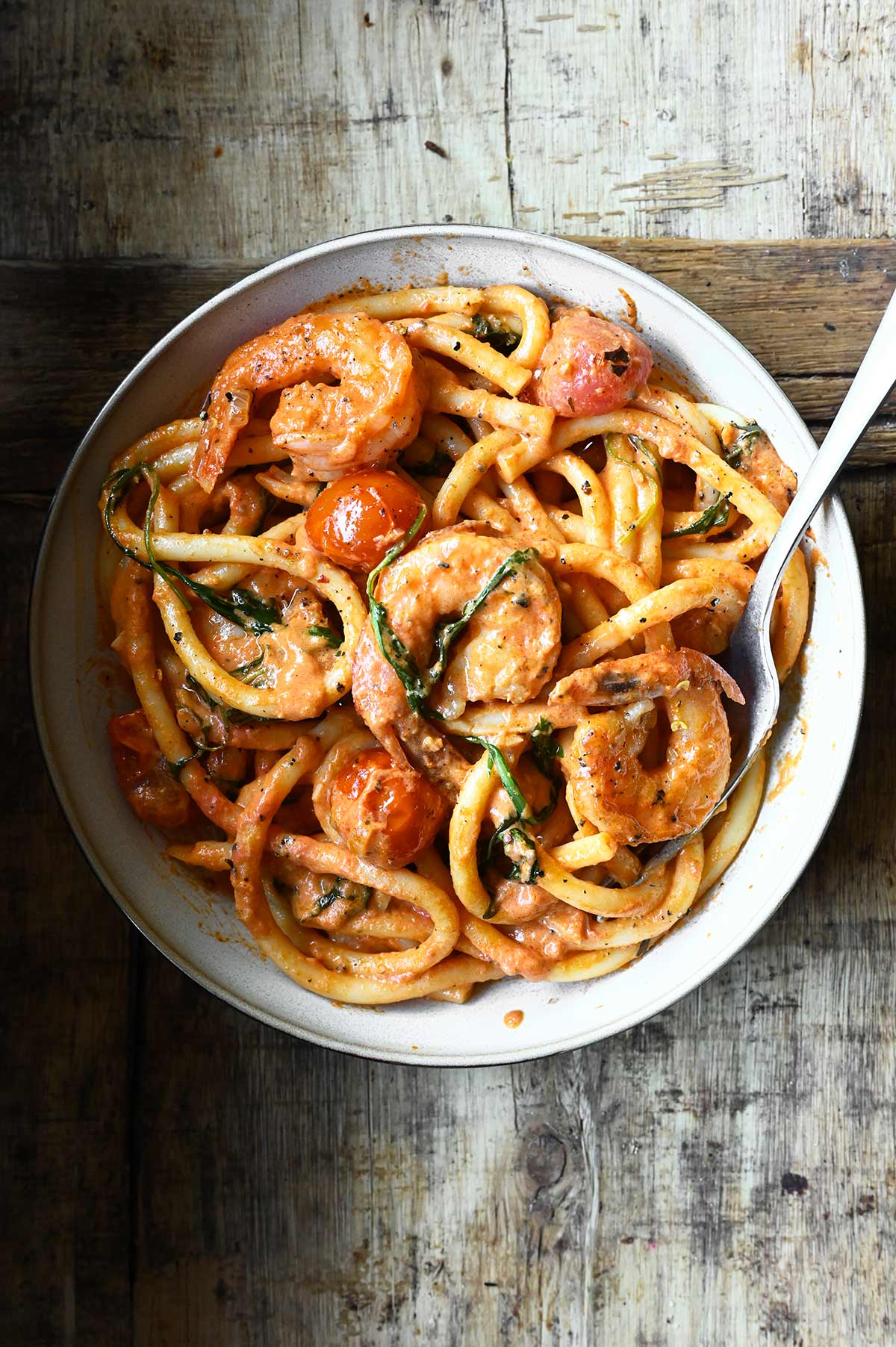 Recipe Notes
Serve with some crusty bread and a leafy salad sprinkled with olive oil, balsamic vinegar and pine nuts.
Leave out the shrimp for a hearty vegetarian version of this pasta.
You can also swap the shrimp for a variety of seafood like mussels, clams, or even chunks of salmon.
You can add a splash of dry white wine to the sauce. You can do this before adding tomato paste.
It's perfectly okay to use frozen shrimp, they can be thawed super fast by placing them under cold running water.
Storage: Leftovers can be stored in the fridge for up to 2 days.
Try These Next
Cooking Video
Yield: serves 4
Tomato Parmesan Shrimp Pasta with Arugula
Ingredients
11 ounces/300 g dry bucatini
1 tbsp olive oil
2 tbsp unsalted butter
1 pound /450 gshrimp, peeled and deveined
1 tsp each: salt, black pepper, divided
9 ounces/250 g cherry tomatoes
4 garlic cloves, minced
1 small yellow onion, finely chopped
1 tsp dried basil
2 tbsp double concentrated tomato paste
1 ½ cups/350 ml pureed tomatoes
1 cup/250 ml heavy cream
½ cup/40 g grated Parmesan
4 handfuls of arugula
chili flakes for serving
Instructions
Get your prep done before you start making the sauce. Bring a large pot of salted water to a boil.
Finely chop the onion and mince the garlic cloves. Peel and devein the shrimp, grate the Parmesan.
Add bucatini to the pot with boiling salted water. Cook until al dente. Scoop up ½ cup cooking water before draining.
Heat oil and 1 tablespoon butter over medium high a large skillet. Place shrimp in a single layer, season with ½ teaspoon salt and pepper. Sear 1 minute per side, then remove from skillet.
Melt the remaining butter. Add cherry tomatoes, garlic and onion, cook for 2 minutes over medium. Add dried basil and the remaining salt and pepper. Cook for 3-5 minutes until the tomatoes start to burst. Press down to release the juices. Stir in tomato paste and add tomato purée, bring to a boil.
Add cream and Parmesan, stir until dissolved. Next stir in arugula. Toss bucatini and shrimp with sauce. Add a splash of pasta cooking water, if needed.
Finish off with black pepper and chili flakes. Enjoy!
Notes
Calories Per Serving: 443 kcal
Nutritional information is only an estimate. The accuracy of the nutritional information for any recipe on this site is not guaranteed.

//= __('Print recipe (no photos)', 'servingdumplings' );?> //= __('Print recipe (with photos)', 'servingdumplings' );?>