The best spicy spaghetti bolognese. Imagine a rich sauce with a meaty texture and deep, hearty flavors simmered down with fiery 'Nduja sausage. This pasta dinner ticks all the boxes, it's salty, savory and funky. It's a real game changer, next-level delicious and just as crave-worthy as the classic bolognese sauce. Keep a spot in your heart for the classic sauce, but try this one too. Enjoy!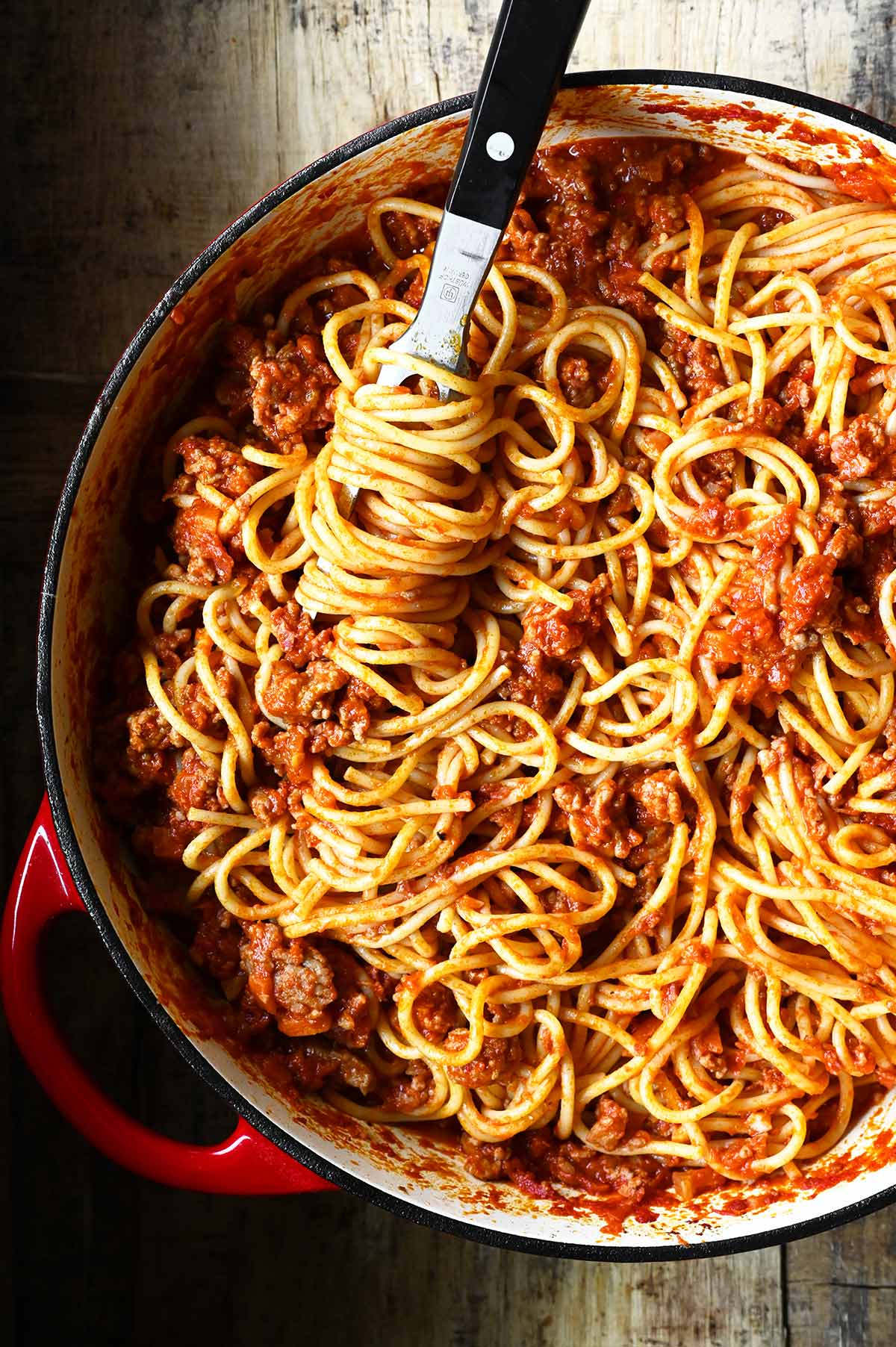 A rich bolognese pasta sauce filled with fiery 'Nduja sausage that adds punch to our beloved bolognese sauce. I guarantee this pasta sauce is so satisfying you'll want to fill your bowl to the brim and eat it all.
The beauty of a basic bolognese sauce is so simple, that the opportunities for adaptation and personalisation are endless.
Just like a traditional bolognese, this one starts by sautéing the vegetables and browning the meat. When that's done, we stir in the 'Nduja. Cook for a minute to really help intensify the flavors. Then once the pot is deglazed with a splash of red wine, the puréed tomatoes are added to the pot, and the sauce is left to simmer. In the meantime, we cook the spaghetti.
Once that's done, we stir in milk and Parmesan and toss it with spaghetti. This dish will leave you with nothing but excitement for dinner. It's really good, like roll-your-eyes-back good.
Let me guide you through the recipe with this step-by-step VIDEO.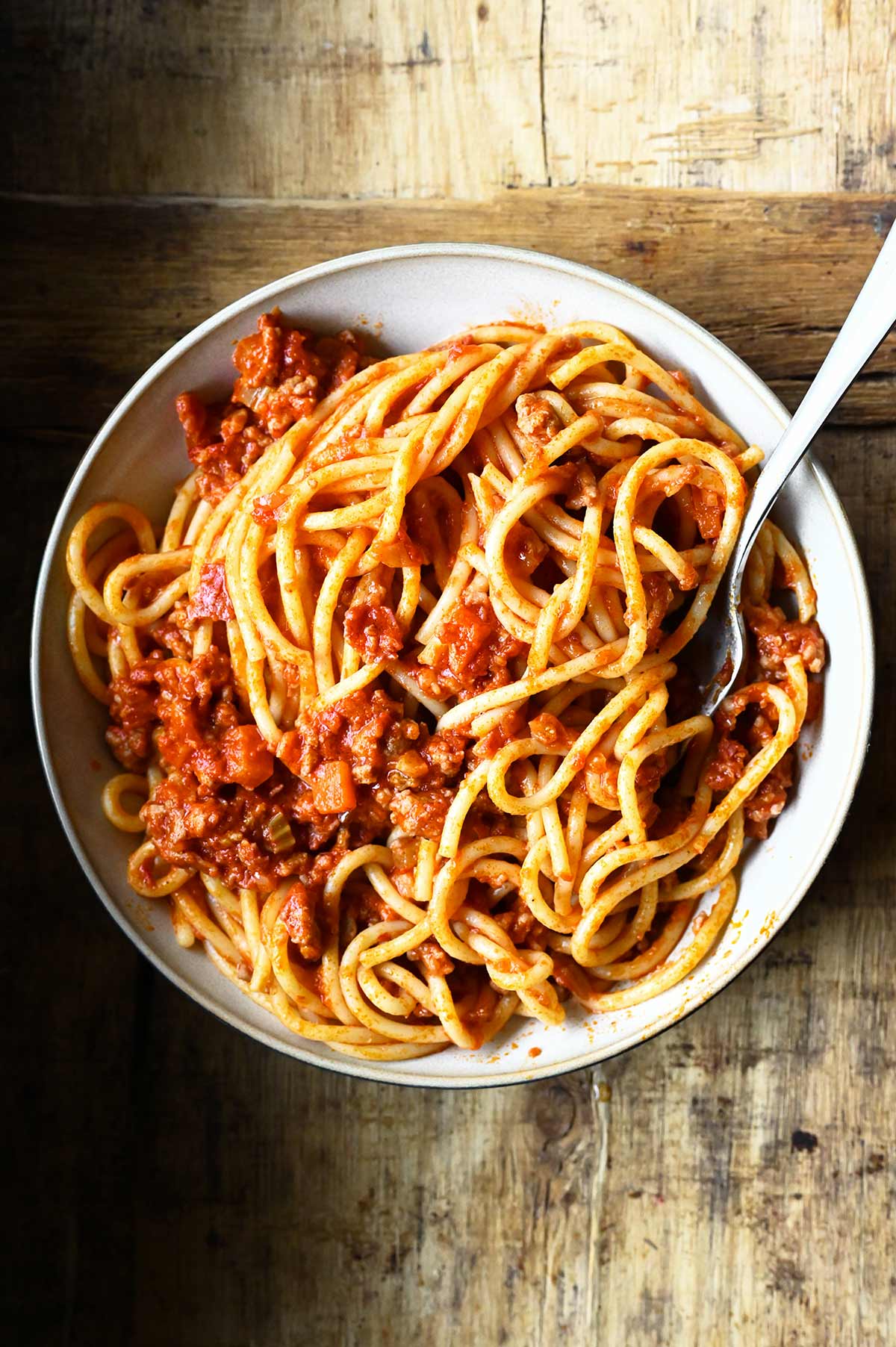 What's 'Nduja?
'Nduja is a spreadable, soft and spicy Italian sausage from Calabria, that consists of pork and Calabrian red chili peppers. It has a very funky fiery taste and gives an instant burst of flavor to any dish.
It can be used in many ways, from spreading it on bruschetta, swirling into risotto, topping a pizza to adding it to pasta sauces. But unlike fresh sausage, it's the kind of ingredient you can keep in the fridge for whenever the occasion arises.
In this case, 'Nduja adds lots of deliciously rich and spicy flavors, and elevates your bolognese sauce to the next level.
You'll likely find it sold as vacuum-sealed slices of salumi or in a jar as a paste in a larger supermarket, in shops that specialize in Italian products or online.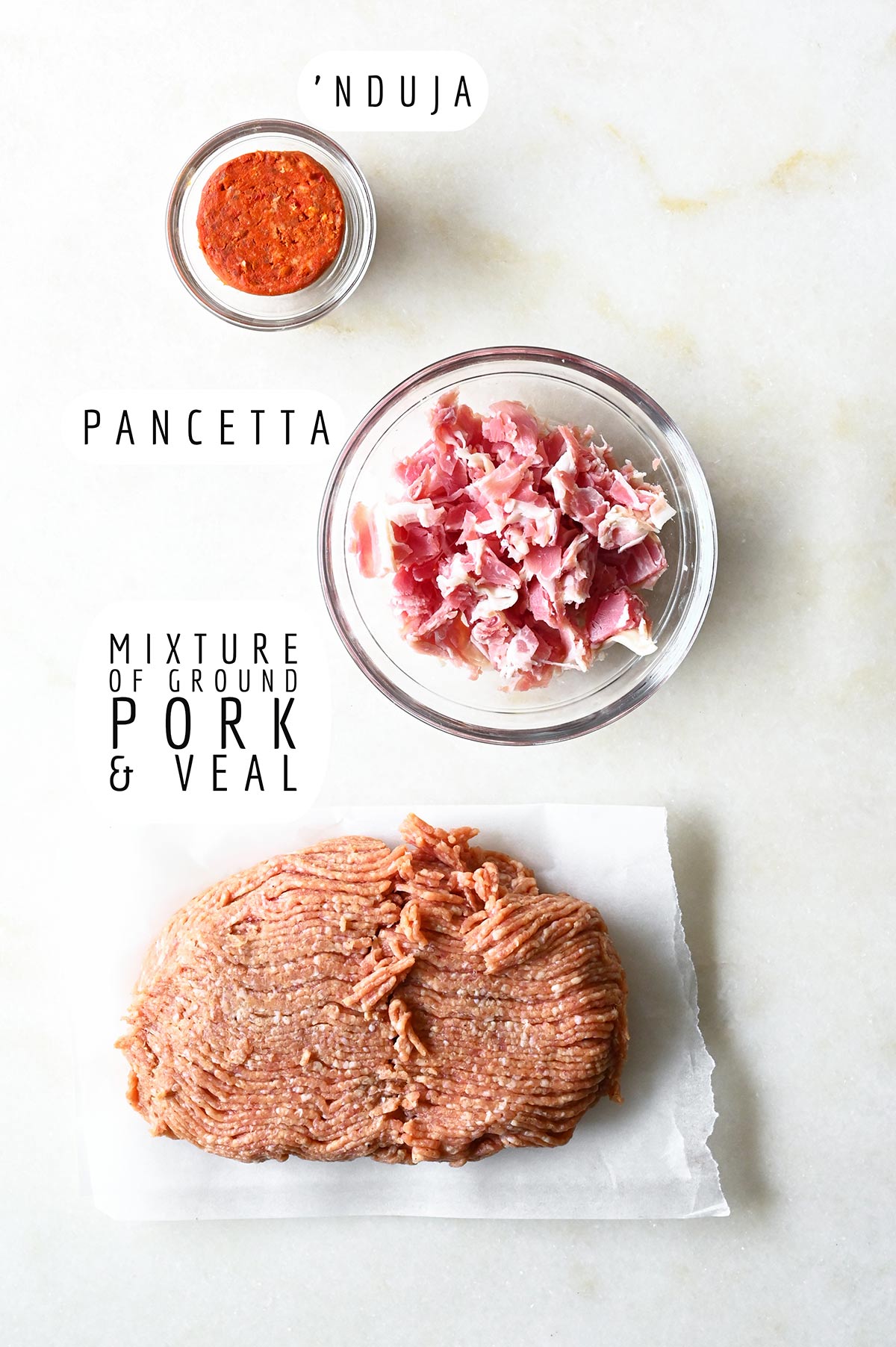 Let's Talk About the Ingredients
Pancetta: For additional flavor. You can also use salted bacon.
Ground Meat: I used a mix of ground pork (85%) and veal (15%), but you can use beef and pork. Feel free to experiment! You can use a mix or just one kind of ground meat, or play with the ratios depending on your preference.
'Nduja: The key for this sauce. A little goes a long way, so you'll only need around 3 oz/100 g for this recipe.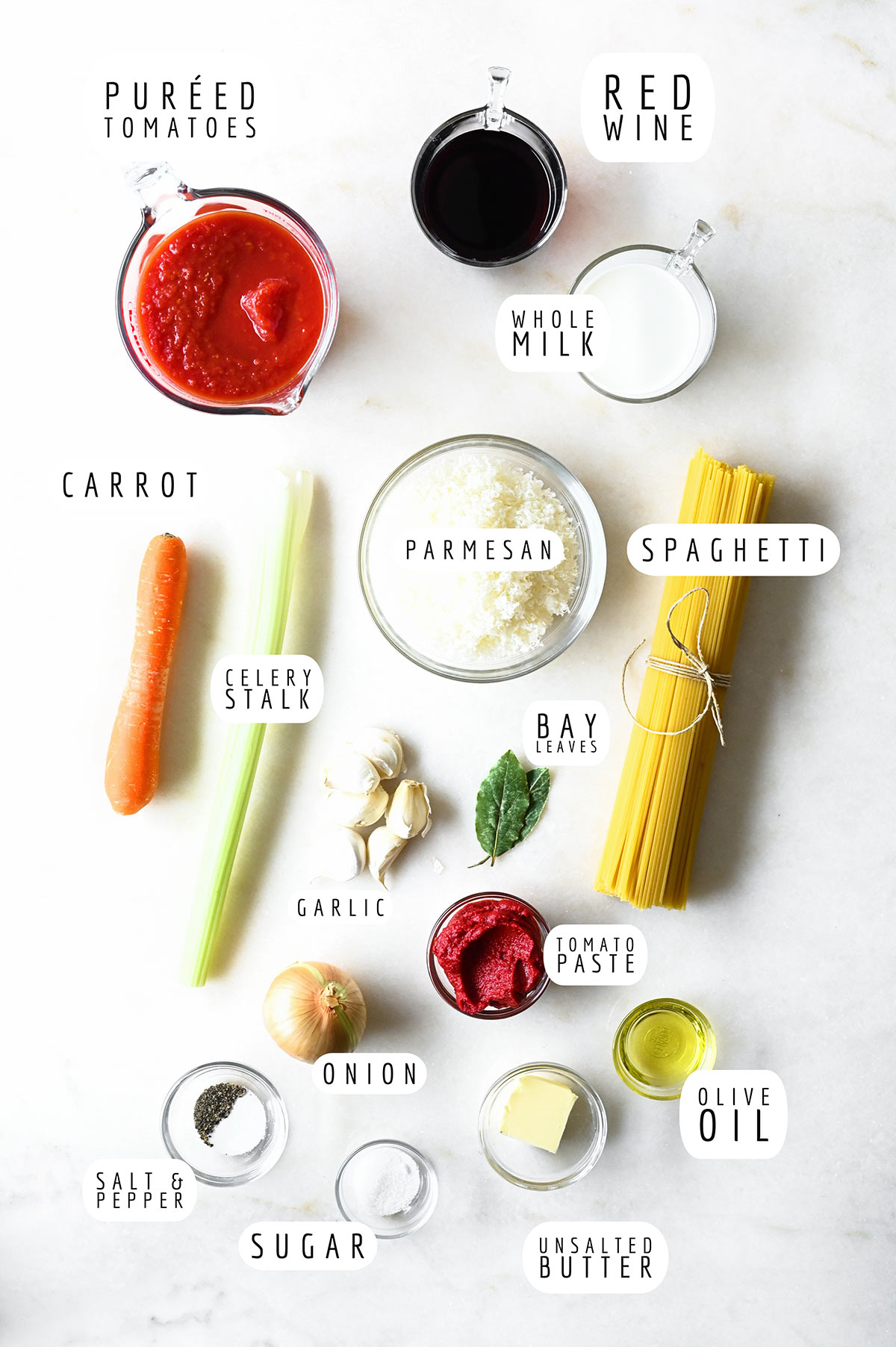 Pasta: I used spaghetti, but you can use any pasta, like tagliatelle, fettuccine, pappardelle or even a rigatoni.
Oil and Butter: To sweat the vegetables.
Vegetables: Onion, lots of garlic, carrot and a celery stalk. This mixture is also known as soffritto, a must for sauces, soups or stews as an essential flavor base.
Red Wine: A dry variety like Shiraz or Cabernet Sauvignon works best. Swap for beef broth if you prefer to avoid alcohol.
Tomato Paste: To intensify the tomato flavors already present.
Puréed Tomatoes: Give a lovely flavor and smooth texture to the sauce without being too watery. Substitute with crushed tomatoes.
Seasoning: Simply salt, black pepper, sugar and bay leaves.
Milk: Adds such a richer depth of flavor, and results in much more tender meat. But also helps to tone down the spiciness.
Parmesan: Adds a salty flavor and slightly thickens the sauce.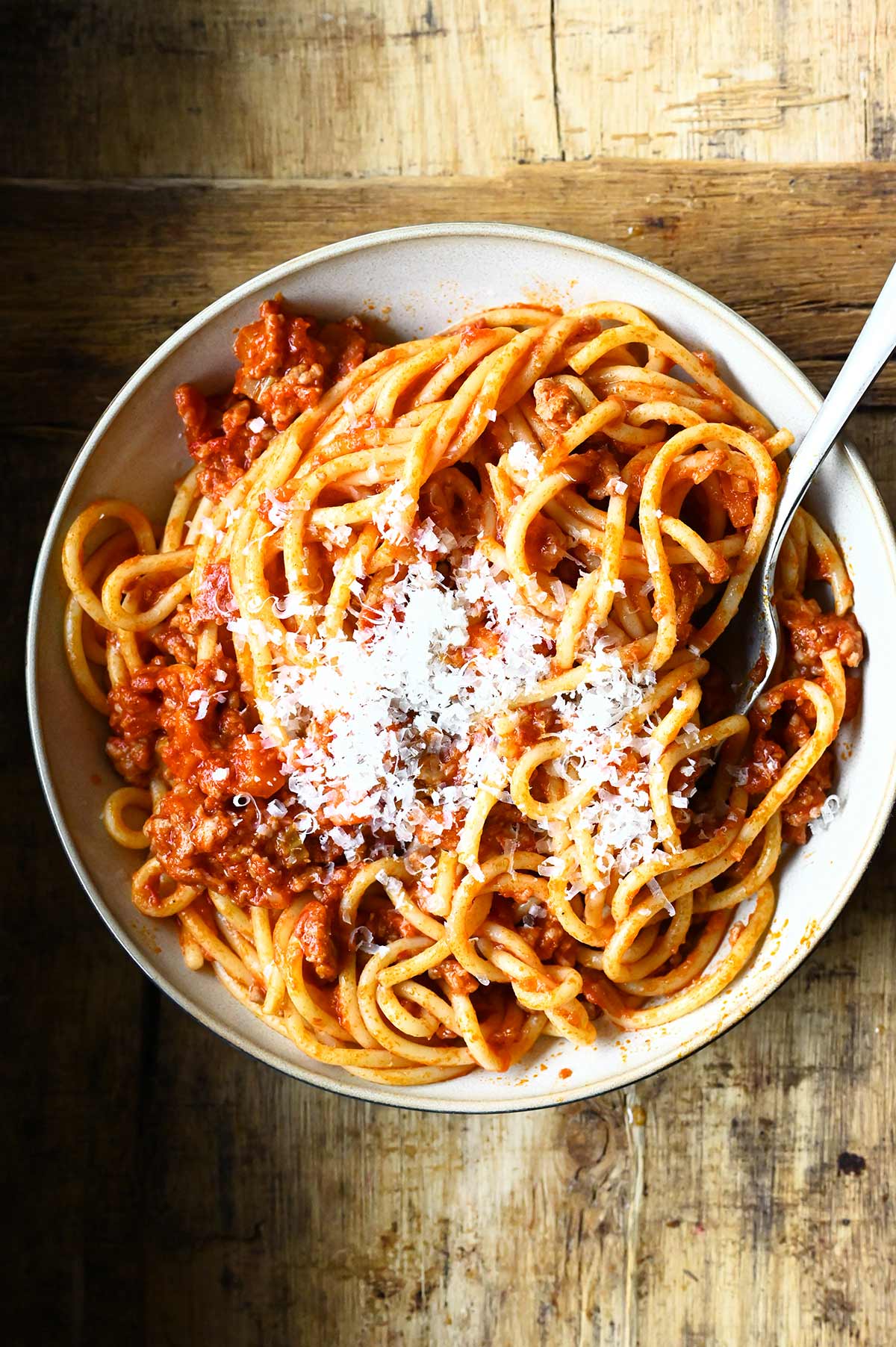 RECIPE NOTES
Use this sauce as a meat sauce for pasta bakes like lasagna or other tasty recipes.
This is not a super spicy sauce (the fire is admittedly calmed due to the sweetness of the tomatoes, milk and Parmesan), but the presence of 'Nduja is definitely felt. But if you like it blow-your-socks-off spicy, add as much 'Nduja as your heat loving taste buds will allow.
Make ahead: You can made the bolognese sauce 1 day ahead.
Storage: You can refrigerate it in airtight containers for up to 3 days.
To freeze: Put the bolognese sauce into an airtight container and store in the freezer for up to 3 months. You can freeze bolognese sauce both, with and without spaghetti.
TRY THESE NEXT
COOKING VIDEO
Yield: serves 4
The Best Spicy Spaghetti Bolognese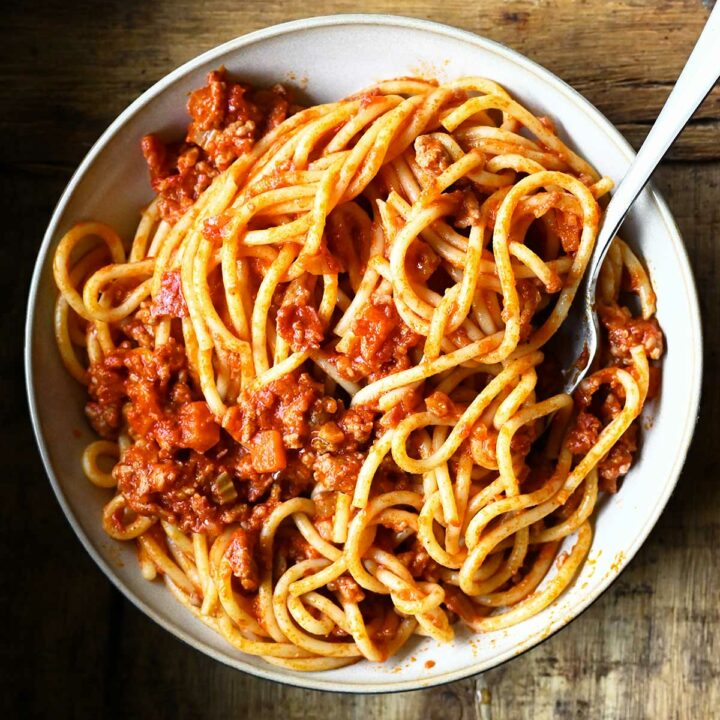 Ingredients
14 ounces/400 g dry spaghetti
1 tbsp olive oil
1 tbsp unsalted butter
1 medium brown onion, finely chopped
6 garlic cloves, minced
1 medium carrot, finely diced
1 celery stalk, finely diced
3 ounces/100 g pancetta
1.1 pounds/500 g ground meat mixture, pork/veal
1 tsp each: salt, black pepper, sugar
3 ounces/100 g 'Nduja
½ cup/120 ml red wine
3 tbsp double concentrated tomato paste
3 ½ cups/800 ml puréed tomatoes
2 bay leaves
½ cup/120 ml whole milk
1.5/40 g ounces grated Parmesan
Instructions
Before you start cooking, peel and finely dice the carrot. Dice the celery stalk, finely chop the onion and mince the garlic cloves.
Bring a large pot with generously salted water to a boil.
Heat oil and butter over medium in a large heavy bottomed pot. Add onion, garlic, carrot and celery stalk. Cook for 5 minutes until soft and fragrant. Reduce heat if needed. Add pancetta and cook for 3 minutes.
Add ground meat mixture, break up into pieces with a wooden spoon and cook until it starts to brown. Season with salt, pepper and sugar. Add 'Nduja and continue to cook while stirring until the 'Nduja is completely dissolved.
Pour in red wine and simmer for 3 minutes. Next stir in tomato paste, add puréed tomatoes and bay leaves. Stir and simmer for at least 15 minutes.
In the meantime, add spaghetti to the pot with boiling water and cook according to package instructions. Scoop up ½ cup of the cooking water right before draining the pasta.
When ready, add milk and Parmesan to the sauce. Stir until combined. Toss with spaghetti and add a splash of cooking water, if needed. Enjoy!
Notes
Calories Per Serving: 525 kcal
Nutritional information is only an estimate. The accuracy of the nutritional information for any recipe on this site is not guaranteed.

//= __('Print recipe (no photos)', 'servingdumplings' );?> //= __('Print recipe (with photos)', 'servingdumplings' );?>