Thai chicken meatballs in peanut sauce. Tender, juicy meatballs simmered in a rich, ultra creamy peanut butter sauce enlivened with ginger, garlic and red curry paste. This easy weeknight dinner is loaded with sautéed bok choy and served over creamy coconut rice. Top with fresh cilantro and toasted peanuts for a crowd-pleasing dinner.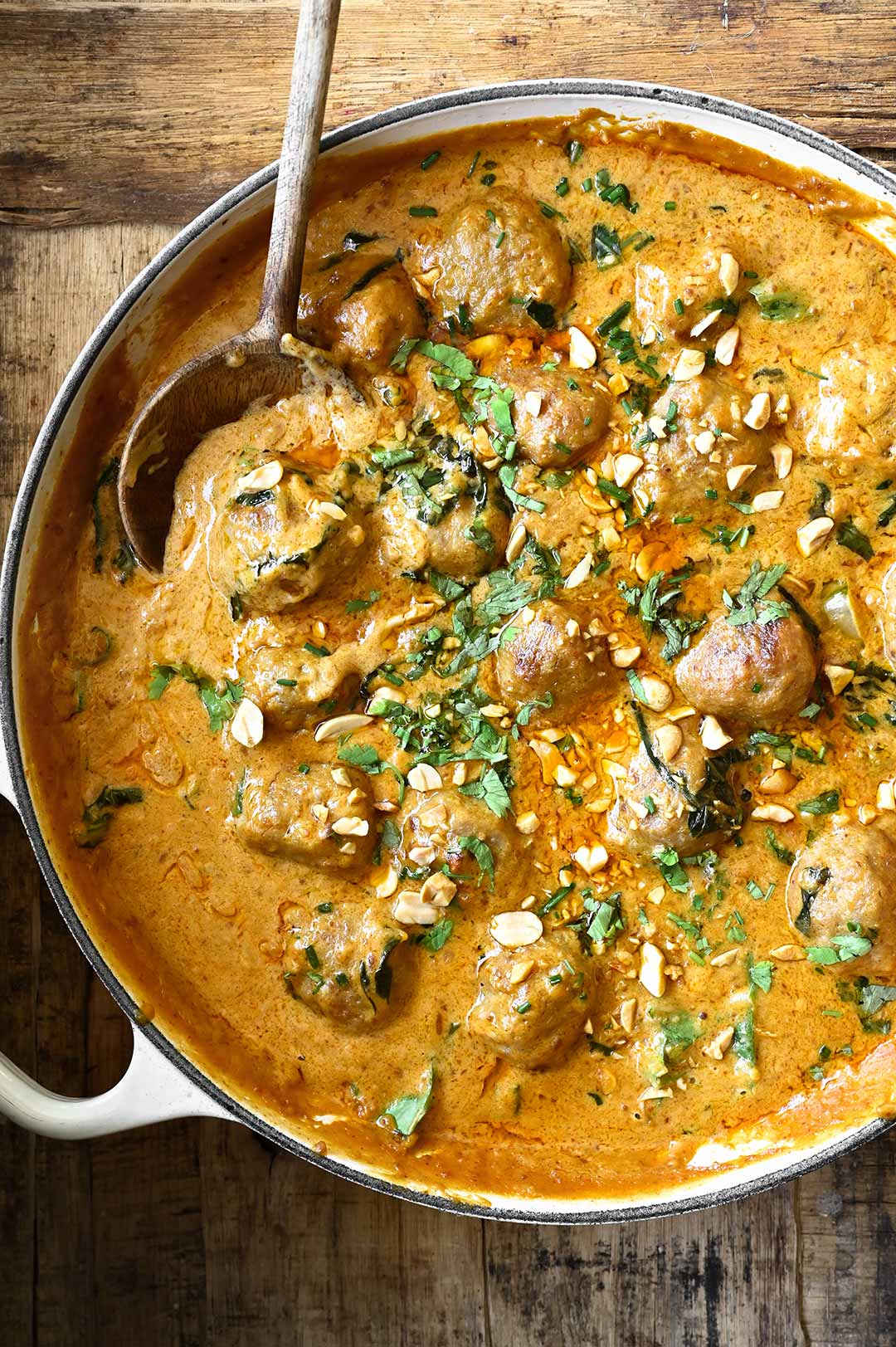 The most amazing thing about this recipe is that it's a one skillet kind of dinner. Chicken meatballs are also a leaner alternative to beef or pork meatballs, with a mild flavor that perfectly pairs with any herb, sauce or vegetable. Here, we combine ground chicken with soy sauce, ginger, garlic and cilantro to create a tiny flavor explosion.
First, we sear the meatballs, then create an irresistible pan sauce by sweating the garlic and ginger. We add bok choy to this flavorful mixture, but you could use bell pepper or green beans. Then red curry paste goes in, followed by chicken broth. Next we add coconut milk to create that creamy touch and stir in the peanut butter. It's traditional to use fish and soy sauce, but brown sugar too, however since I wanted this sauce to be less sweet, I just used a small amount of honey.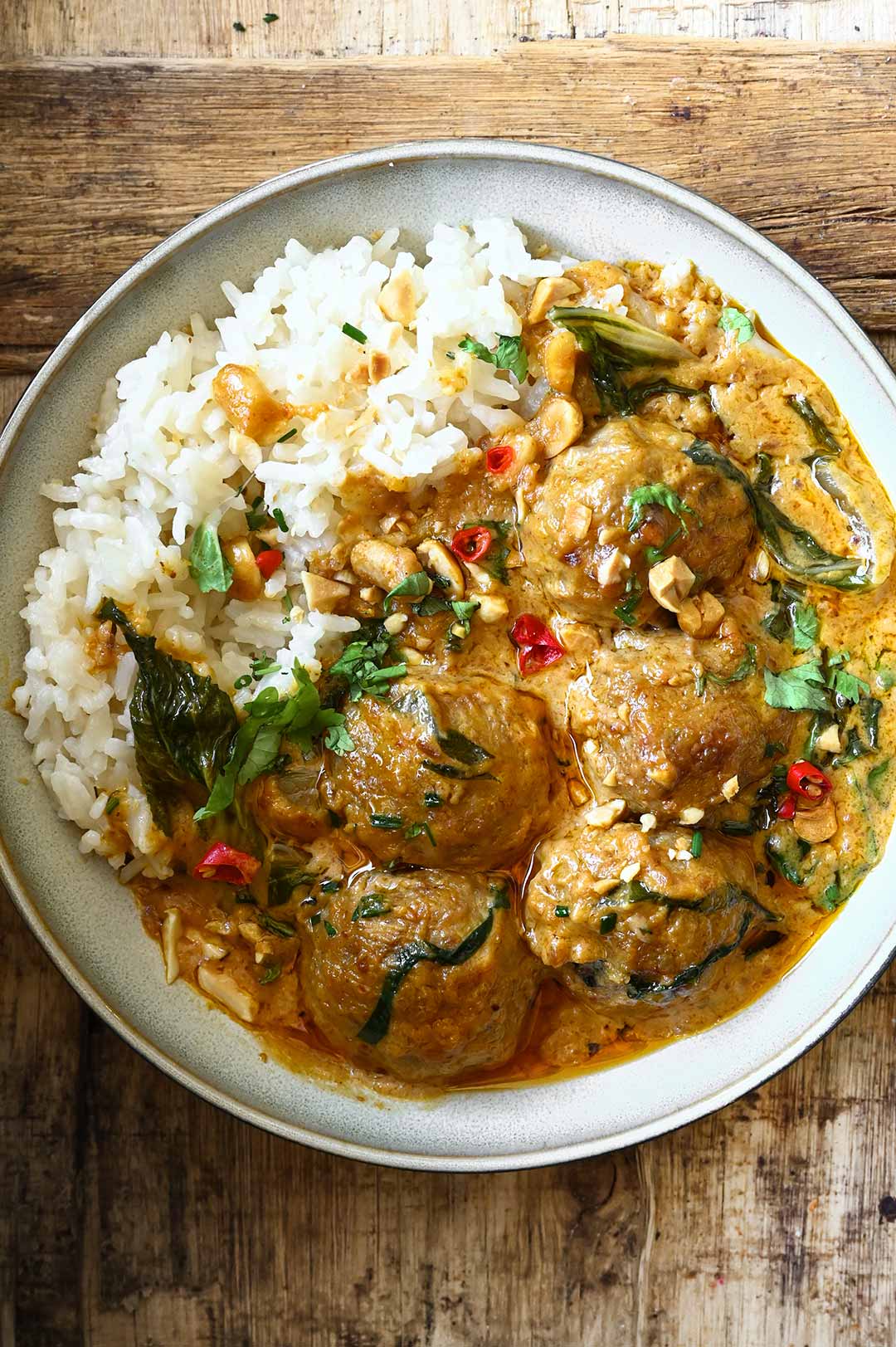 There's also a generous splash of lime juice to balance the flavors and add some tang to the sauce. For that extra kick, I love to use sambal oelek, the heat really mellows out as it cooks in the sauce, adding just the right amount of spice. Not too spicy, but just right.
At the end the meatballs get simmered in this flavorful sauce, and while this is happening, we make the coconut rice. It's creamy and with just a small amount of coconut flavor that pairs really well with this kicky dish.
We serve the meatballs over rice and top with chopped cilantro and toasted peanuts for a nice finishing touch. It's creamy and comforting with a little bit of spice, perfect for any night of the week.
Let me guide you through the recipe with this step-by-step VIDEO.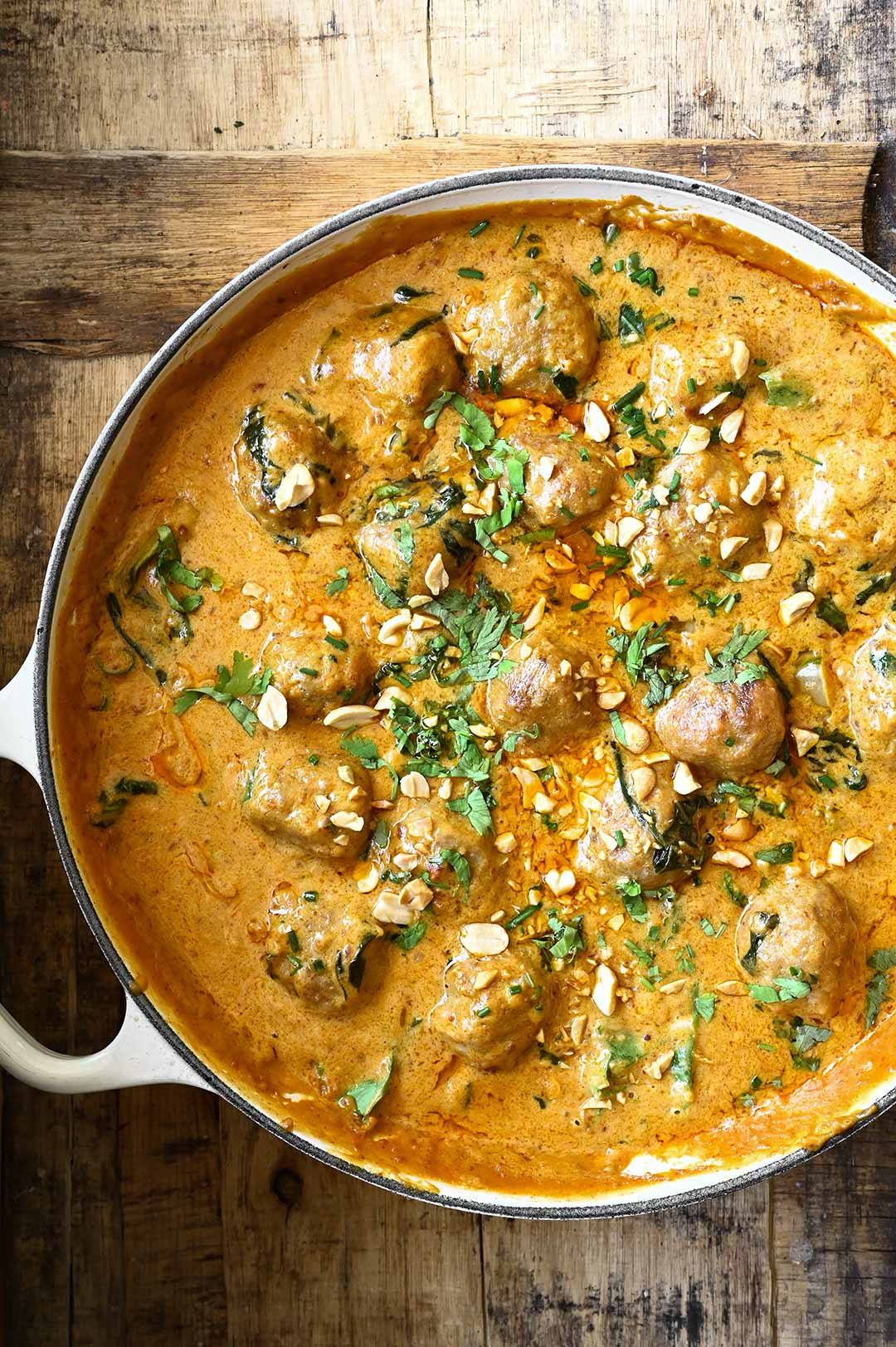 RECIPE NOTES
enjoy with a side of naan, green beans, broccoli, cauliflower or a crispy cucumber salad
instead of bok choy, use peas, edamame, bell pepper or spinach
you can always use ground beef or pork instead of chicken
swap the peanuts for cashews
make it as spicy as you can handle
try to use plain a crunchy peanut butter that isn't too oily, to create a creamy peanut sauce that won't separate during cooking
for the coconut rice, it's best made with jasmine, basmati, long grain rice or brown rice
the most delicious coconut flavor is mostly in the fat, so you get more flavor when using full fat coconut milk rather than low fat
Try These Next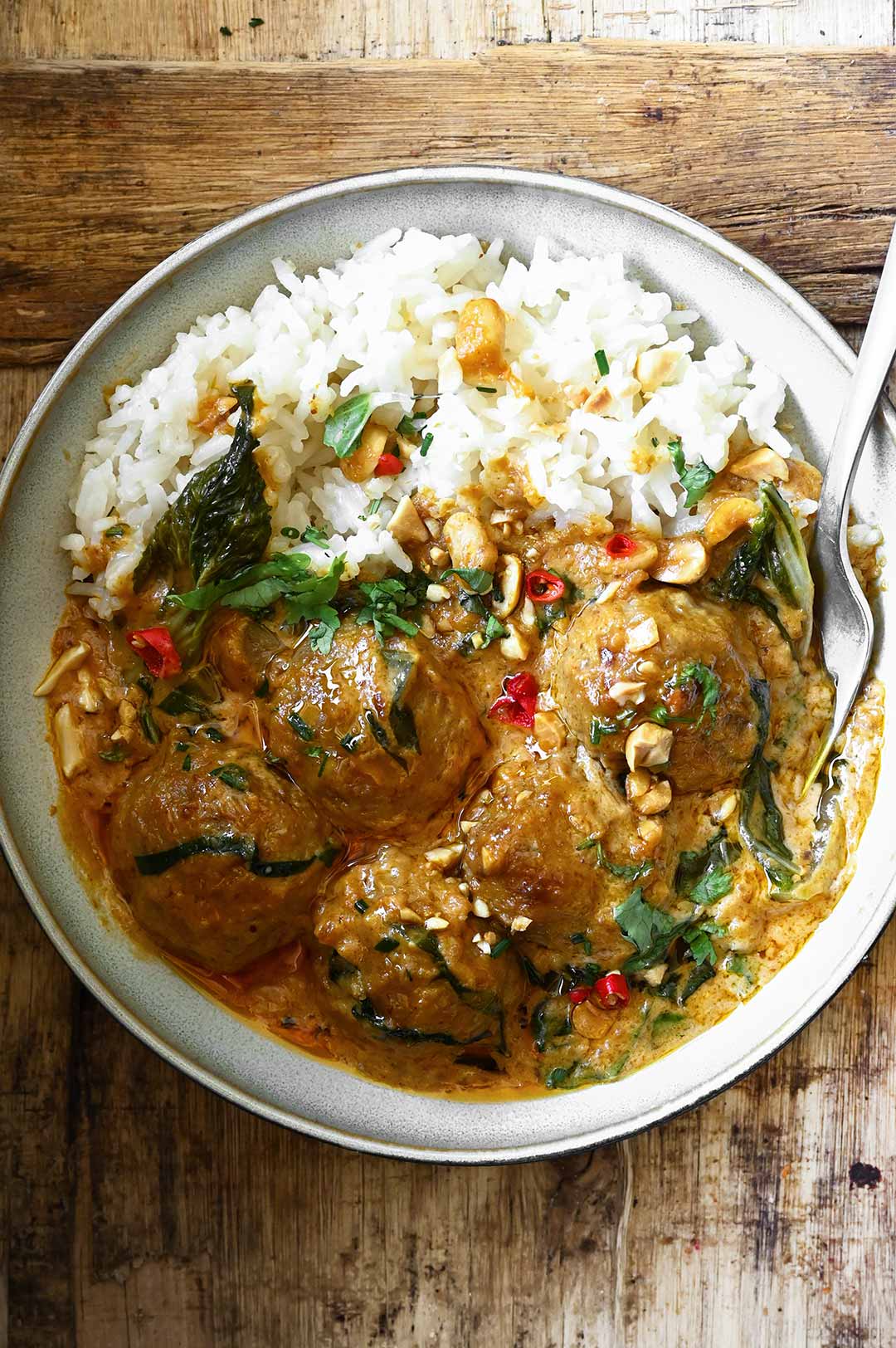 Cooking Video
Yield: serves 4
Thai Chicken Meatballs in Peanut Sauce
Prep Time 10 minutes

Cook Time 30 minutes

Total Time 40 minutes
Ingredients
Chicken Meatballs
1.1 pounds/500 g ground chicken
1 tsp grated ginger + grated garlic
1 tsp low sodium soy sauce
½ tsp sambal oelek, or chili paste
1 egg yolk
2 tbsp corn starch
1 tbsp chopped cilantro
Thai Peanut Sauce
2 tbsp vegetabel oil
1 tbsp unsalted butter
5 garlic cloves, grated, divided
2 tbsp grated ginger, divided
1 bok choy, chopped
1 tbsp red curry paste
1 tsp sambal oelek, or chili paste
½ cup/120 ml chicken broth
1 can (15 ounce/400 ml) unsweetened coconut milk
½ cup/140 g crunchy peanut butter
1 tsp honey
2 tbsp low sodium soy sauce
1 tbsp fish sauce
juice from ½ lime
toppings: fried onions, toasted peanuts, chives, cilantro, chili pepper
Coconut Rice
1 cup/240 ml unsweetened coconut milk
1 cup/240 ml chicken broth
1 cup/250 g jasmine rice
Instructions
Get all the prep done before you start cooking. Chop the cilantro and bok choy. Grate the garlic cloves and ginger.
Add ground chicken and the ingredients for the meatballs to a bowl. Mix with your hand, just until combined. Roll into 2-tablespoon sized balls.
Heat oil and butter in a nonstick skillet over medium. Add meatballs, brown all over, about 3 minutes. Remove from skillet onto a clean plate.
Add garlic and ginger, cook for 1 minute. Add bok choy, cook for 1 minute more. Stir in red curry paste and sambal oelek. Deglaze the skillet with chicken broth, simmer for 2 minutes while stirring and scraping up the brown bits on the bottom of the skillet with a wooden spoon.
Add coconut milk and stir in peanut butter. Add honey, lime juice, soy and fish sauce. Add meatballs back to the skillet and simmer for 15 minutes. Add more chicken broth, if needed.
In the meantime, make the coconut rice. Bring coconut milk and chicken broth to a simmer. Add rice, cover and cook over low for 10 minutes. Stir occasionally. Remove from heat, and rest, undisturbed and covered, for 10 minutes more. Fluff the rice with a fork.
Serve chicken meatballs and peanut sauce over rice. Sprinkle with your favorite toppings, enjoy!
Notes
Calories Per Serving: 551 kcal
Nutritional information is only an estimate. The accuracy of the nutritional information for any recipe on this site is not guaranteed.

DOWNLOAD PRINTABLE RECIPE PDF