Chorizo & ground beef stuffed peppers with rice, loaded with cheese and chilies to add the right amount of  heat. The chorizo delivers a robust flavor, succulent richness, and a varied texture. It's really, really  good. Let's just say there won't be leftovers.
The Tex-Mex style stuffed peppers are a killer and actually really easy to make. It's comfort food without a carb overload. Brimming with a meaty vegetable-and-rice filling and taco seasoning, these edible bowls are a perfect dinner.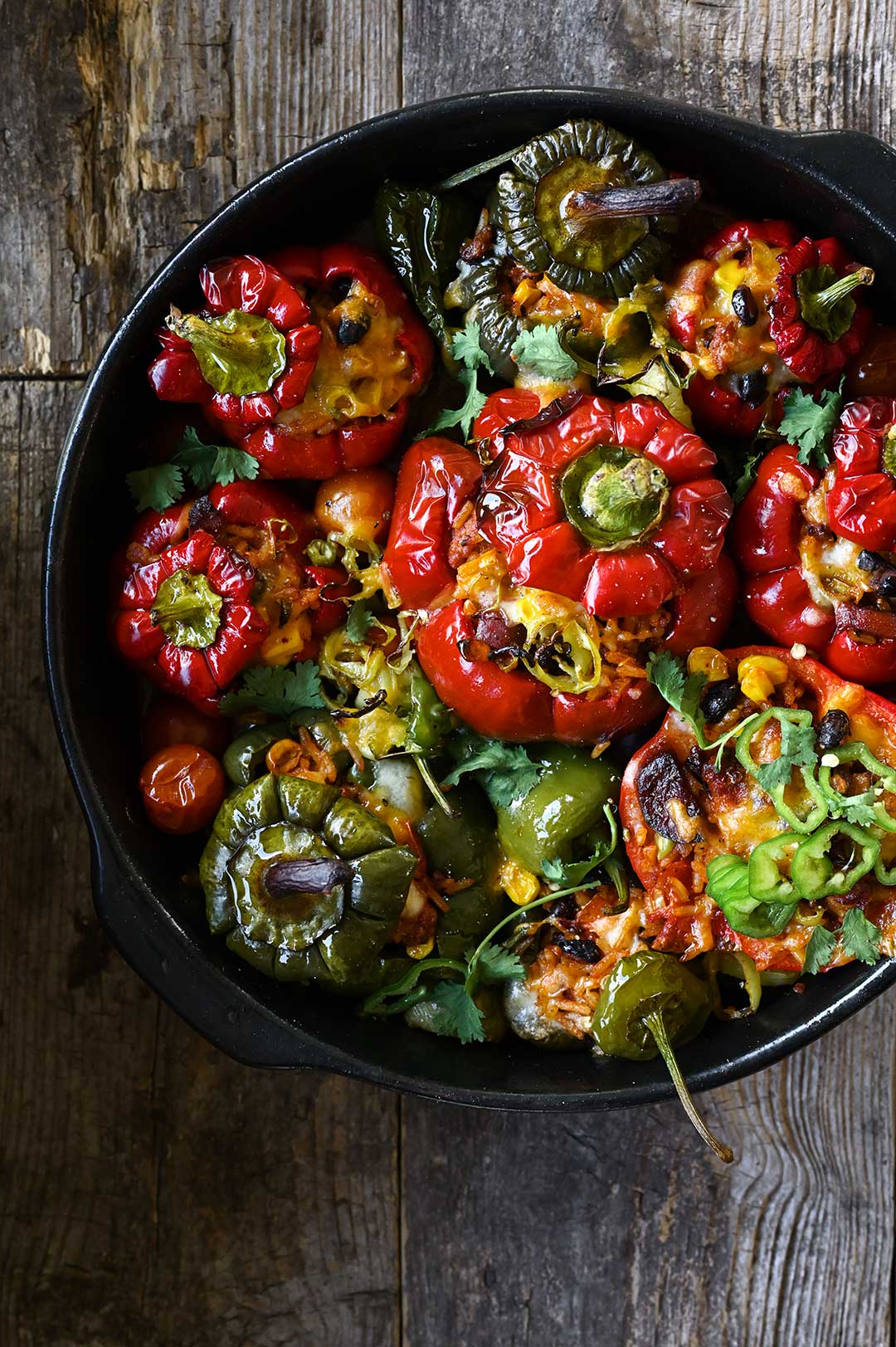 The ground beef and chorizo is cooked with lots of garlic, shallot and spices, then tossed with rice, sweet corn, beans, bright cherry tomatoes and cheese. Whatever you do, just don't skimp on the cheese for it to be true Tex-Mex. The cheese melts and creates a creamy sauce. Does that sound like the perfect dinner? But there's more… we bake them together with a cherry tomato sauce which cooks right alongside the peppers. A guaranteed hit with the entire family.
You don't have to serve the stuffed peppers with anything, they're great on their own and loaded with goodness, but if you like a little extra something: tortilla chips, sour cream, corn tortilla, aioli or spring onion can add a nice touch.
For this recipe I used the glorious tomato peppers, but you can use bell peppers or even better, the sweet Italian peppers.
I really love some heat, so I also did throw in some pickled jalapeños. That would be amazing if you did that too, or use a combination of different chilies, fresh and pickled. When you combine their flavor with the characteristic smokiness of chorizo and the sweet peppers, you've got a winning combination.
And also this, you can swap mozzarella or cheddar for some Mexican cheese or Monterey Jack cheese, I can't find any over here.
Hop on over to Instagram to see how to make this in my highlights!
3 more delicious meaty recipes:
Cheesy eggplant-beef bolognese pasta bake
Roasted broccoli with gnocchi and lamb chops
Pulled beef taco with blueberry coleslaw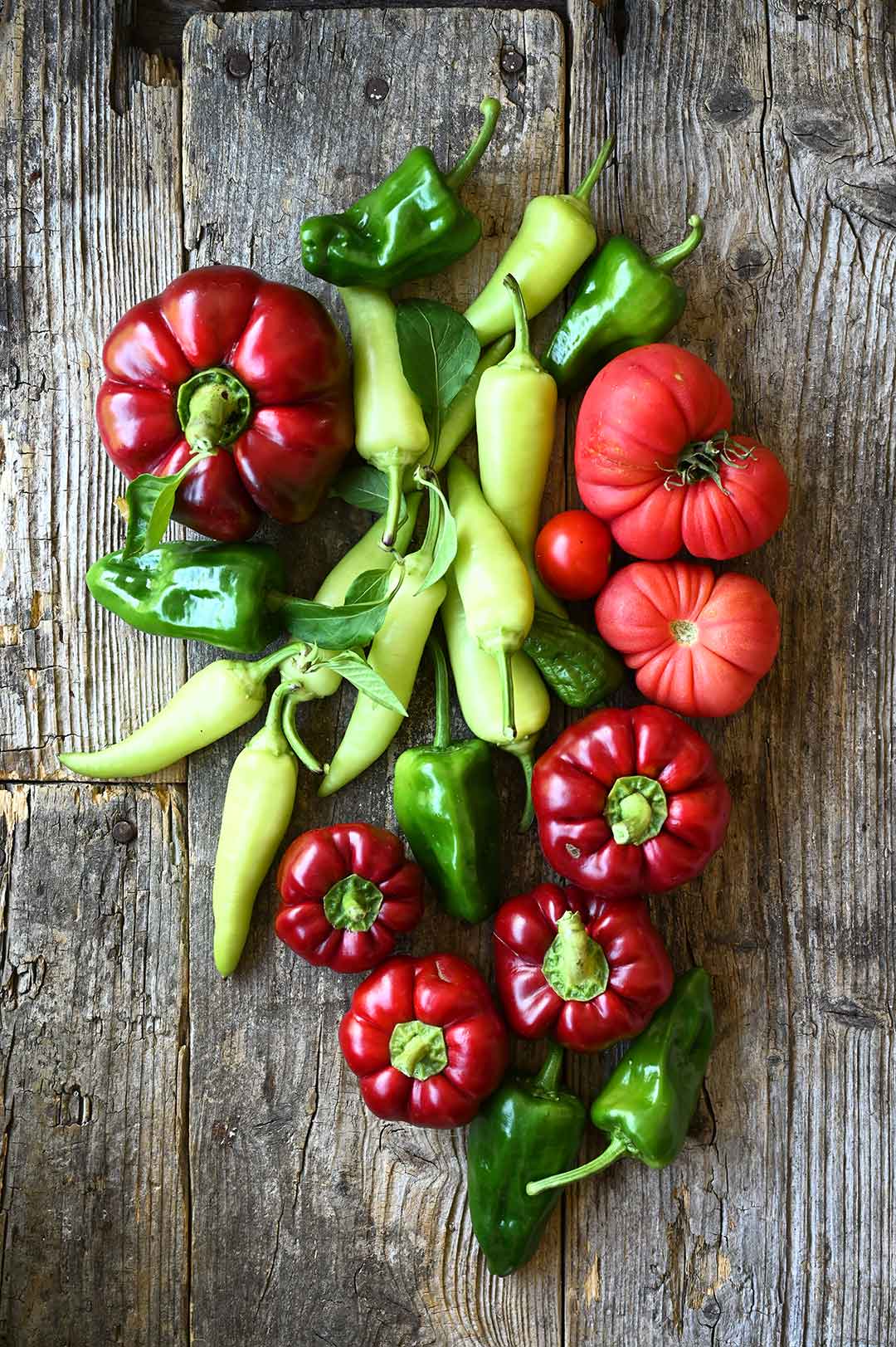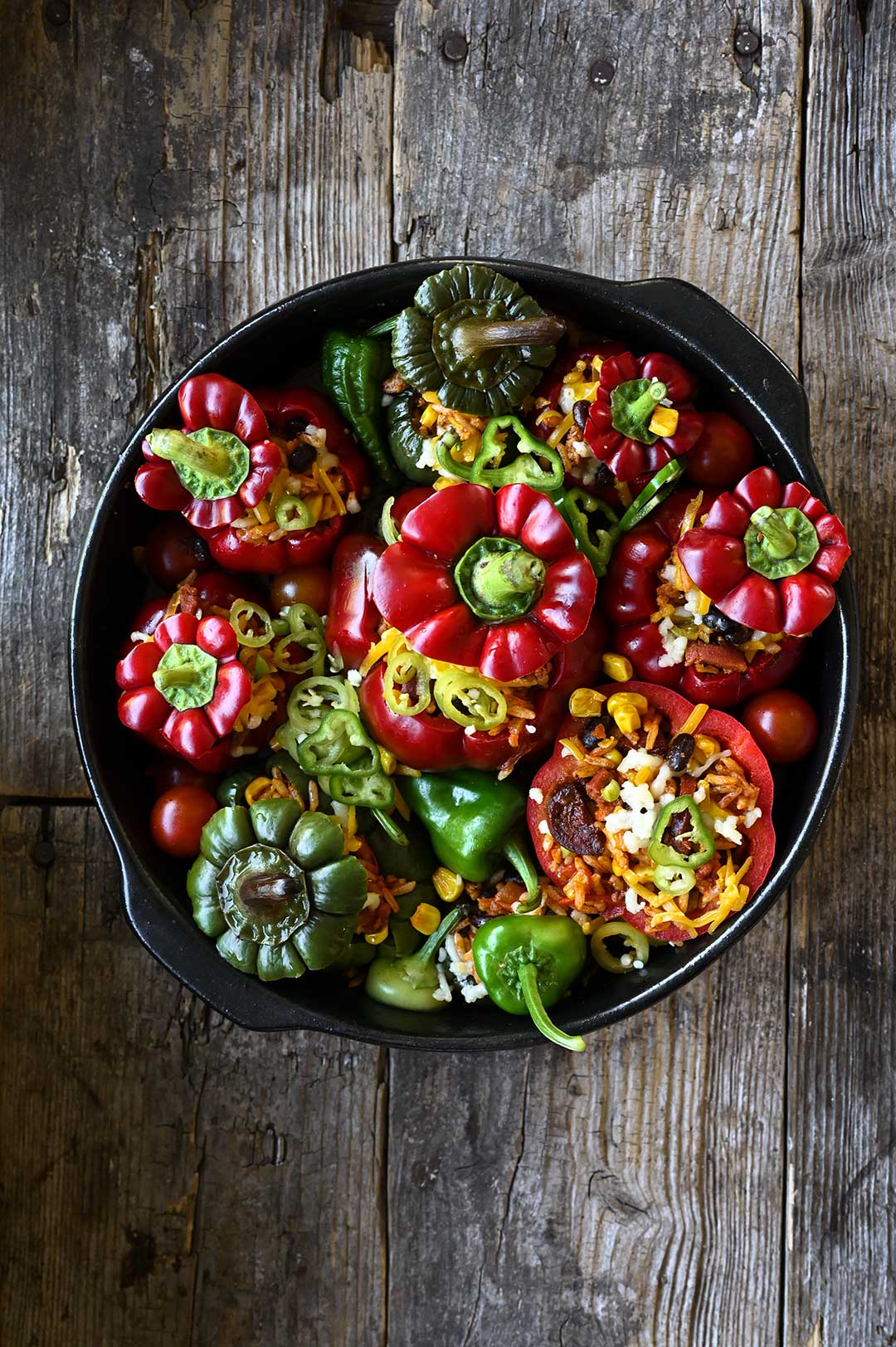 You need
8 bell peppers
300 g (0,6 lb) ground beef
150 g (0,3 lb) spicy chorizo, cubed
125 g (1/2 cup) rice
100 g (3/4 cup) grated mozzarella
100 g (3/4 cup) grated cheddar
100 g (1/2 cup) corn kernels
80 g (1/4 cup) black beans
100 g (1/2 cup) cherry tomatoes, halved
3 tbsp olive oil
1 shallot, finely chopped
4 garlic cloves, finely chopped or grated
2 tbsp tomato paste
taco seasoning
1 tsp cayenne pepper
2 tsp ground cumin
1 tsp oregano
2 tsp smoked paprika powder
salt + black pepper
1 fresh (or dried) chopped chili pepper, like chipotle or padron (or more for your own taste)
1 tbsp chopped pickled jalapeños or banana peppers (more for your own taste)
+
50 ml (1/4 cup) vegetable broth
1 tsp tomato paste
50 g (1/4 cup) cherry tomatoes
2 tbsp olive oil
fresh cilantro for serving
How to
Hop on over to Instagram to see how to make this in my highlights!
Preheat the oven to 200°C (400°F).
Cook the rice in salted water according to package instructions.
Remove the tops and cores from the peppers, but don't throw them away.
In a large skillet, heat the oil over medium high heat. Add the ground beef, cook until slightly browned, breaking up with a wooden spoon, for about 2 minutes. Then add the chorizo. Cook for 5 minutes.
In the meantime, finely chop the shallot and garlic cloves. Add to the skillet and cook for 3 minutes, until soft and fragrant. Stir in the taco seasoning and tomato paste. Simmer for 3 minutes. Add corn kernels, cherry tomatoes and black beans. Stir in the cooked rice and half of the cheeses. Taste and season with salt and pepper.
Place peppers cut side-up in a baking dish. Spoon chorizo mixture into each pepper and top with the remaining cheese and pepper tops. In a glass, combine the broth with tomato paste, olive oil salt and pepper. Pour between the peppers and finish off with cherry tomatoes. Then cover the baking dish with aluminum foil.
Bake until peppers are tender, about 30-35 minutes. Uncover and bake until cheese is bubbly, 10 minutes more.
Serve with cilantro and extra peppers, if desired. Enjoy.