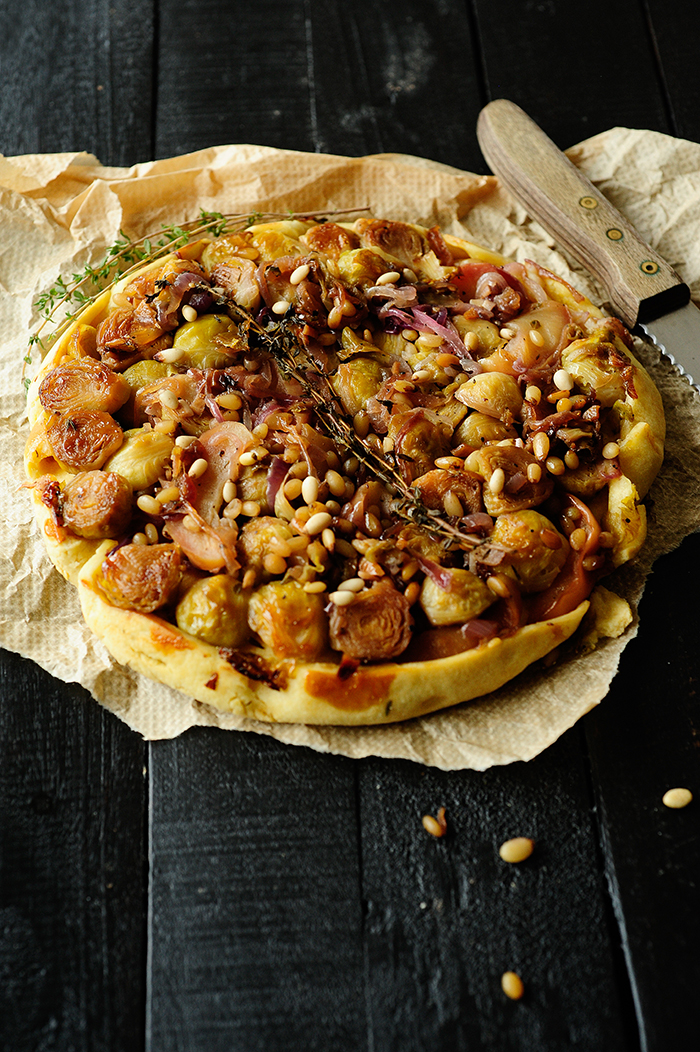 Tarte tatin filled with Brussels sprouts, apple and pine nuts, drizzled with balsamic vinegar and honey. Served on a crispy crust. Garnished with thyme and red onion. Sounds good? It really is delicious and surprisingly tasty, one of my favorite savory tarte tatins. It is a culmination of many contrasting flavors and textures – sweet, hearty, buttery and crispy. Serve with a fresh salad or as a light dinner with your meat dishes. I hope you like it:)
Ingredients
crust
300 g wheat flour
100 g cold butter
1 egg
2-4 tbs cold water
pinch of salt
filling
450 g Brussels sprouts, trimmed and cut in half
1 apple, cut into 8 pieces
1 red onion, cut into thin slices
1 clove garlic, finely chopped
2 tbs pine nuts
1 tbs balsamic vinegar
1 tsp lemon juice
1 tbs honey
3 thyme sprigs
salt and black pepper
1 tbs melted butter
4 tablespoons olive oil
Instructions
In a bowl, place butter pieces in flour and salt, combine until mixture forms a coarse meal. Add the egg and 2 tablespoons of water. Begin to knead the dough, when it's too dry add another tablespoon of water. Shape into a ball, wrap in cling film and place for 30 minutes in the fridge.
Heat the olive oil in a pan, fry the onion and garlic. Add the Brussels sprouts and apple, cook for 5 minutes over medium heat or until the Brussels sprouts are golden brown. Sprinkle with vinegar, honey and lemon juice, season with thyme, salt and pepper. Place the vegetables in a skillet close to each other.
Remove the dough from the fridge and roll out to a thin circle. Place over Brussels sprouts and tuck edges. Make a small hole in the middle and grease with melted butter. Bake the tarte for 25 minutes at 180 degrees.
Place a plate over skillet, then quickly and carefully invert. Serve immediately.
Bon Appetit!
//= __('Print recipe (no photos)', 'servingdumplings' );?> //= __('Print recipe (with photos)', 'servingdumplings' );?>