An insanely delicious garlic butter sauce with bacon, mushrooms and pecans served over sweet potatoes cut into noodles. Just a few ingredients, light, flavorful and satisfying. So easy to make in only a few simple steps. Are you ready for a next-level 'pasta-free' pasta dish? Then let's do this!
The base of this recipe are spiralized sweet potato noodles, which we cook up in butter until tender, with the slightest bit of bite left in them so they keep texture and hold their shape. We also add white miso paste for an extra flavor boost, smoked bacon, button mushrooms and crunchy pecans. This combo is really tasty, all the flavors are well balanced. We finish the dish with sage leaves and chili flakes for that nice kick. And serve everything with grated goat cheese. This is a perfect weeknight meal when you're craving something light but satisfying. You can think of this as a side or a lighter meal.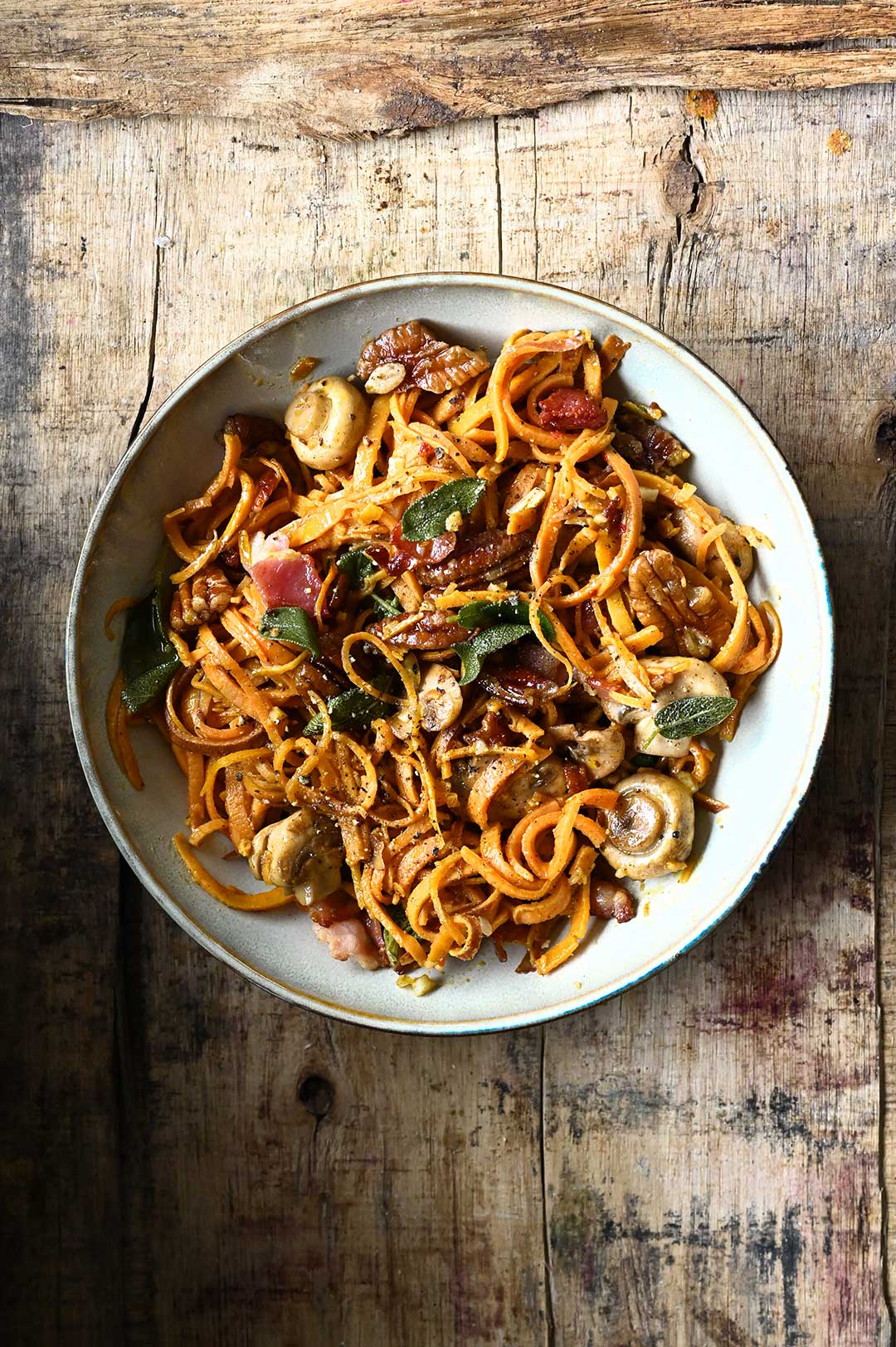 Bonus? Quick cooking time, one pan and a minimal amount of dishes. Yes, that's it! Hope you love this one. It's so easy and versatile. If you don't have a spiralizer, you can still make this by thinly slicing the sweet potatoes into long matchsticks using a julienne peeler or a knife, this will replicate the "noodle" feel.
No pecans? Use walnuts or pine nuts. And for a vegetarian version, omit the bacon.
Let me guide you through the recipe with this step-by-step VIDEO.
You might also like:
Hearty mushroom bolognese with zucchini noodles
Zucchini and bacon pasta with basil
Eggplant Miso Pesto Pasta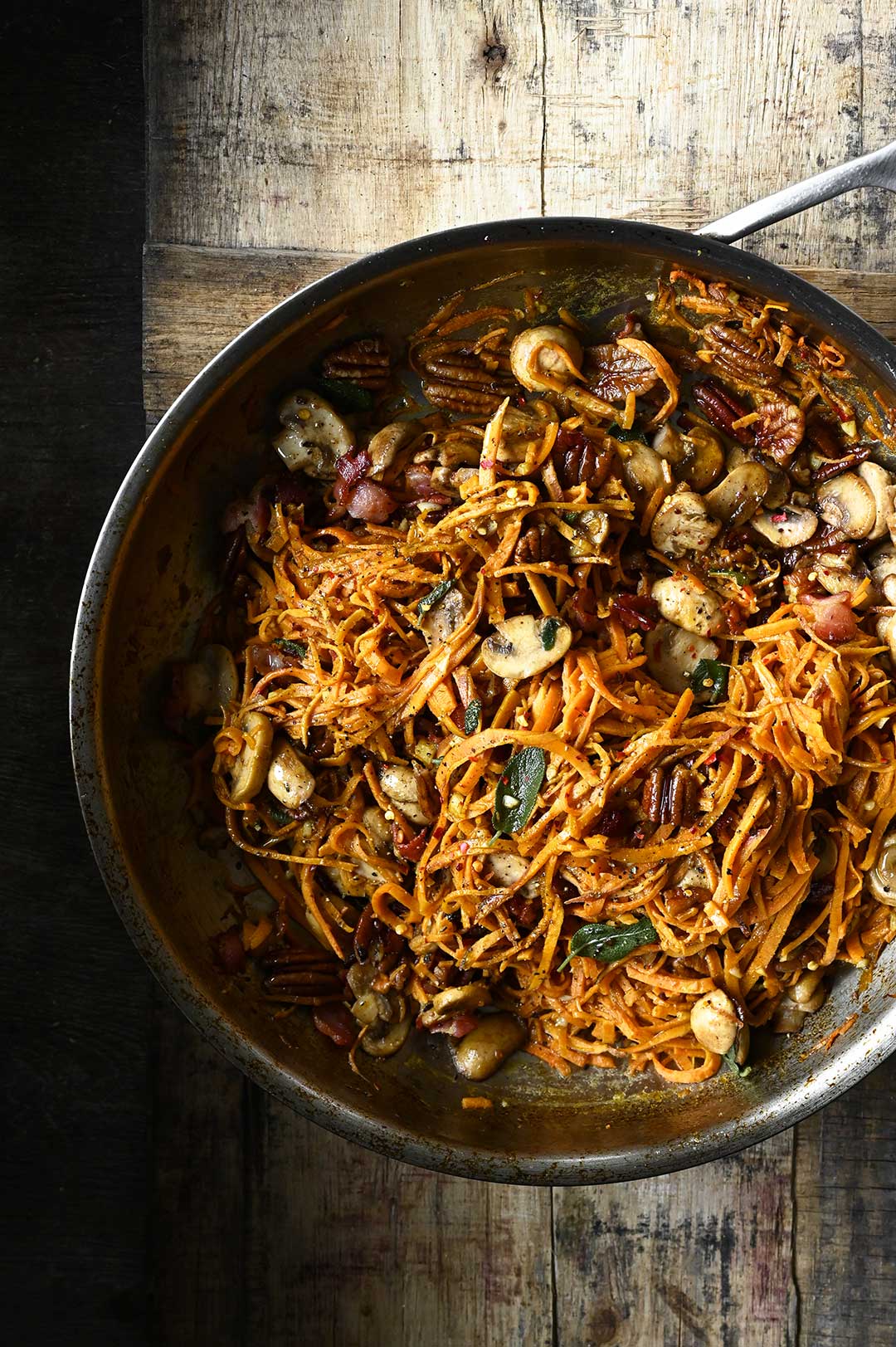 You need
3 medium sweet potatoes
250 g (8.8 oz) button mushrooms, cut into slices
200 g (7 oz) thin slices of smoked bacon, cut into thin strips
60 g (2 oz) pecans
120 ml (1/2 cup) unsalted chicken broth
1/2 tsp white miso paste
4 garlic cloves, minced
1 tsp each: smoked paprika, crushed chili flakes
olive oil
50 g (3 tbsp) unsalted butter
20 sage leaves
salt + black pepper
grated Pecorino Romano, for serving
How to
Let me guide you through the recipe with this step-by-step VIDEO.
Spiralize the sweet potatoes into noodles or cut into small matchsticks.
Heat a large skillet over medium-high heat. Once hot, add 3 tbsp olive oil, then the bacon. Cook until crispy, about 4 minutes. Remove the bacon from the skillet.
Heat the skillet again over high heat. Add the mushrooms and fry for 5 minutes. The mushrooms will start to release moisture, after this, add 3 tbsp olive oil, season with salt and black pepper. Add pecans and sage leaves. Cook for 1-2 minutes, until mushrooms start to brown. Remove from the skillet.
In the same skillet. Heat 3 tbsp olive oil. Add the spiralized sweet potato noodles, cook, stirring often until the noodles are slightly softened, about 5 minutes. Stir in garlic, cook for 2 minutes. Season with smoked paprika, chili flakes and black pepper. Add chicken broth, cook another 2 minutes. Stir in miso and butter. When the noodles are soft but not mushy, add bacon and mushrooms back to the skillet. Gently toss to combine and heat for 1 minute.
Season the noodles with freshly ground black pepper and a pinch of crushed chili flakes. Serve immediately with grated Pecorino. Enjoy!
//= __('Print recipe (no photos)', 'servingdumplings' );?> //= __('Print recipe (with photos)', 'servingdumplings' );?>