Super easy canned tuna pasta. Need a quick and easy meal that's also extremely delicious? Look no further than this canned tuna pasta recipe! Made in just 15 minutes with simple ingredients that you probably already have on hand. This budget-friendly meal is a real crowd-pleaser, and it's perfect for busy weeknights. So next time you're short on time, reach for a can of tuna and some pasta, and whip up this easy and satisfying dish.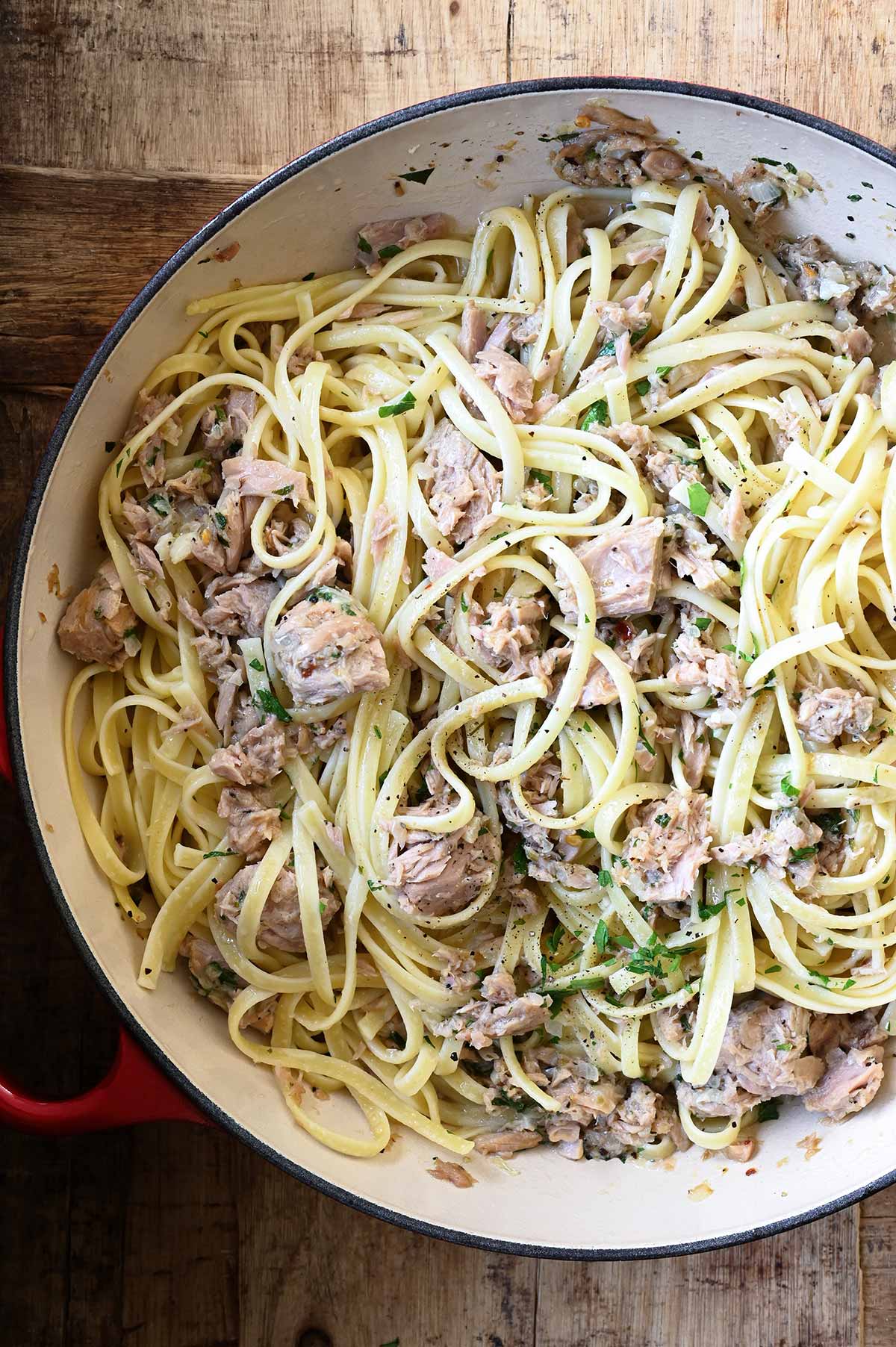 Why You'll Love this Canned Tuna Pasta
This canned tuna pasta is one of the cheapest, fastest, and tastiest pasta recipes you can make. It's perfect for busy weeknights when you don't have much time to cook.
Here's why you'll love it:
It's quick and easy: This recipe takes just 15 minutes to make from start to finish.
It's budget-friendly: Canned tuna is a very affordable ingredient.
It's versatile: You can add or remove ingredients to this recipe to your liking.
It's healthy: Canned tuna is a good source of protein and omega-3 fatty acids.
Plus, this recipe uses a handful of ingredients that you probably already have in your pantry. And the best part is, there's no food waste here! You can use the oil from the tuna cans to sauté the garlic and onion. This adds a delicious flavor boost to the dish.
So next time you're looking for a quick, easy, and tasty meal, try this canned tuna pasta recipe. You won't be disappointed!
Let me guide you through the recipe with this step-by-step VIDEO or follow along on YouTube!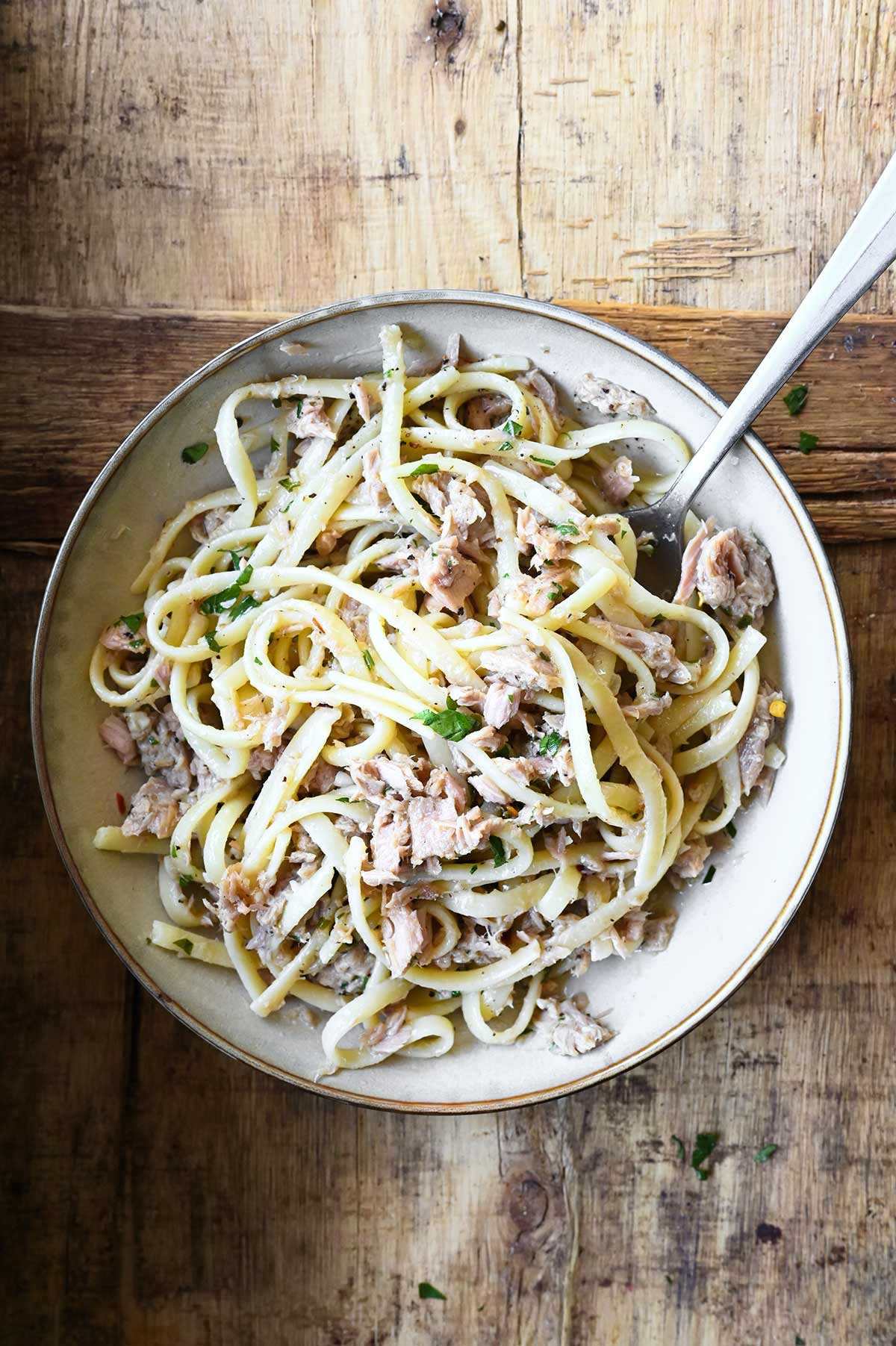 How To Make This Easy Canned Tuna Pasta
While the pasta works its magic in the pot, we whip up the tuna sauce. Start by heating up the oil from those trusty tuna cans, accompanied by a dollop of butter. Sautée the garlic and onion in this savory umami mixture until they release their irresistible aroma, laying the foundation for our sauce.
Next, introduce the harmonious blend of seasonings, followed by a sprinkle of lemon juice and parsley to infuse a vibrant and zesty flair.
Gently incorporate the tuna into the skillet, giving it just enough heat to bring out its flavors without overcooking.
By the time the pasta has reached its perfect al dente state, it's ready to join the tuna sauce. And remember to reserve a splash of pasta water, it's the secret sauce ingredient that ties everything together. Serve immediately and enjoy!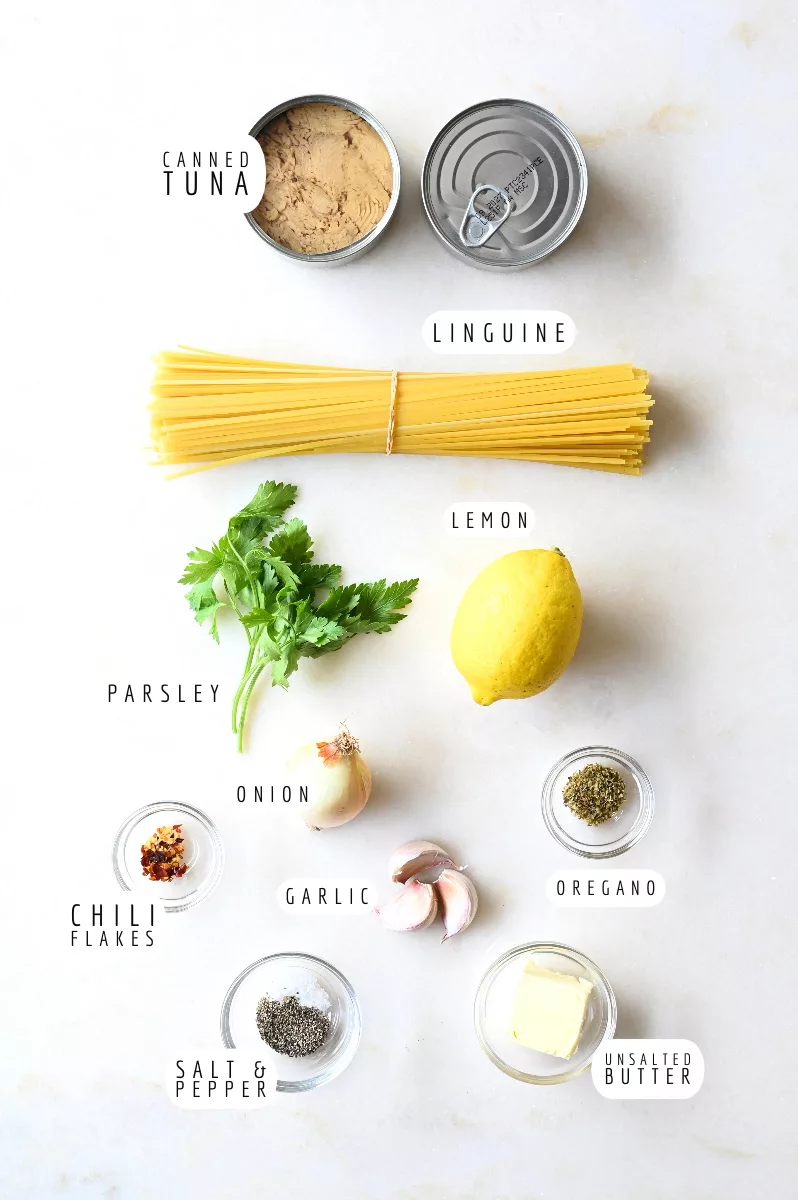 Ingredients and Substitutions
Pasta: I like to use a long pasta like linguini, it can carry the tuna and absorb the flavorful sauce. But any type of pasta will work including fettuccine, spaghetti, penne or fusili, farfalle or gemelli.
Tuna: Go for canned tuna packed in oil as it's ideal for this recipe. The oil from the tuna can doubles as a sauce base for sautéing garlic and onion, resulting in a richer, creamier, and more flavorful dish. If you don't have tuna in oil, olive oil is a suitable substitute. Keep in mind that the quality of canned tuna matters, premium tuna in olive oil beats cheaper options packed in canola oil.
Butter: For a richer sauce. (Optional)
Garlic: An essential flavor boost.
Onion: The base for the sauce. You can also use a shallot or red onion.
Lemon Juice: It really brightens up this dish.
Seasonings: A flavorful blend of salt, black pepper, dried oregano, and chili flakes. You can also use dried thyme or Italian seasoning instead of oregano.
Parsley: Adds a pop of color and freshness.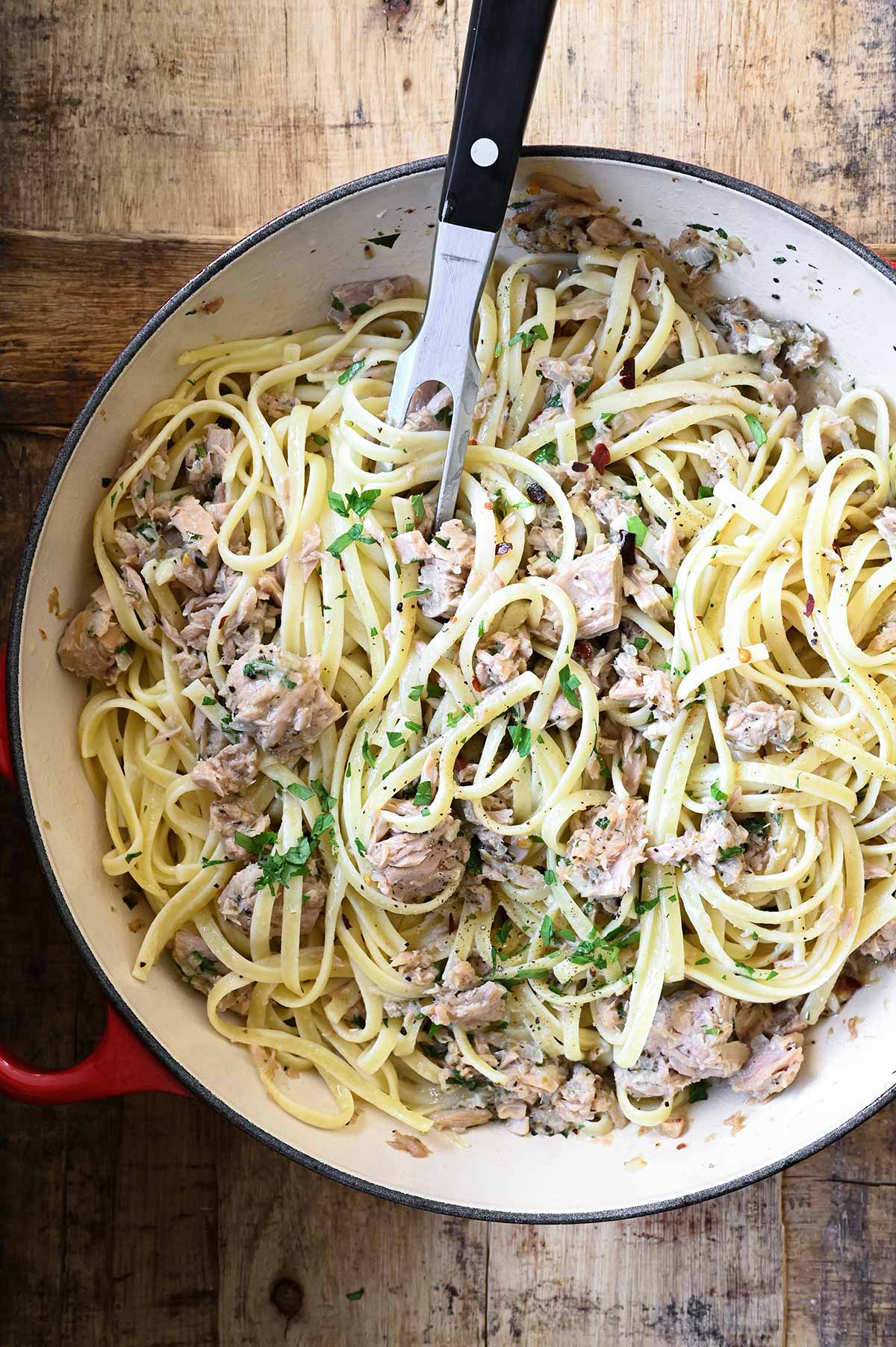 Helpful Tips
Enhance the Heartiness: Elevate your tuna pasta by sautéing a generous handful of spinach, arugula, or kale just before adding the tuna. These leafy greens will gently wilt in the warm sauce, adding extra flavor and nutrition. For more variations, consider incorporating capers, black olives, cherry tomatoes, or anchovies.
Sidekicks: Complement your dish with a simple leafy salad or some deliciously roasted vegetables for a well-rounded meal.
Use as much tuna as you like, add 1 can more for a richer pasta.

Leftovers and Storage:
Fridge Fresh: Your tuna pasta remains delicious for up to 2 days when stored in the refrigerator. When reheating, use a splash of reserved cooking water to keep it moist. Alternatively, pop it in the microwave for a quick lunch option. This recipe is versatile enough to be easily scaled up or down to suit your needs, so you won't have to worry about unwanted leftovers.
Freeze for Later: Any extra portions can be frozen and will maintain their quality for up to 3 months. It's a convenient way to have a homemade meal ready whenever you need it.
Try These Next
Cooking Video
Yield: serves 4
Super Easy Canned Tuna Pasta
For a speedy, delicious meal, try this 15-minute canned tuna pasta. Simple, budget-friendly, and perfect for busy weeknights. Just grab a can of tuna and some pasta for an easy, satisfying dish.
Ingredients
14 ounces/400 g dry linguine
1 tbsp unsalted butter
3 garlic cloves, minced
1 small yellow onion, finely chopped
1 tsp each: salt, black pepper, dried oregano
¼ tsp chili flakes, more to taste
1 tbsp lemon juice
1 tbsp chopped parsley, more for serving
3 cans (5 oz/160 g each) tuna in oil, drained, oil reserved
Instructions
Bring a large pot with generously salted water to a boil, add linguine and cook until al dente according to package directions. When ready, drain reserving ½ cup cooking water.
In the meantime, drain and reserve the oil from the tuna cans. Finely chop the onion and parsley. mince the garlic.
Heat butter and about ¼ cup of the reserved oil from the tuna cans over medium low in a large skillet or pan. Add garlic and onion, sauté for 3 minutes or until soft and fragrant.
Stir in salt, pepper, oregano and chili flakes. Add lemon juice and chopped parsley. Next, add tuna and gently cook just to let it heat through.
Add linguine and a splash of the cooking water, toss for 1 minute to coat the pasta with tuna sauce. Taste and adjust salt.
Finish off with freshly ground black pepper and extra parsley? Serve immediately. Enjoy!
Nutrition Information:
Yield:
4
Serving Size:
1
Amount Per Serving:
Calories:

321
Total Fat:

18g
Saturated Fat:

3g
Trans Fat:

0g
Unsaturated Fat:

14g
Cholesterol:

8mg
Sodium:

585mg
Carbohydrates:

34g
Fiber:

2g
Sugar:

1g
Protein:

6g
Nutritional information is only an estimate. The accuracy of the nutritional information for any recipe on this site is not guaranteed.