Creamy sun-dried tomato rigatoni. Besides being immensely delicious and incredibly easy to make, this recipe is ready in 15 minutes. Bright sun dried tomatoes simmered in a creamy tomato sauce and jazzed up with salty pecorino for a perfect weeknight crowd-pleaser.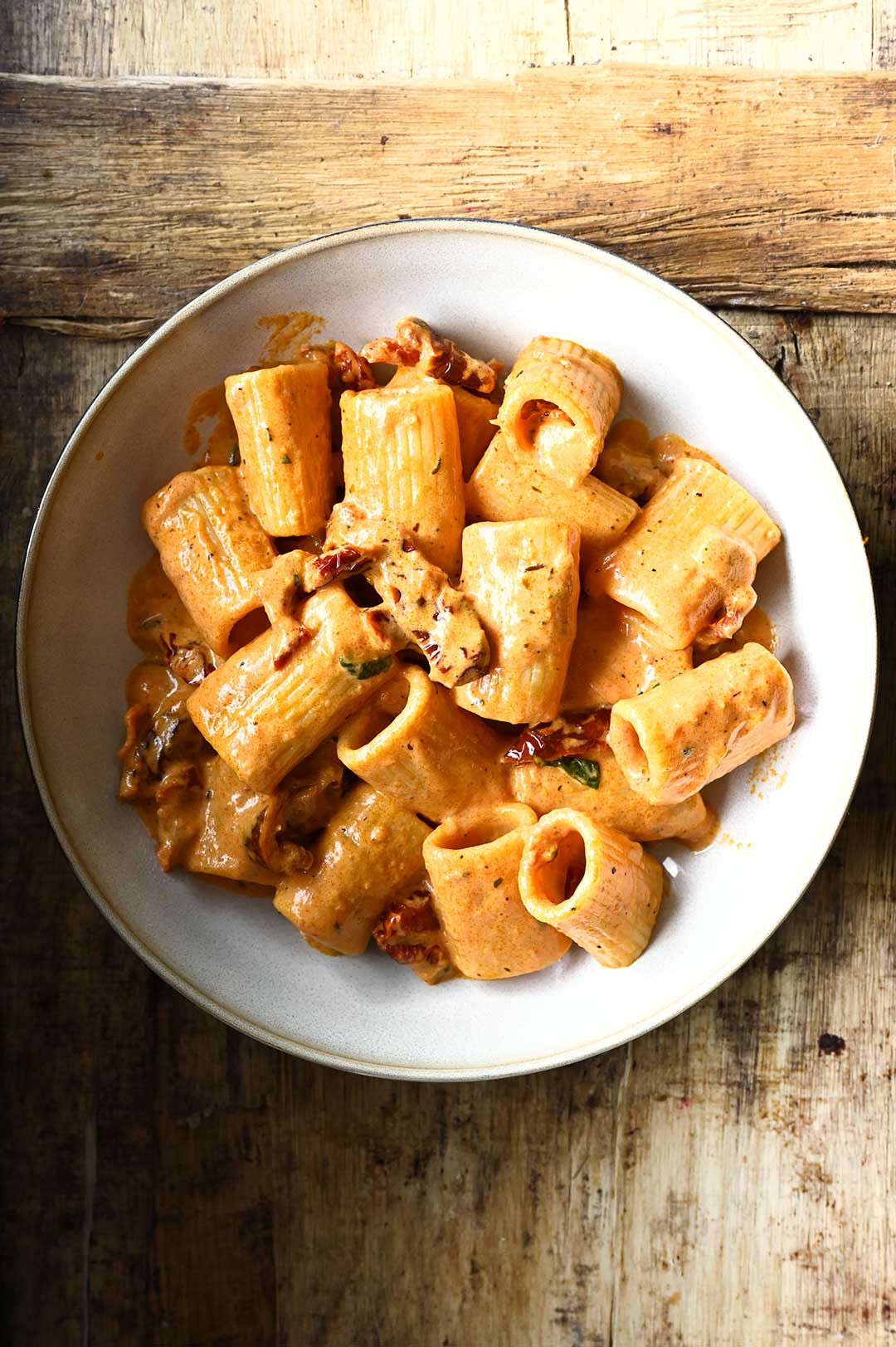 Bursting with tangy and subtle sweet flavors, this sun-dried tomato pasta is perfect as a meatless dinner or served along grilled chicken. So easy and fast to throw together. While the rigatoni is cooking, we make the creamy tomato sauce… and your dinner is ready in a blitz.
There are several ways to make a creamy pasta sauce. Here, we combine tomato paste with cream, grated pecorino and pasta water. Cooking water emulsifies the sauce, adding a slightly creamy texture while creating a thick glossy sauce. Pecorino contributes a slight creaminess in addition to its irresistible salty cheese flavor, but if you're not a fan, you can always use Parmesan.
The addition of sun-dried tomatoes adds a little tang and balances out the creaminess. Serve with a big side salad drizzled with a caesar dressing for a complete meal.
Let me guide you through the recipe with this step-by-step VIDEO.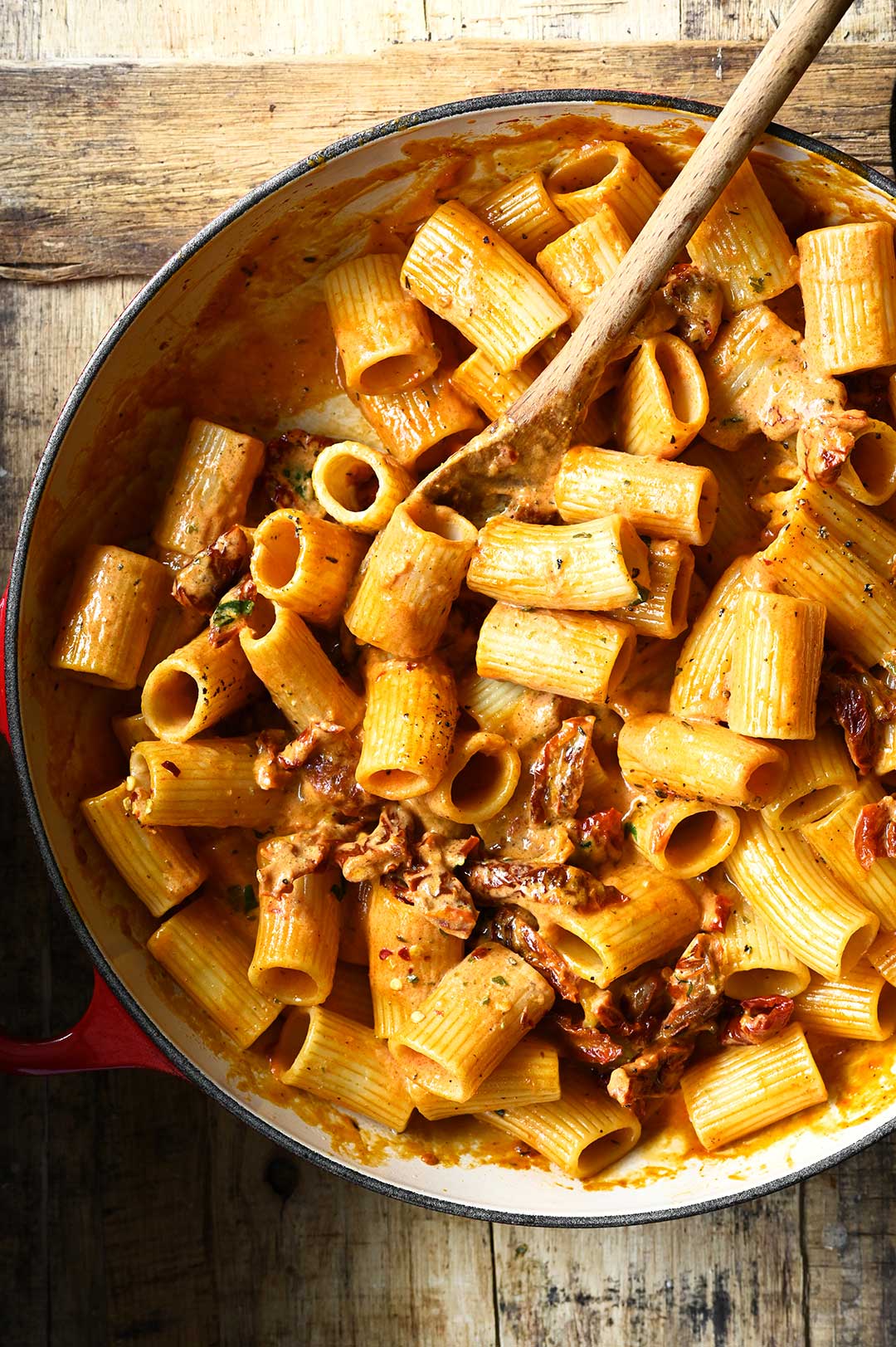 RECIPE NOTES
short pasta, such as rigatoni or penne, are perfect for creamy pasta recipes like this one
a ​​big lettuce salad or Caesar salad are great sides to pair with this creamy pasta
try to buy sun-dried tomatoes packed in olive oil, but don't forget to drain the oil, otherwise you'll end up with a super oily sauce. However, if you buy sun-dried tomatoes without oil, you can hydrate them first, to prevent the tomatoes from being tough and chewy. Just put them in a bowl, add some hot water and let stand for about 20 minutes, drain and you're ready to go
you can add some bacon to the pasta sauce or serve it with grilled chicken
for an extra-creamy and rich pasta, swap out the half-and-half with heavy cream
instead of pecorino use grated parmesan
Try These Next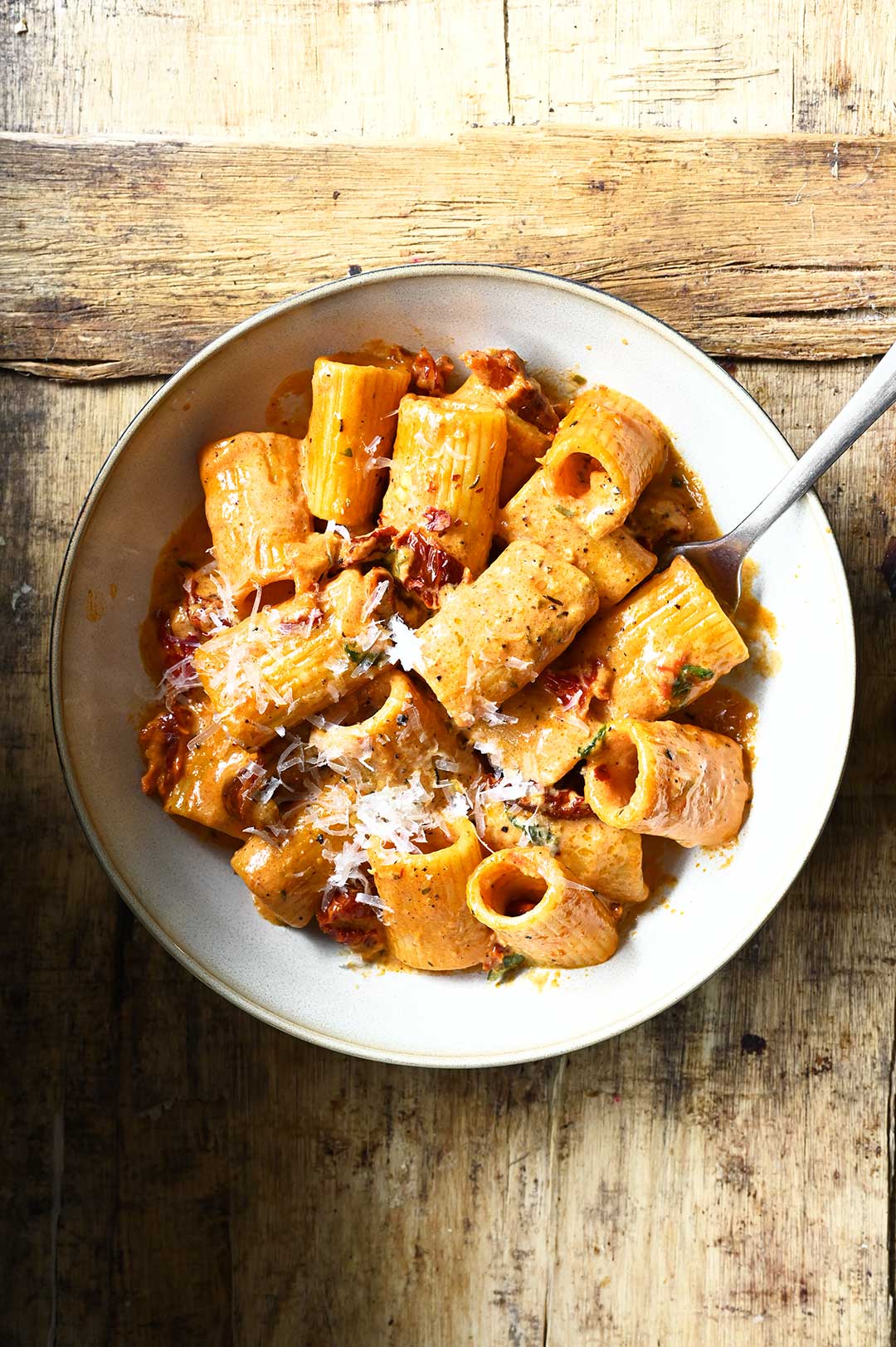 Cooking Video
Yield: serves 4
Sun-Dried Tomato Rigatoni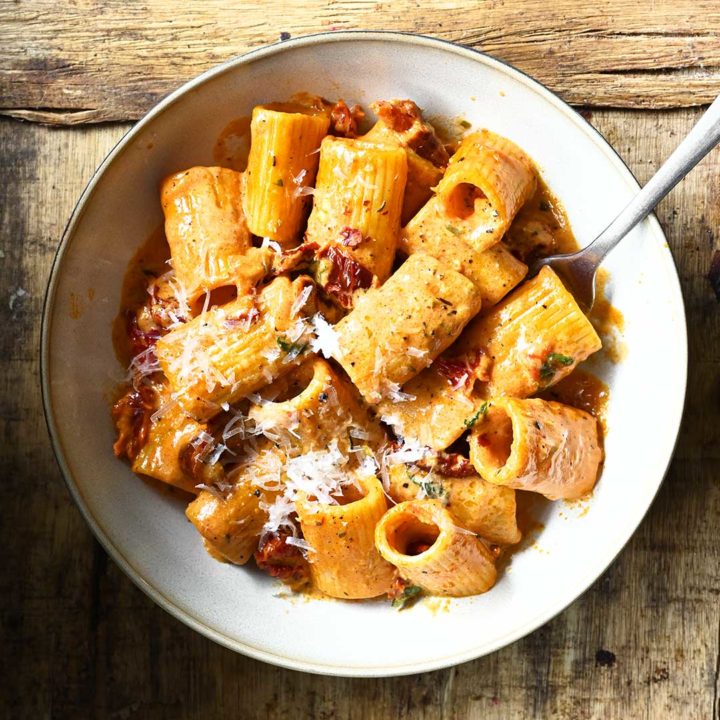 Prep Time 5 minutes

Cook Time 10 minutes

Total Time 15 minutes
Ingredients
9 oz/250 g rigatoni
2 tbsp olive oil
4 garlic cloves, grated
3 tbsp double concentrated tomato paste
1 tsp salt, black pepper, sweet paprika, dried thyme
1 cup/240 ml half-and-half or heavy cream
½ cup/50 g grated pecorino
3 oz/80 g sun-dried tomatoes, drained
2 tbsp chopped basil leaves
crushed red pepper flakes, for serving
Instructions
Bring a large pot of generously salted water to a boil, add rigatoni and cook until al dente. Drain, reserving ½ cup cooking water.
Get your prep done before you start to cook: finely grate the garlic cloves, chop the basil leaves and sun-dried tomatoes.
Heat a large skillet over low heat. Add oil and garlic, sweat for 1 minute or until fragrant. Add tomato paste and cook for 2 minutes, stir frequently. Stir in salt, pepper, paprika and thyme. Add cream and stir until completely combined. Stir in pecorino and bring to a simmer.
Add sun-dried tomatoes and cooked rigatoni. Toss for 1 minute to blend the flavors. Add basil leaves and ¼ cup cooking water. Stir until glossy. Taste and adjust salt. Add more cooking water, if needed.
Sprinkle with freshly ground black pepper and red pepper flakes. Serve with a side salad. Enjoy!
Notes
Calories Per Serving: 349 kcal
Nutritional information is only an estimate. The accuracy of the nutritional information for any recipe on this site is not guaranteed.

DOWNLOAD PRINTABLE RECIPE PDF