Stuffed turkey roulade with mushroom cream sauce. A real show-stopper made with turkey fillets, walnuts, bacon and arugula. This recipe is a true winner—it's not only incredibly tasty but also surprisingly easy to prepare! Unlike the traditional method of stuffing and roasting a whole turkey, this roulade takes about an hour to make from scratch. Plus, you can customize it and make it ahead of time for a stress-free dinner!
Want to try something different? Try my Juicy Baked Turkey Breast instead.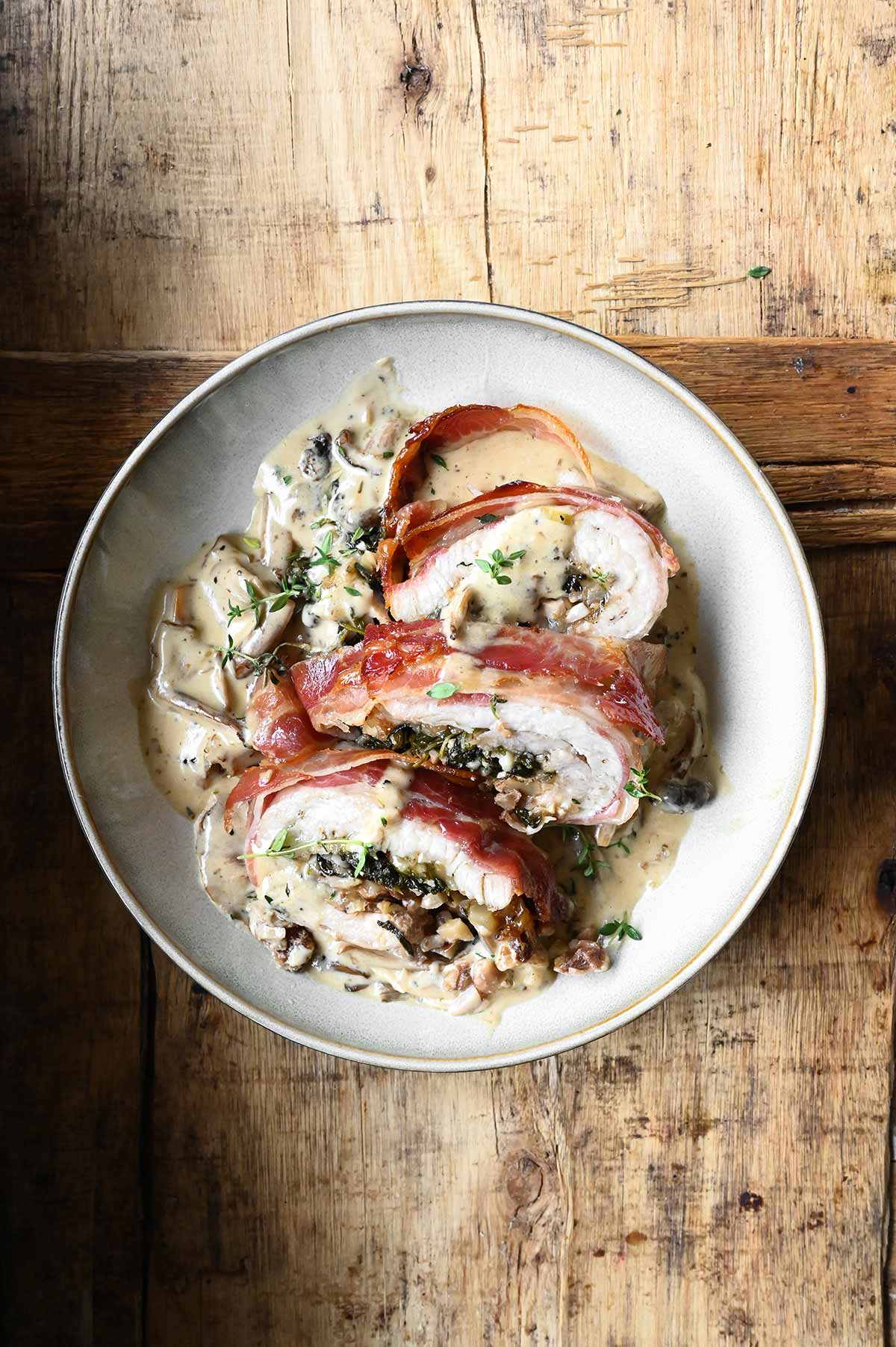 Why You'll Love this Stuffed Turkey Roulade Recipe
Discover an effortless yet impressive dish! It's a unique twist on the traditional holiday meal, featuring turkey fillets stuffed with a flavorful mix of walnuts, Parmesan and arugula, wrapped in bacon and served with a delectable mushroom sauce.
This recipe isn't time-consuming—no need for lengthy brining, marinating or hours of baking. It's a straightforward, visually appealing and incredibly delicious dish.
Pair it with a variety of side dishes to complete your main course!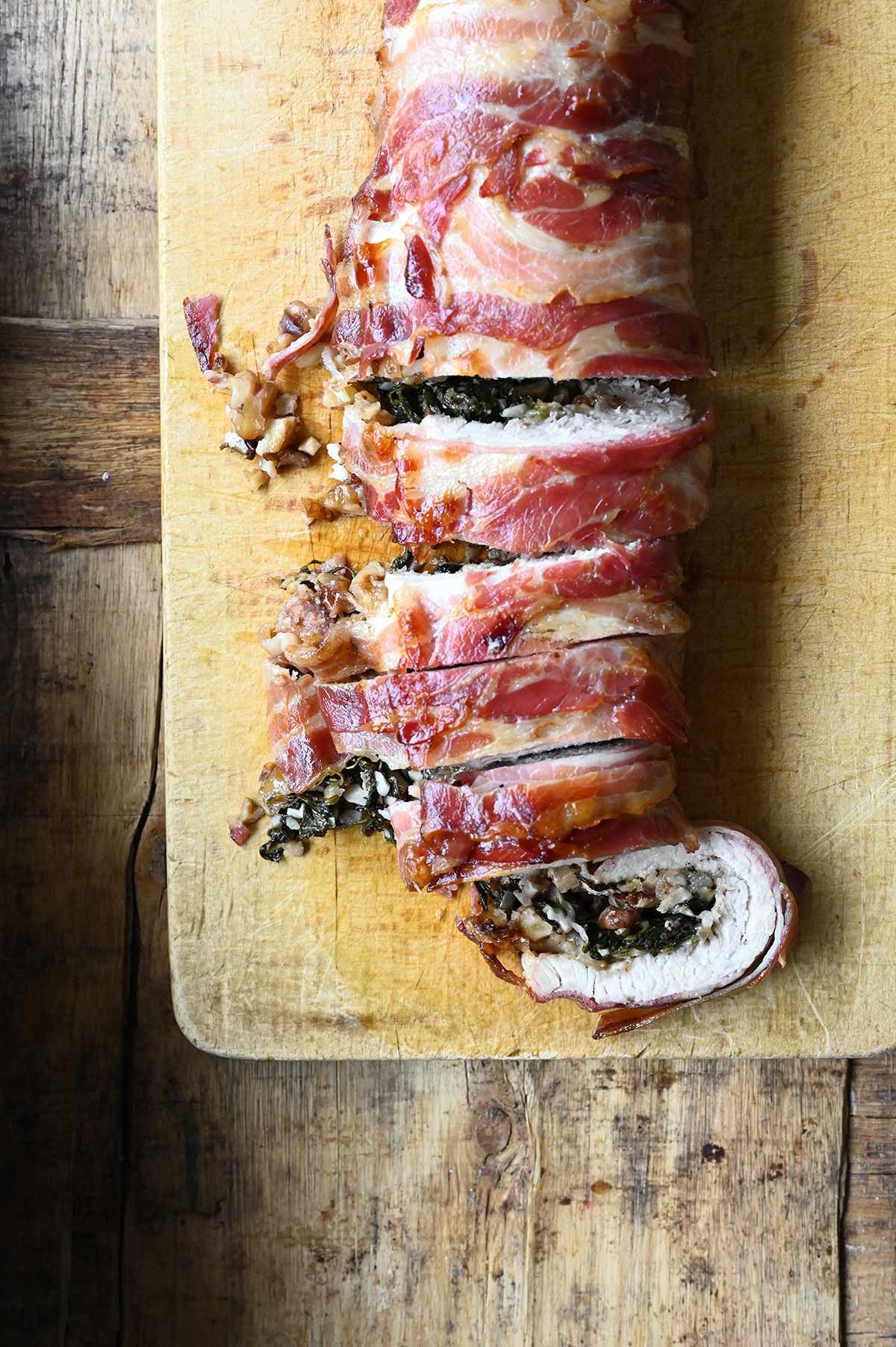 Why This Turkey Recipe Works
This turkey recipe stands out because of its incredible flavors and textures. The stuffing, made with garlic, arugula, chopped walnuts and Parmesan brings a delightful blend of tastes without overpowering the meat. It's more like a flavorful coating than a thick stuffing, and the toasted walnuts add a special touch.
The mushroom cream sauce perfectly complements the holiday feast. Featuring a mix of oyster mushrooms and shiitakes (or your preferred mushrooms), a hint of Sherry brings a balanced tang and sweetness. This mushroom sauce an ideal addition to make any dinner look impressive.
Let me guide you through the recipe with this step-by-step VIDEO.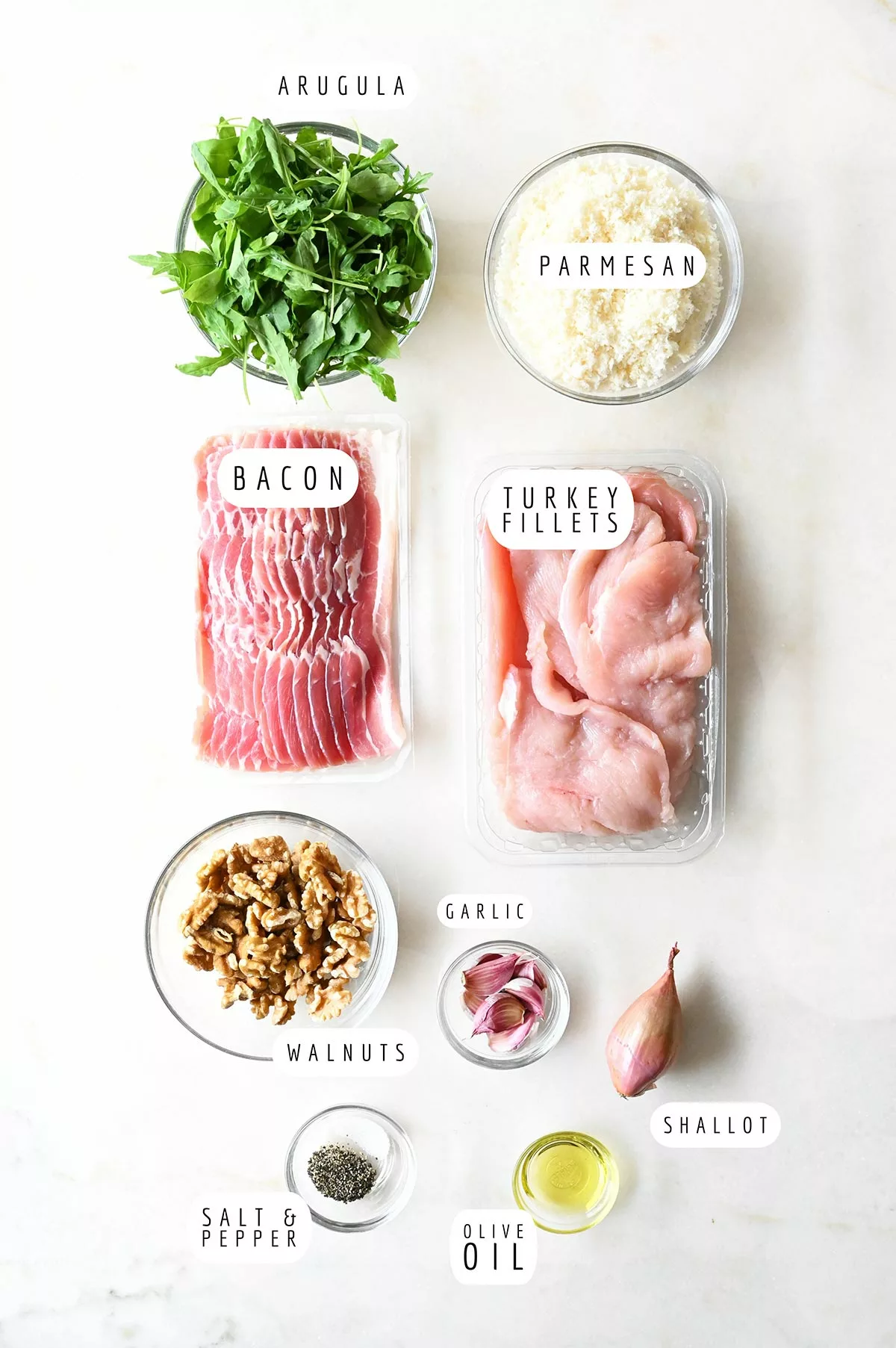 Ingredients to Make The Stuffed Turkey Roulade
Bacon: Thin, salty slices, consider using prosciutto or pancetta for a different taste.
Turkey Fillets: Pound them thinly and evenly. You can substitute with chicken for a variation outside the holiday season.
Shallot and Garlic: To enhance the flavor.
Walnuts: Toasted and chopped for added texture and taste.
Parmesan: You can also use Grana Padano, Pecorino or Asiago cheese.
Arugula: Provides a pleasant flavor, can be replaced with spinach, radicchio, romaine lettuce or collard greens as alternatives.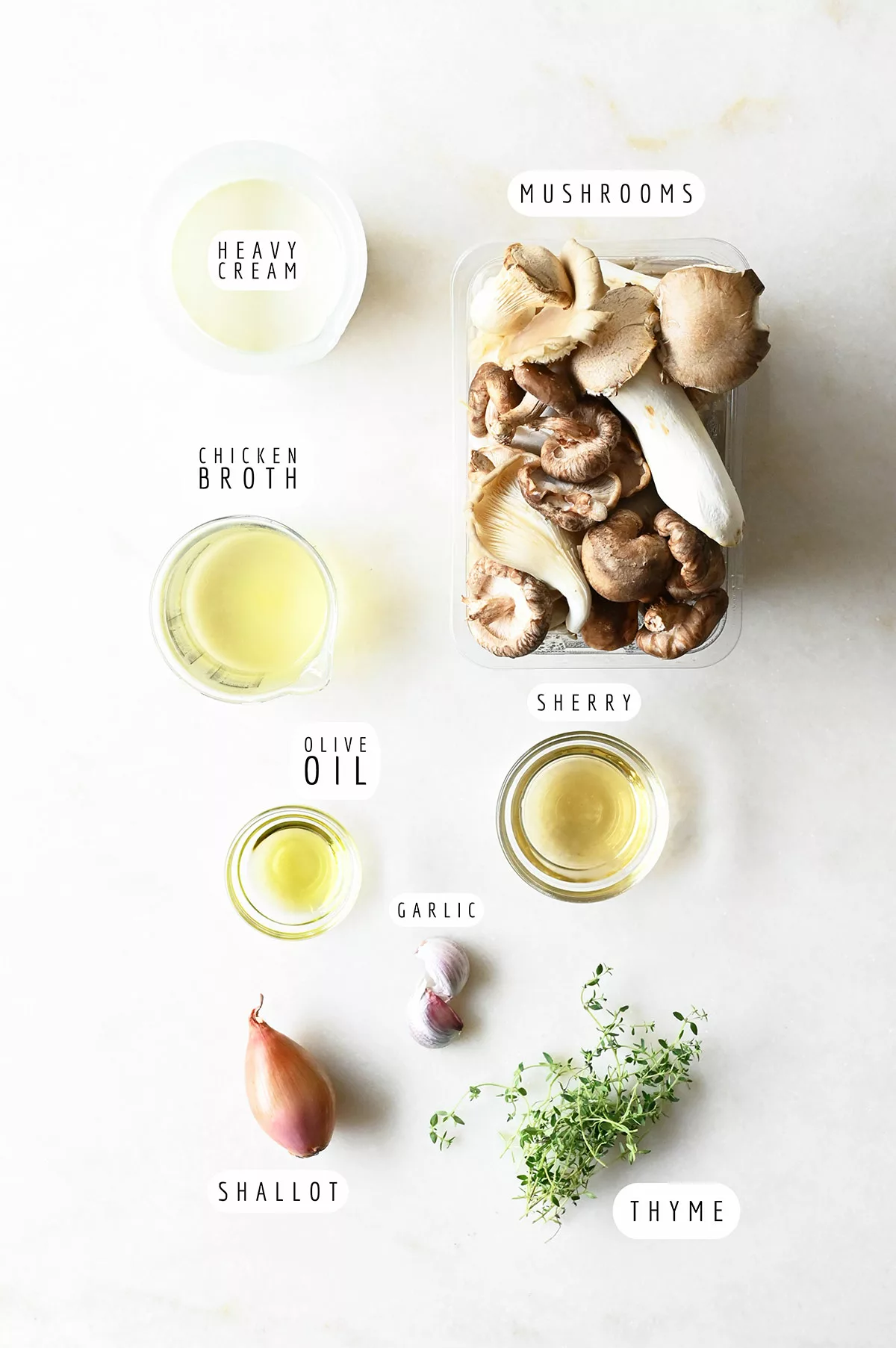 Ingredients to Make the Mushroom Sauce
Mushrooms: Oyster mushrooms and shiitakes are recommended, but you can mix your preferred mushrooms like cremini, brown buttons, porcini, morels or chanterelles.
Shallot and Garlic: Essential for a flavorful sauce base.
Sherry: Used to elevate the flavors; alternatively, consider using cognac or white wine if sherry is unavailable.
Chicken broth: The foundation of the sauce, swap with vegetable or beef broth for a different taste profile.
Cream: Opt for heavy cream to achieve a rich and thicker sauce.
Herbs: Fresh thyme is suggested, but you can substitute with sage or oregano based on your preference.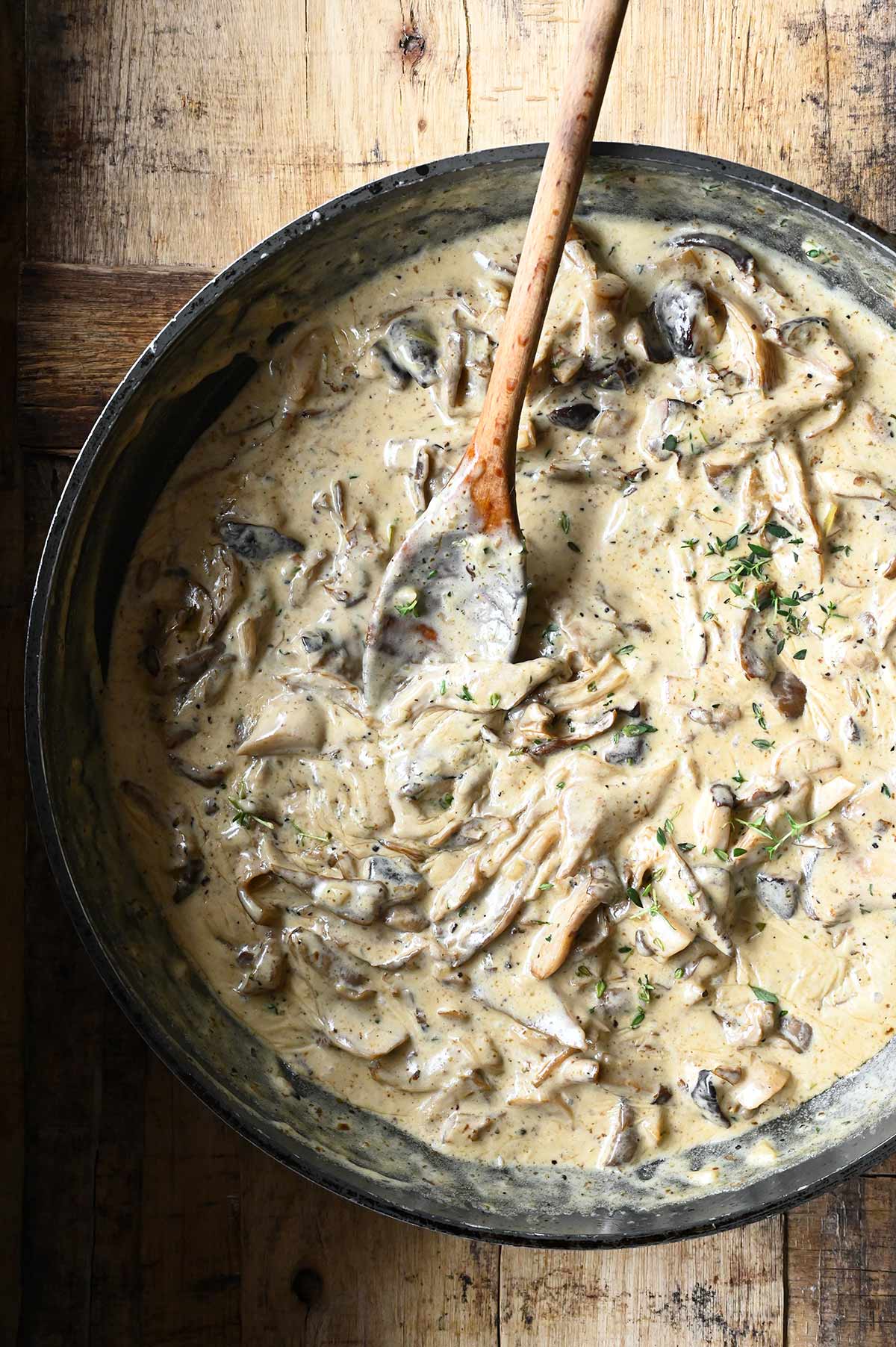 What is Turkey Roulade?
A roulade is a culinary term that refers to a boneless cut of meat, poultry or fish that has been stuffed, rolled, and roasted. The word "roulade" comes from the French word "rouler," which means "to roll."
Can I make this turkey roulade ahead of time?
Turkey Roulade: Yes, you can make the turkey roulade one day before cooking it. Follow the recipe until you've stuffed the meat and wrapped it in foil, but don't bake it yet. Store it in the refrigerator. The next day, proceed from step 8 as directed.
Mushroom Sauce: Similarly, you can prepare the sauce one day ahead. Store it in an airtight container in the refrigerator. When reheating over medium-low heat, add a splash of cream if the sauce thickens too much.
What should I serve with turkey?
This turkey would be great with:
If you love this recipe, please leave a ⭐⭐⭐⭐⭐ rating and a comment! I'll love to hear from you!
Cooking Video: How to Make Stuffed Turkey Roulade
Yield: serves 6
Stuffed Turkey Roulade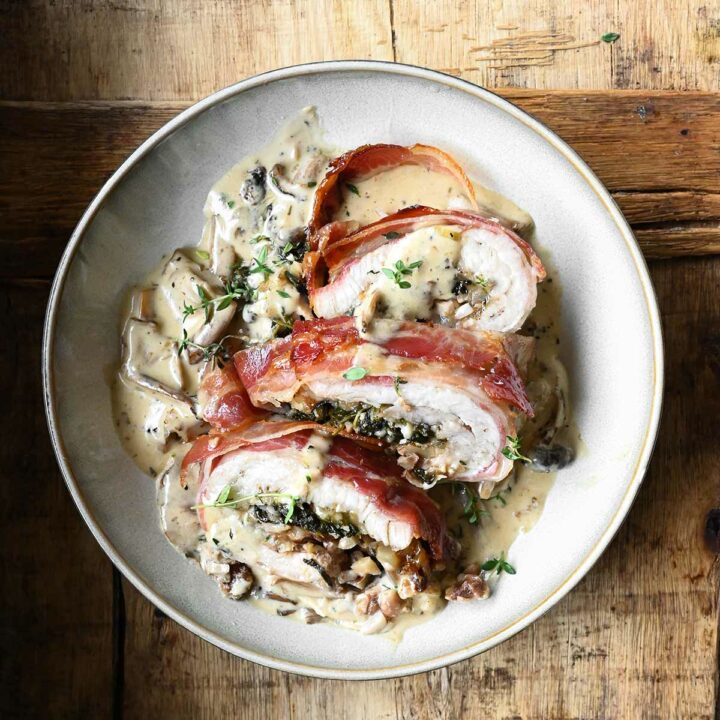 Featuring turkey fillets, walnuts, bacon, and arugula. Unlike the time-consuming process of stuffing and roasting a whole turkey, this dish is a quick, impressive dinner. Versatile and perfect for making ahead.
Total Time
1 hour
10 minutes
Ingredients
Stuffed Turkey
1 tbsp olive oil
20 thin salty bacon slices
5 large turkey fillets
½ tsp each: salt, black pepper
1 shallot, finely chopped
8 garlic cloves, minced
3.5 ounces /100 garugula
4 ounces/120 g grated Parmesan
½ cup/80 g chopped toasted walnuts
Mushroom Sauce
14 ounces/400 g mushrooms, a mix of oyster and shiitake mushrooms
1 tbsp olive oil
½ tsp each: salt, black pepper
1 shallot, finely chopped
2 garlic cloves, minced
2 tbsp Sherry
½ cup/120 ml low sodium chicken broth
1 ½ cup/360 ml heavy cream
1 tbsp chopped fresh thyme leaves, more for serving
Instructions
Stuffed Turkey Roulade
Get your prep done before you start cooking: Finely chop the shallot and garlic cloves. You can also chop the shallot and garlic that you need for the sauce at the same time. Chop the walnuts.
Preheat the oven to 350°F/180°C.
Heat oil over medium low in a large nonstick skillet. Add garlic and shallot, cook for 3 minutes. Add arugula and cook until wilted, about 1 minute. Remove from heat, set aside.
Cover the turkey fillets with plastic wrap and pound them to ¼ inch/1 cm thickness with a meat tenderizer.
Cover a baking sheet with aluminum foil and drizzle with olive oil. Arrange the bacon slices vertically in two identical rows on the foil. Do it in a staggered pattern, where all bacon slices partially overlap each other.
Place the turkey fillets on top, season with salt and pepper. Sprinkle the fillets with Parmesan, arrange the sautéed arugula and finally sprinkle with chopped walnuts.
Start with the bottom, fold the sheet of aluminum foil over the meat mixture. Detach the foil from the meat, ensuring that the turkey slices and the bacon adhere tightly to the filling. Then fold the other side over the meat. Now, continue rolling until the filling is completely wrapped with turkey and bacon. Then, tightly wrap the foil around the entire roulade and seal the sides securely to prevent any filling from spilling out during baking. (you can watch my step-by-step video for details)
Transfer to the oven and bake for 35 minutes. (In the meantime prepare the sauce and your sides).
Take the roulade out of the oven. Carefully open the aluminum foil and drizzle the roulade with olive oil. Place the meat back in the oven for a second cooking session and bake, uncovered for 10-15 minutes.
Mushroom Sauce
Tear the mushrooms into smaller pieces and chop the thyme.
Heat a large nonstick skillet over medium high and add the mushrooms. Cook until they start to release moisture. Add oil and cook until browned. Add salt, pepper, shallot and garlic. Cook for 2 minutes. Drizzle with Sherry and cook until evaporated.
Pour in chicken broth and cook for 2 minutes. Add thyme and cream, simmer for 5 minutes over low or until the sauce thickens. Taste and adjust salt and pepper.
Serving
Cut the turkey roulade in thick slices. Serve topped with mushroom sauce along your favorite sides.
Nutrition Information:
Yield:
6
Serving Size:
1
Amount Per Serving:
Calories:

658
Total Fat:

53g
Saturated Fat:

23g
Trans Fat:

1g
Unsaturated Fat:

26g
Cholesterol:

151mg
Sodium:

1469mg
Carbohydrates:

16g
Fiber:

3g
Sugar:

5g
Protein:

32g
Nutritional information is only an estimate. The accuracy of the nutritional information for any recipe on this site is not guaranteed.