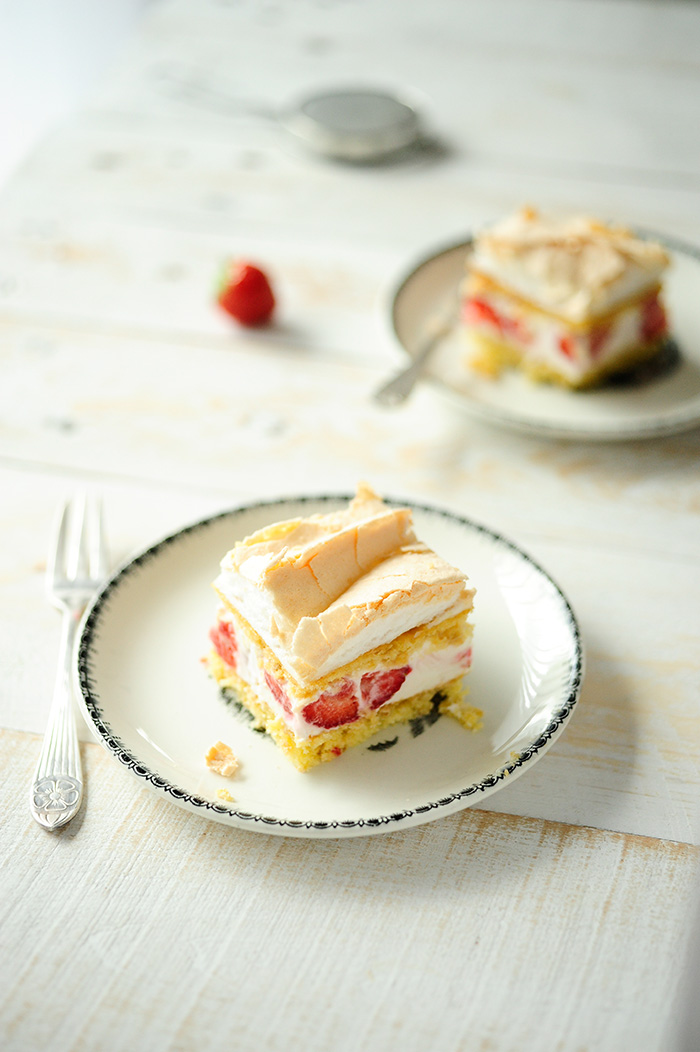 Strawberry cheesecake bites with meringue are my favorites! This sandwich is made with oat cake, stuffed with a mascarpone filling and topped with a crunchy meringue. It's just the perfect combo!
Ingredients
sponge cake
125 g butter at room temperature
125 g sugar
100 g flour
50 g oat flakes
2 tablespoons vanilla sugar
4 egg yolks
1 teaspoon baking powder
6 tablespoons milk
filling
500 g strawberries
500 g fromage blanc
250 g mascarpone
70 g icing sugar
2 tablespoons vanilla sugar
2 gelatine sheets, softened in cool water
6 tablespoons milk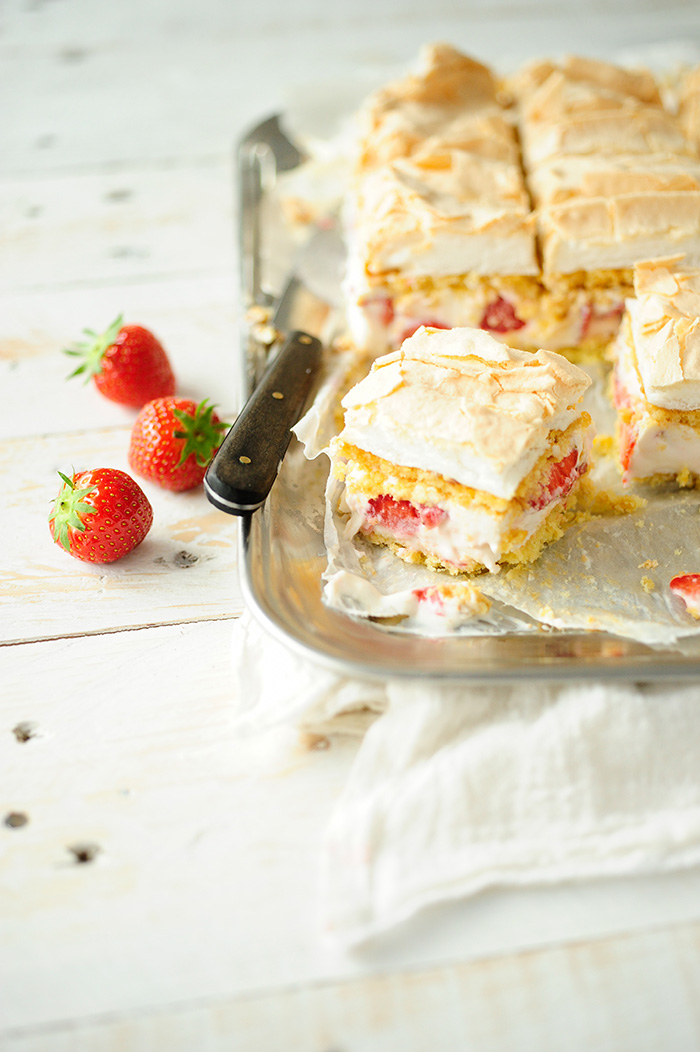 Instructions
Preheat the oven to 160°C.
Beat the butter with sugar and vanilla sugar. Add egg yolks, one by one. Then sift the flour and baking powder.  Add oat flakes and milk and stir everything together.
Prepare a 20 x 30 cm baking mould and line with baking paper. Pour half of the batter, put into the oven and bake for 30 minutes. Remove from the mould and allow to cool.
Line the same mould again with baking paper, pour the rest of the batter and bake for 15 minutes. Meanwhile, beat the egg whites with sugar to stiff. Remove the mould from the oven and immediately put the meringue on top, place back in the oven for 15 minutes. Then reduce the temperature to 100°C and bake for 50 minutes. Remove and allow to cool.
Wash the strawberries, remove the stems and cut into quarters.
In a saucepan, bring the milk to a boil. Squeeze all water out of gelatin sheets, add to the boiling milk and stir until gelatin has dissolved. In a large bowl, stir the mascarpone with fromage blanc, add sugar and the gelatin mix. At the end add the strawberries.
Place the first cake on the bottom of the mould, fill with the strawberry-cheese mixture and cover with the cake with meringue. Place in the fridge for an hour. Enjoy!