Strawberry cake with vanilla whipped mascarpone! This is what dreams are made of!
Light, moist, airy and loaded with fresh and juicy strawberries. With a generous layer of mascarpone whipped cream and extra strawberries on top. It's the easiest summer cake that's perfect any time of the day…brunch, afternoon snack or after dinner dessert.
This is a cake that is made without baking powder, but gets fluffy thanks to the beaten egg whites. You can compare it with a sponge cake but than absolutely not dry! And you can replace the strawberries with any kind of fruit. Blueberries, cherries or raspberries,… This is a must-make summer dessert!
It's a cake that probably most often appears on my table during various family celebrations, long weekends or gatherings with friends. It's light so you don't feel like you've eaten a giant load of sugar.
For a delicious result and a nice vanilla flavor, macerate the strawberries with powdered sugar and vanilla. Then let them rest in the fridge while you finish the cake. Highly recommended!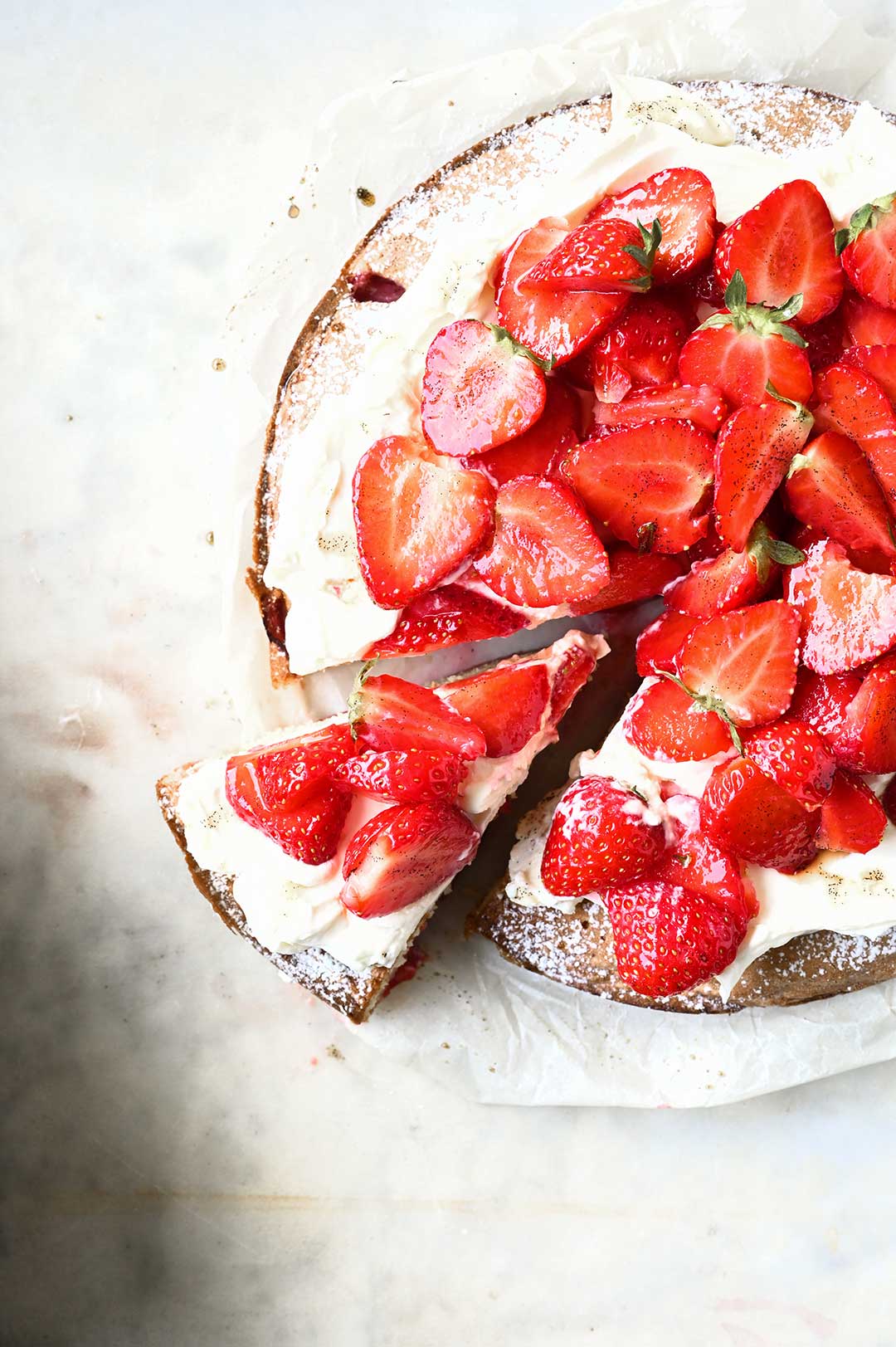 Also perfect for summer:
Honey apricot tarts
Strawberry ricotta cake
No-bake blueberry cheesecake with oat crust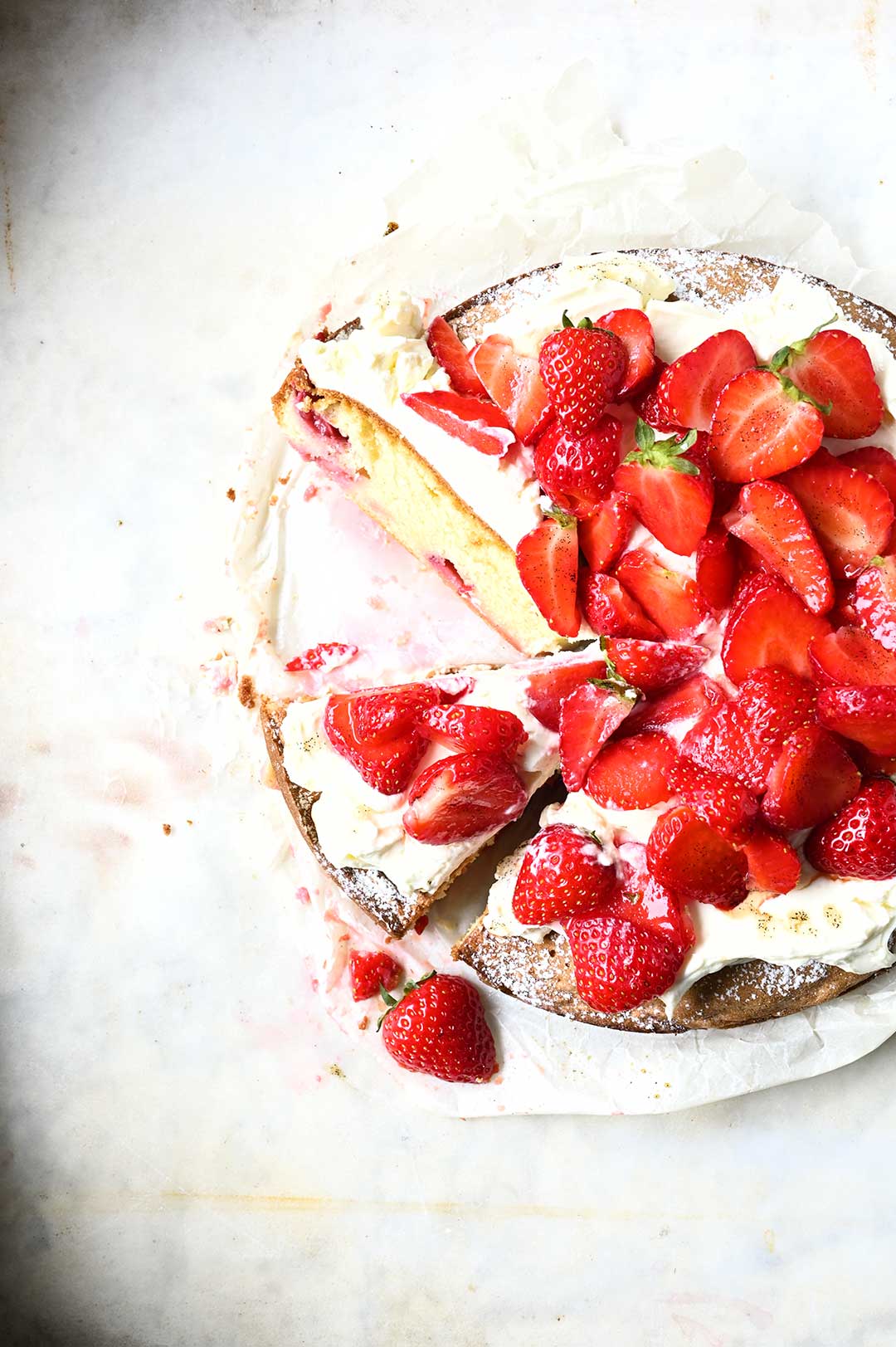 You need
cake (these ingredients should be at room temperature)
110 g flour
180 g sugar
80 g butter
4 eggs
1 tsp vanilla extract
120 g strawberries, stem removed and cut in halved
mascarpone whipped cream
200 g mascarpone, cold
200 ml heavy cream, cold
3 tbsp powdered sugar
1 tsp vanilla extract
macerated strawberries
250 g strawberries, stem removed and quartered or cut into slices
1 tsp powdered sugar
1 tsp vanilla extract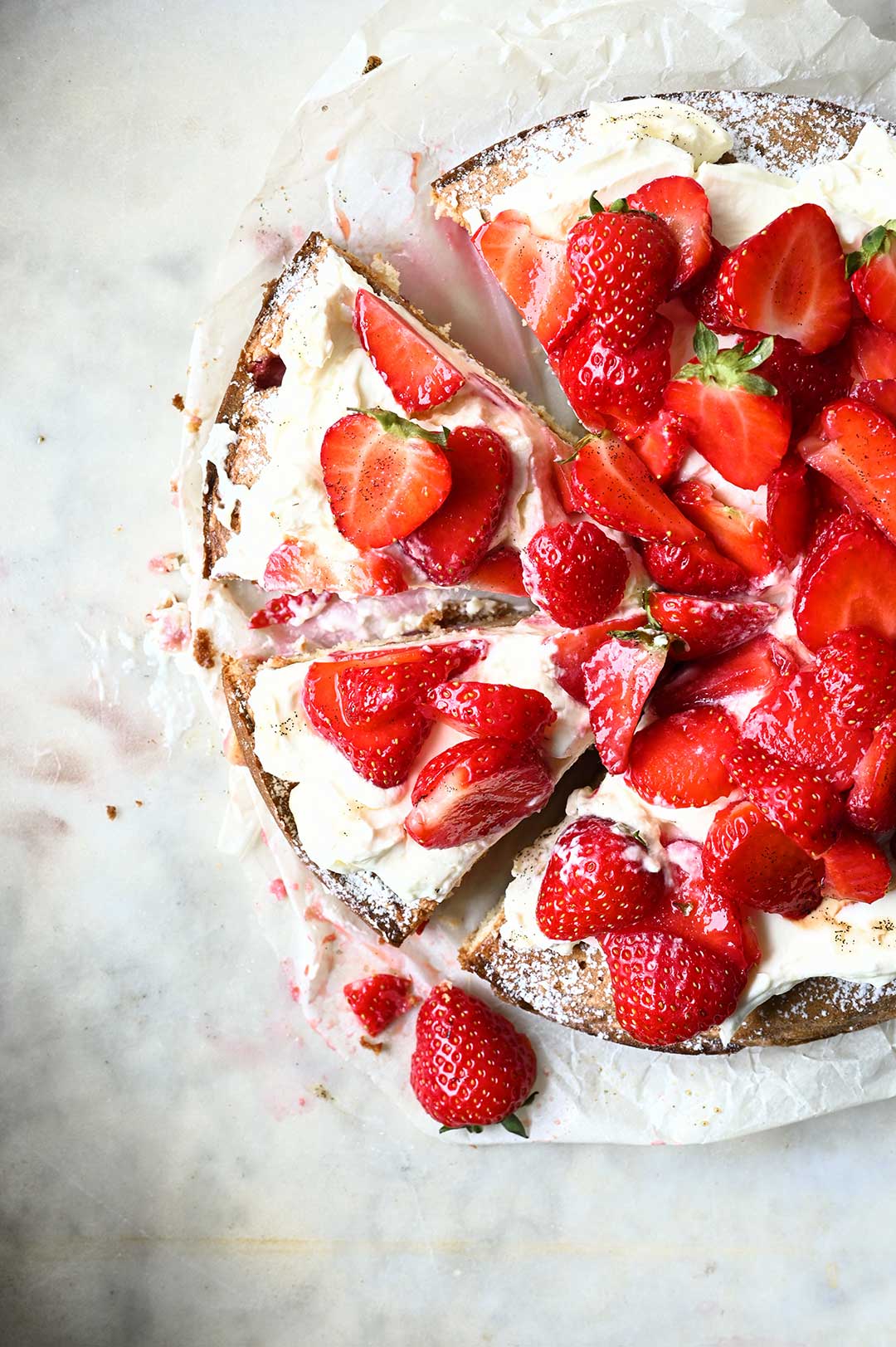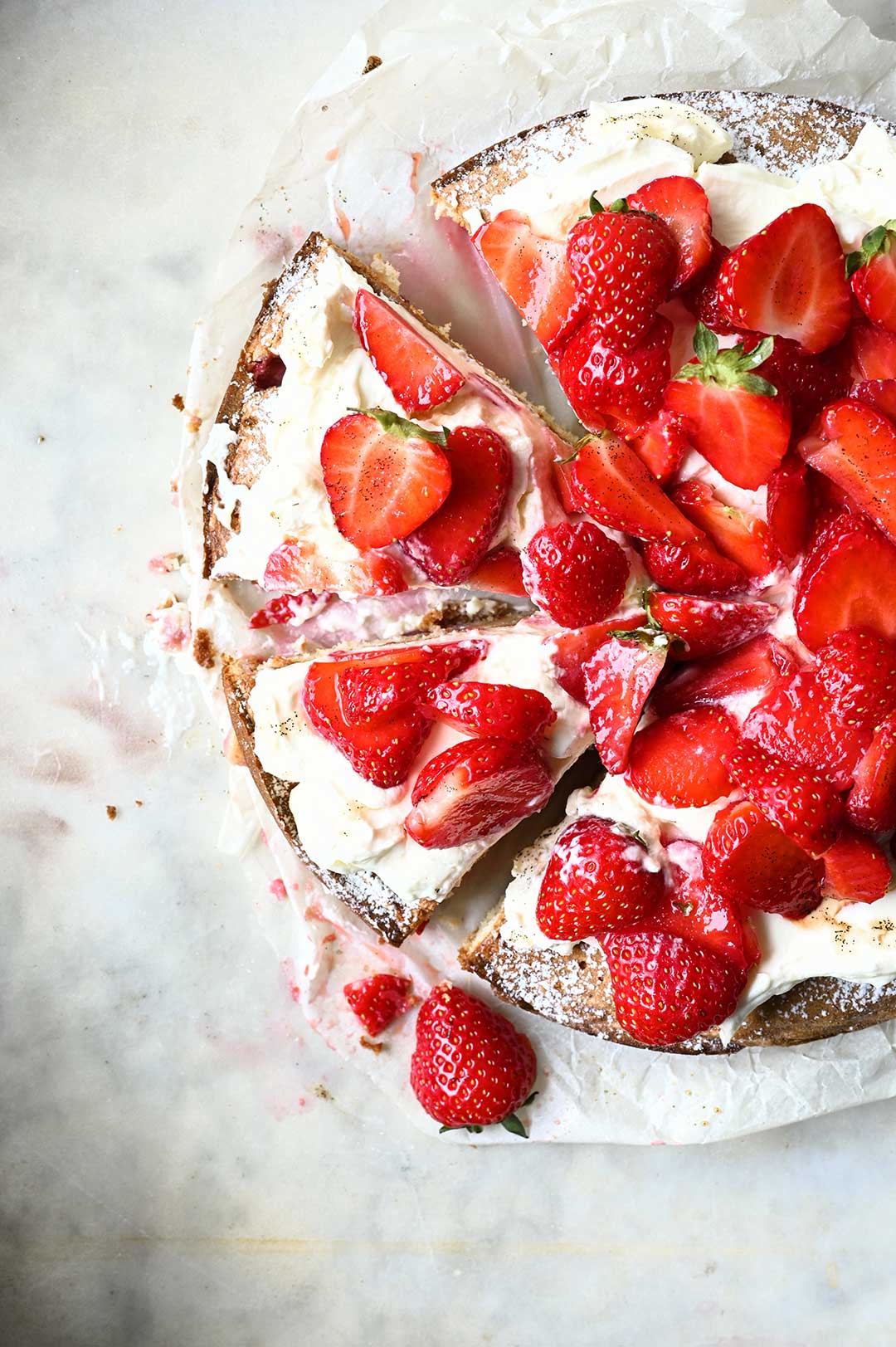 How to
Heat the oven to 170°C. Prepare a 24 cm round cake pan, grease in with butter and layer with baking paper.
Split the eggs. Beat the egg whites until stiff, using a handmixer. Beat the egg yolks with sugar until light and fluffy. Beat in the butter and vanilla. Then sift the flour and mix until just combined. Fold in the egg whites, gently stirring with a spatula. Then add the strawberries.
Transfer the batter to the prepared pan and smooth it out.  Bake for 45 minutes or until a tester comes out dry. Remove from the pan and let cool completely.
In the meantime, combine the strawberries with powdered sugar and vanilla. Let rest in the fridge.
In a medium bowl, beat the mascarpone with heavy cream, powdered sugar and vanilla until smooth and creamy.
Top the cake with whipped mascarpone and macerated strawberries. If desired, dust with powdered sugar. Enjoy!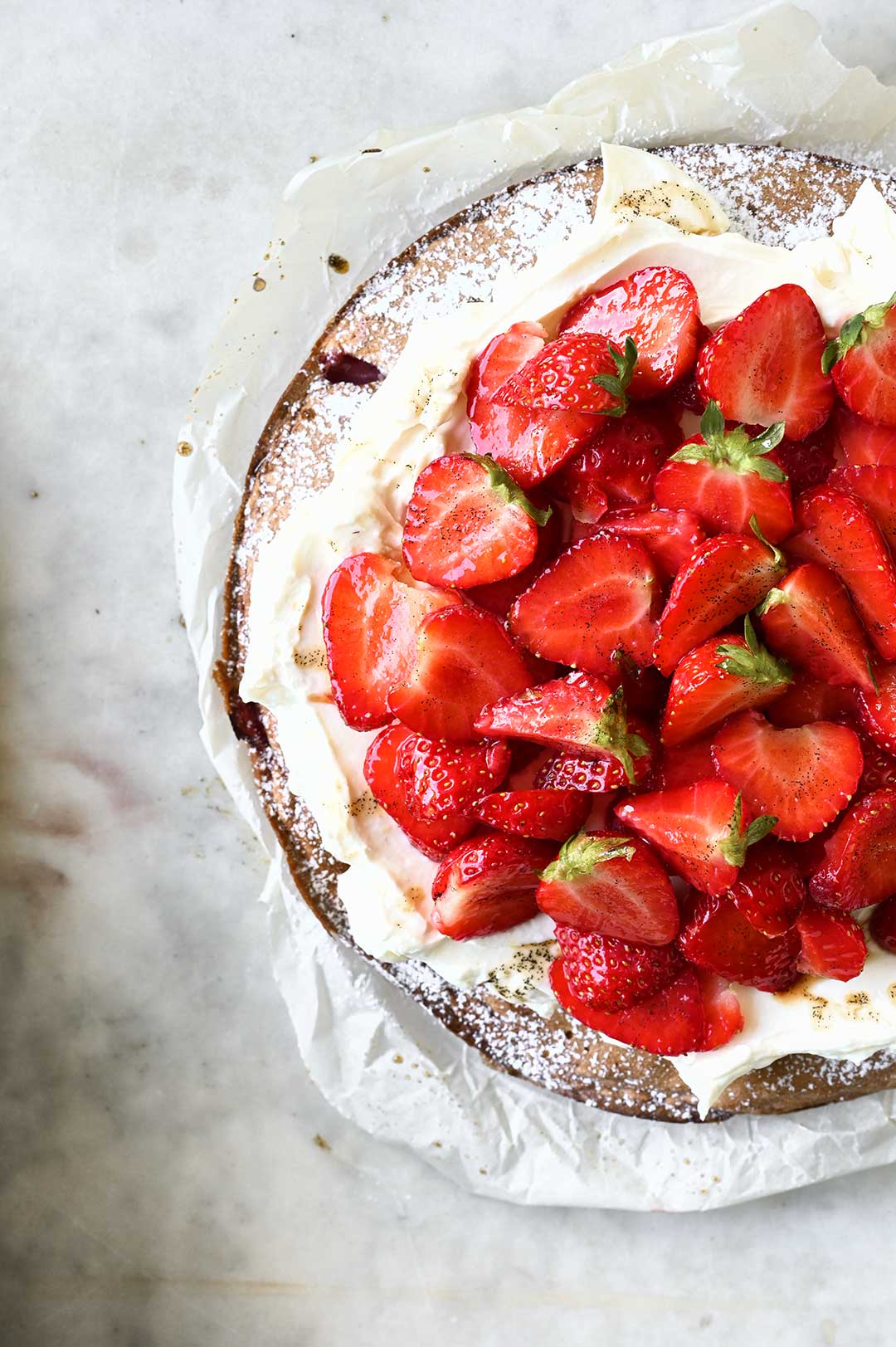 //= __('Print recipe (no photos)', 'servingdumplings' );?> //= __('Print recipe (with photos)', 'servingdumplings' );?>