Sticky chicken skewer rice bowls with blistered snow peas. This one is about to become your new go-to back pocket meal. Easy Asian-inspired chicken skewers, tossed in a gingery, garlic-kissed, sticky soy sauce. Served over steamed jasmine rice and topped with crisp-tender snow peas for the most hearty dinner. And the best part…these sticky chicken skewers come together in about 30 minutes. A delicious, funky dinner for every occasion.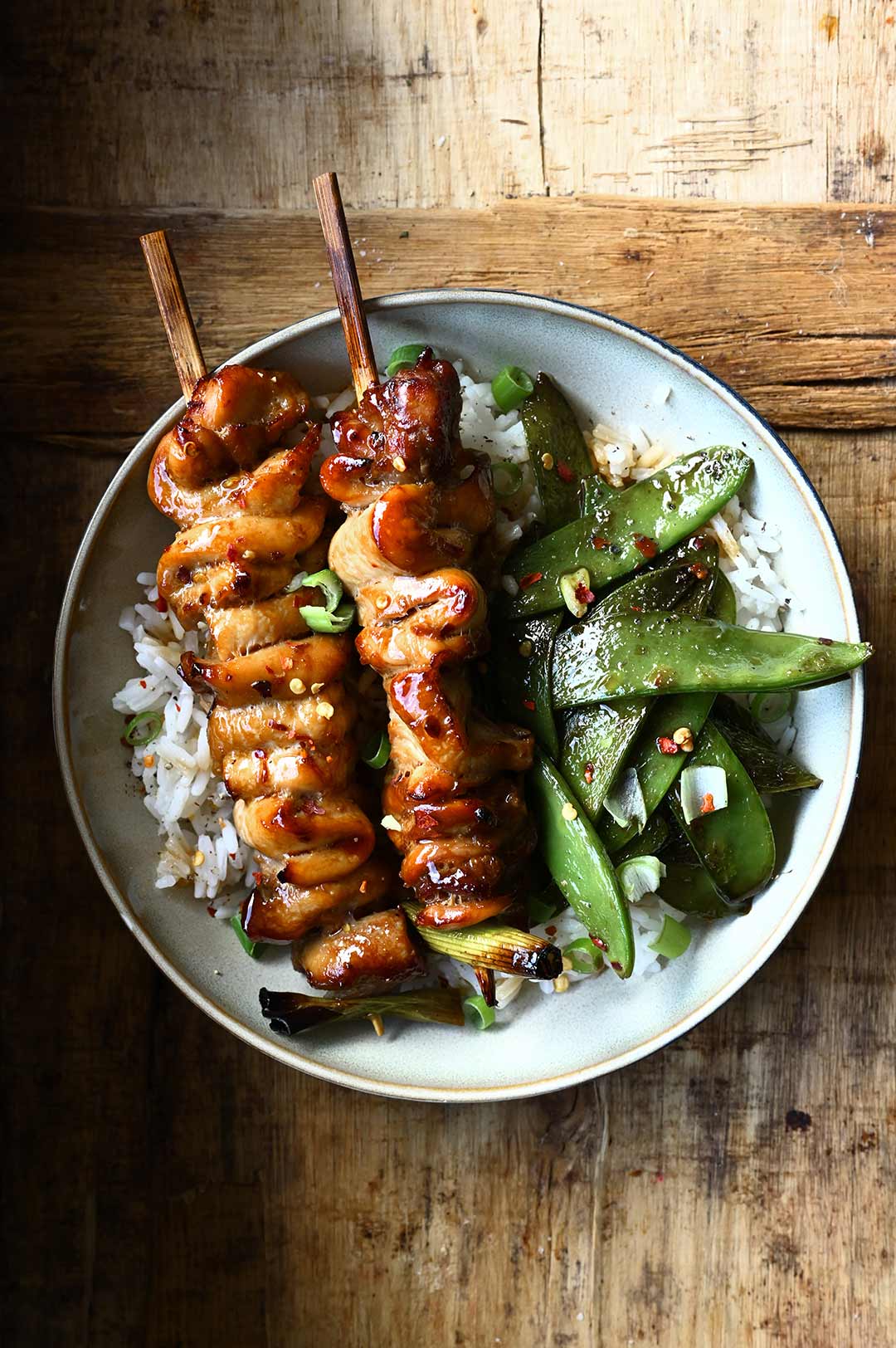 These quick-cooking chicken skewers are fuss-free and easy to make. You can grill them, prepare them in a skillet or bake them in the oven. They're coated with a soy-brown sugar marinade for are juicy, delicious and perfectly easy dinner recipe. Great for any night of the week.
A soy and brown sugar marinade can coat pretty much anything that browns nicely on its own. It gives a nice caramelized, shiny and glossy result. Here, we use chicken, but pork or veggies will work just as well.
A side of blistered snow peas will simply elevate these rice bowls to the next level. They're slightly sweet and crunchy… prepare yourself for a treat!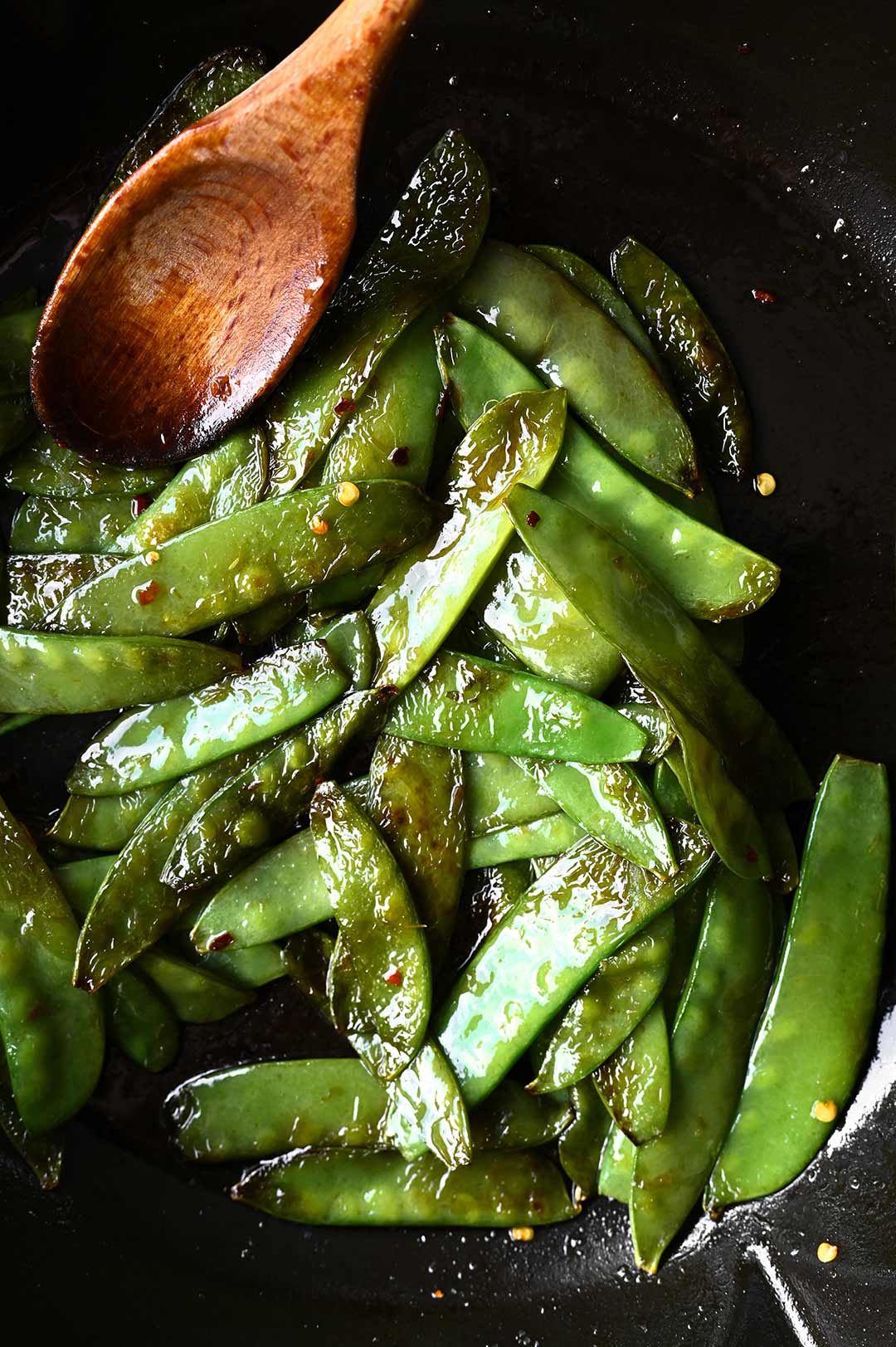 First things first, we start by slicing the chicken and preparing the marinade. This is a pretty simple mix of soy sauce, brown sugar, mirin, sesame oil, garlic and ginger. The combination of marinade and two variations of chicken meat (breast fillets and boneless/skinless thighs) will keep the skewers extra juicy and tender, and they won't dry out in the oven. We quickly marinate the skewers for 5 minutes, but if you have time, cover and place them in the fridge for 3 to 8 hours or overnight.
While the chicken skewers are baking, we cook the rice and prepare the blistered snow peas. Super easy!
Let me guide you through the recipe with this step-by-step VIDEO.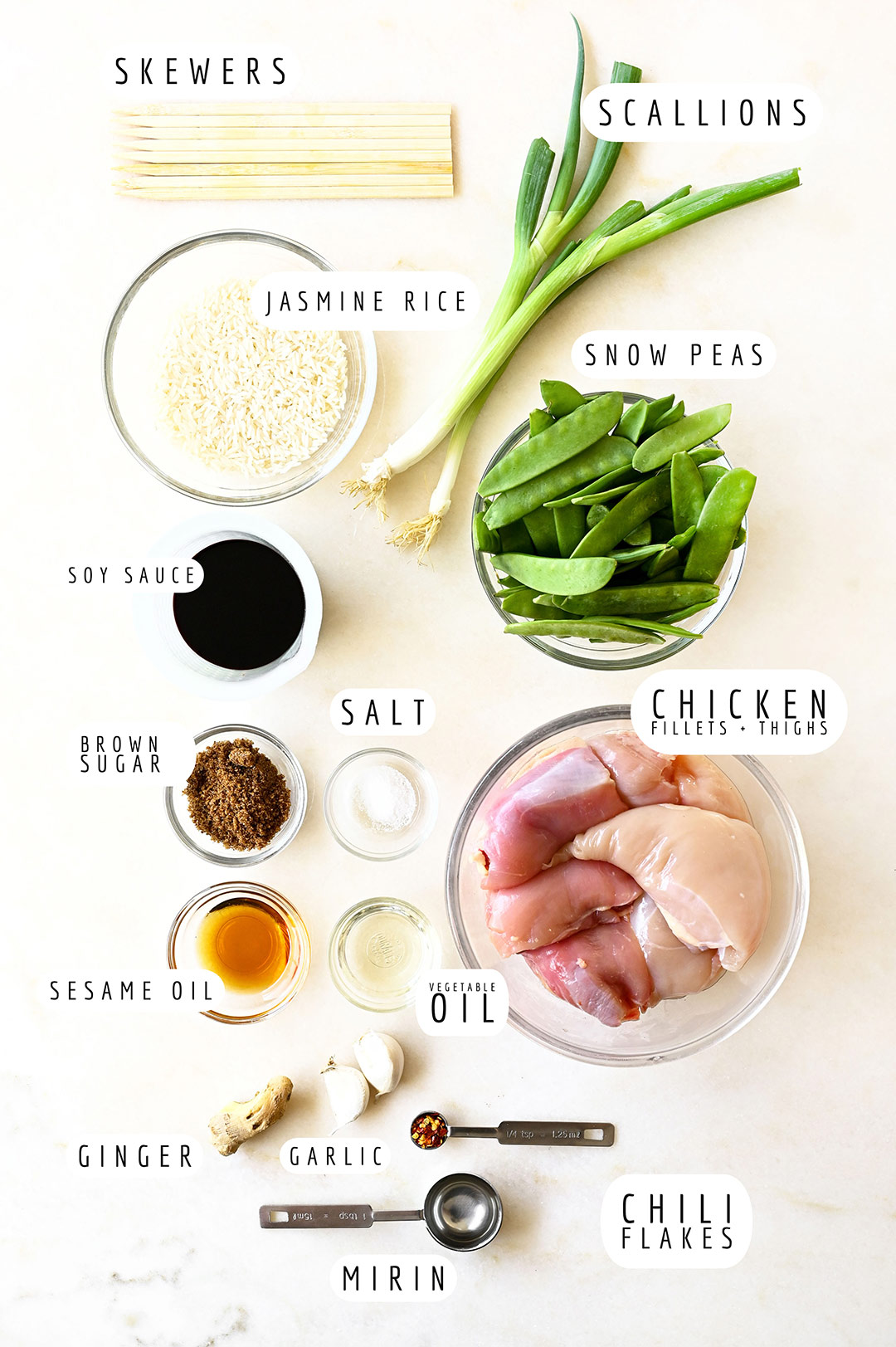 Sticky Chicken Skewers Ingredients
Let's talk ingredients. To make these chicken skewer rice bowls, you'll need:
chicken: we use both, chicken breast fillets and skinless/boneless chicken thighs for a juicy and tender result
soy sauce: a low sodium soy sauce, but you can use tamari or coconut aminos if you'd prefer a gluten free solution
brown sugar: you can use light or brown, but honey or maple syrup will work too
sesame oil: this brings a deep toasted flavor to the skewers
mirin: to balance out the marinade, you can use rice vinegar if you can't find it
garlic and ginger: I recommend using a microplane or the smaller side of your box grater for the best result and to save a lot of time
chili flakes: for a slightly spicy kick
snow peas: you can find fresh snow peas in every grocery store. They're crisp and just a little sweet. For the best result, remove the strings from both sides
rice: use jasmine rice, sushi rice, wild or white rice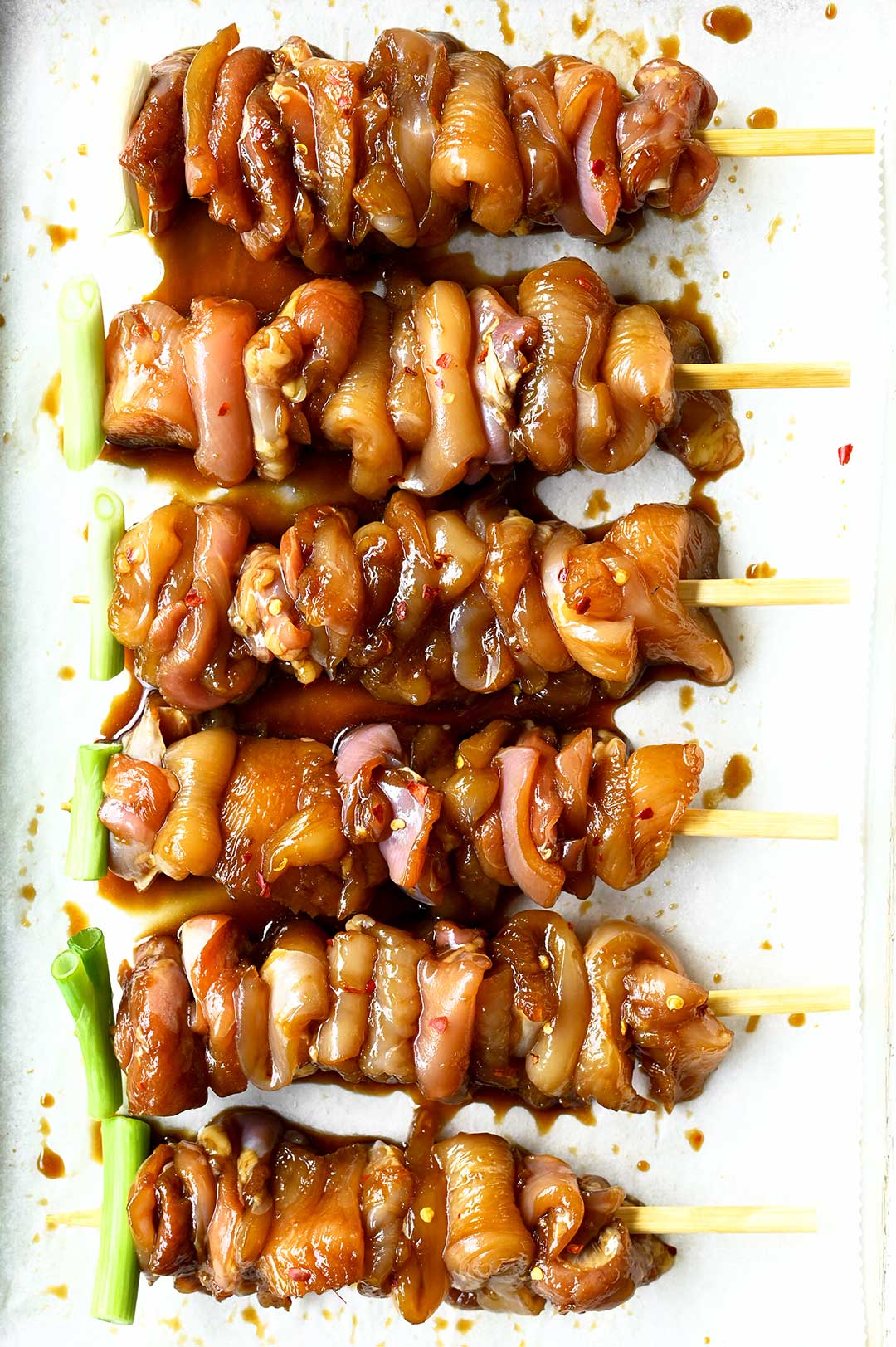 RECIPE NOTES
small pieces pork tenderloin will work great here too, for vegetarian skewers use zucchini, eggplant, bell peppers, red onion or mushrooms
instead of snow peas, try broccoli, green asparagus or sugar snap peas
you can grill the chicken skewers, cook them in a skillet on the stove or bake them in the oven
instead of brown sugar, use honey or maple syrup
serve with extra sides: naan, a cucumber salad, pickled red cabbage or coleslaw
make ahead: you can marinate the chicken, make the skewers and refrigerate overnight. When you're ready to eat, bake your chicken skewers, prepare the snow peas and cook the rice
freeze: you can freeze the uncooked marinated skewers in airtight containers for up to three months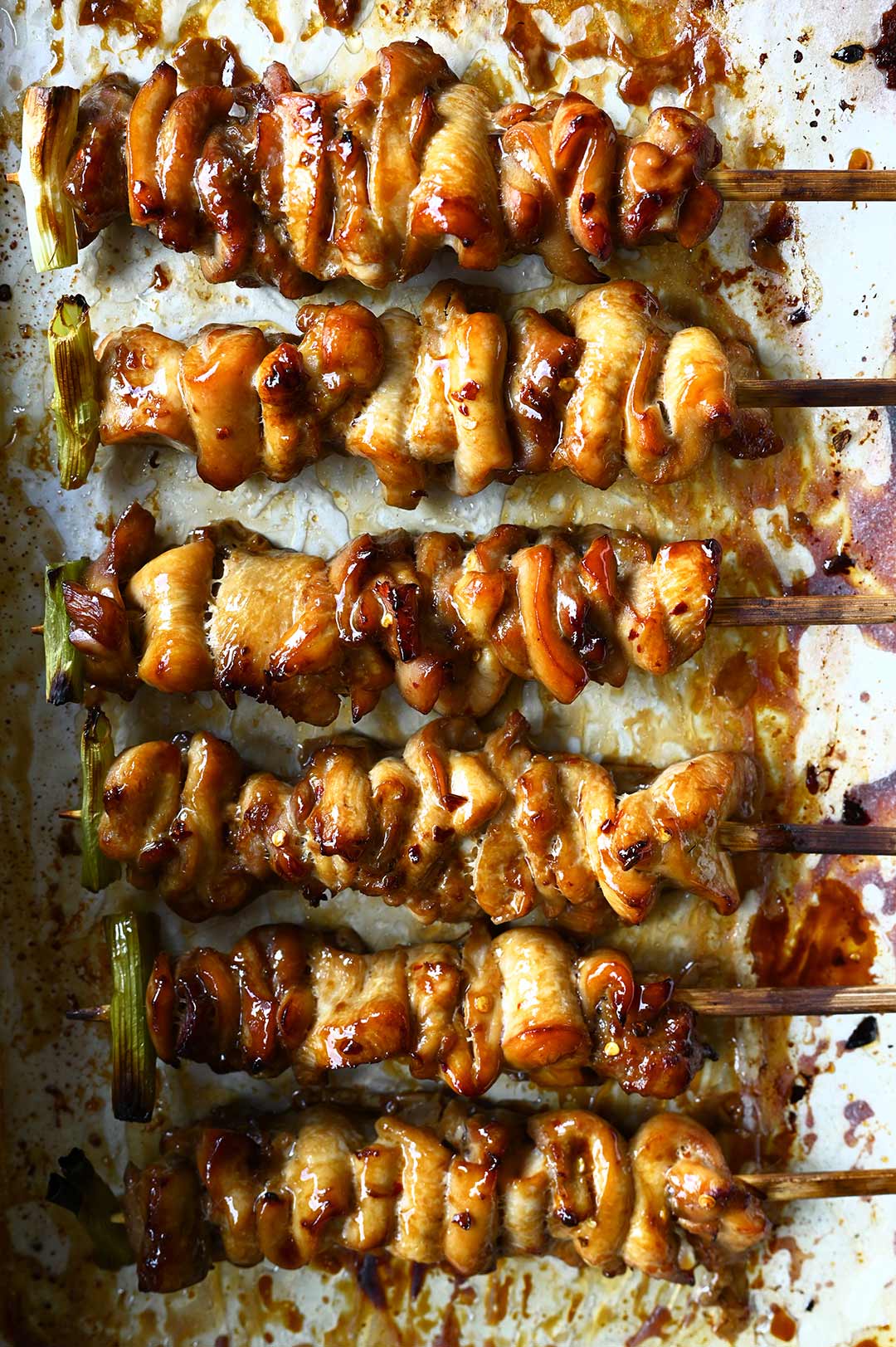 Try These Next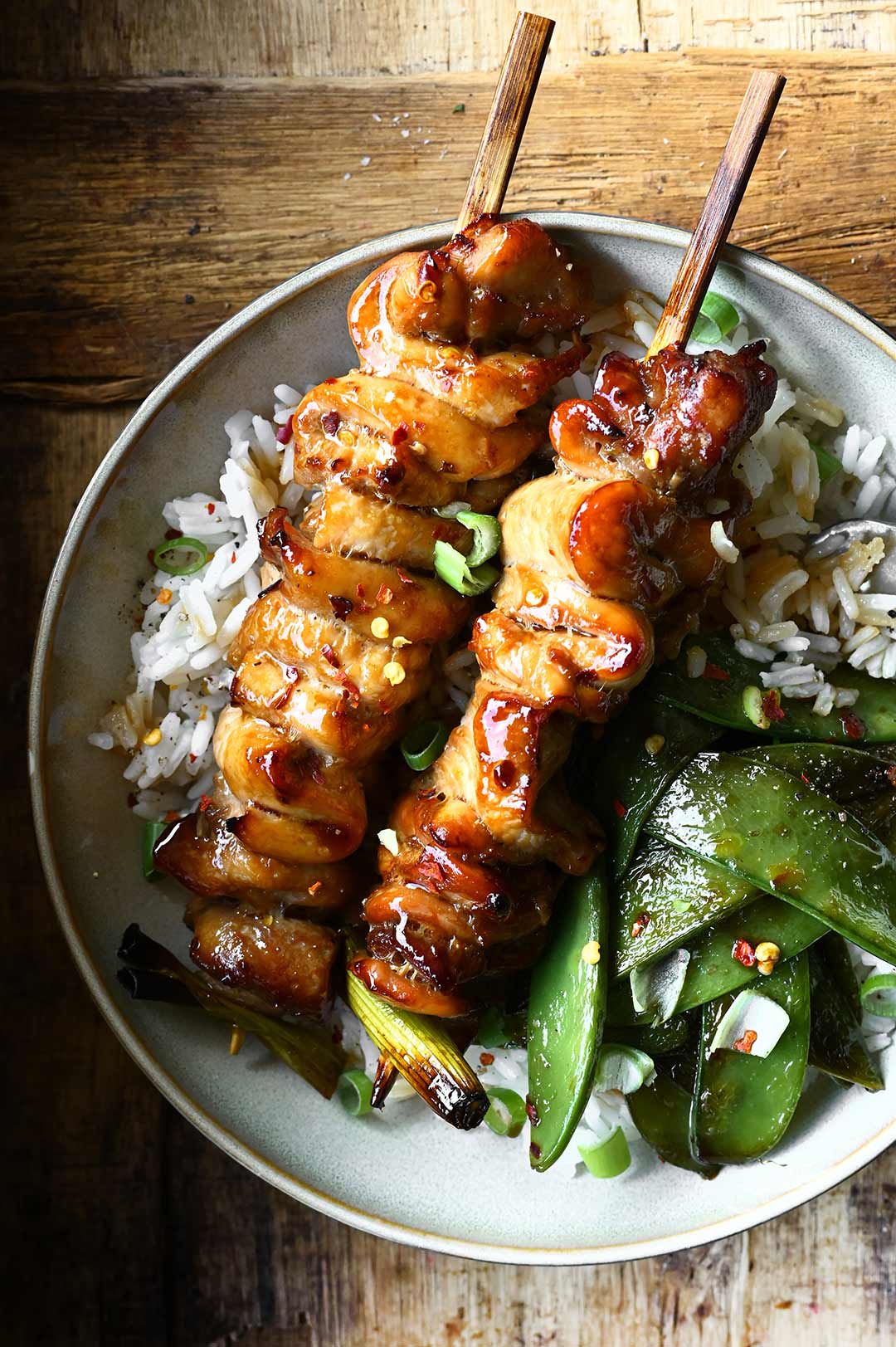 COOKING VIDEO
Yield: serves 4
Sticky Chicken Skewer Rice Bowls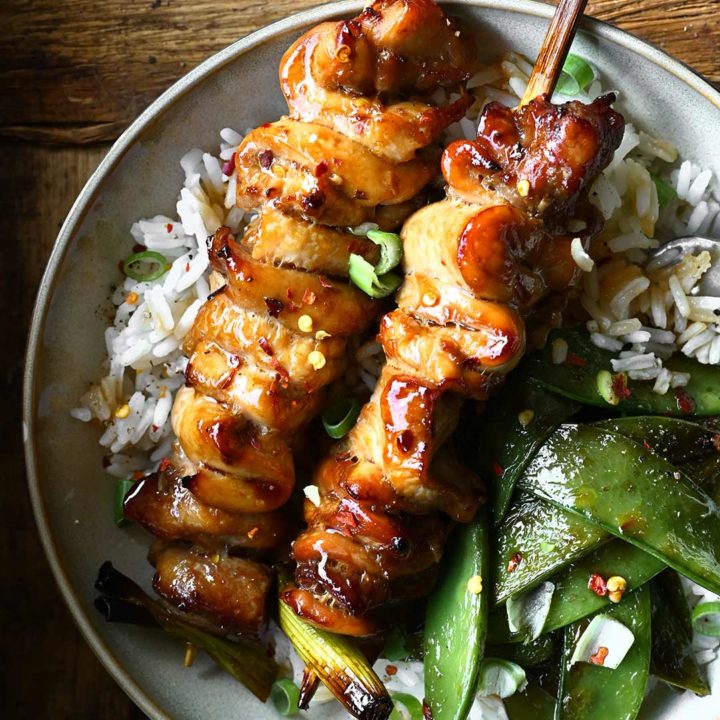 Prep Time 15 minutes

Cook Time 15 minutes

Total Time 30 minutes
Ingredients
8 skewers
1 pound/450 g chicken breast fillets
1 pound/450 g boneless/skinless chicken thighs
½ cup/120 ml low sodium soy sauce
2 tbsp brown sugar
1 tbsp mirin
2 tbsp toasted sesame oil
¼ tsp chili flakes
2 garlic cloves, grated
1 tbsp grated ginger
3 scallions, sliced
9 ounces/250 g jasmine rice
Blistered Snow Peas
1 tbsp vegetable oil
12 ounces/350 g snow peas
1 tsp salt
1 tbsp mirin
Instructions
Slice the chicken into thin strips. Place in a large bowl. Combine with soy sauce, brown sugar, sesame oil, mirin, chili flakes, garlic and ginger. Stir to coat. Set aside for 5 minutes or cover and place overnight in the fridge.
Preheat the oven to 400°F or 200°C.
Cut the scallions crosswise into 1 ½-inch/4 cm pieces.
Skewer the chicken and finish each skewer with scallions, keep the remaining scallions for topping.
Once prepared, place skewers on a baking sheet lined with parchment paper. You can pour the remaining marinade over the skewers to create a delicious sauce. Roast for 15 minutes or until nicely browned and the chicken starts to char. Alternatively, change the oven setting to broil and bake the chicken for about 4 minutes more. Keeping an eye on it, as the broiler can burn food fast.
In the meantime, cook the rice according package directions.
Prepare the blistered snow peas. Heat oil in a skillet over high. Add snow peas and cook, stirring occasionally, until blistered and crisp-tender, about 3 minutes. Turn off the heat, stir in salt, mirin and chili flakes.
Divide rice among bowls, along with chicken skewers and blistered snow peas. Enjoy!
Notes
Calories Per Serving: 647 kcal
Nutritional information is only an estimate. The accuracy of the nutritional information for any recipe on this site is not guaranteed.

DOWNLOAD PRINTABLE RECIPE PDF

//= __('Print recipe (no photos)', 'servingdumplings' );?> //= __('Print recipe (with photos)', 'servingdumplings' );?>