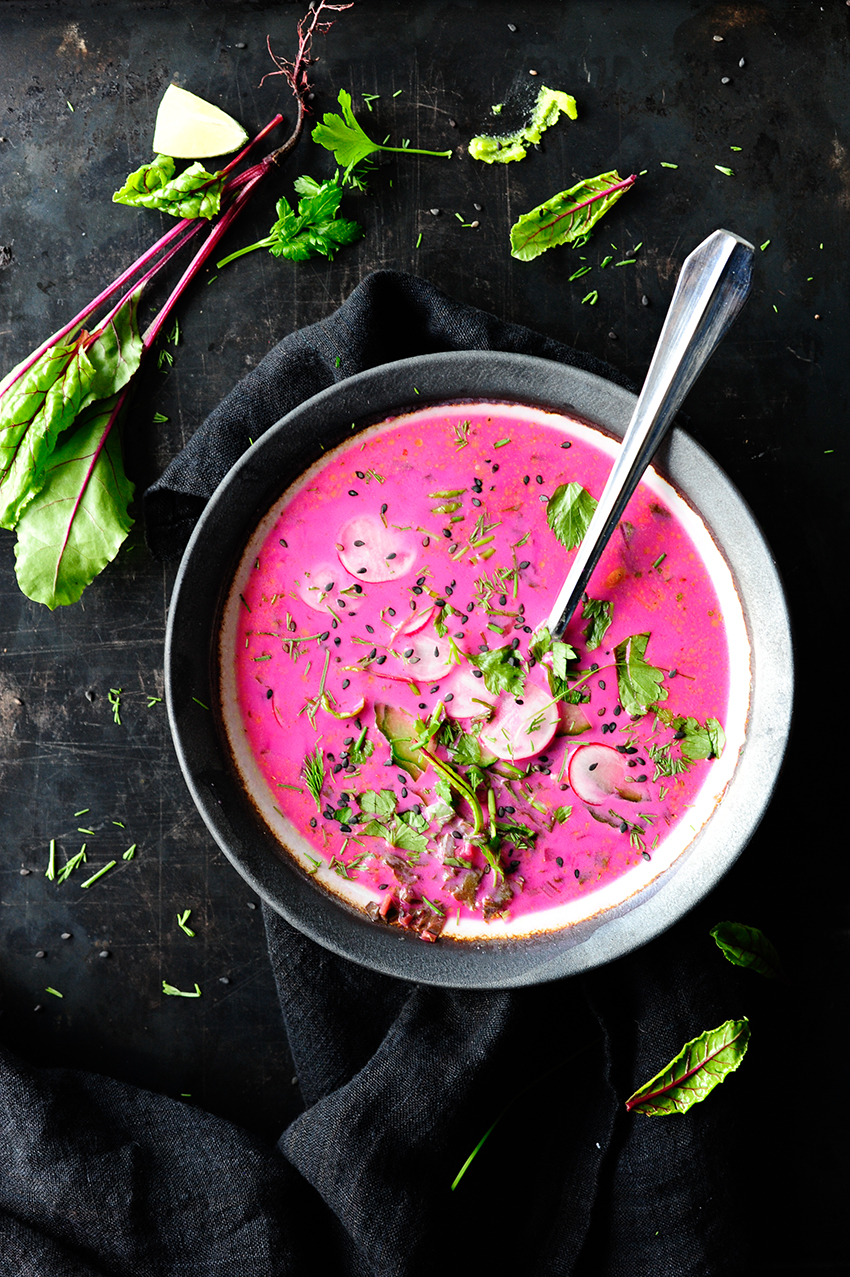 Isn't this the prettiest color for a soup? This gazpacho tastes as good as it looks. Ii's typical Polish cuisine, made with young, spring beets and their green tops which have a spinach flavor. In addition to being a taste sensation, the soup is packed with flavors. I'm a huge fan!
First I simmered the beets with garlic and ginger, boiled with vegetable broth and after cooling combined everything with kefir and wasabi. The combo is phenomenal and refreshing, it's basically perfection in a bowl and super healthy. Delicious and so easy to make.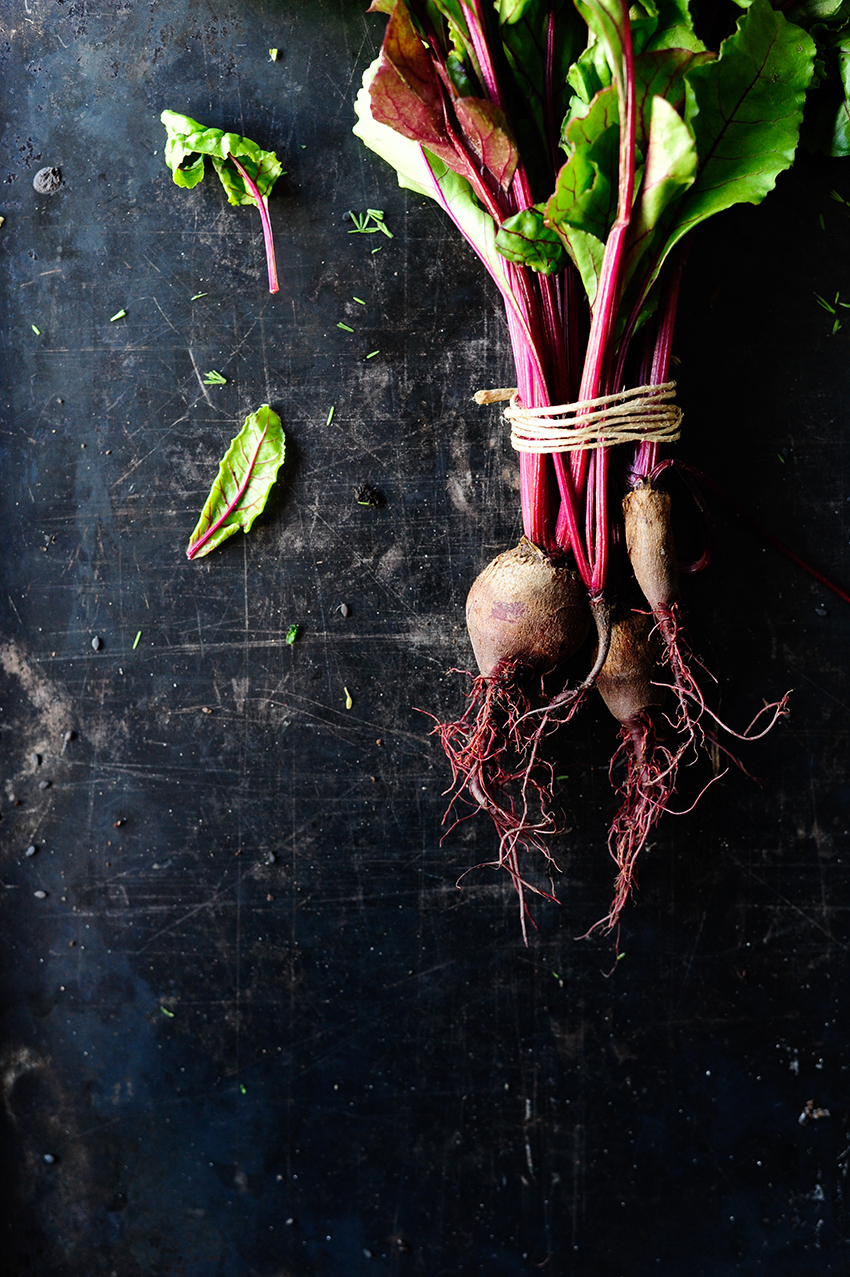 Ingredients
8 spring beets with green leaves
1 garlic clove, minced
1/2 teaspoon grated ginger
4 cups/1 L vegetable broth
1 1/2 cups/350 ml kefir
1 tablespoon lemon juice
1 teaspoon wasabi
1 tablespoon soy sauce
2 teaspoons vegetable oil
salt and black pepper
to serve
4 radishes, cut into thin slices
1/2 cucumber, finely chopped
1 tablespoon black sesame seeds
1 teaspoon chopped dill
1 teaspoon chopped parsley
1 teaspoon chopped chives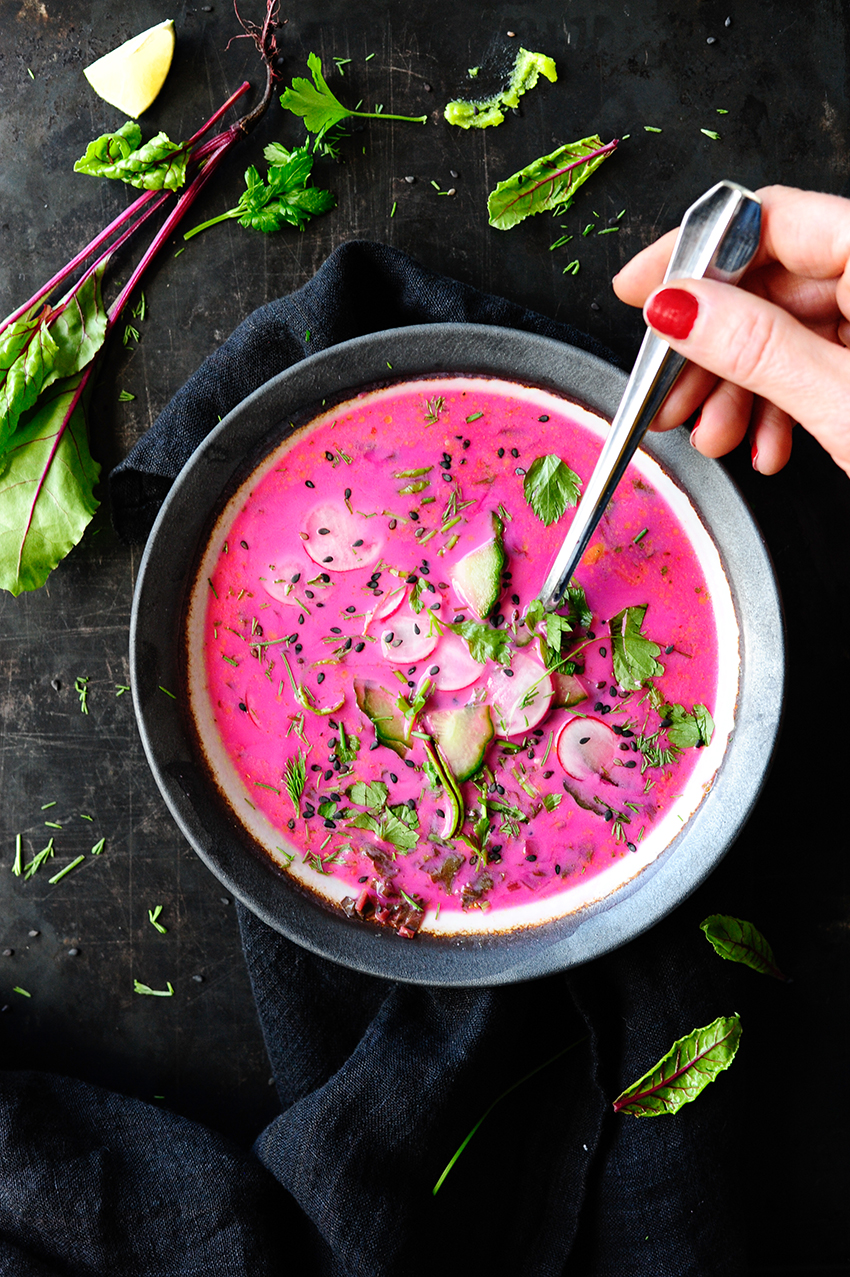 Instructions
Rinse the beets under running water, cut off the roots. Cut the beetroot off the leaves and cut into small cubes, chop the stalks and the leaves into small pieces. Heat the butter in a pan, sauté garlic and ginger over a low heat, add the beetroots and simmer for 5 minutes. Pour the broth and cook for 5 minutes, then add stalks and leaves and cook for 3 minutes more. Add lemon juice, soy sauce and wasabi. Allow to cool.
Combine with kefir, season with salt and pepper.
Serve with radishes and cucumber, sprinkle with sesame and herbs. Enjoy!