Spicy tomato beans with 'Nduja. Super fast yet fancy looking and next-level delicious. Creamy butter beans coated in a velvety, spicy tomato sauce, a 20 minute midweek wonder that feels like a hug in a bowl. Serve with some crusty bread for a funky dinner.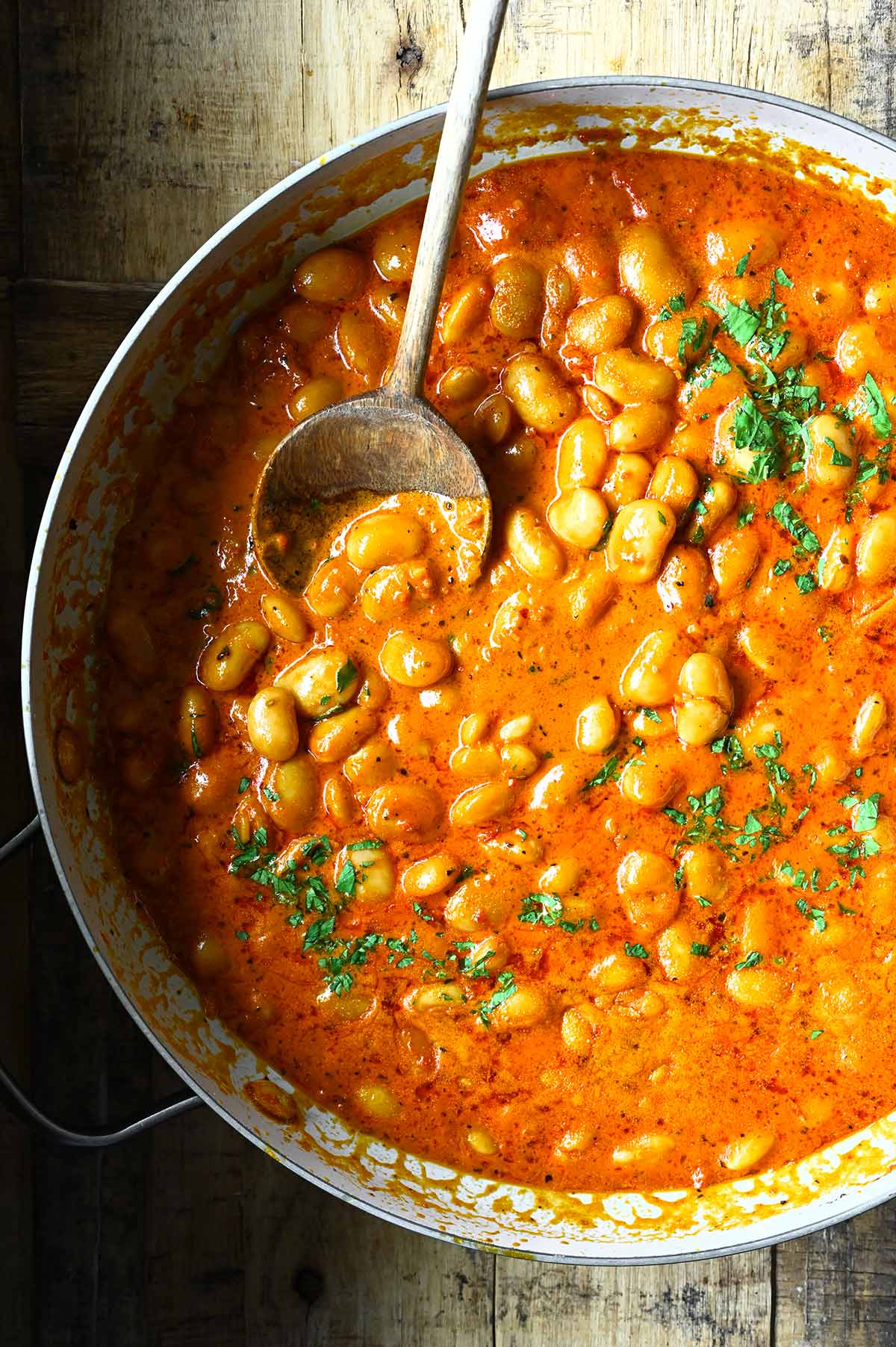 This bean recipe gets a serious instant spicy flavor boost from 'Ndjua, a fiery and spreadable salami from Calabria.
'Nduja melts completely, so don't expect any chunks. It will emulsify the butter beans as they simmer with floral heat from the Calabrian chilis and meaty richness from the pork. Because of the heat, we're adding a little cream and grated parmesan to the sauce, while lemon juice provides a pop of bright acidity.
The result is super comforting and delicious, like can't-stop-eating-delicious.
Let me guide you through the recipe with this step-by-step VIDEO.
This recipe is perfect for any busy weeknight, it involves very little prep work, but comes with a big flavor payoff. Make sure to serve it with some parmesan and lots of crusty bread to mop up all of that delicious sauce.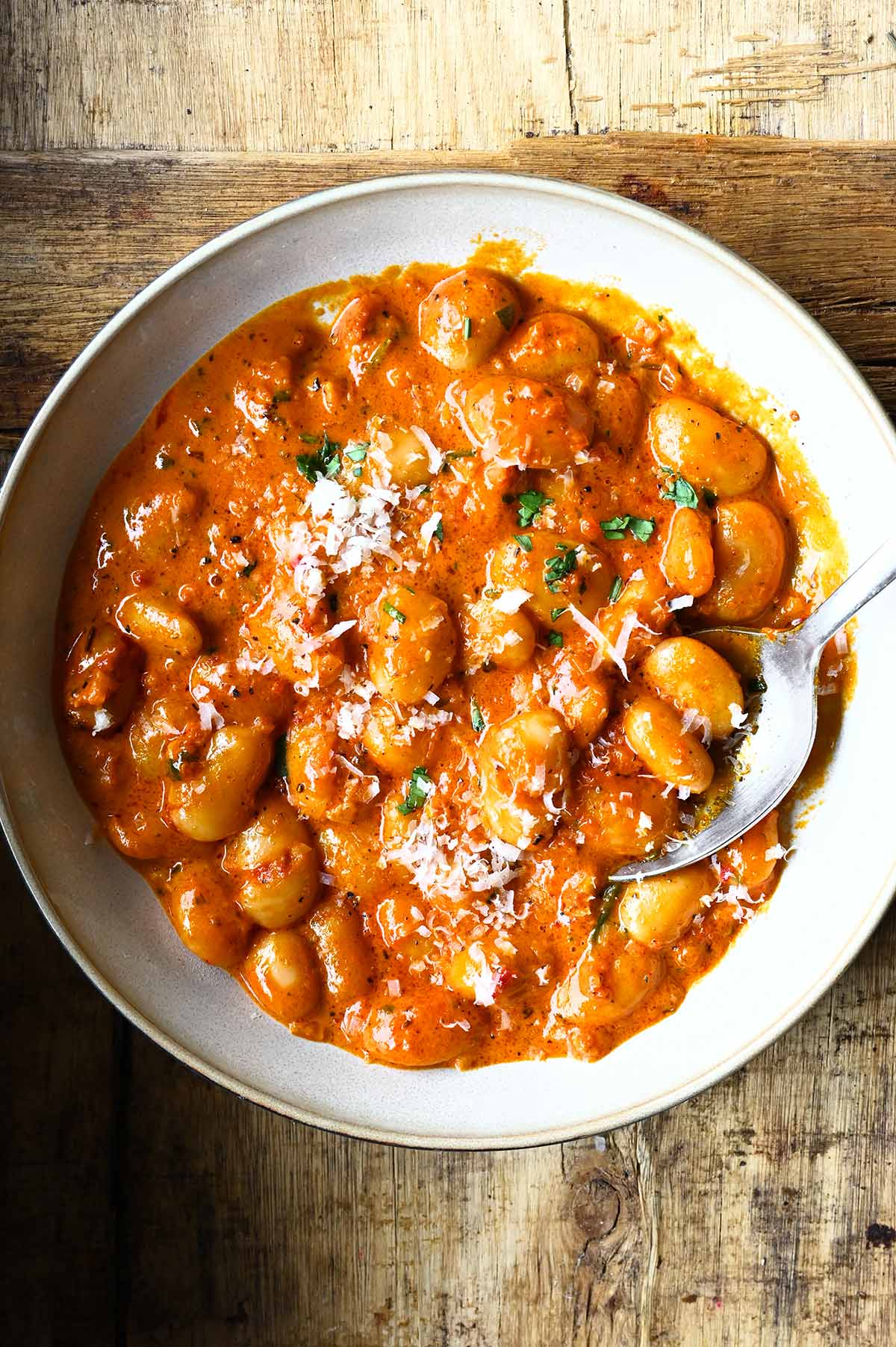 What Is 'Nduja?
'Nduja is a spicy soft salami from Calabria. It gets it's signature flavor from the Calabrian chilies and is made with pork meat. 'Nduja also has a high fat content, which makes it spreadable at room temperature. Its texture makes 'Nduja perfect for stirring into sauces or hearty stews, adding a funky and spicy touch.
It can be used in many ways, from spreading on bruschetta, swirling into risotto, topping a pizza to adding to pasta sauces. Keeping this flavor-bomb salami in your fridge makes it easy to pull off super-tasty weeknight dinners in no time.
You can find 'Nduja in a larger supermarket, in shops that specialize in Italian products or online.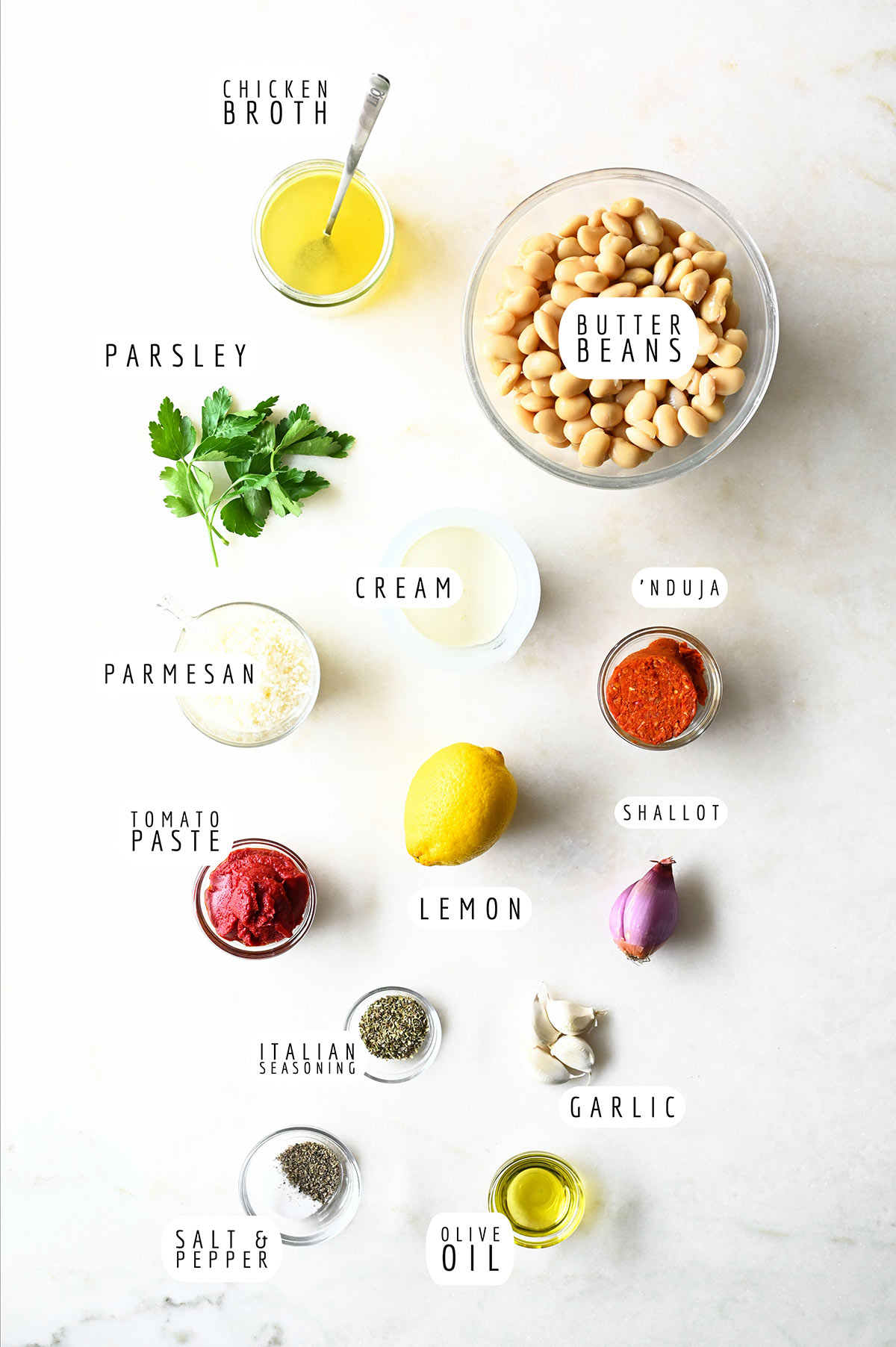 INGREDIENTS, TIPS & SUBSTITUTIONS
Olive Oil: For sweating the garlic cloves and shallot.
Shallot and Garlic: Essential flavor base.
Tomato Paste: To create a rich tomatoey flavor and to thicken the sauce.
'Nduja: A quite spicy salami, if you'd like to try this recipe but you're afraid it will be too spicy, use just 2 oz/50 g for a milder taste. Use more for a spicy result, so you can really taste the 'Nduja in all its delicious glory.
Broth: Use chicken or vegetable broth.
Beans: Canned butter beans are the go-to in this recipe, also known as Gigante beans. But you can use any white bean variety you have on hand like navy beans, cannellini beans, "great northern" beans or lima beans.
Cream: I used heavy cream in this recipe but you can also use half-and-half, 20% fat cream or unsweetened full fat coconut milk.
Parmesan: Best when freshly grated.
Seasoning: Salt, black pepper and Italian seasoning.
Lemon Juice: For a pop of brightness.
Herbs: Fresh parsley to brighten up the flavor.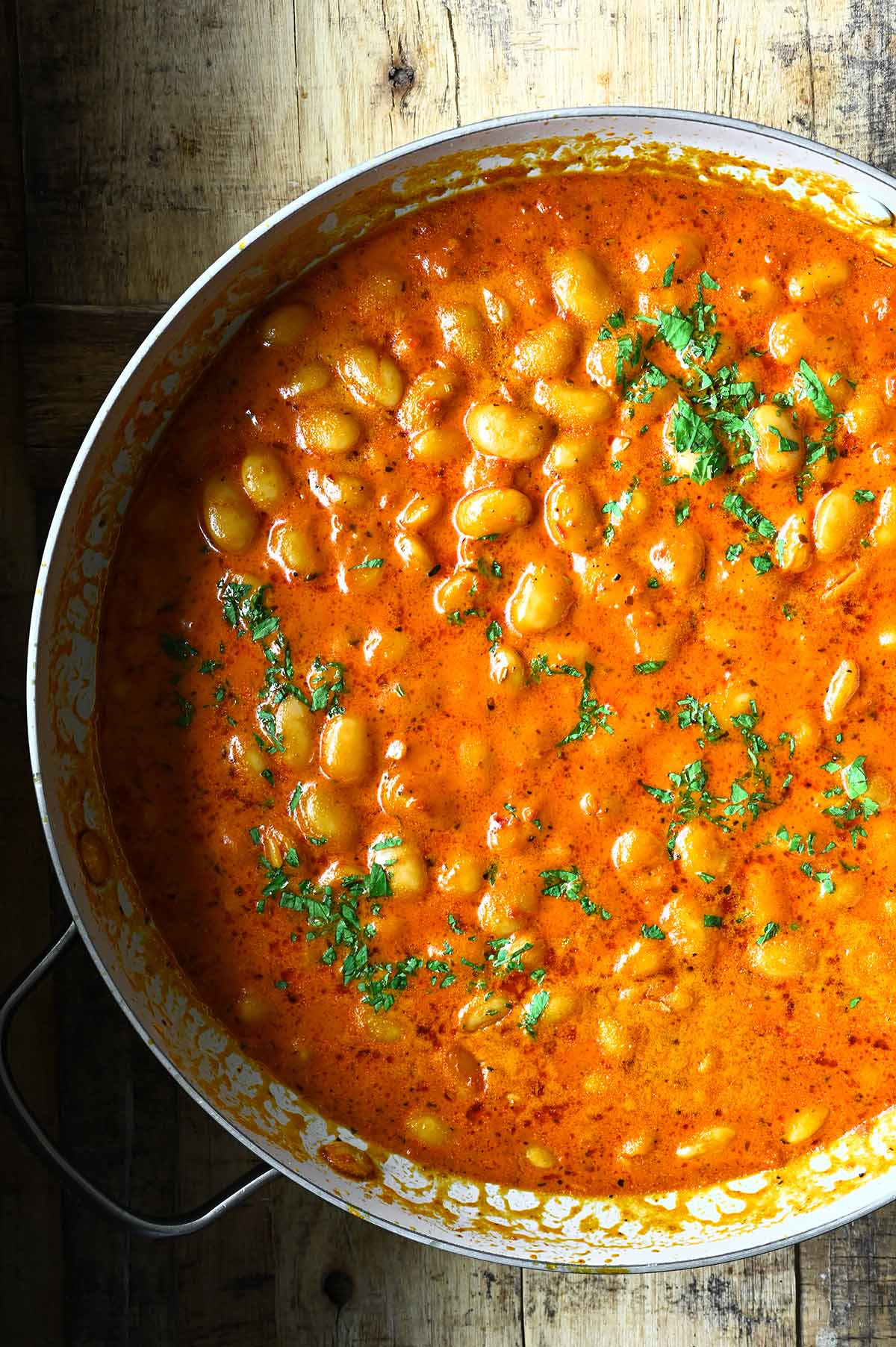 RECIPE NOTES
The leftovers are just as delicious!
Add some veggies like spinach, kale or sun-dried tomatoes.
Pair with a big side salad and lots of crusty bread, or garlic bread.
Not all is lost if you can't find 'Nduja. Spicy chorizo or pepperoni will make a fine substitute.
Make ahead: You can easily prepare this dish in advance.
Storage: Leftovers can be stored in an airtight container and refrigerated for up to 3 days.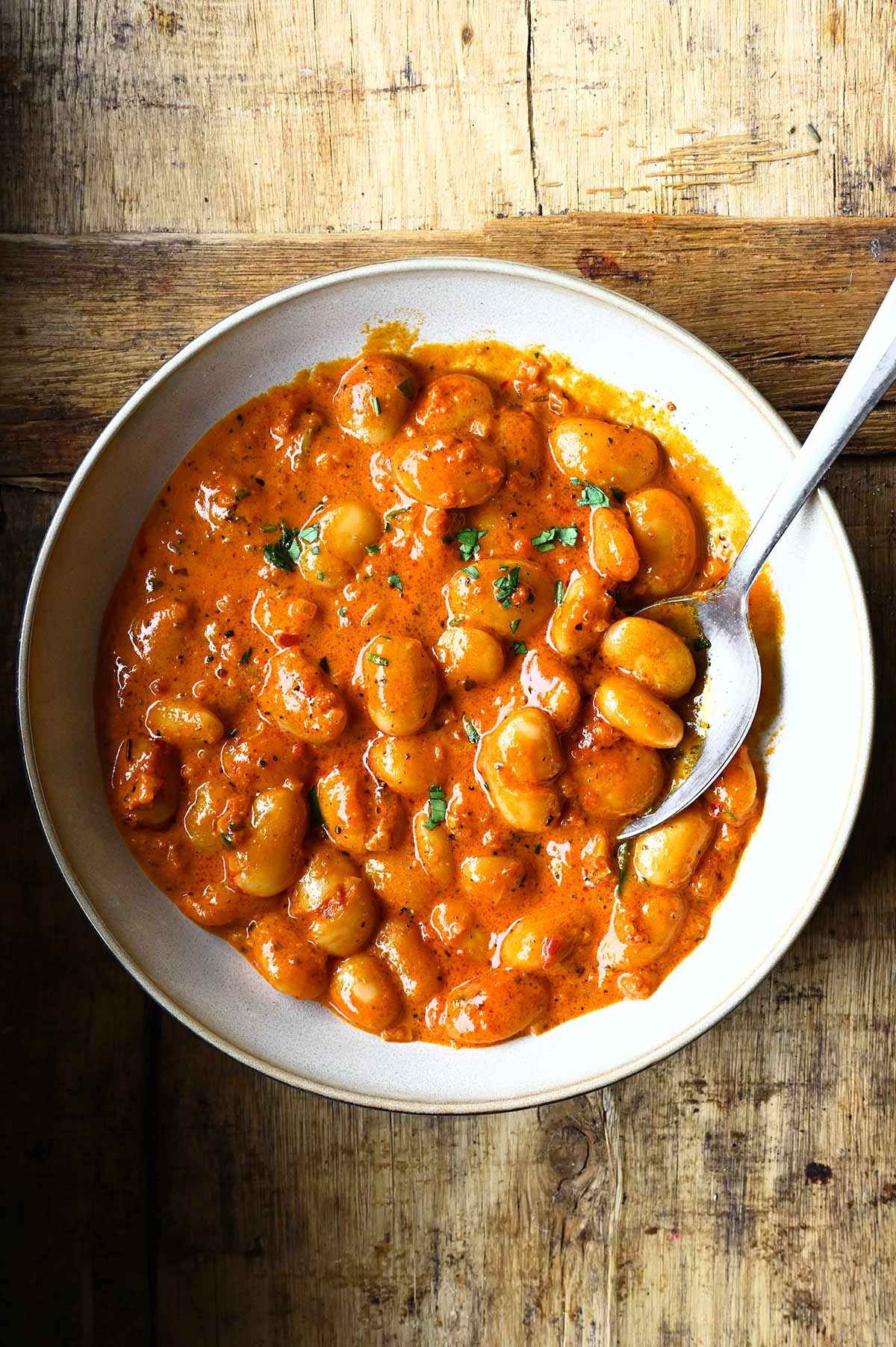 TRY THESE NEXT
COOKING VIDEO
Yield: serves 4
Spicy Tomato Beans with 'Nduja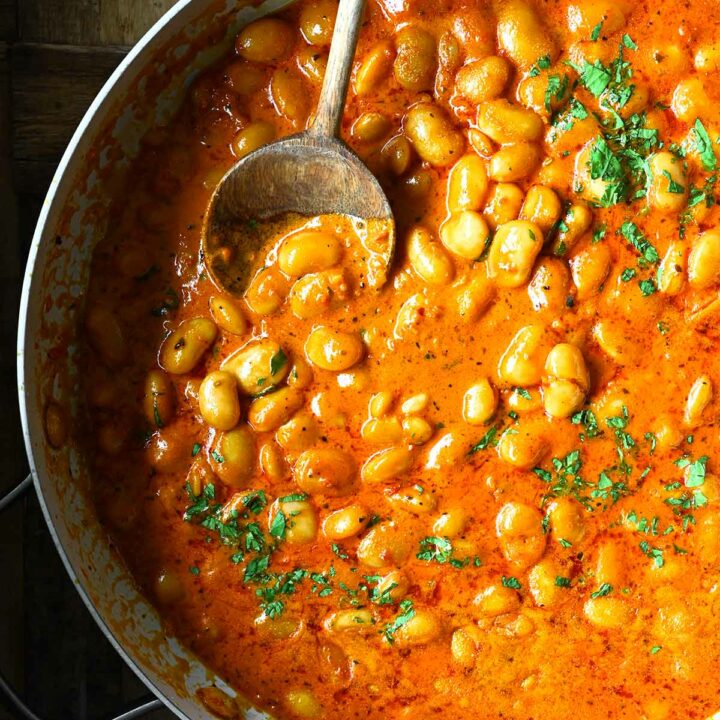 Ingredients
1 tbsp olive oil
1 shallot, finely chopped
4 garlic cloves, minced
½ tsp salt
1 tsp each: black pepper, Italian seasoning
3 tbsp double concentrated tomato paste
3 ounces/90 g 'Nduja salami, less or more to taste
1 cup/250 ml chicken broth
¾/200 ml cup heavy cream
¼ cup/30 g grated Parmesan
3 cans (14 oz/400 g) butter beans
1 tbsp lemon juice
2 tbsp chopped parsley
Instructions
Add olive oil to a skillet set on medium heat. Add garlic and shallot, cook for about 2 minutes, or until fragrant and translucent. Add salt, pepper, Italian seasoning and tomato paste. Stir until incorporated. Add 'Nduja and stir until dissolved.
Pour in broth and bring to a boil. Add heavy cream and Parmesan, mix to combine. Add the beans and mix until combined. Sprinkle with lemon juice and simmer everything until the sauce looks smooth and glossy, for about 5 minutes.
Garnish with parsley. Serve right away with some freshly grated Parmesan on top and crusty bread on the side. Enjoy!
Notes
Calories Per Serving: 499 kcal
Nutritional information is only an estimate. The accuracy of the nutritional information for any recipe on this site is not guaranteed.

//= __('Print recipe (no photos)', 'servingdumplings' );?> //= __('Print recipe (with photos)', 'servingdumplings' );?>