The tastiest shrimp tacos with miso aioli slaw. Ready in about 30 minutes and loaded with flavor and texture.
You can't get tired of tacos, ever. Especially these veggie-packed shrimp tacos. What we have going on here are tasty spice-loaded shrimps tucked between a tortilla with cabbage slaw that is tossed with a homemade miso aioli sauce.
The shrimps are quickly seared in a skillet. A little taco seasoning, some bell peppers, shallots and a spritz of fresh lime juice, these shrimps bring those taco vibes right to your dinner table.
First, we marinate the shrimps and we're keeping it super simple with a tangy, spicy marinade and lift it up with an asian touch. 
Then we make the sauce, all you need is mayo, lime juice, garlic, miso and sambal. Toss with some shredded chinese cabbage and you're in business.
All you have to do is build your tacos and dig in. Serve with cilantro and a wedge of lime squeezed over the top. These shrimp tacos are fast, easy, and give you something to look forward to at the end of the day. In other words, tacos forever.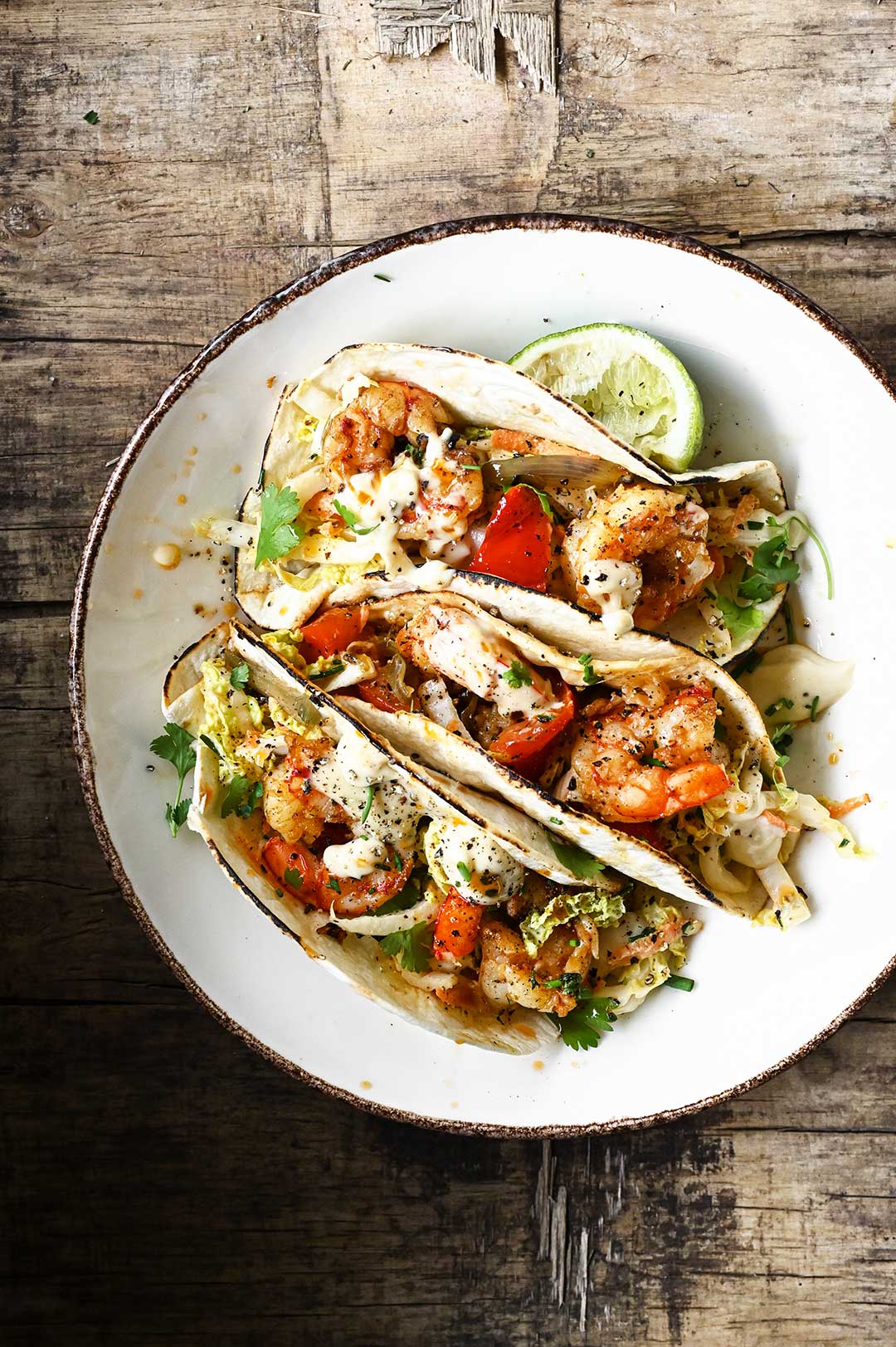 To help everything come together quickly during dinnertime, I recommend assembling the slaw the night before and only adding the sauces just before serving. Or, if you're really short on time, opt for store-bought shredded cabbage instead. Regardless of how you get things together, this is the kind of dinner you'll want to make on repeat.
And also, this recipe calls for 4, but if you're really hungry it serves 2.
Let me guide you through the recipe with this step-by-step VIDEO. 
More shrimp recipes to try:
Sichuan shrimp stir fry with onions
Garlic butter pasta with shrimp
20 minute cashew shrimp with sticky garlic soy sauce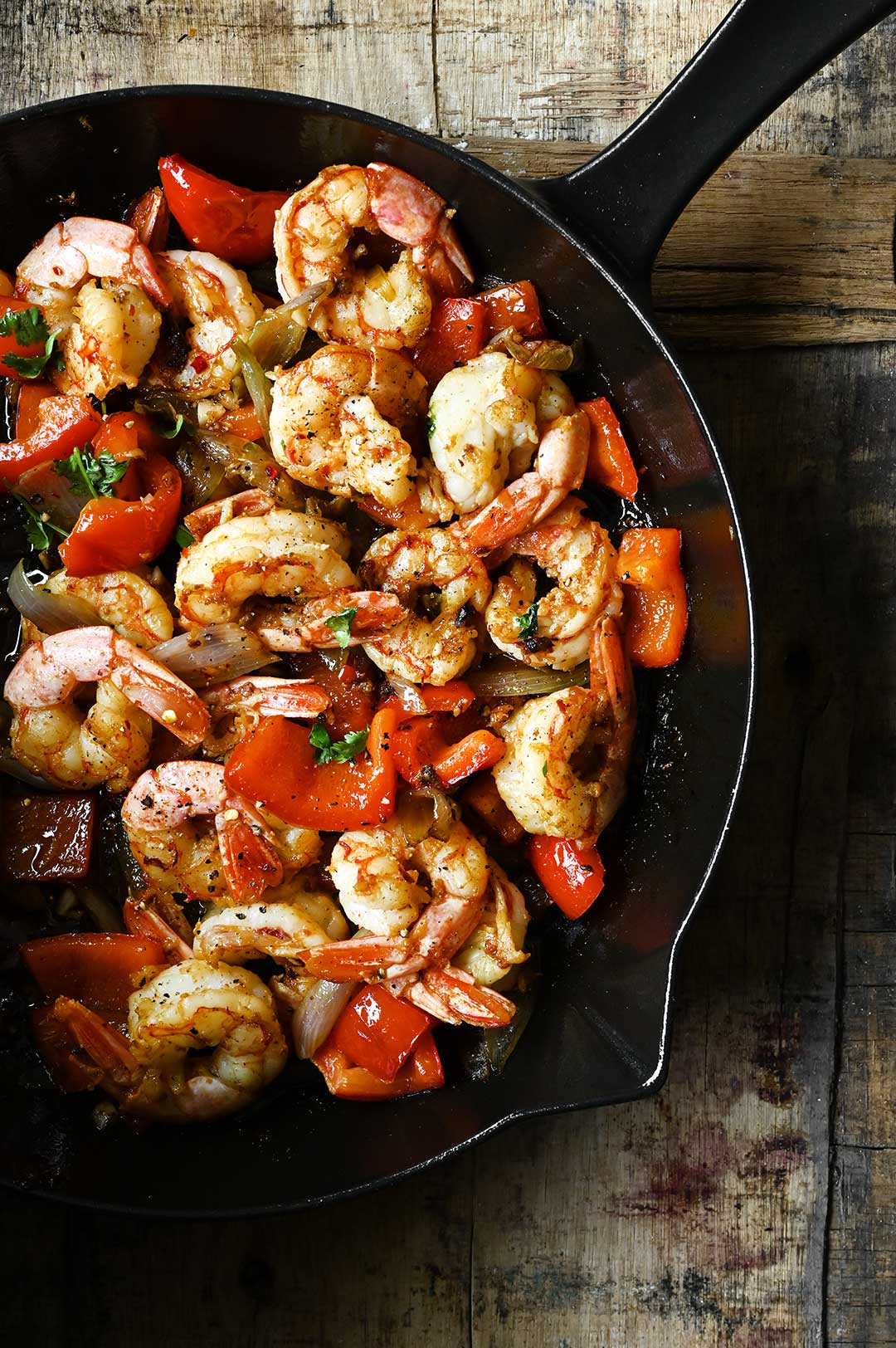 You need
shrimp
450 g (1 lb) shrimp, peeled and deveined
1 bell pepper, cut into big slices
2 shallots, sliced into thick slices
4 garlic cloves, minced
1/2 tsp each: smoked paprika, cumin, coriander
1 tbsp grated ginger
2 tbsp fresh lime juice
peanut oil
salt + black pepper
spicy miso aioli
5 tbsp mayo
2 garlic cloves
1 tsp miso
1 tsp sambal
1/2 tsp soy sauce
1 tsp lemon juice
slaw
1/2 big chinese cabbage, shredded
1 carrot, grated
2 tbsp chives, finely chopped
1 tbsp miso aioli, more if needed
1 tsp soy sauce
1 tsp mirin
1 tbsp sweet chili garlic sauce
1 tbsp vegetable oil
salt + black pepper
+
tortillas, for serving
fresh cilantro
lime wedges
How to
Let me guide you through the recipe with this step-by-step VIDEO. 
In a large bowl combine smoked paprika, cumin, coriander, ginger and garlic. Add 5 tbsp peanut oil, lime juice, salt and pepper. Toss the shrimps in the marinade, stir to coat and set aside.
In the meantime, make the aioli. Add garlic to a large, sturdy mortar. Pound and grind it to a relatively smooth paste. Add miso and stir vigorously with the pestle until thoroughly combined, 1 to 2 minutes. Transfer to a bowl. Add mayo, sambal, soy sauce and lemon juice. Stir to combine.
Make the slaw by tossing the ingredients together in a large bowl.
Cut the bell pepper and shallot into big slices. In a large cast iron skillet heat 3 tbsp peanut oil over medium high heat. Add in the bell pepper and shallots and cook until edges begin to char, about 5-6 minutes. Remove and set aside.
Add shrimp to the same skillet and arrange in a single layer. Fry on high heat. Flip the shrimps over after 2 minutes and cook the other side until pink. Add pepper, shallots and the remaining marinade from the shrimps back into the skillet and stir until everything is combined.
Remove from heat and serve immediately. For the easiest-to-eat assembly, go like this: warm tortilla, slaw and shrimp. Finish with sauce, cilantro and a twist of lime juice. Eat!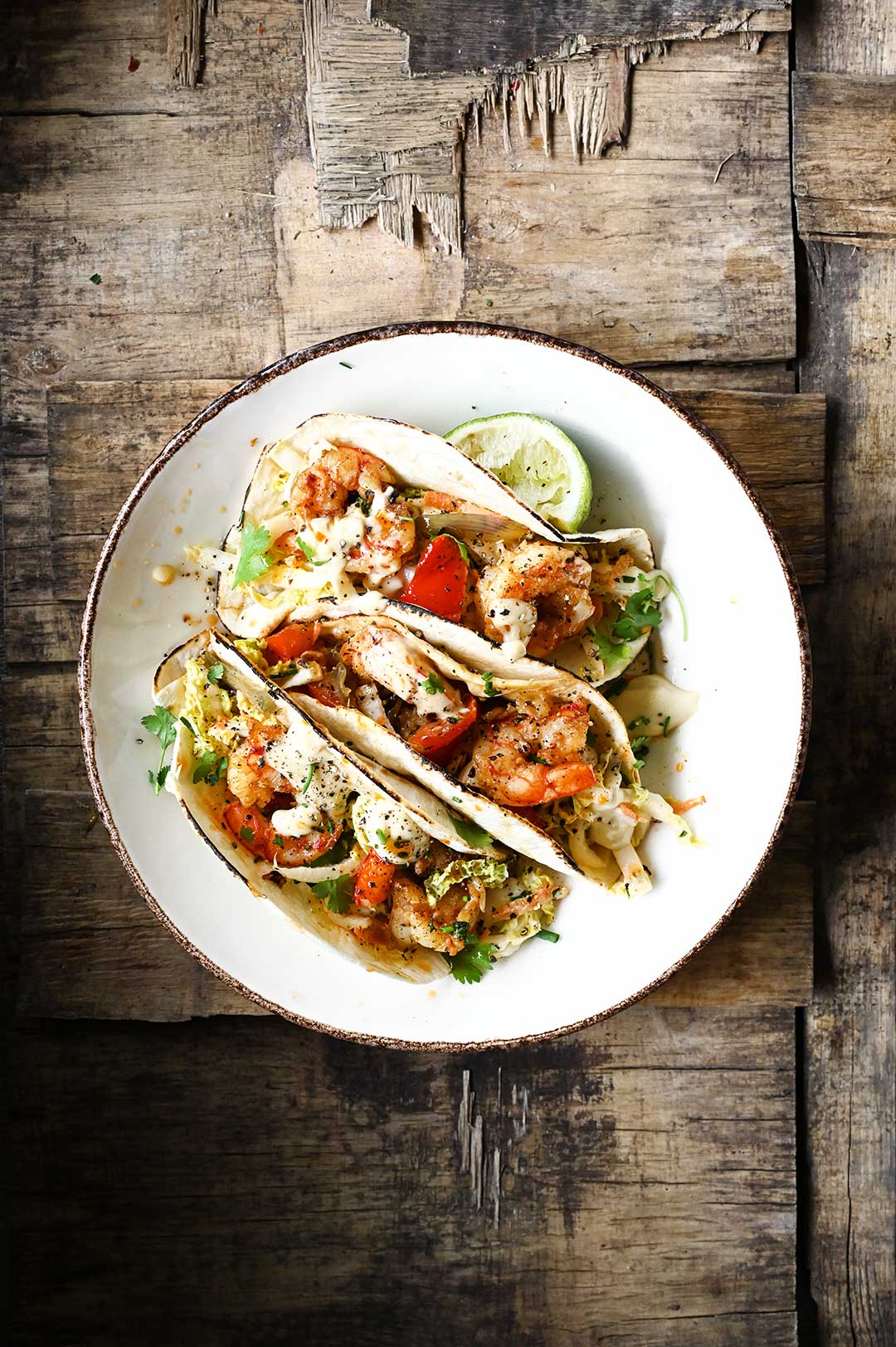 //= __('Print recipe (no photos)', 'servingdumplings' );?> //= __('Print recipe (with photos)', 'servingdumplings' );?>