Spicy Garlic Shiitake Noodles. Picture spicy garlic noodles with shiitakes and a soft-boiled egg. A super easy recipe that will only take 15 minutes to whip together. This recipe transforms your noodles into something truly magnificent. They are coated in a garlic-soy sauce, speckled with chili sauce, tossed with seared shiitakes and sprinkled with fresh scallions. Without any doubt you'll experience a full-on explosive flavor in no-time. Make it as spicy as you can handle and enjoy.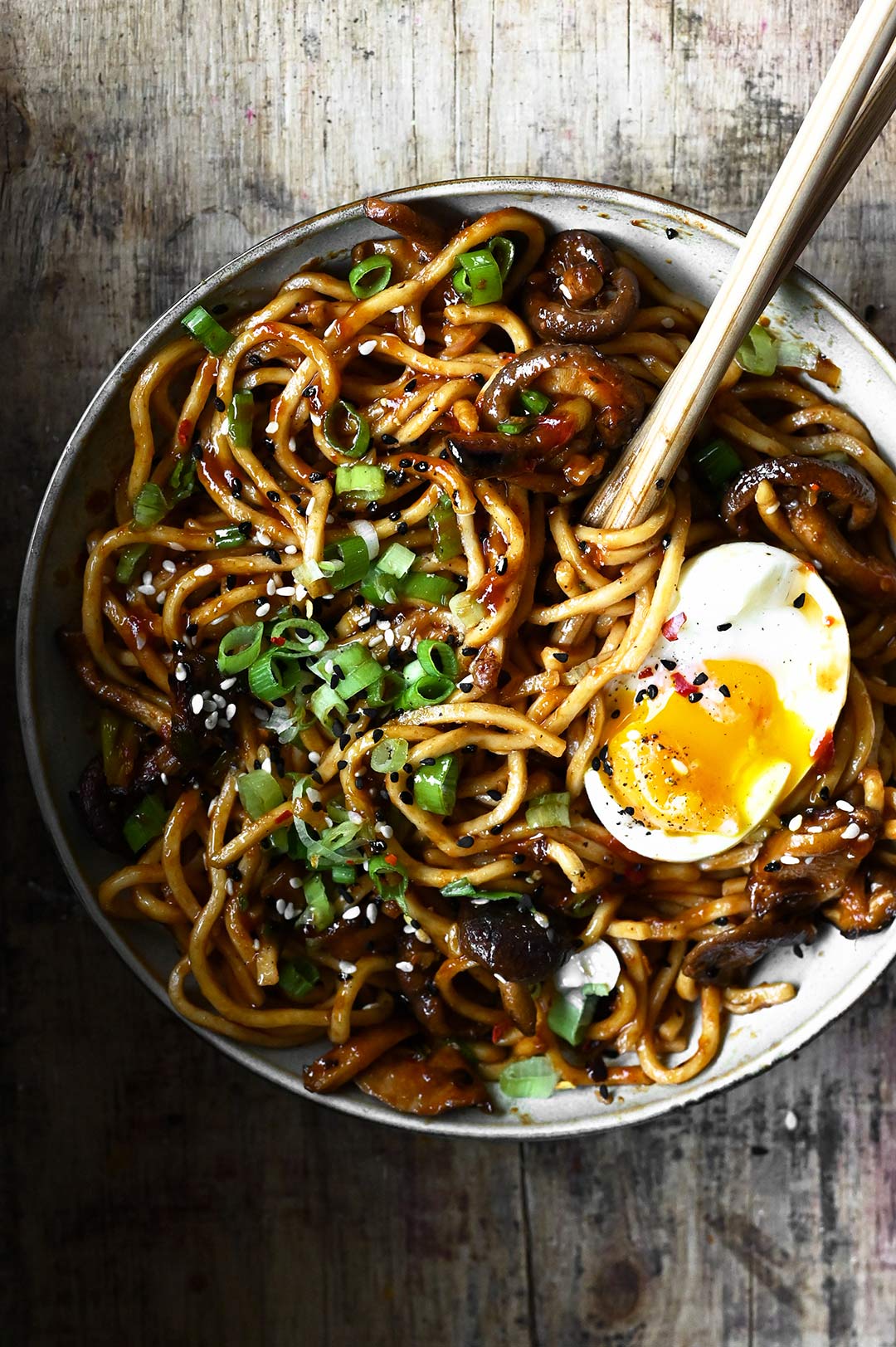 What makes this dish so great are the texture and the flavorful sauce. For this recipe we use instant 2-minute noodles, so the most important thing is to not overcook them. (of course you can use any type of noodles you prefer) The cooking process moves pretty fast, we sear the mushrooms and prepare the sauce, while the eggs and noodles are boiling. Then we toss everything together and let the noodles soak up every bit of flavor.
Let me guide you through the recipe with this step-by-step VIDEO.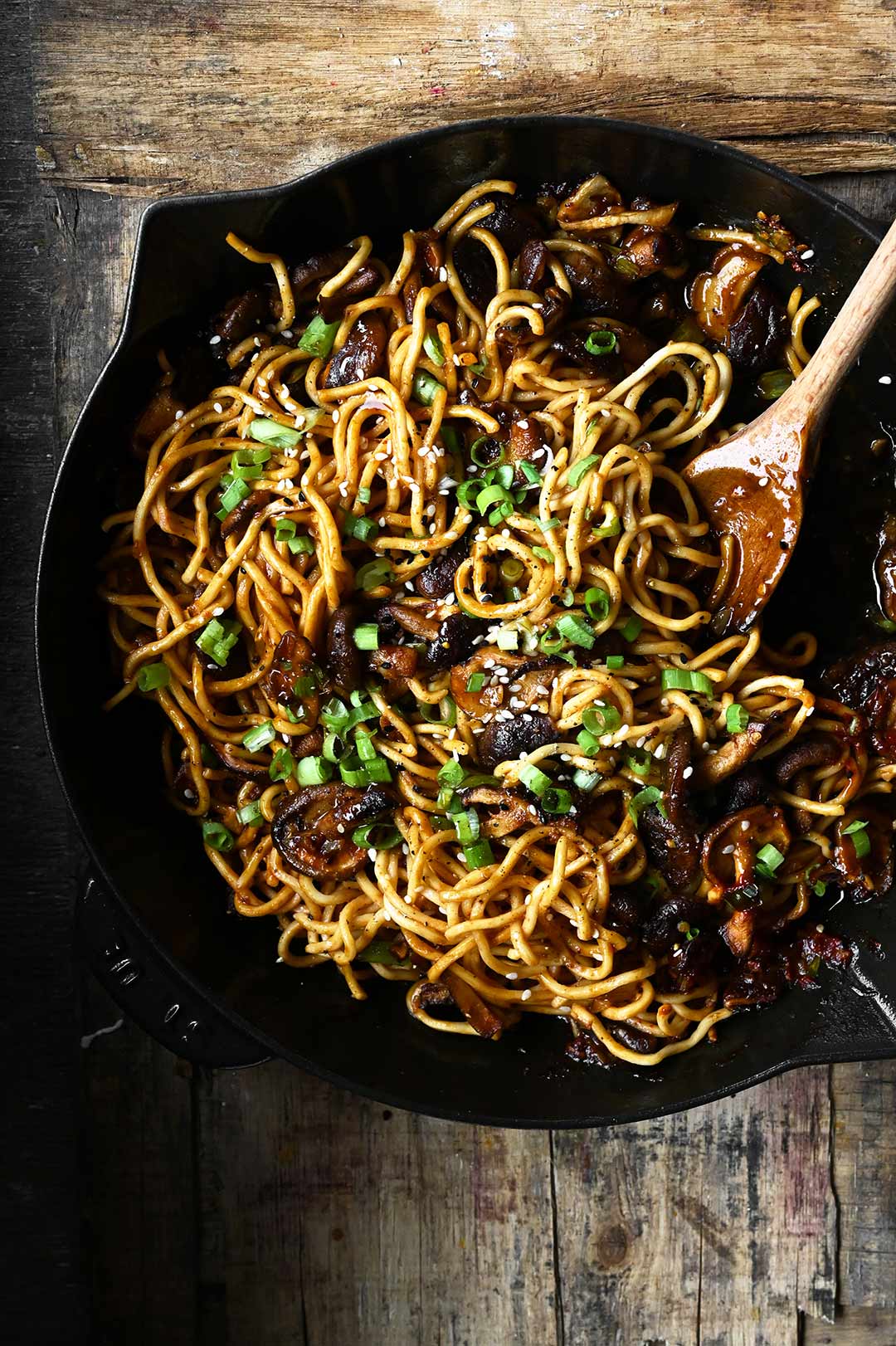 RECIPE NOTES
This is the perfect weeknight comfort food.
And you can serve it with almost everything, from sliced chicken breast, ground pork, shrimp, to thins-sliced beef.
Or keep it vegetarian and add bok choy or broccoli.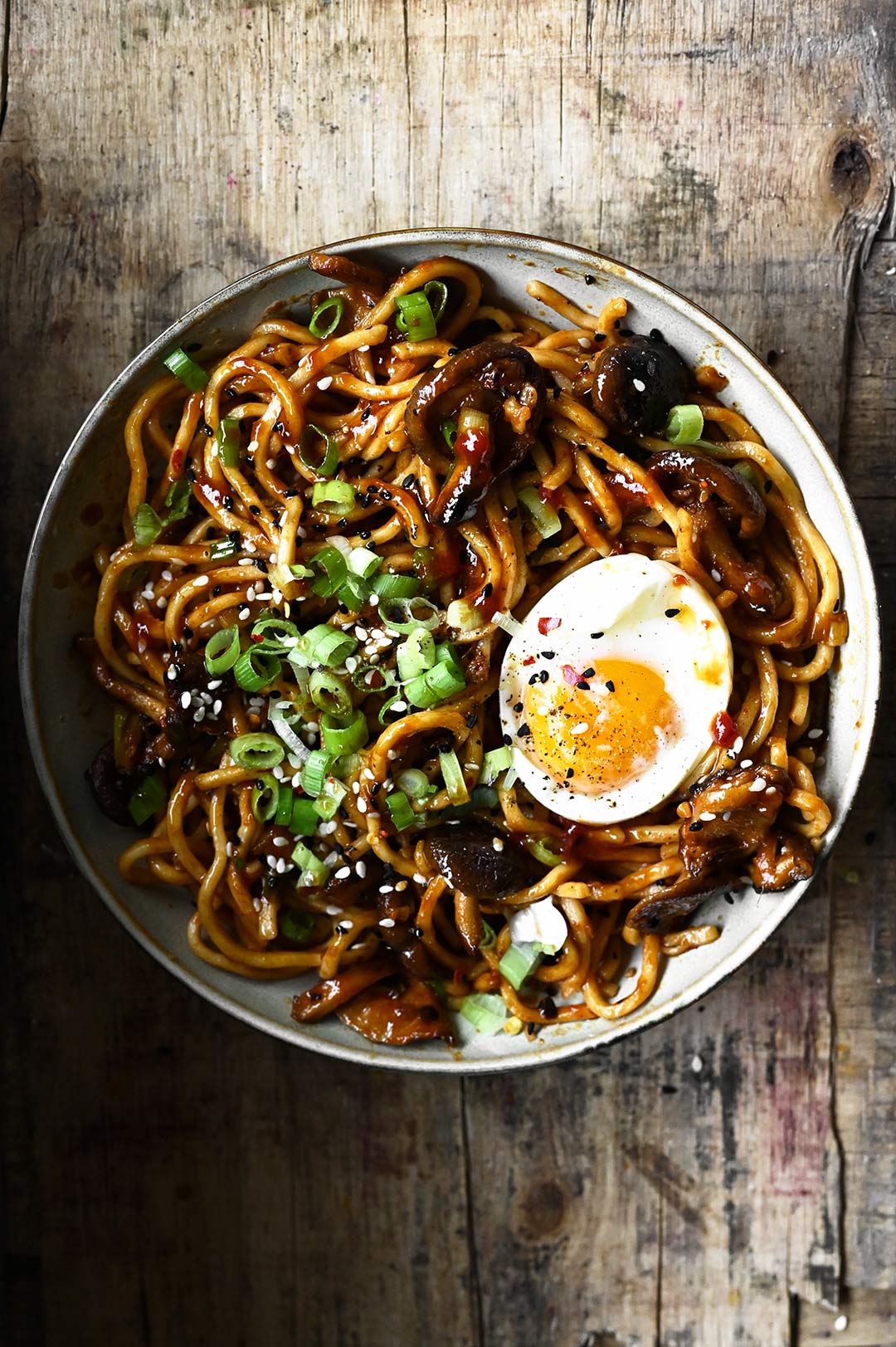 You might also like

Recipe Video
Yield: serves 2
Spicy Garlic Shiitake Noodles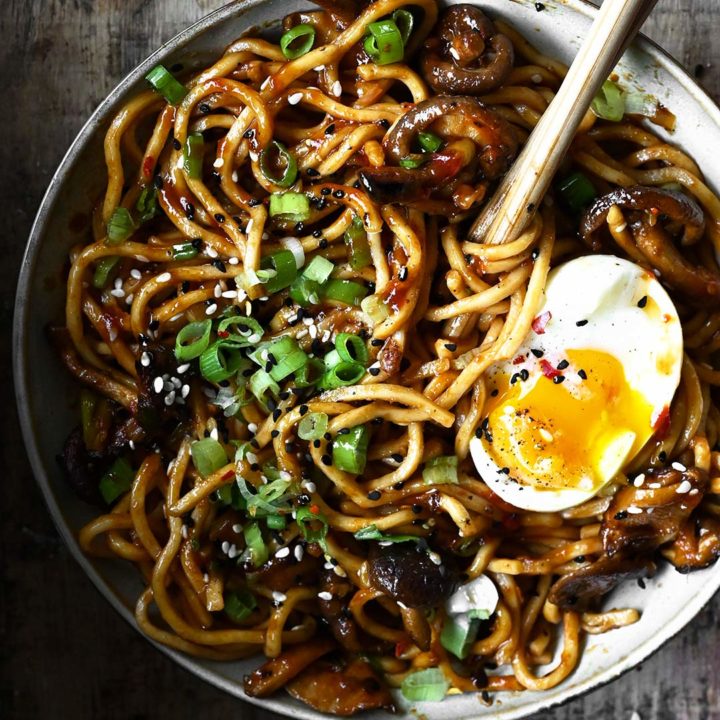 Prep Time 5 minutes

Cook Time 10 minutes

Total Time 15 minutes
Ingredients
200 g/7 oz instant ramen noodles
150 g/5.5 oz shiitakes, torn into bite-size pieces
4 garlic cloves, minced
1 tsp grated ginger
1 tsp crushed red chili flakes
1 tsp crushed Sichuan peppercorns
2 tbsp vegetable oil
30 g/2 tbsp unsalted butter
black pepper
2 eggs, soft-boiled
1 tbsp sesame seeds, for serving
5 scallions, finely chopped + more for serving
spicy soy sauce
2 tbsp toasted sesame oil
1 tbsp tomato paste
3 tbsp mirin, or 2 tbsp rice vinegar
2 tbsp oyster sauce
4 tbsp low sodium soy sauce
1 tsp or 1 tbsp sambal, more if you like it super hot
1 tsp brown sugar
Instructions
Combine the ingredients for the sauce in a small bowl.
Add water to a small sauce pan, once boiling, add eggs, boil for 6 minutes. Run under cool water, set aside.Cook the noodles according to package directions until just al dente. Drain, reserving 1/2 cup cooking water, and run the noodles under cool water to stop the cooking.
In the meantime prepare the shiitakes. In a large skillet, heat the oil over high. Add shiitakes, cook for 4-5 minutes, stirring occasionally. Lower the heat, add garlic, ginger, chili flakes and Sichuan pepper. Cook for 2 minutes. Add butter, stir until it melts. Stir in scallions and season with black pepper.
Add the sauce, bring to a boil and simmer for 2 minutes. Stir in noodles and 1/4 cup cooking water. Simmer, tossing occasionally, until sauce begins to cling to noodles, about 30 seconds.
Divide noodles among plates, top with a soft-boiled egg, sesame seeds and chopped scallions. Add more sambal if you can handle the heat, enjoy!
Notes
Calories Per Serving: 414 kcal
Nutritional information is only an estimate. The accuracy of the nutritional information for any recipe on this site is not guaranteed.

DOWNLOAD PRINTABLE RECIPE PDF