These spicy drunken shrimp are simmered in a most addicting sauce made with vodka, lots of garlic, butter and chili flakes! This 20-minute recipe is most definitely going to kick your dinner game into high gear! Make sure to grab some bread for dipping.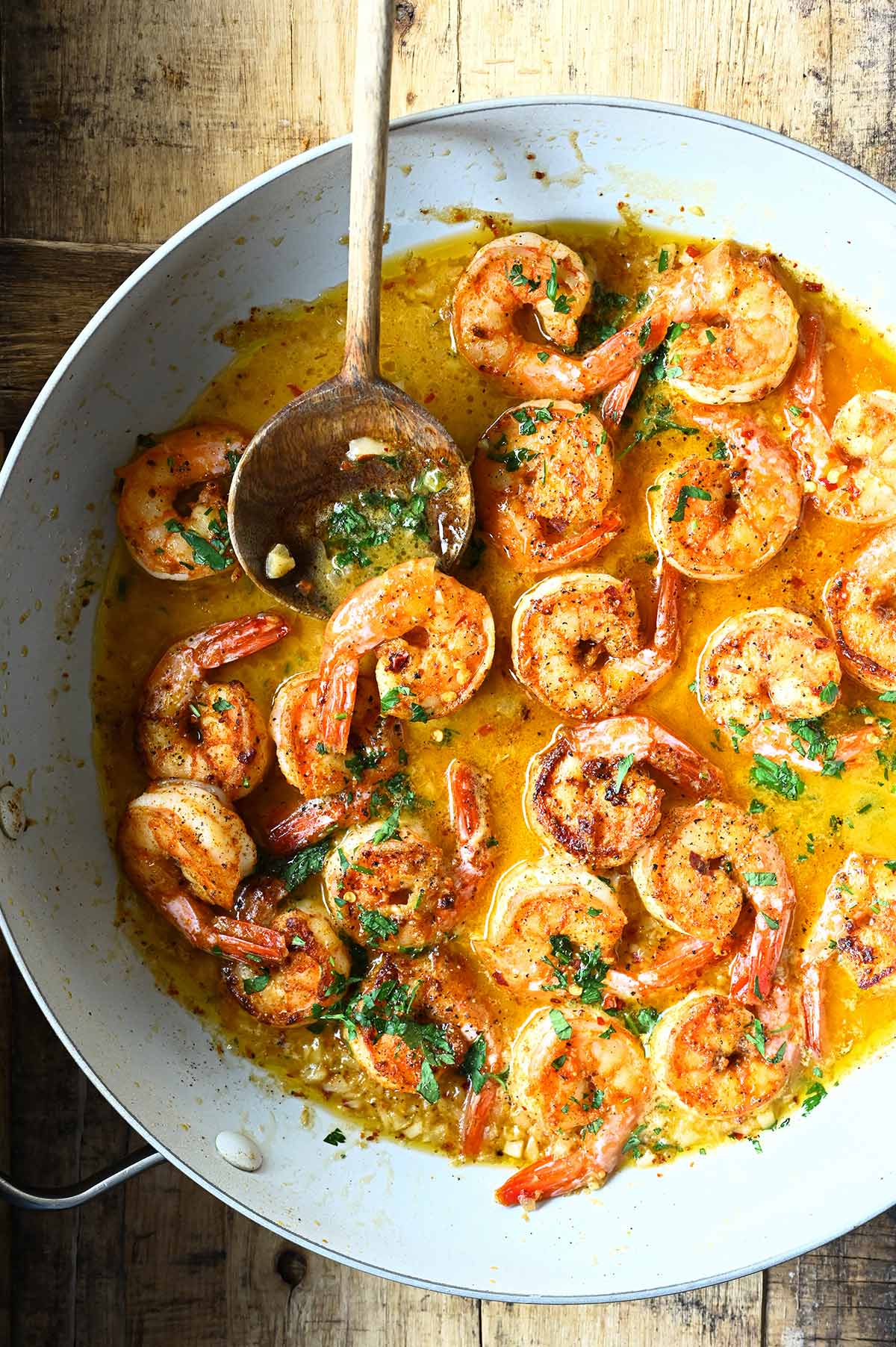 This is a great, quick way to serve shrimp. Got someone coming over in 20 minutes? This is your go-to.
There are so many reasons why you'll love this shrimp recipe, but perhaps the best of all is that it's just so insanely flavorful. The shrimp sear in a few minutes and after they're removed from the skillet, it's time to make the butter vodka sauce. The mixture of shallot, garlic, vodka, lemon juice, chili flakes and butter turns into a bright and flavorful sauce with just the right amount of heat.
Plump shrimp are pretty irresistible on their own, but in this recipe they turn your dinner into something far fancier. You can make it as a main course and pair with a leafy salad and pasta, or serve as a starter with some crusty bread. Try this fast-and-fancy dinner and your meal plan will never be the same again.
Let me guide you through the recipe with this step-by-step VIDEO.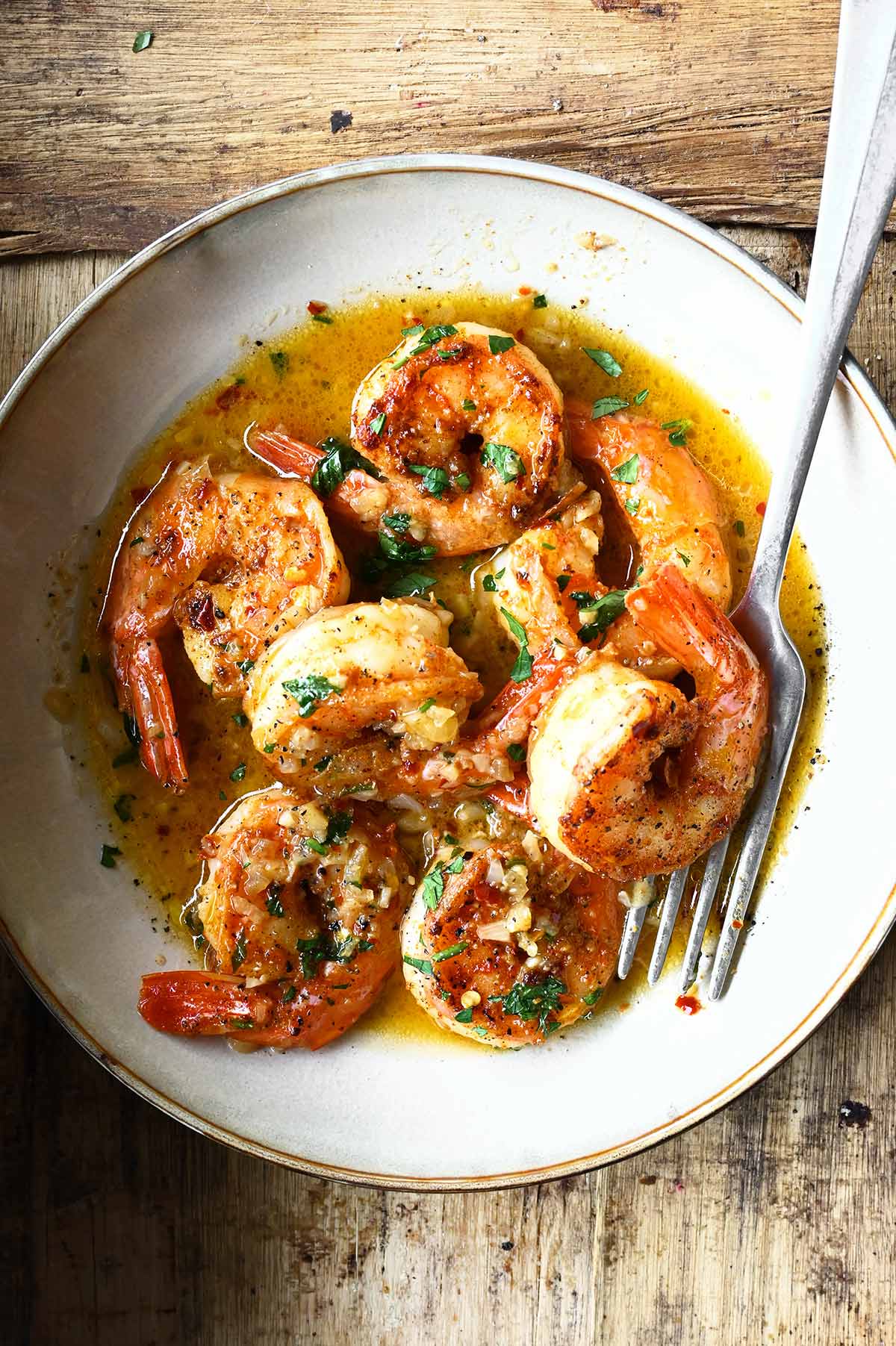 The Thing About Cooking with Vodka
It's simple, a sauce cooked with a splash of vodka is delicious. You don't taste any alcohol at all, but somehow it elevates the dish. So what's going on there? First of all, vodka is supposed to be flavorless, right? Well, that's the weird part! We understand wine in food, but vodka? It's counter-intuitive, but it definitely changes the sauce. It has herbal flavors you just don't expect. It's actually not that vodka adds flavor, it's that vodka unlocks and enhances the flavors already hidden in the dish. Pretty cool, not?
The trick here is to deglaze the skillet with vodka and get rid of the alcohol. Then slowly simmer the sauce. This leaves only a small percentage of the alcohol, perfect for releasing all those herbal flavors.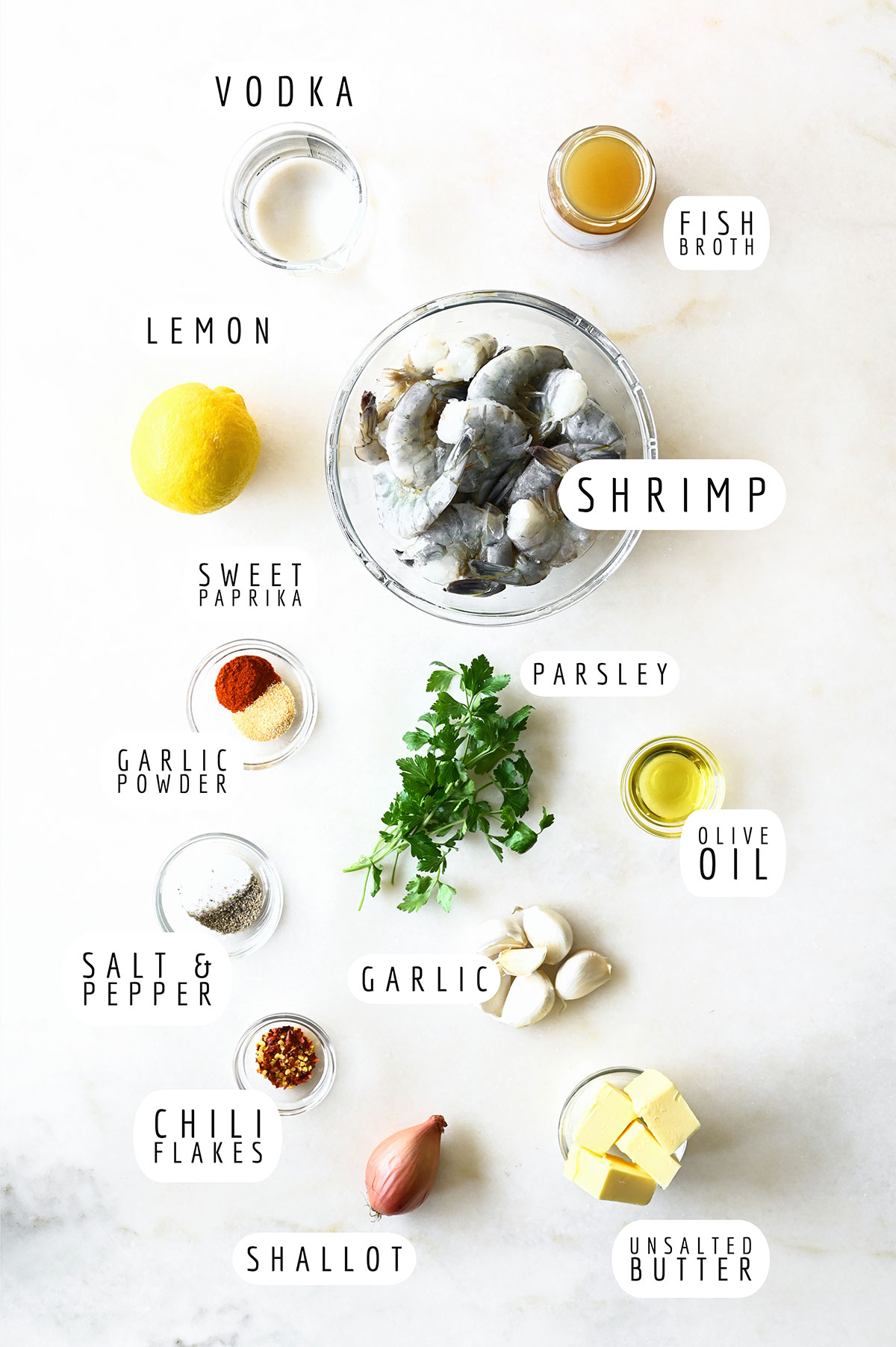 THE INGREDIENTS
Shrimp: Peeled and deveined. Look for medium or large shrimp. You can cook shrimp with the tail on or off. However, the tail of the shrimp contains flavor which adds to the overall taste of the dish.
Garlic: Lots of garlic for some huge flavor.
Shallot: You can swap it for a small brown onion.
Vodka: If you're concerned about the taste of vodka…don't be! You can't taste it, it's simply here to enhance the flavors. Is it necessary?…well no, but then it wouldn't be the base of the sauce. But if you don't want to cook with alcohol, swap vodka for broth.
Fish Broth: Can be substituted with chicken or vegetable broth.
Oil and Butter: For frying the shrimp and to create a smooth sauce.
Seasoning: Salt, black pepper, sweet paprika, garlic powder and chili flakes.
Lemon juice: Its bright flavor cuts the butter's richness.
Herbs: Fresh parsley.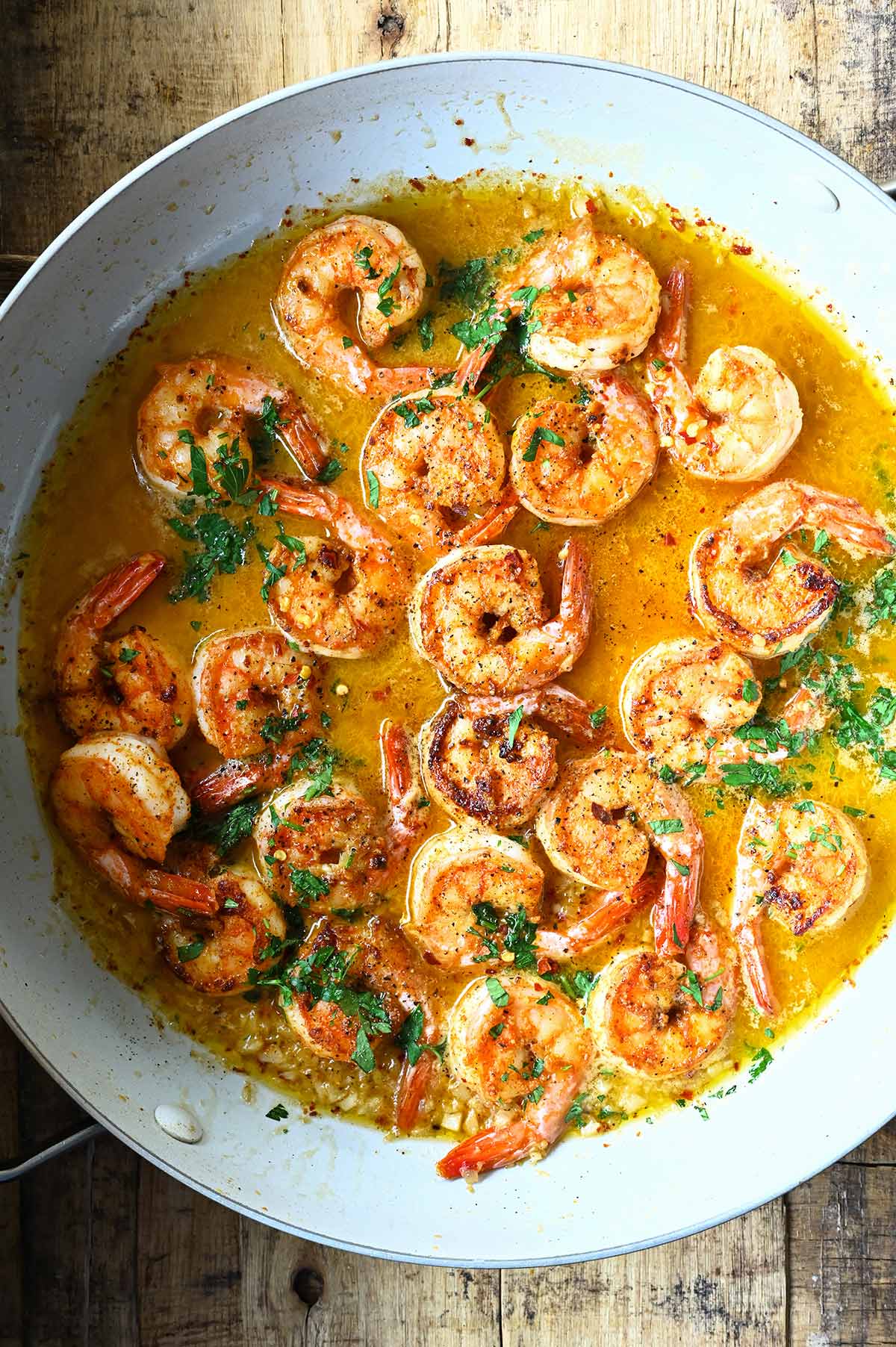 RECIPE NOTES
Serve as a starter or as an appetizer.
When served as main course, the shrimp would be delicious with polenta, mashed potatoes, pasta or bread.
As a side, serve the shrimp with a leafy salad or some steamed veggies like broccolini, asparagus or buttery spinach.
Heat Level: medium. You can really spice this dish up by adding extra chili flakes. For a milder version, add just 1/4 teaspoon of the chili flakes.
Storage: Leftovers can be refrigerated in an airtight container for up to 2 days.
TRY THESE NEXT
COOKING VIDEO
Yield: serves 4
Spicy Drunken Shrimp
Ingredients
1 pound/450 g shrimp, peeled and deveined
1 tsp each: salt, garlic powder, sweet paprika
2 tsp black pepper, divided
1 tbsp olive oil
4 tbsp cold unsalted butter, divided
1 shallot, finely chopped
6 garlic cloves, minced
1 tsp chili flakes
½ cup/120 ml vodka
¾ cup/180 ml fish broth
1-2 tbsp fresh lemon juice
2 tbsp chopped parsley
Instructions
Peel and devein the shrimp. In a large bowl, combine shrimp with sweet paprika, garlic powder, ½ teaspoon salt and 1 teaspoon black pepper. Toss and set aside while you prepare the other ingredients. If you want to marinate them longer, no problem, transfer the shrimp to the fridge and chill for 30 minutes or up to 8 hours.
Mince the garlic, finely chop the shallot and chop the parsley.
In a skillet, heat oil and 1 tbsp butter over medium high. Place shrimp in a single layer and sear, 1 minute per side. Remove from skillet.
Reduce heat to medium, add garlic and shallot. Cook for 2 minutes until soft and fragrant. Stir frequently. Stir in chili flakes, and the remaining salt and pepper.
Deglaze with vodka and simmer for 3 minutes while scraping up the brown bits on the bottom of your skillet with a wooden spoon. Pour in fish broth and bring to a boil. Slowly add the remaining 3 tablespoons of butter, one by one. Stir until completely dissolved and smooth.
Add shrimp and cook for 1 minute until heated through. Finish off with lemon juice, freshly ground black pepper and parsley. Enjoy!
Notes
Calories Per Serving: 364 kcal
Nutritional information is only an estimate. The accuracy of the nutritional information for any recipe on this site is not guaranteed.

//= __('Print recipe (no photos)', 'servingdumplings' );?> //= __('Print recipe (with photos)', 'servingdumplings' );?>