Spicy Chicken Zucchini Stir-Fry: A quick and easy 25-minute meal that's perfect for weeknights or meal prep! Tender chicken, hearty mushrooms, and zucchini are tossed in a flavorful Gochujang-infused sauce that's both savory and comforting.
Try Chili Garlic Chicken, Fiery Scallion Beef or Cajun Bang Bang Salmon Bowls next for more takeout-style favorites.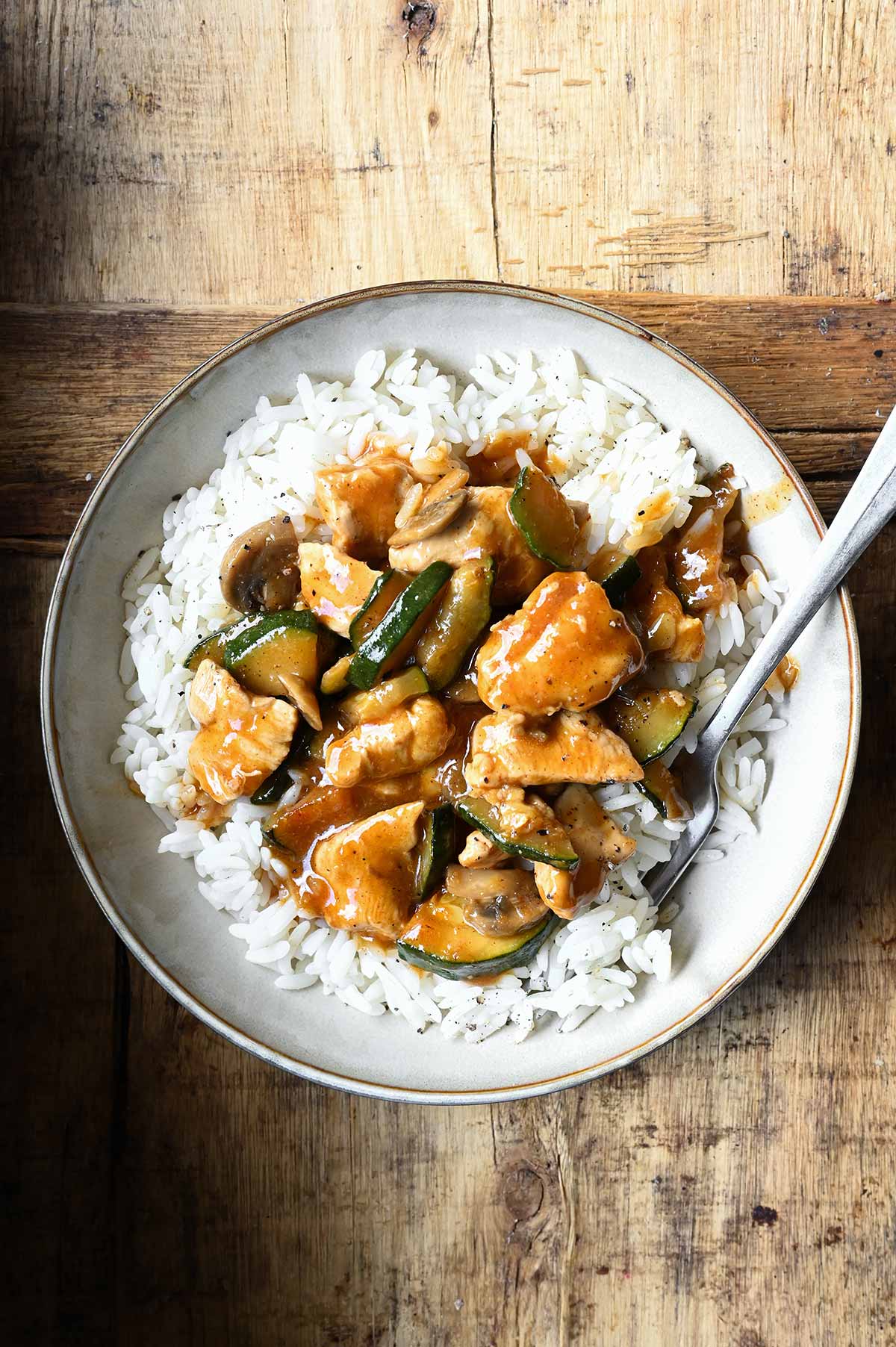 Why You'll Love this Chicken Stir-Fry
This satisfying, spicy chicken zucchini stir-fry is rich with mushrooms, and exactly what you need for an easy weeknight dinner: it's fast, needs only simple ingredients, and has a spicy kick. Serve over rice or noodles for a complete meal.
This chicken stir-fry recipe is versatile and can be customized to your liking. You can use different vegetables, such as broccoli, carrots, or bell peppers. You can also adjust the amount of heat by adding more or less chili paste.
No matter how you make it, this stir-fry is sure to become a staple in your home. It's quick, easy, and delicious.
Let me guide you through the recipe with this step-by-step video.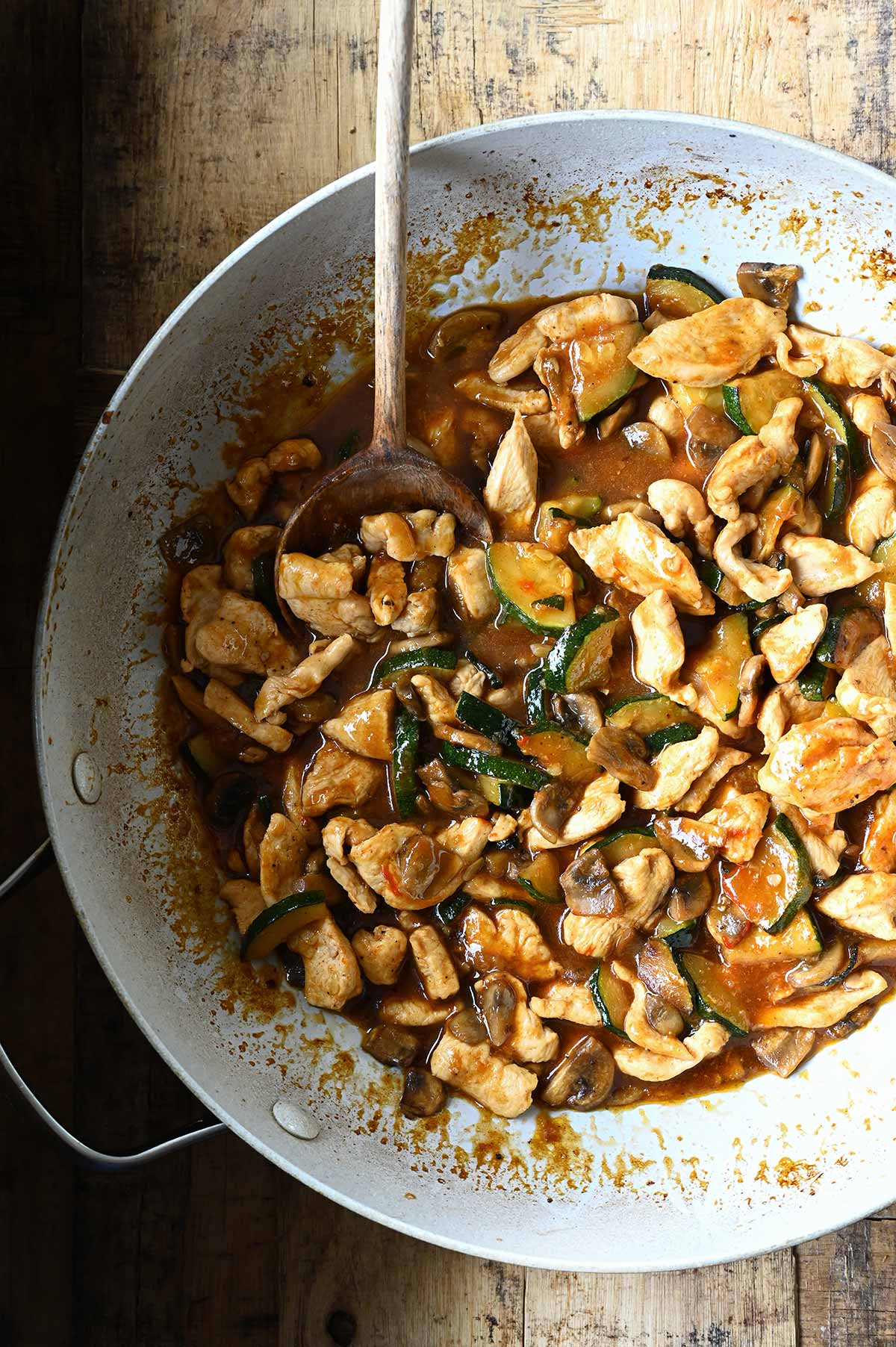 Add This Stir-Fry Recipe to Your Weekly Rotation
Stir-fries are a weeknight hero, offering a hassle-free path to a balanced dinner. In a single pan, proteins and veggies come together harmoniously, requiring nothing more than rice to complete the meal.
Among the stars of stir-fry ingredients, zucchini and mushrooms shine brightly. They're budget-friendly, readily available in abundance, and boast a longer shelf life compared to many other vegetables. That means you can keep them on hand without worrying about immediate use. Plus, their versatility makes them a daily dining option. When you're in need of a speedy, healthy dinner, simply toss them into your stir-fry for a satisfying dish.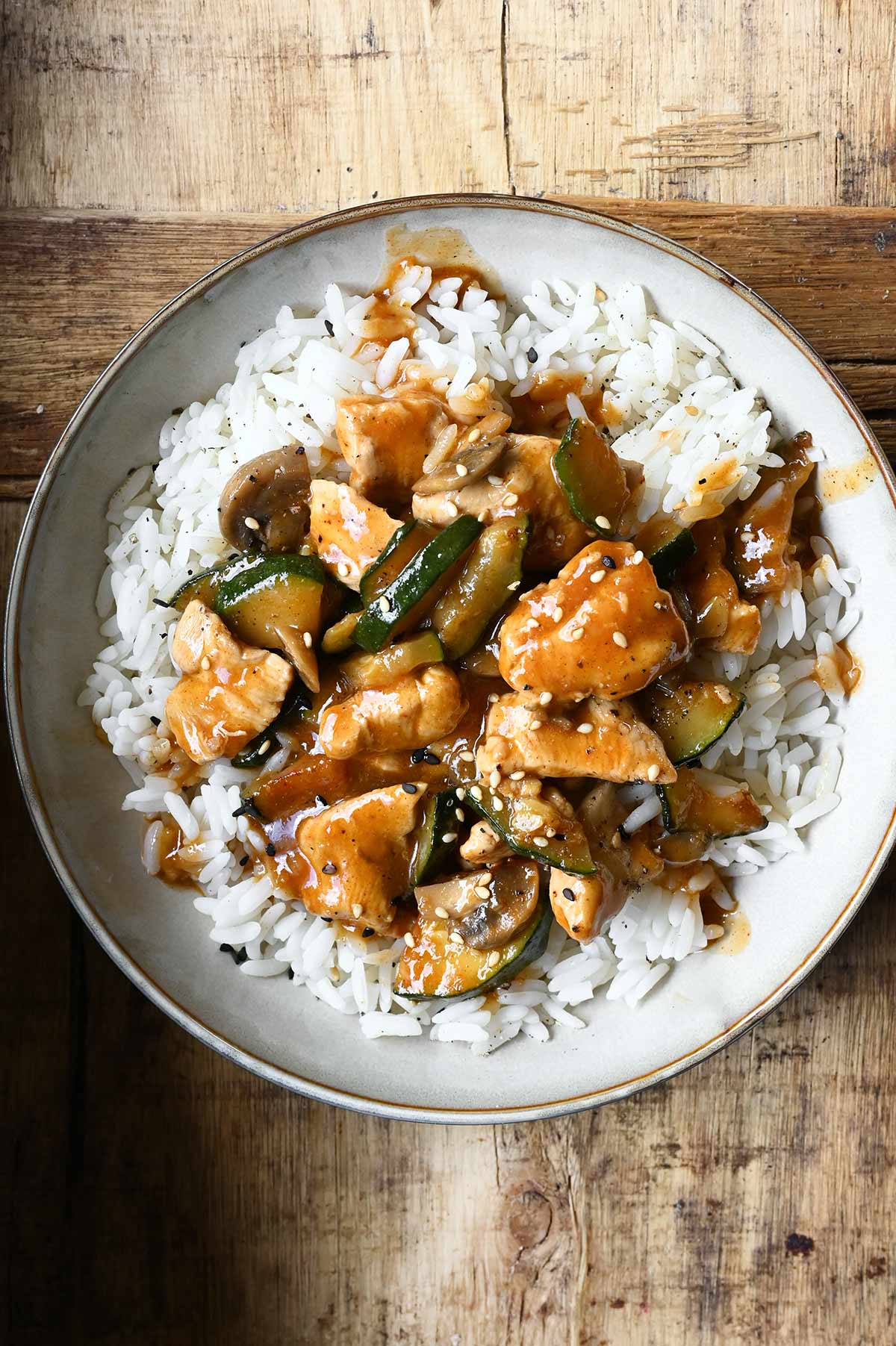 How To Make this Spicy Chicken Zucchini Stir-Fry
This dish is all about chicken, zucchini, mushrooms, and a flavorful sauce. Here's how to make it:
Cook the Chicken: Start by cooking chicken slices in a pan until they're done, then set them aside.
Veggies in Action: In the same pan, cook zucchini and mushrooms until they're just right.
Sauce it Up: Put the cooked chicken and veggies back in the pan and pour in a sauce made with chicken broth, soy sauce, mirin, sesame oil, oyster sauce, and a bit of cornstarch to thicken it.
Spice it Up: Add Gochujang paste, grated garlic, and ginger. Let everything simmer until the sauce is fragrant and thick, and the zucchini is tender but still has a little bite.
Serve and Enjoy: It's ready to eat! Serve it with rice or noodles. If you have sesame seeds, sprinkle them on top for a tasty touch.You'll love how the zucchini soaks up the nutty sesame oil and gets a spicy kick from the Korean chili paste. Just remember not to cook the zucchini too long; its crisp-tender texture makes this dish special.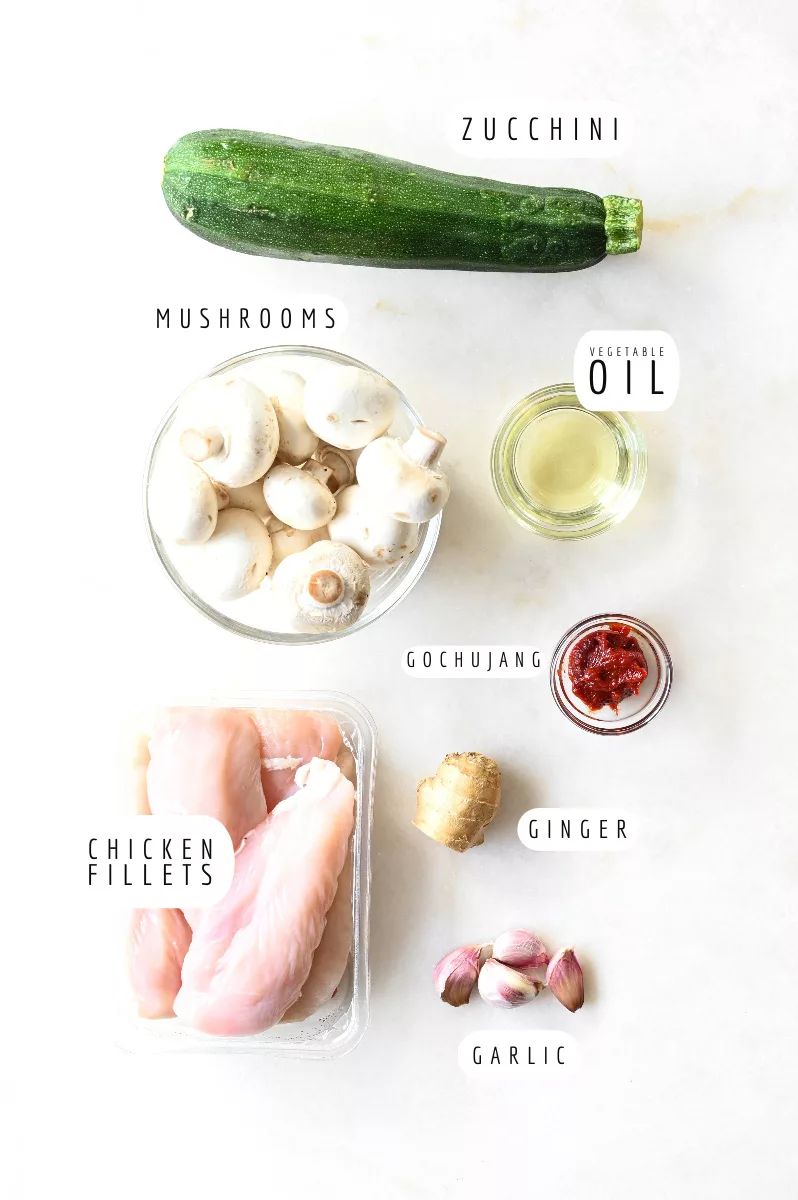 Ingredients and Substitutions
Chicken and Vegetables
Chicken: The star of the show. Skinless and boneless fillets are the classic choice, but feel free to experiment with chicken thighs, turkey, beef or ground pork for a unique twist.
Zucchini: Embrace the freshness of zucchini, a beloved favorite. Swap for snap peas, asparagus, bell peppers, carrots, bamboo shoots or broccolli.
Mushrooms: Add heartiness and an earthy flavor to this dish. Use any of your favorite mushrooms like cremini, brown buttons, portobello or shiitake. You can also use a mix.
Garlic: Elevate the flavors by grating the cloves. Add more if you're a garlic enthusiast.
Ginger: For a fiery, warming kick that leaves a memorable impression.
Oil: Any vegetable oil will do the trick for frying, keep it simple and convenient.
Gochujang Paste: Discover the magic of this Korean chili paste, offering a delightful heat and umami flavor. If you don't have Gochujang on hand, you can substitute with another chili paste, such as sriracha or sambal oelek. Adjust the spice level to your liking.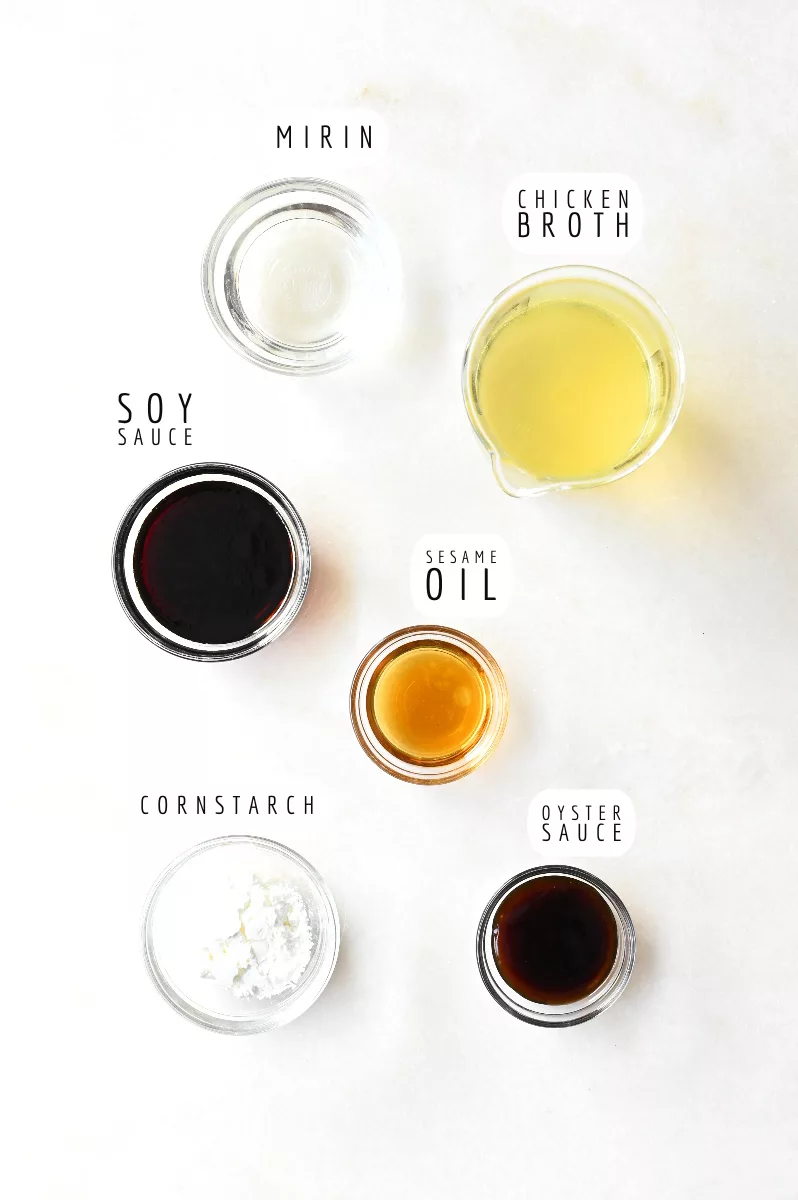 Sauce
Soy Sauce: Opt for low-sodium soy sauce to infuse your stir-fry with a savory saltiness, transforming it into a flavor sensation.
Oyster Sauce: A secret weapon for enhancing the depth of your dish.
Sesame Oil: Elevate your flavors with the nutty essence of toasted sesame oil, it's a must for this recipe.
Chicken Broth: A flavorful base for the sauce, you can also use vegetable broth.
Mirin: Balance the soy sauce with mirin, imparting a sweet-tangy note.
Cornstarch: Achieve the perfect sauce consistency by adding a touch of cornstarch.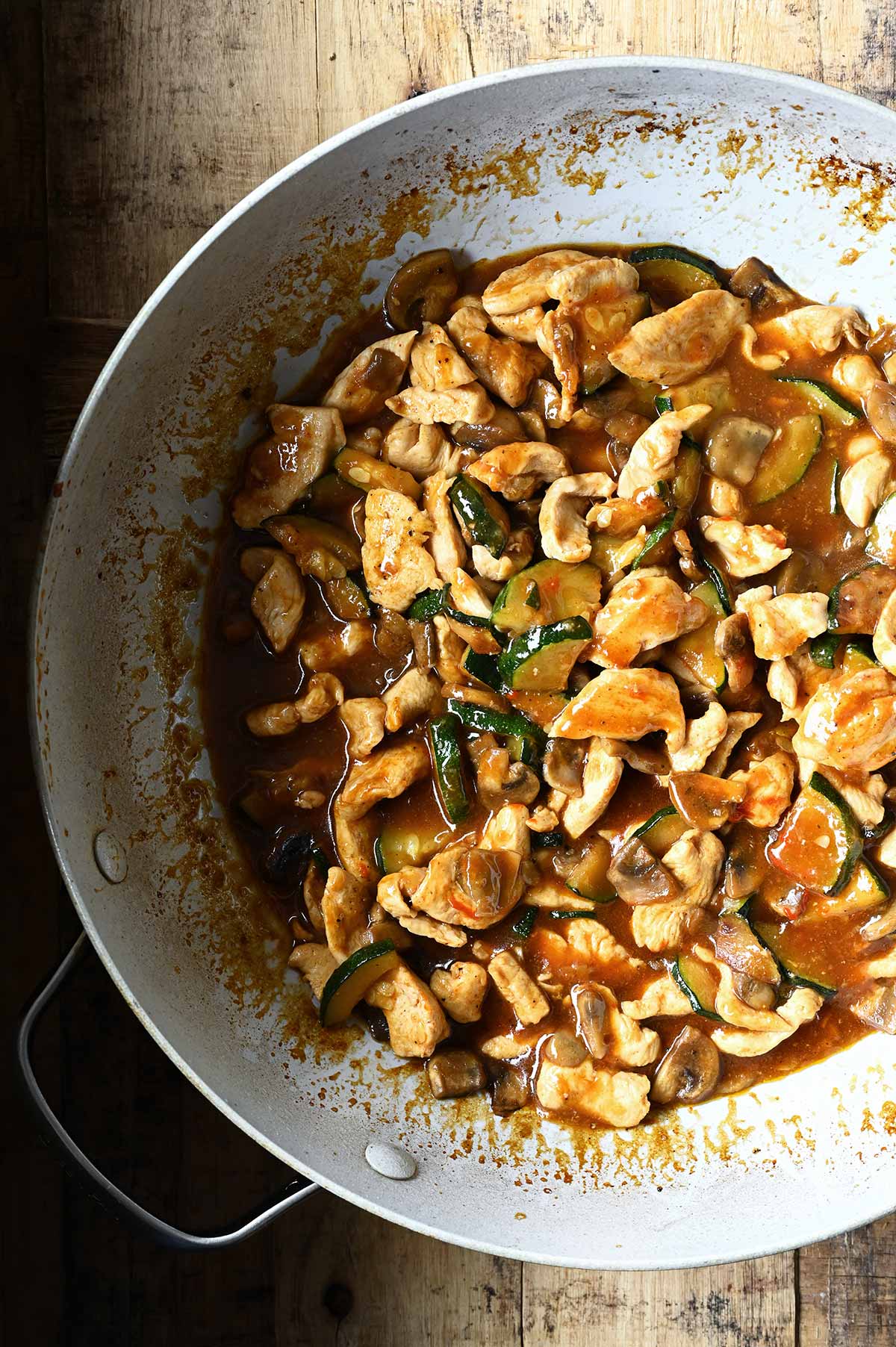 Helpful Tips
Topping Variety: Sprinkle sesame seeds, cashews, scallions, or chives for a tasty twist.
Pair it Up: Serve with steamed rice, stir-fried, rice noodles, or egg noodles – your choice!
Speedy Stir-Fry: Stir-frying is a speedy sport. Prep everything, and you'll be cooking for just 10 minutes. Easy, right?
Keep it Moving: Make sure to keep your ingredients dancing in the wok to avoid sticking and get that perfect cook.
Wok Wonders: Use a wide wok over high heat for the classic stir-fry magic. Don't overcrowd it, go batch by batch if needed.
Leftovers and Storage
Fridge Fresh: Your stir-fry stays delicious for 3-4 days in the fridge. The chicken absorbs the sauce for a flavor-packed lunch. Reheat on the stove for a tasty encore.
Freeze for Later: Got more than you can handle? No worries! Freeze those leftovers, and they'll stay good for up to 3 months. It's like a taste of the past when you're ready for it!
Cooking Video
Yield: serves 4
Spicy Chicken Zucchini Stir-Fry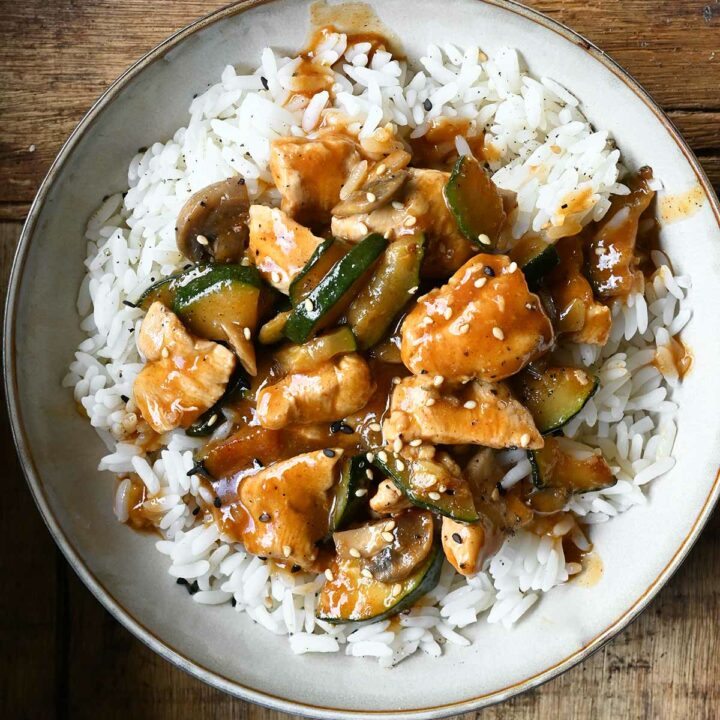 Ingredients
Chicken
2 tbsp vegetable oil, divided
1.1 pounds/500 g chicken fillets
1 zucchini, cut into thin half-moon slices
9 ounces mushrooms, sliced
1 tbsp Gochujang paste, more to taste
4 garlic cloves, grated
1 tsp grated ginger
Sauce
½ cup/120 ml low sodium chicken broth
3 tbsp low sodium soy sauce
1 tbsp oyster sauce
1 tbsp toasted sesame oil
2 tbsp mirin
2 tbsp cornstarch
Instructions
Get your prep done before you start to cook. Cut the chicken fillets into thin slices. Set aside.
Slice the mushrooms, cut the zucchini into ¼ inch/7 mm thick half-moon slices. Grate the ginger and garlic cloves.
Prepare the sauce by combining the ingredients in a jar or a bowl.
In a wok or large skillet, heat 1 tablespoon oil over high. Place chicken in a single layer and sear, undisturbed for 1 minute. Then start stirring and fry the chicken for 2 minutes until nearly cooked. Transfer into a clean bowl.
Add the remaining oil, place zucchini in a single layer and sear, undisturbed for 1 minute. Then start stirring and fry for 2 minutes. remove from wok.
Now add mushrooms, stir fry until they've released their moisture and turn golden brown. Return zucchini and chicken to the wok, stir to combine. Pour in the prepared sauce and toss to coat.
Stir in Gochujang paste, next add garlic and ginger. Simmer for 2-3 minutes, or until the sauce starts to thicken. Serve with rice. Enjoy!
Notes
Calories Per Serving: 387 kcal
Nutritional information is only an estimate. The accuracy of the nutritional information for any recipe on this site is not guaranteed.

//= __('Print recipe (no photos)', 'servingdumplings' );?> //= __('Print recipe (with photos)', 'servingdumplings' );?>