An ultra delicious stir-fry with tender beef and spinach. Thanks to some jalapeños, a little honey and a soy-based sauce, this dish is savory, sweet and spicy with a hint of ginger and garlic… super tasty! A true flavor bomb. Serve with rice or noodles and a crispy cucumber salad for a fantastic homemade takeout.
It's a delicious dish that's loaded with spinach and gives you just enough sweet, savory and spice in each bite. The sauce is made with sesame oil, brine from the pickled jalapeños, soy sauce, sriracha and a sticky drizzle of honey.
And this is how we do it. First of all, preparation is the key to make a great stir-fry. The actual cook time is fairly short and straight forward, it only takes 5 minutes. The beef is stir-fried until the edges are browned and the inside is juicy, then garlic, ginger and pickled jalapeño slices go in. Next we stir in the spinach and pour the sweet-spicy sauce. The honey and salty soy sauce mix with the beef's juices, glazing each piece, while the slices of jalapeño soak up the sauce.
Let me guide you through the recipe with this step-by-step VIDEO.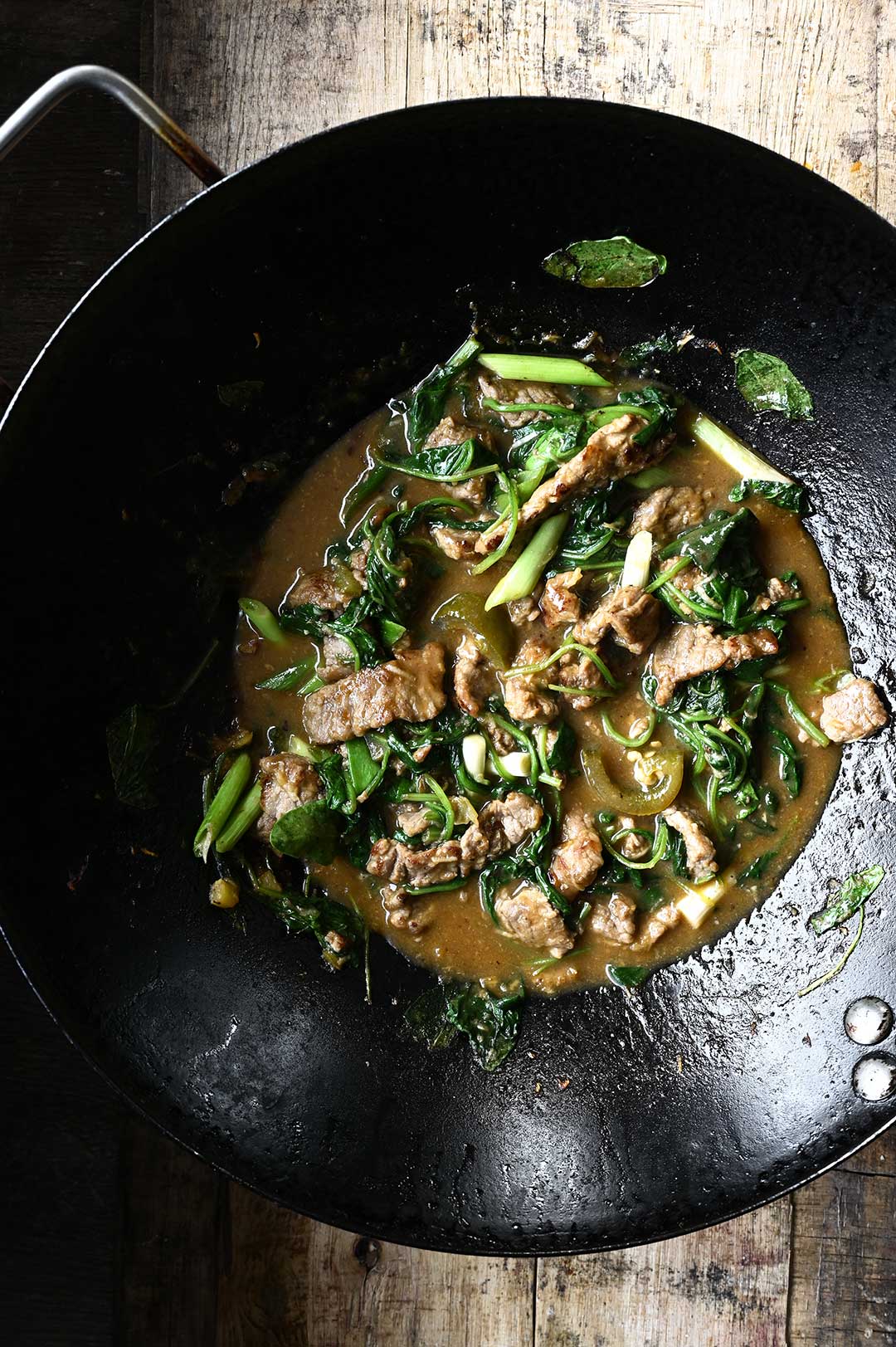 RECIPE NOTES
– adjust the spice level to your liking
– use chicken instead of beef
– instead of spinach, you can try broccoli, mushrooms, peppers, zucchini, carrots, bamboo shoots or sugar snap peas
– serve with steamed sushi rice, jasmine rice, rice noodles, brown rice or stir-fry noodles
More stir-fry recipes, please!
Garlic Chicken & Broccoli Stir-Fry with Peanuts
Eggplant and halloumi stir-fry
Sichuan shrimp stir fry with onions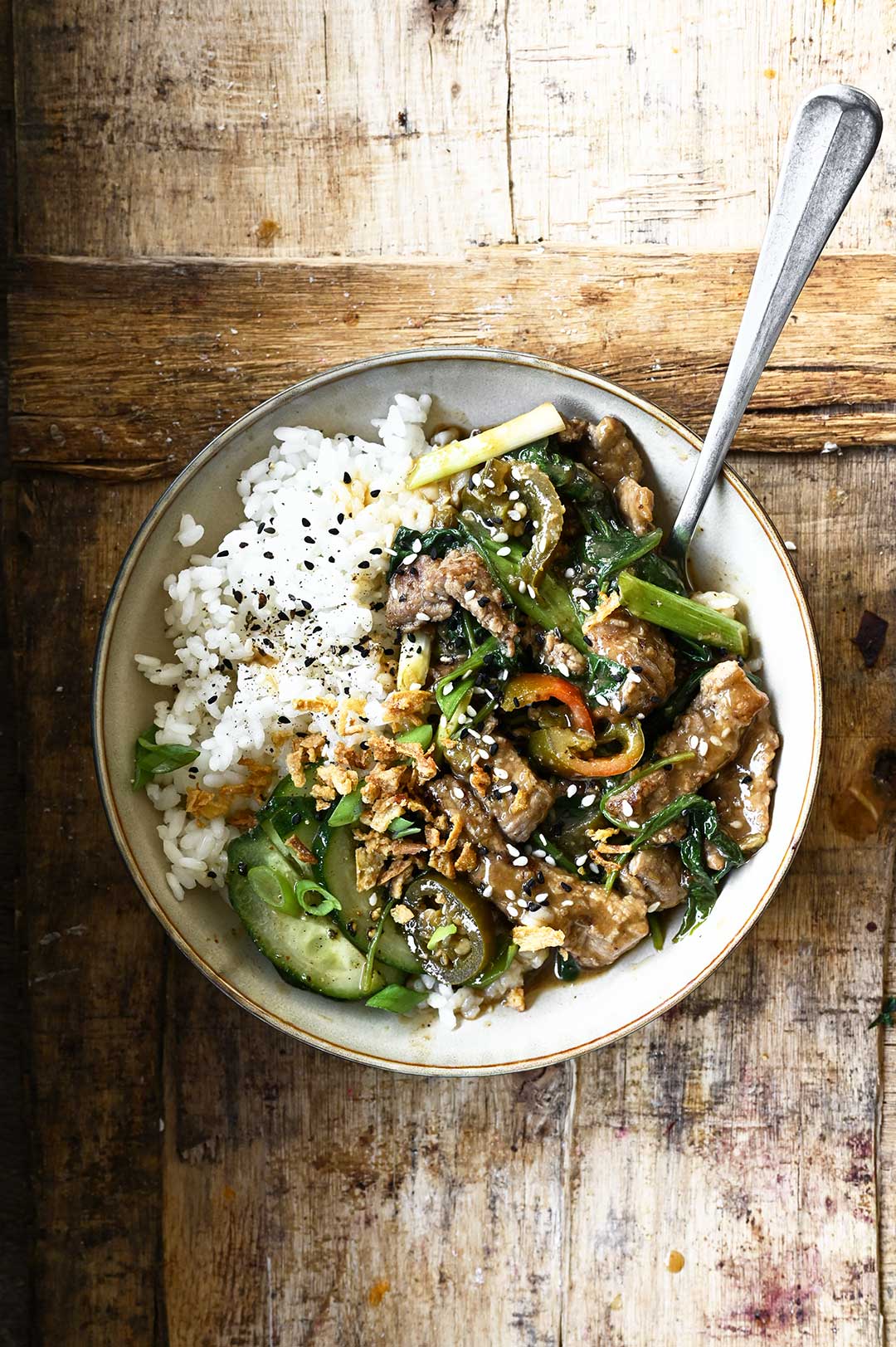 You need
300 g (10.5 oz) beef (flank steak, skirt steak, sirloin or rump steak)
150 g (5.3 oz) baby spinach
4 garlic cloves, minced
1 tbsp grated ginger
1 tbsp chopped pickled jalapeños (or 1 tsp, it depends on how much heat you can handle)
6 scallions, sliced
3 tbsp vegetable oil
sesame seeds, for serving
steamed sushi rice, for serving
crispy fried onions, for serving
cucumber salad, for serving
beef marinade
2 tbsp corn starch
2 tbsp soy sauce
1 tbsp honey
1 tbsp vegetable oil
1 tbsp fish sauce
stir-fry sauce
1/2 cup chicken broth
1 tbsp honey
3 tbsp soy sauce
1 tbsp toasted sesame oil
1 tbsp brine from the pickled jalapeños, more if you can handle the heat
1 tsp sriracha (less or more, you're the chef)
1/4 tsp white pepper
1 tsp corn starch
How to
Let me guide you through the recipe with this step-by-step VIDEO.

Cut the beef in really thin slices across the grain. Combine with the marinade. Set aside and let marinate for at least 15 minutes.
In the meantime, combine the ingredients for the sauce in a small bowl.
Prepare all the other ingredients and steam the rice.

Heat the oil in a wok over high heat until smoking-hot and oil starts to shimmer. Add the beef, cook undisturbed until the beef begins to sear, about 30 seconds. Then stir-fry for 1 minute until the beef is lightly browned but not cooked through. Add garlic, ginger and jalapeños. Stir-fry for 30 seconds.
Add spinach, stir until it starts to wilt, 30 seconds. Pour the sauce, stir-fry for 30 sec up to 1 minute until the sauce starts to thicken. Stir in scallions. Done.

Serve immediately with rice and a fresh cucumber salad. Sprinkle with sesame seeds and fried onions. Enjoy!

//= __('Print recipe (no photos)', 'servingdumplings' );?> //= __('Print recipe (with photos)', 'servingdumplings' );?>