Spanish potato soup with chorizo. This warm, hearty meal is the perfect treat to finish your day. Made with tender creamy potatoes, soft bell pepper and smoky chorizo. Serve with a side of crusty bread for a bowl of soul-soothing comfort.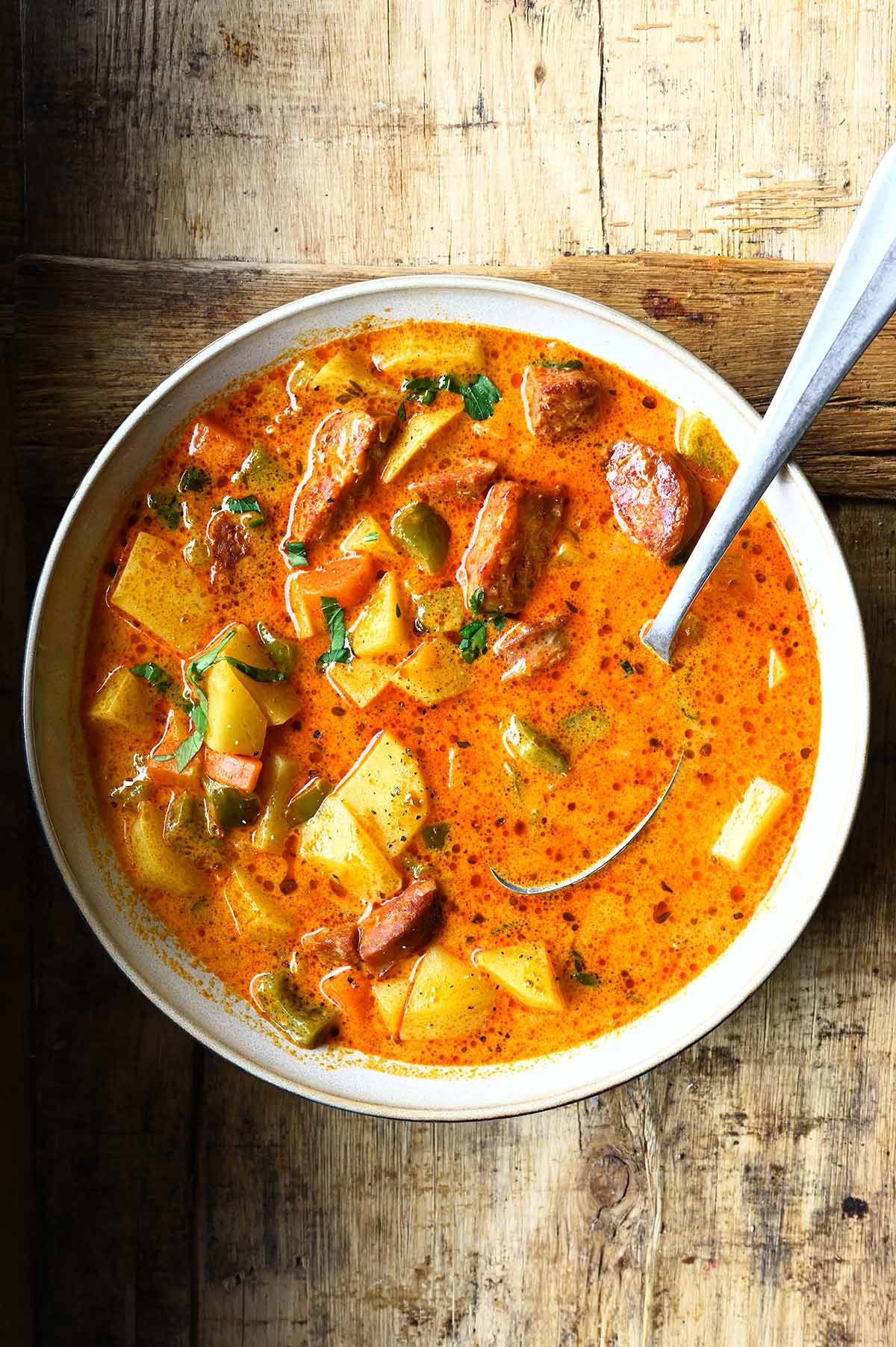 Why You'll Love this Potato Soup Recipe
To make this potato soup, we mostly rely on pantry staples, it's a comforting soup that's as easy to make as it is to love. What really flavors this soup is the Spanish chorizo and some simple aromatics. You can add other spices and herbs if you like, but keeping it simple, is what makes this soup so delicious.
How To Make Spanish Potato Soup with Chorizo
This creamy, warm and smoky Spanish potato soup is comfort food at its finest. Here's how it's done. We start by cooking the chorizo to release its smoky flavors, then add the bell pepper followed by garlic, onion and carrot. We flavor the soup with cumin, oregano, cayenne pepper and paprika. Next we throw in the potatoes and finally pour in the broth. Let everything simmer for 15 minutes.
Add some cream and parsley, and serve with warm bread for a complete meal. So simple and so good!
Let me guide you through the recipe with this step-by-step VIDEO.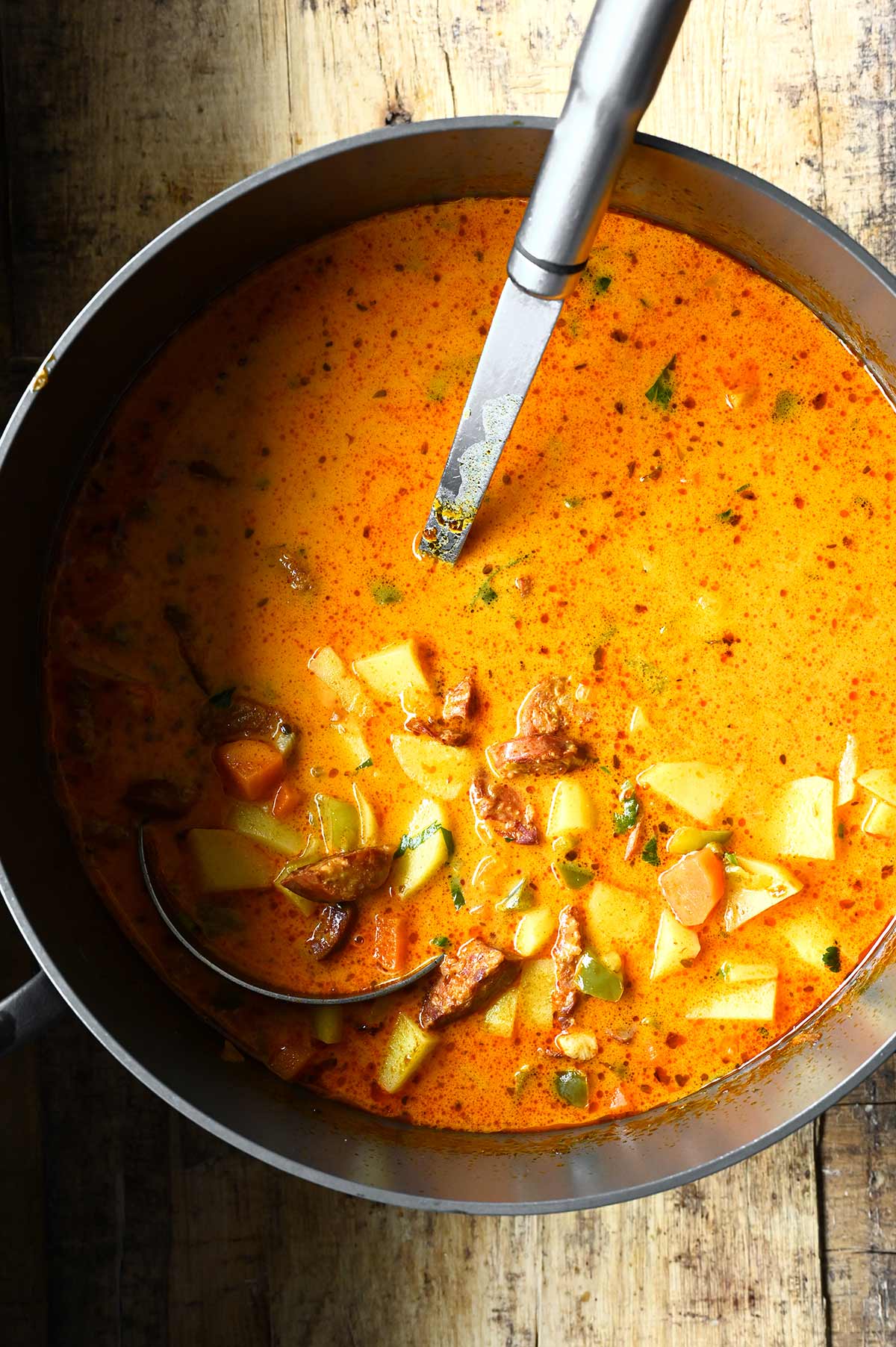 Why And How to Layer Flavors?
Layering flavors is a technique you can easily use at home. It's all about combining and deepening flavors in a dish with spices, vegetables, meat and liquids like wine or broth. Layering the ingredients and cooking them one by one gives them time to soften and soak up the spices, creating depth of flavor.
In this recipe, we start by cooking the chorizo in olive oil, to release its smoky paprika flavor, then add bell pepper followed by garlic, onion and carrot. They slowly release all their flavors and melt together enhancing each other's depth and complexity. Your soup will taste complex, not flat.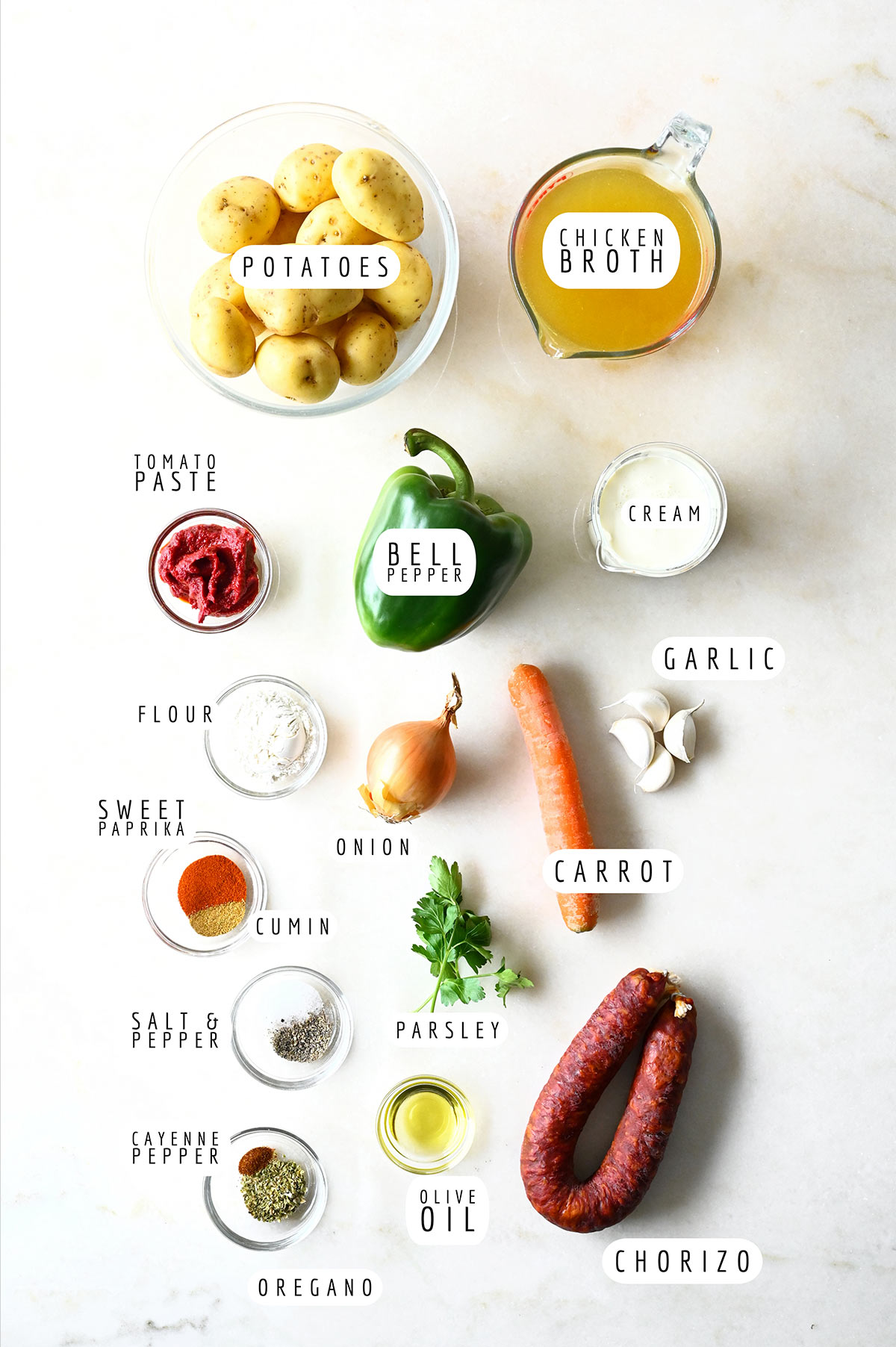 Ingredients and Substitutions
Olive Oil: To cook the chorizo.
Chorizo: The base of this soup is this Spanish sausage which adds a huge punch of flavor all by itself. I used the mild version for this soup, but you can also use a spicy variety.
Onion: Yellow onion is my choice for this soup, it will become sweet when cooked down and boosts the flavor of the soup.
Garlic: Use fresh garlic, not pre-minced. Use as much as you like, this recipe can easily handle 6 cloves.
Vegetables: Carrot and bell pepper. You can add more carrots or swap green bell pepper for red.
Potatoes: You want to use potatoes that are a bit more waxy than starchy here. They will hold their shape better and won't fall apart.
Seasoning: Ground cumin, dried oregano, sweet paprika, black pepper, salt and cayenne pepper. You can also use smoked paprika.
Flour: To thicken the soup.
Chicken broth: To elevate the overall taste, the flavors would never be the same if we'd use water and salt. If you have some homemade chicken broth in the freezer, use it!
Tomato Paste: Umami!
Cream: Heavy cream is what gives this soup it's rich and velvety texture.
Parsley: Fresh herbs are key for flavor.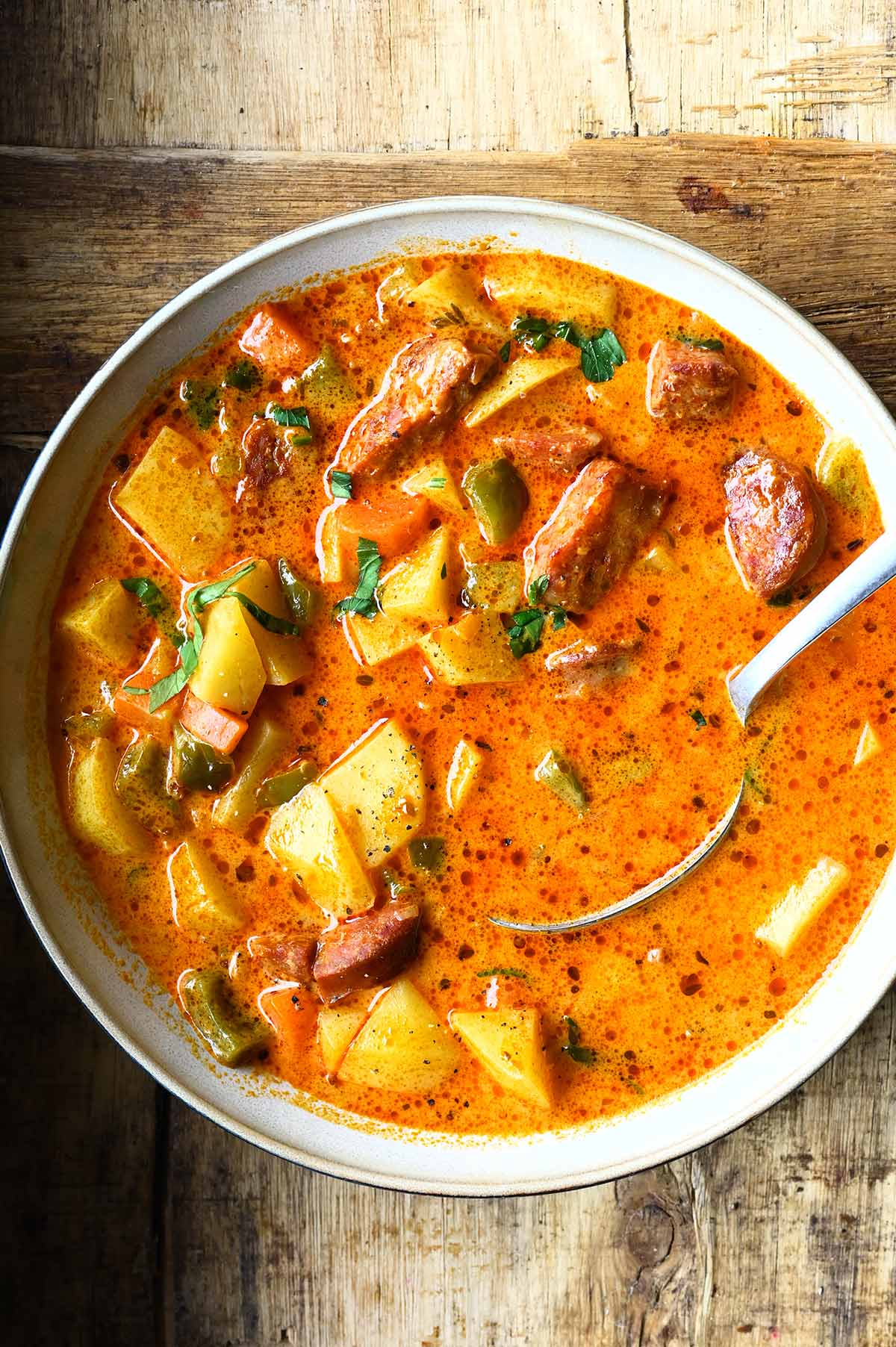 Helpful Tips
Can't find Spanish chorizo? Use smoked bacon, add more paprika and cayenne pepper.
Want more veggies? Go for it! You can add more carrots, zucchini, red bell pepper, white beans, green peas or spinach.
For a vegetarian version, simply omit chorizo and add a teaspoon smoked paprika.
To make this soup lighter, leave out the cream.
Make ahead: This is a perfect make ahead recipe! Go ahead and make a big pot of this soup, and dinner will be ready for at least a couple of days!
Storing: You can refrigerate the soup in an airtight container for up to 3 days.
To freeze: Put the soup into an airtight container and store in the freezer for up to 3 months. To reheat, let it thaw overnight in the refrigerator then heat it on the stove. Add a splash of water, if needed.
Cooking Video
Yield: serves 4
Spanish Potato Soup with Chorizo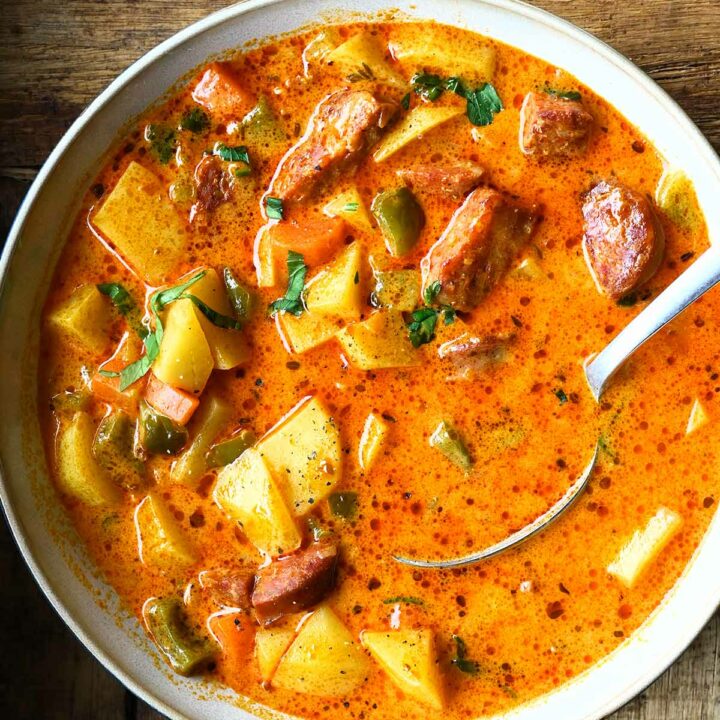 Enjoy this warm, hearty dish with creamy potatoes, bell pepper, and smoky chorizo. Serve with a side of crusty bread for a bowl of soul-soothing comfort.
Ingredients
1 tbsp olive oil
9 ounces/250 g Spanish chorizo, spicy or mild, sliced
1 green bell pepper, deseeded and chopped
1 medium yellow onion, finely chopped
4 garlic cloves, minced
1 carrot, peeled and chopped
1 tsp each: dried oregano, ground cumin, sweet paprika, salt, black pepper
¼ tsp cayenne pepper
2 tbsp double concentrated tomato paste
2 tbsp flour
1.7 pounds/750 g waxy potatoes, peeled and cut into bite-sized pieces
6 cups/1.2 L chicken broth
¾ cup/200 ml heavy cream
2 tbsp chopped parsley
Instructions
Get your prep done before you start cooking. Peel and cut the potatoes into bite-sized pieces. Deseed, cut into strips and chop the bell pepper. Peel and chop the carrot. Finely chop the onion. Mince the garlic cloves and chop the parsley.
Remove the casing from the chorizo if needed, cut lengthwise in half and slice.
Heat oil over medium high in a large pot. Add chorizo and cook for 3 minutes until it starts to brown. Add bell pepper, cook for 2 minutes. Then add onion and garlic, cook for 2 minutes more. Stir in carrot, salt, black pepper, cumin, oregano, paprika and cayenne pepper. Cook for another 2 minutes.
Add tomato paste, stir until combined. Add flour, stir until incorporated. Add potatoes and pour in broth. Bring to a boil, cover, reduce heat to medium low and simmer for 15 minutes or until the potatoes are tender.
When ready, add cream and parsley. Cook for 3 minutes. Taste and adjust salt. Serve with some crusty bread. Enjoy!
Nutrition Information:
Yield:
6
Serving Size:
1
Amount Per Serving:
Calories:

570
Total Fat:

31g
Saturated Fat:

14g
Trans Fat:

0g
Unsaturated Fat:

15g
Cholesterol:

79mg
Sodium:

1433mg
Carbohydrates:

56g
Fiber:

6g
Sugar:

7g
Protein:

19g
Nutritional information is only an estimate. The accuracy of the nutritional information for any recipe on this site is not guaranteed.