Spanish garlic shrimp. Quick, easy, and bursting with garlicky flavors. Finished with sherry and a squeeze of lemon for a ridiculously delicious meal in under 15 minutes. This dish is so impressive, it'll make you feel like a kitchen rockstar, even though it's a breeze to make. Get ready to be blown away!
Prepare yourself for a Spanish seafood sensation called "gambas al ajillo"! This tapa dish will satisfy your cravings for tasty shrimp. Picture succulent shrimp seared to perfection in a garlicky butter sauce. It's a flavor combo that's both bold and delicate, hitting all the right notes.
The sweetness of the shrimp pairs perfectly with a dry sherry, while the pan sauce is perfect for mopping up with some crusty bread. These juicy, tender shrimp have a satisfying crunch, and the infused garlic butter sings with layers of mouthwatering flavors. It's simply beyond delicious!
To take it up a notch, we add a touch of dry sherry and chili flakes. These subtle additions elevate the dish and make it even more enjoyable. Whether you're a seafood lover or a garlic enthusiast, you're in for a treat with these Spanish garlic shrimp. They make a fantastic tapa to share with friends and family, or you can enjoy them as a main course alongside a simple side salad. And the best part? This recipe comes together in just 15 minutes. So get ready to impress your taste buds in no time!
Let me guide you through the recipe with this step-by-step VIDEO.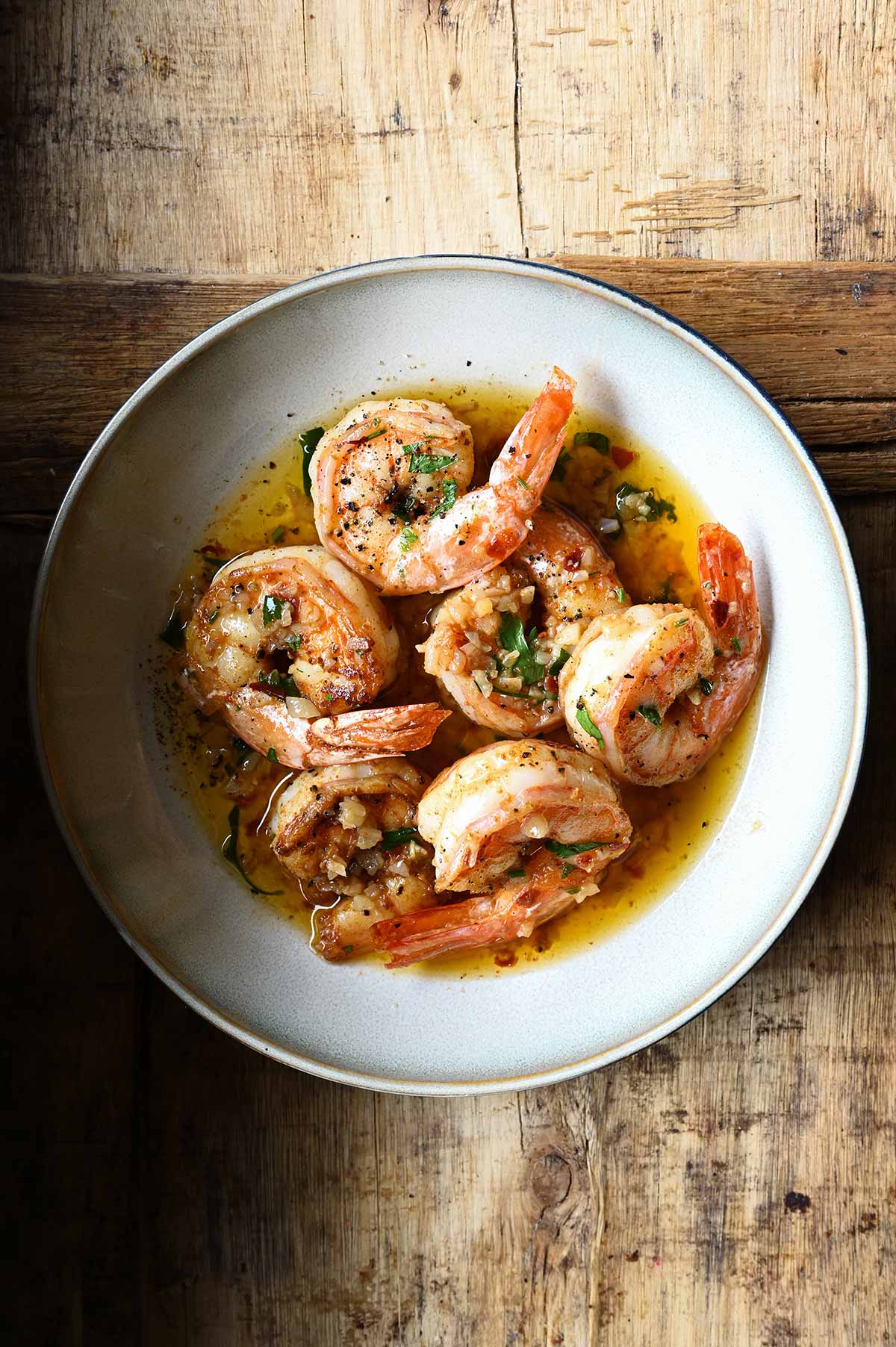 Why We Add Sherry to Spanish Garlic Shrimp?
Sherry is a fortified wine from Spain, is the secret weapon in this Spanish garlic shrimp recipe. With its distinctive nutty flavor and various sweetness levels, sherry brings a lot to the table. It's not just a random addition, it plays a crucial role in elevating the dish.
When we talk about depth and complexity, sherry delivers. It enhances the natural flavors of the shrimp, giving them an extra oomph. The rich and tangy notes of sherry perfectly balance the garlicky flavor. Unlike other fortified wines, sherry isn't overly sweet. Its dry nature adds a savory touch, contributing to the overall elegance and depth of the dish.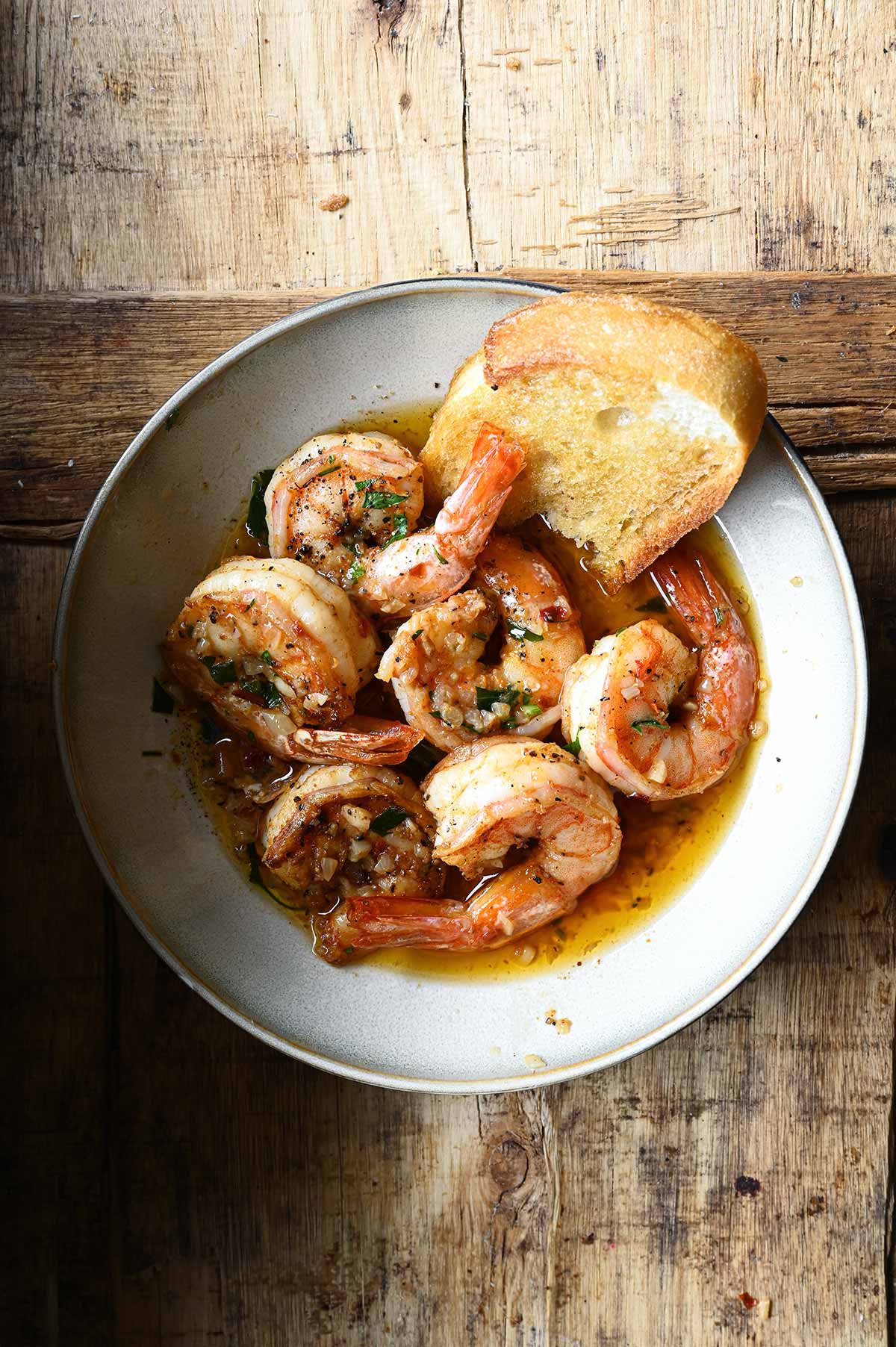 Can I use White Wine Instead of Sherry in Spanish Garlic Shrimp?
In a pinch, you can swap sherry for white wine in your Spanish garlic shrimp recipe, but it will slightly change the flavor. Sherry, a fortified wine (which means it has been strengthened by the addition of a distilled spirit) with a nutty and slightly sweet taste, brings its own unique character. White wine, on the other hand, has a lighter and more acidic flavor.
If you go for white wine, opt for a dry one like Sauvignon Blanc, or Pinot Grigio. Keep in mind that the end result won't be identical to using sherry, but it can still be scrumptious in its own way. Feel free to play around and adjust the recipe to suit your preferences.
Now, if you're looking for a non-alcoholic alternative, I've got you covered. Mix 2 tablespoons of apple cider vinegar with 2 tablespoons of apple juice. This combo can help replicate some of the flavors and acidity that sherry brings to the dish.
Remember, whether you go for white wine or an alcohol-free option, embrace the adventure and make it your own!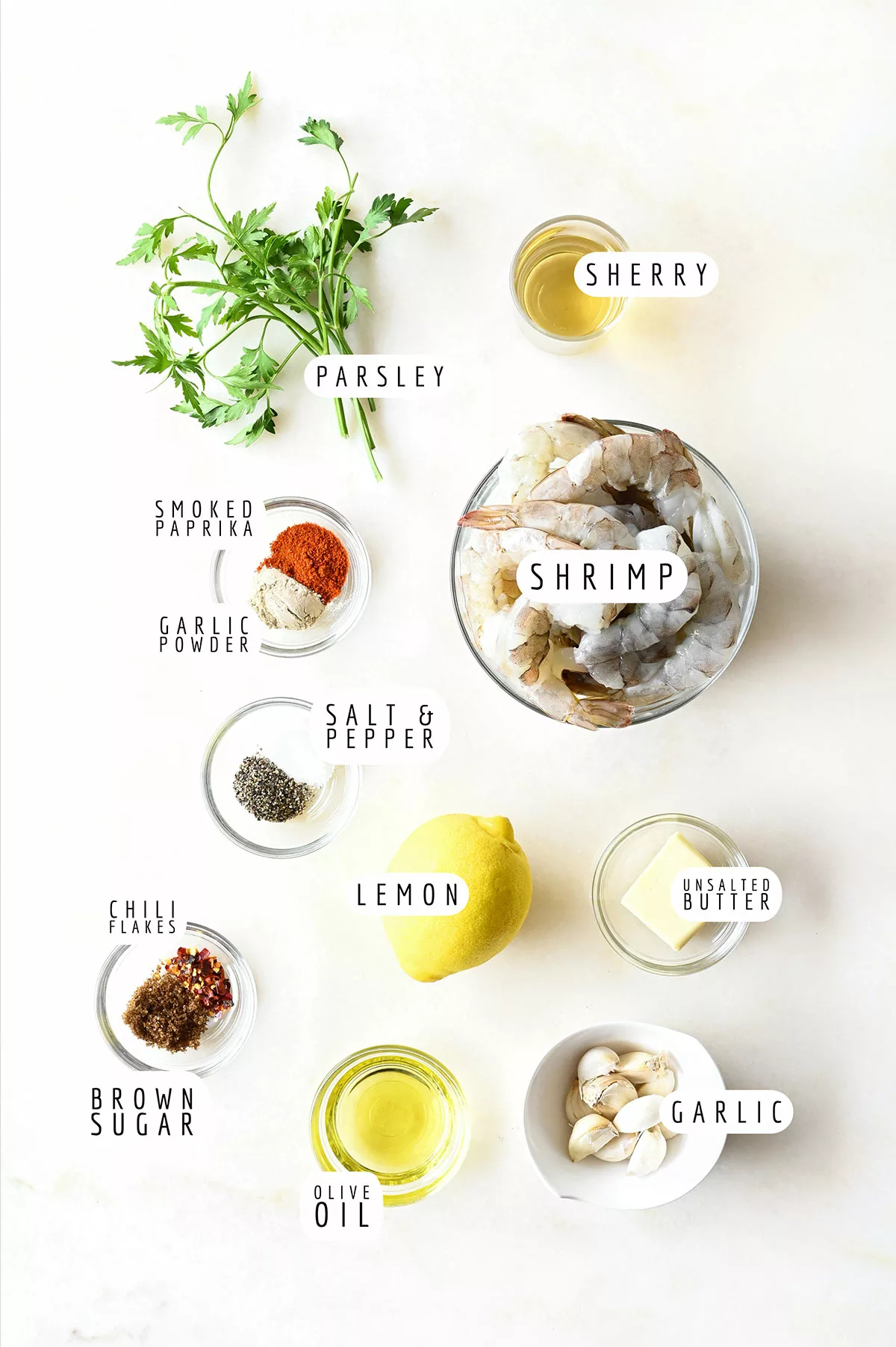 Ingredients, Tips & Substitutions
This dish is an absolute must-try. Trust me, it's a game-changer! Whip it up at home, and you'll be amazed at how something so delicious can be so easy to make. Brace yourself for the ultimate dinner party hit, because once your friends taste this, they'll be begging for your recipe. Don't forget to drop a comment and let me know how your Spanish garlic shrimp adventure turned out!
Shrimp: Use frozen shrimp, (just be sure to thaw first), with the larger size, 16-20 per pound.
Oil and Butter: To sear the shrimp and create the sauce.
Garlic: Lots of garlic!! If you love it as much as I do, you can easily add 5 cloves more.
Sherry: Adds depth and richness with its nutty flavor and sweetness. Swap for white wine if you can't find it.
Seasoning: A mix of salt, black pepper, smoked paprika and garlic powder. We're also adding brown sugar and chili flakes.
Lemon Juice and Parsley: For a fresh, bright addition.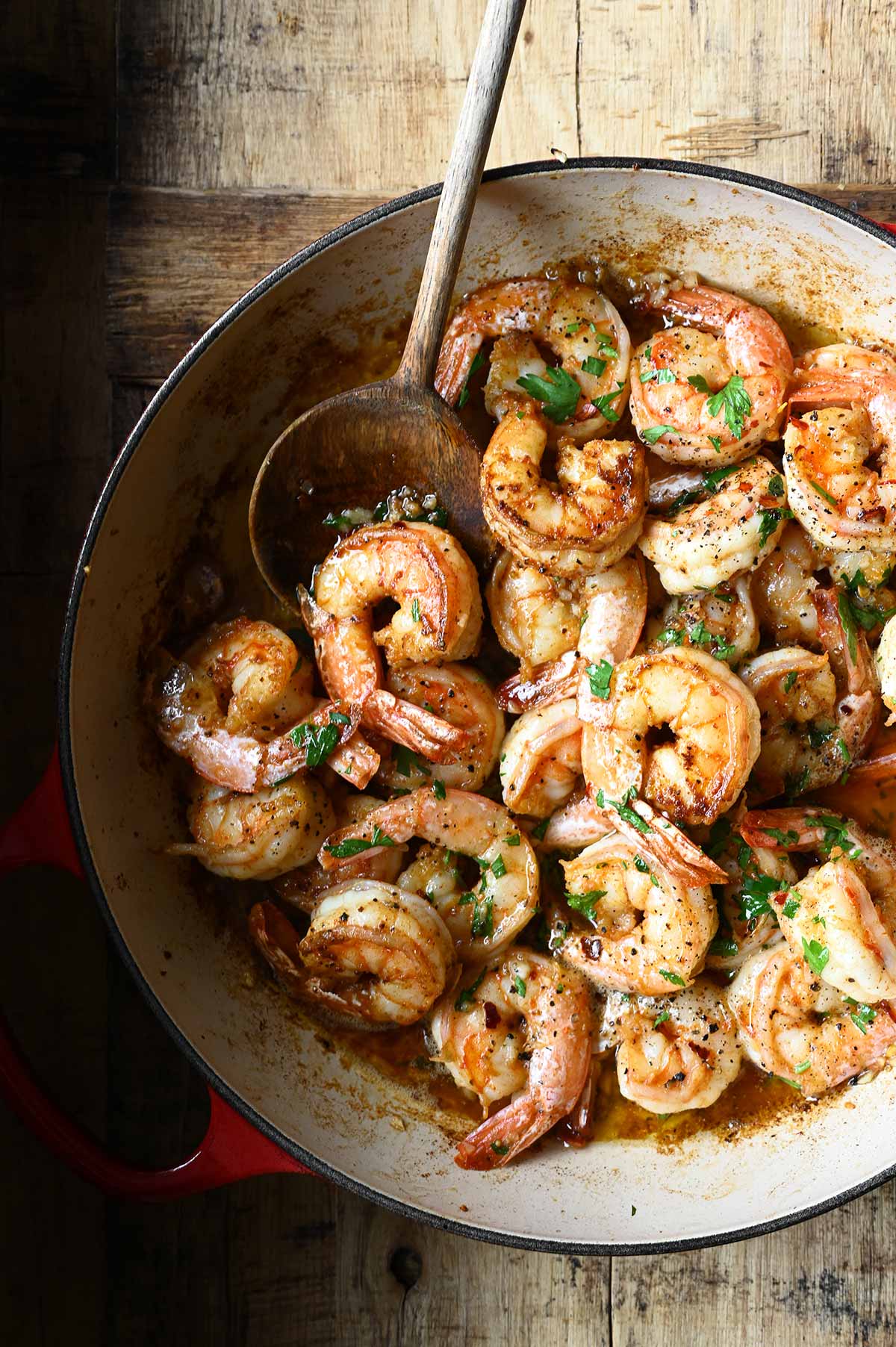 Recipe Notes
Serve as tapa, a starter, or as an appetizer with crusty bread.
You can also serve it as a main course with bread or rice and a simple leafy side salad drizzled with a light vinaigrette.
Storage: Let shrimp cool completely and transfer with sauce to an airtight container. Keeps well in the fridge for up to 2 days.
To freeze: Transfer shrimp to a freezer-safe container or bag. Freezes for up to 3 months.
Reheating tip: Heat shrimp in a skillet over medium heat. Add chicken broth for moisture and flavor. Cook for 2 minutes until heated through.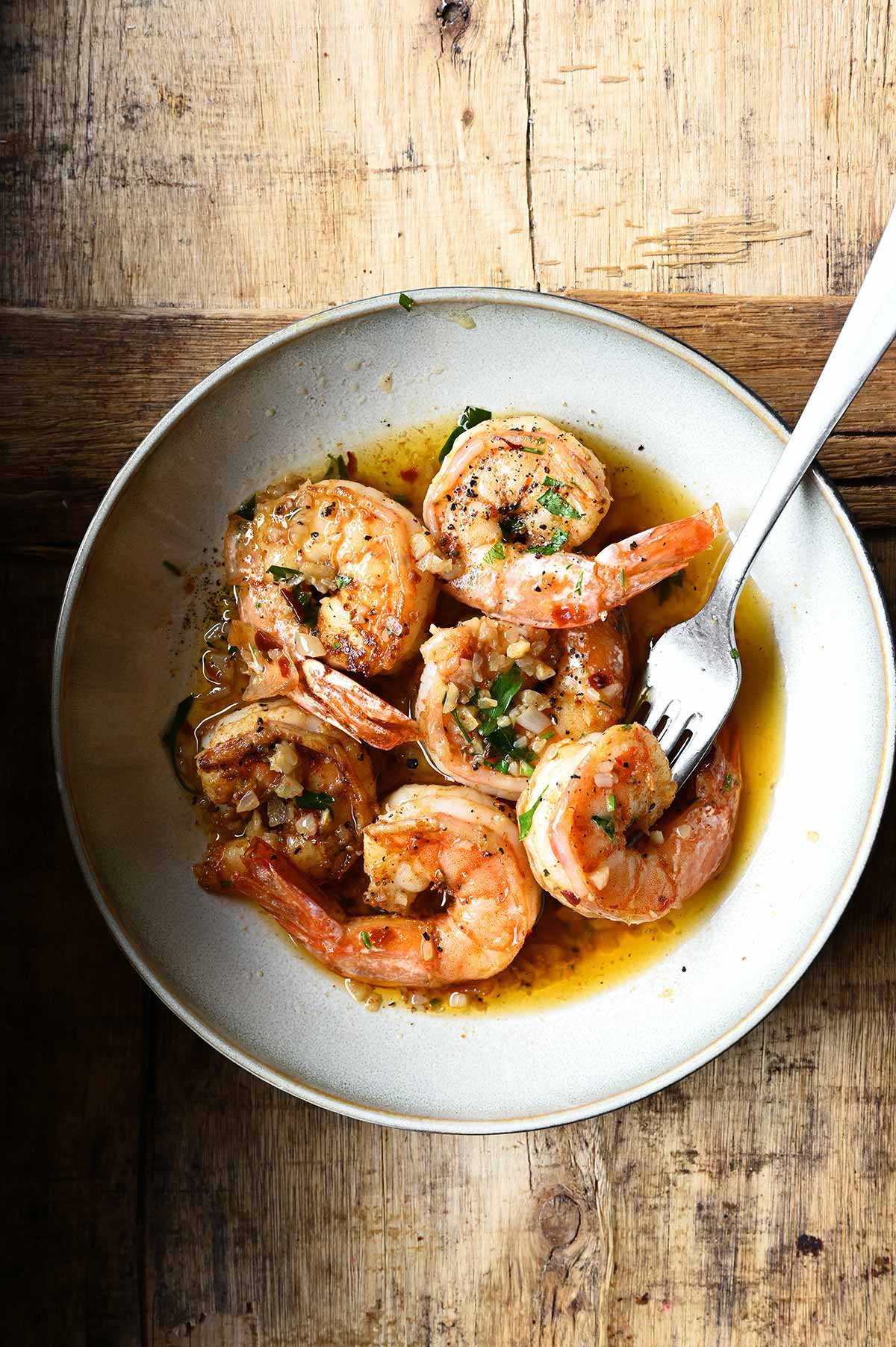 Try These Next
Cooking Video
Yield: serves 4
Spanish Garlic Shrimp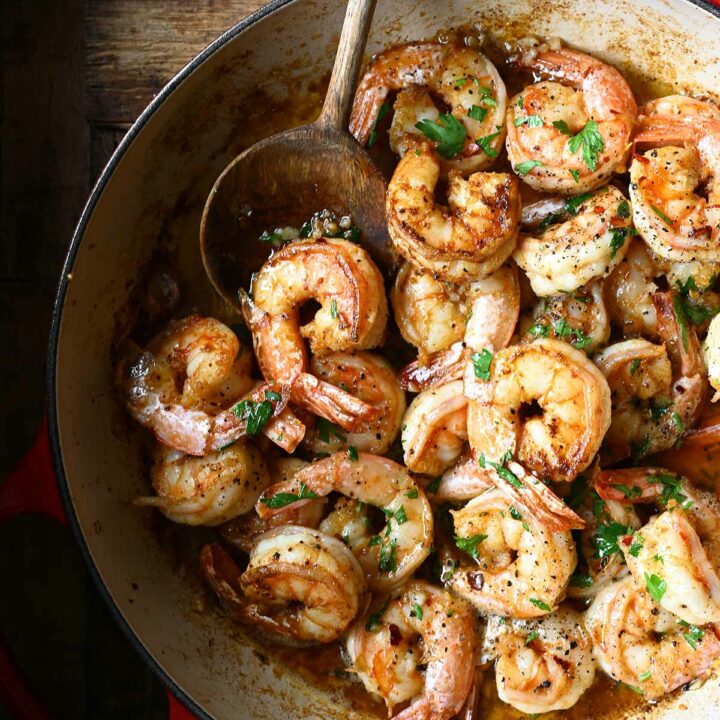 Ingredients
3 tbsp olive oil
1 tbsp unsalted butter
1.1 pounds/500 g shrimp, peeled and deveined
½ tsp each: salt, black pepper
1 tsp each: smoked paprika, garlic powder
10 garlic cloves, finely minced
½ tsp brown sugar
½ tsp chili flakes, more to taste
4 tbsp dry sherry
2 tbsp lemon juice
2 tbsp chopped parsley
Instructions
Get your prep done before you start cooking. Thaw, peel and devein the shrimp. Pat them dry with a paper towel. Season with smoked paprika, garlic powder, salt and pepper. Toss until coated and set aside.
Finely mince the garlic and chop the parsley.
Heat oil and butter over medium high in a large skillet. Place shrimp in a single layer and sear for 1 minute. Turn and sear for 30 seconds. Add garlic and cook for 1 minute while stirring frequently. Stir in brown sugar and chili flakes.
Pour in sherry and simmer for 30 seconds while stirring with a wooden spoon to deglaze the skillet. Add lemon juice and parsley, stir to combine. Finish off with freshly ground black pepper. Serve!
Notes
Calories Per Serving: 292 kcal
Nutritional information is only an estimate. The accuracy of the nutritional information for any recipe on this site is not guaranteed.

//= __('Print recipe (no photos)', 'servingdumplings' );?> //= __('Print recipe (with photos)', 'servingdumplings' );?>