Spaghetti with clams and pancetta in a garlicky white wine sauce makes for a fast and fancy pasta dinner. Clams and pancetta are a power duo, the salty-sweet pancetta adds a layer of flavor to the briny juices and creates a delicious, effortless sauce.
It's easy to make and impressive to serve. Don't forget to dip some bread in the briny broth at the bottom of your bowl. You can thank me later!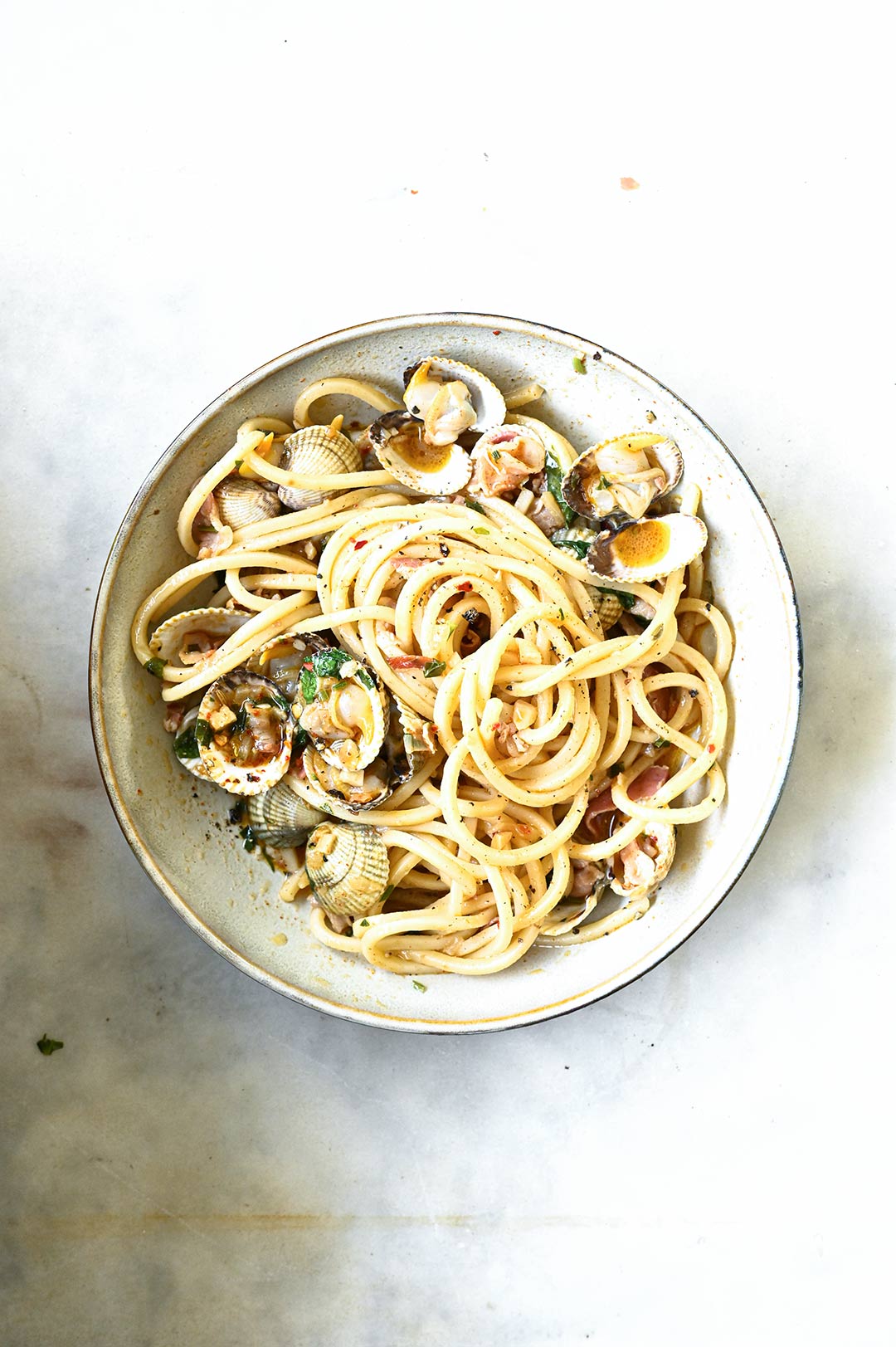 If you've never made pasta with clams before, you'll be surprised how fast and easy it is. It only takes 30 minutes to make, but most importantly, it's tasty and satisfying. One of my favorite meals, especially in summertime.
This dish features garlicky, buttery spaghetti and easy-to-cook clams, it looks and tastes luxurious. Ideal for a quick weeknight meal or a spontaneous outdoor evening with friends, family and food.
The clams and pancetta are cooked together. Then spaghetti joins the crowd to get soaked in the rich, briny sauce the shellfish create. Serve this pasta, garnished with plenty of fresh parsley to add color and just a tiny bit of fresh contrast.
Let me guide you through the recipe with this step-by-step VIDEO.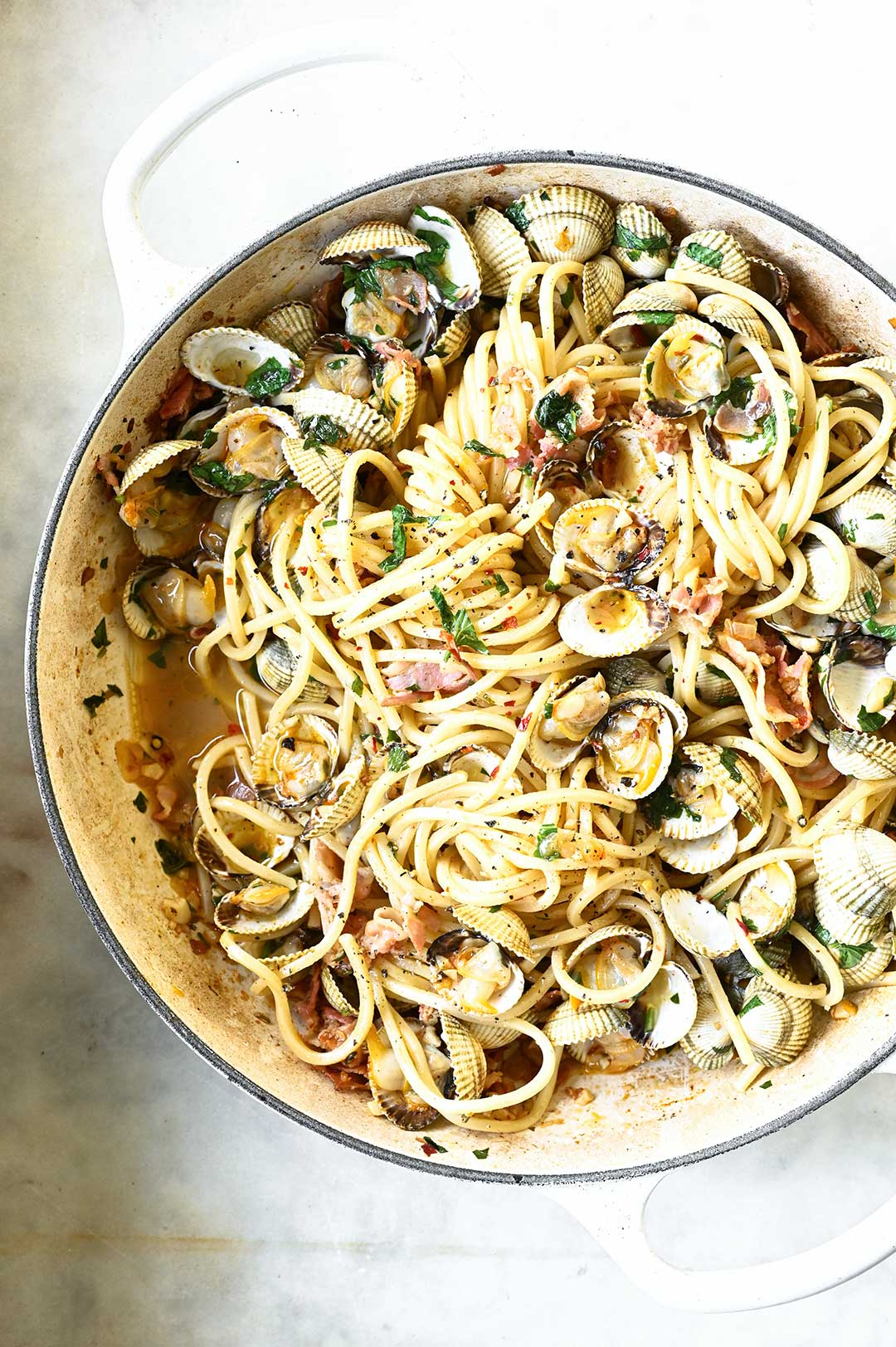 RECIPE NOTES
it's a versatile recipe, you can swap the spaghetti for linguine or other pastas
substitute shrimp for clams
use chorizo or bacon instead of pancetta
serve with a side salad, like a simple tomato salad or some lettuce drizzled with lemon juice and olive oil
if your clams are looking dirty, soak them in cold salted water for 20 minutes to filter out the sand. Then, scrub the outsides against each other to remove any dirt. Throw away any clams that don't open after you're done cooking
for this recipe, I used littleneck clams, which is the smallest and sweetest variety. But you can use any clams you have available
most importantly, don't forget to dip some bread in the briny broth at the bottom of your bowl. You can thank me later!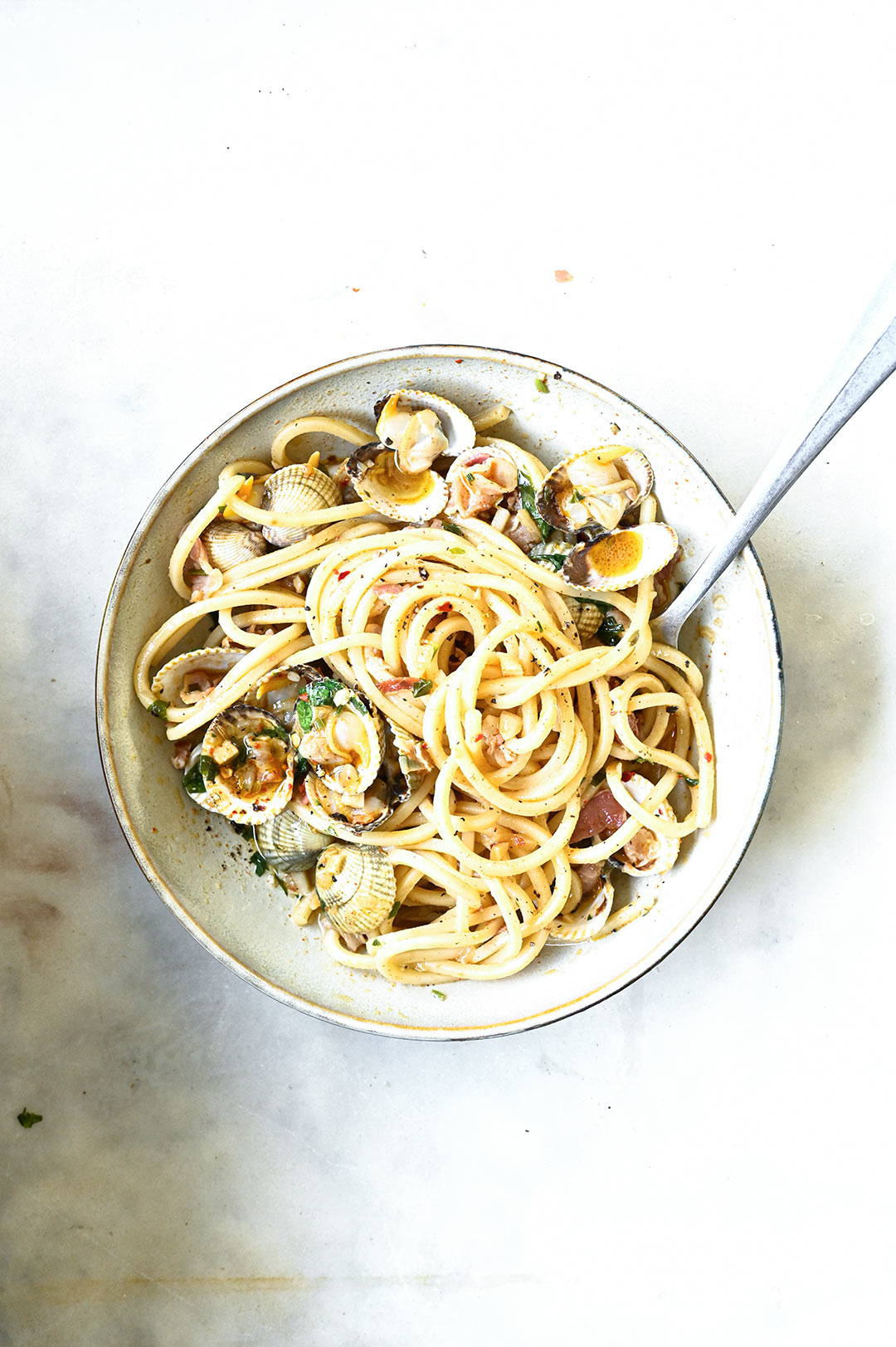 More seafood, please!
Recipe Video
Yield: serves 4
Spaghetti with Clams and Pancetta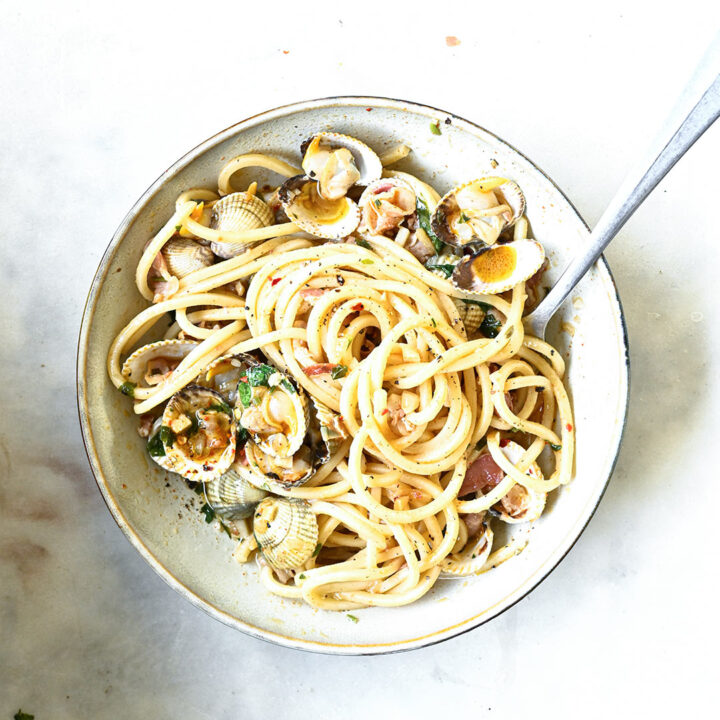 Ingredients
500 g/1.1 pounds littleneck clams
100 g/3.5 oz pancetta
300 g/10.5 oz spaghetti
3 tbsp olive oil
3 tbsp unsalted butter
4 garlic cloves, minced
1 shallot, finely chopped
120 ml/1/2 cup white wine
zest and juice from 1/2 lemon
1 tsp each: red pepper flakes, sweet paprika, salt, black pepper, fennel seeds
4 tbsp chopped parsley
Instructions
Rinse the fresh clams in cold water, scrub the outsides against each other to remove any dirt. Add to a bowl of salted water and set aside while preparing the dish.
Bring a large pot of salted water to a boil and cook the spaghetti al dente. Scoop up 1/2 cup cooking water, then drain the spaghetti.
In the meantime, heat olive oil in a large skillet over medium heat. Add pancetta, cook until crisp, about 3-5 minutes. Lower the heat, add garlic and onion. Cook until fragrant, about 2 minutes.
Deglaze the skillet with a splash of white wine. Stir with a wooden spoon to dissolve the browned bits from the bottom of the skillet. Simmer for 1 minute.
Stir in spices, then pour in the remaining white wine. Lift the clams from their bowl and transfer them to a new one filled with cold water, drain. Next, add clams to the skillet, stir and cover the skillet. Simmer for 8-10 minutes.
When ready, stir in butter and 1/4 cup of the cooking water. Add lemon zest and juice. To finish, add spaghetti and parsley to the skillet and cook for 30 seconds more, while tossing it.
Taste, adjust salt and give it a good grind of pepper.
Divide the pasta between bowls and spoon all the clams and sauce over the spaghetti. Enjoy!
Notes
Calories Per Serving: 479 kcal
Nutritional information is only an estimate. The accuracy of the nutritional information for any recipe on this site is not guaranteed.

//= __('Print recipe (no photos)', 'servingdumplings' );?> //= __('Print recipe (with photos)', 'servingdumplings' );?>