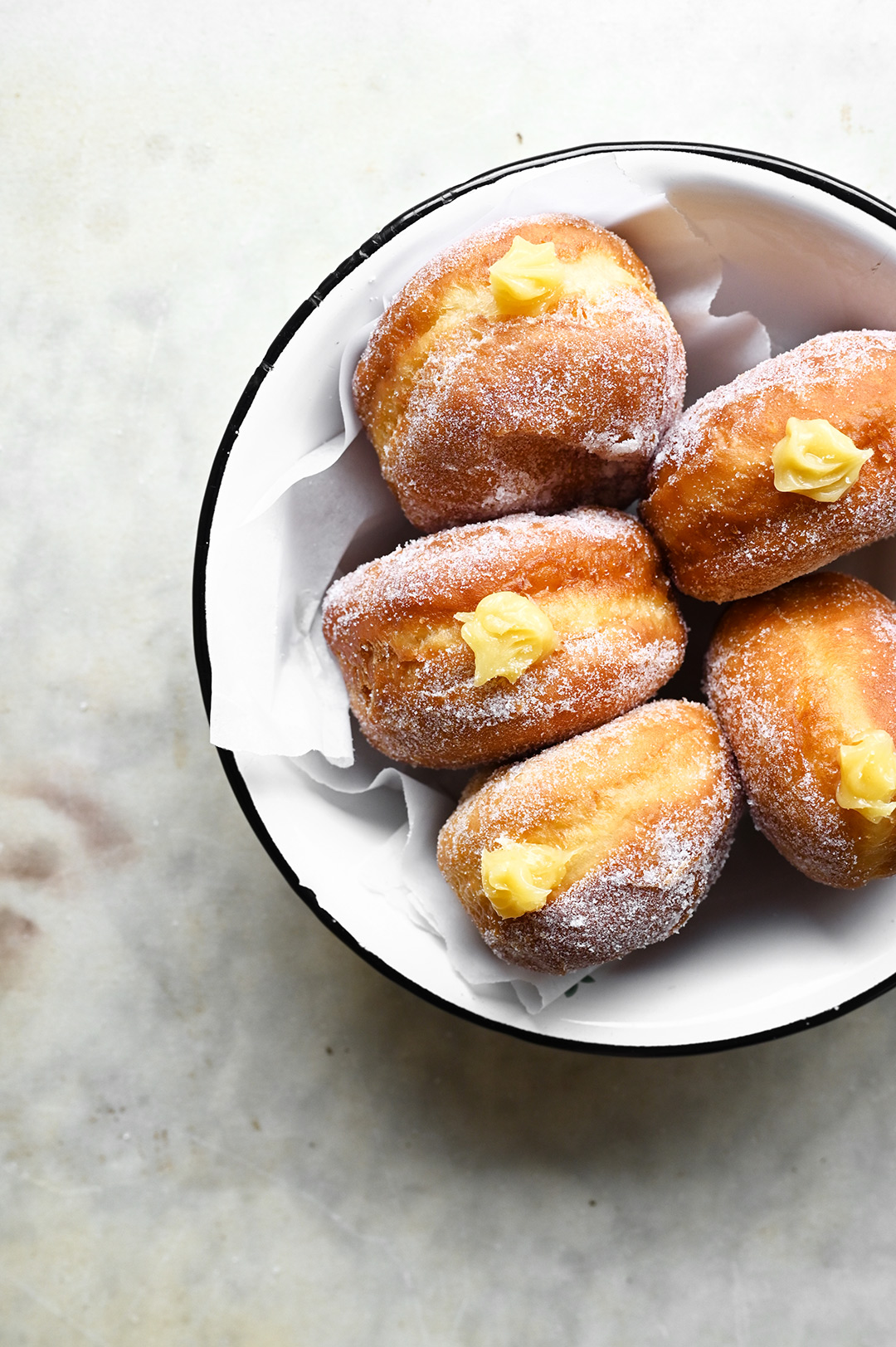 Donuts… for me, there isn't much in this world that's better than a good donut. Sure, they can be doused in sugary glaze, but the dough itself shouldn't be too sweet, just bouncy yeasted dough, soft yet fluffy and perfectly chewy. With an airy interior which easily makes room for a filling.
The real reason donuts are so wonderful to me is kind of sentimental and the connection they have with my past. When I was little I used to live next door to a bakery where they made the best filled donuts in the city. I used to sneak out to buy these warm pillows filled with jelly, and enjoy their best possible state shortly after they came warm out of the fryer.
So here, a yeasted donut-dough that I absolutely love and can't get enough of.  Each bite is perfect, they bounce like a pillow between your fingers, but jump back after every satisfying bite, leaving you craving for more.
All in all, in a short note, the secret for a really great donut is: don't overmix your dough. Take the time to let it rise. Use fresh yeast, instead of dry. Fry those babies, baked donuts are a thing but there ain't nothin' like the real thing. Drain. Top with sugar or glaze them. Stuff with your favorite filling (besides lemon curd, my favorite is salted caramel). Eat them fresh, donuts are best the same day. If you must, keep them in an airtight container overnight.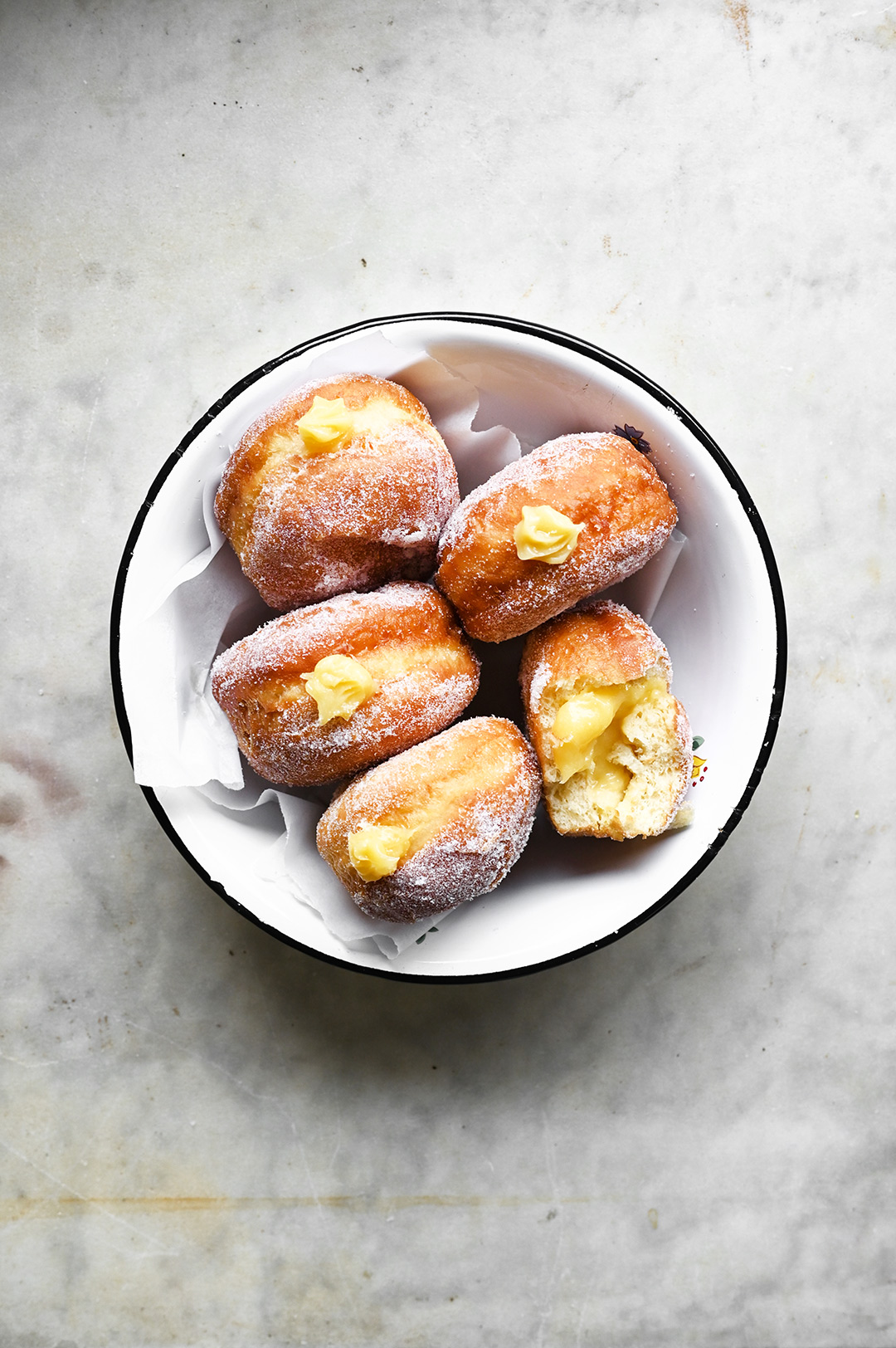 Ingredients
all ingredients should be at room temperature
donuts
25 g fresh yeast
120 ml warm, whole milk (35C)
1 tbsp honey
2 yolks
1 egg
4 tbsp sugar
300 g all-purpose flour + 2  tbsp
pinch of salt
35 g soft butter
lemon curd
2 egg yolks
90 g caster sugar
juice from 1 lemon
1/4 lemon, zested
70 g butter
also
vegetable oil, for frying
sugar, for topping (or icing sugar or simple glaze)
Instructions
If you're filling the donuts with lemon curd, make this first. You can also fill them with jelly, nutella, salted caramel…
Whisk the egg yolks and sugar in a glass bowl just to combine. Add the lemon juice and zest. Place the bowl over a saucepan of simmering water, making sure the base of the bowl doesn't touch the water. Whisk every 5 minutes until thickened, it should have the consistency of thick whipped cream . If the water in your saucepan start to boil just turn it down to a simmer. All you need is a gentle heat to cook the curd slowly, it should take 30 minutes. Remove the curd from the heat and start adding the butter a little at a time, whisking after each addition. Cover it in plastic wrap and place in the fridge for 2 hours or overnight.

In a big bowl, combine yeast with warm milk, 2 tbsp flour and honey. Let stand at room temperature for 30 minutes.
In the meantime, beat the egg with egg yolks and sugar until the mixture turns pale in color and gains volume. Sift the flour, add salt and the yeast mixture, knead for about 8 minutes. Add the soft butter, little by little and knead until combined, for 10 minutes. It will be quite sticky. Transfer the finished dough to an oiled bowl and cover. Allow it to rise until doubled in size, about 1 hour and 30 minutes at room temperature.
Remove the dough from the bowl, knead slightly on a floured surface. Roll out the dough to about 2 cm thickness. Use a cookie cutter or a small glass to cut out donuts. Cover and let rise for 1 hour at room temperature.

Heat the oil to about 170°C. You can test with a piece of dough, if it rises rapidly to the surface, the oil is ready. If the donuts begin to brown too quickly, the oil is too hot. You might have to raise or lower your heat.
Fry the donuts, turning them halfway through cooking, until they're golden brown on each side. Drain on paper towels.

Top the donuts immediately: add sugar to a medium bowl, dunk the donuts into the sugar coating both sides.
Spoon the lemon curd into your piping bag fitted with a thin round tip. Insert the tip into the donut, gently squeezing the filling inside. Squeeze slowly, so that the filling has a chance to reach into the air pockets in the donut and generously fill it. Serve and enjoy.

Donuts are best served immediately. Keep leftovers covered tightly at room temperature, for 1 day.

//= __('Print recipe (no photos)', 'servingdumplings' );?> //= __('Print recipe (with photos)', 'servingdumplings' );?>