A super easy pasta dish with bacon in a smoky tomato sauce. Jazzed up with cherry tomatoes and Parmesan for a smooth creamy finishing touch. This pasta is anything but boring, in fact it is sensational.
Tomato paste and smoked bacon form the base for this sauce, they lend lots of flavor, while the fresh tomatoes add a bright tang. It's hearty, super delicious and ready in 20 minutes. It can easily be made on a weeknight, but it's indulgent enough for a date night. Extraordinarily simple and minimalistic, but very satisfying.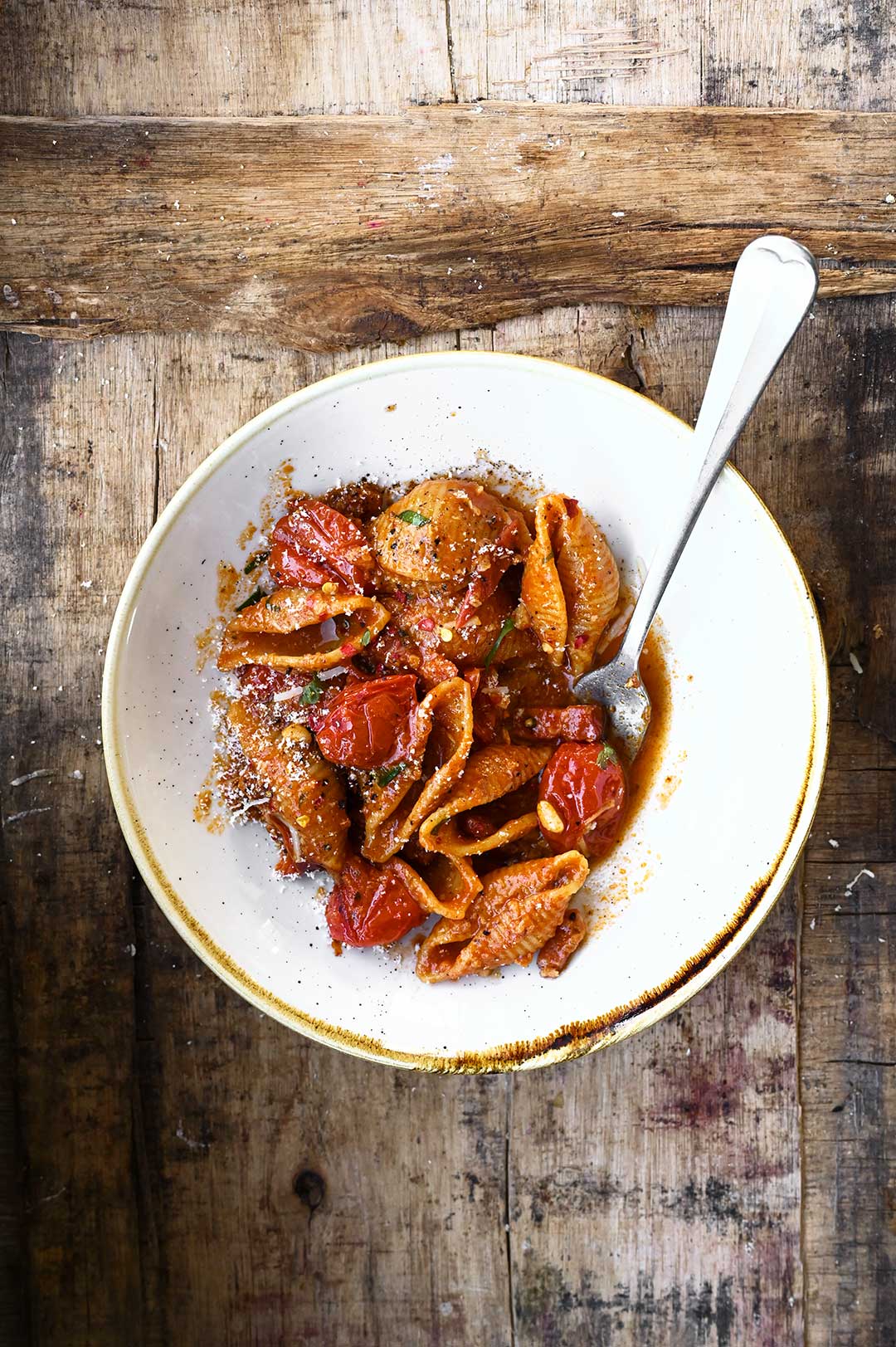 We start by boiling the pasta. While that happens, we cook the bacon until crispy, add tomato paste, garlic and spices. Then we stir in the cherry tomatoes and simmer for a few minutes, add pasta along with some cooking water for a silky sauce, et voila! Ready in no-time, but extremely flavorful. Sprinkle with toasted pine nuts and some chili flakes for an exciting kick. Serve with a simple side salad, drizzled with olive oil and balsamic vinegar.
Let me guide you through the recipe with this, step-by-step VIDEO.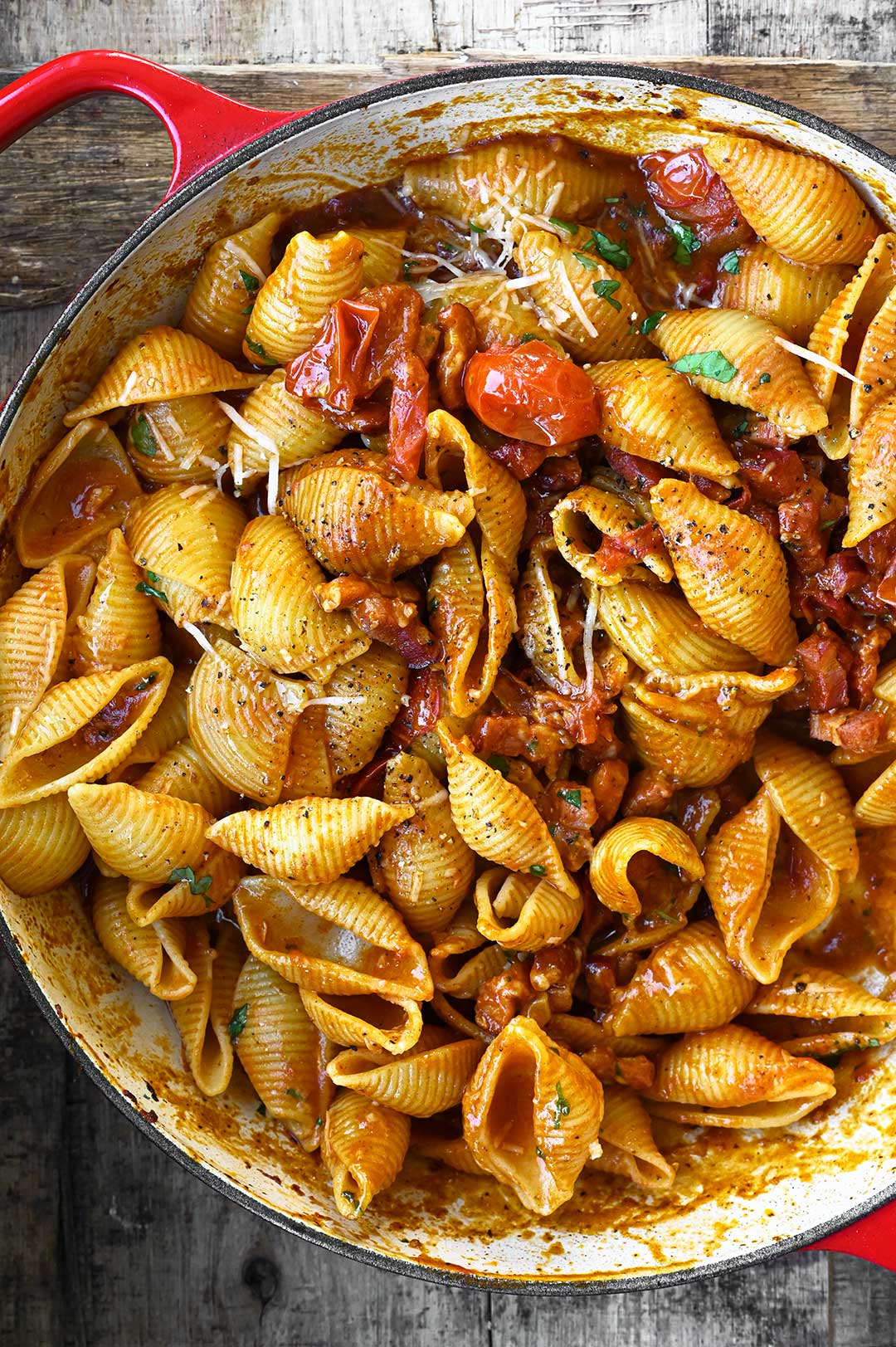 More pasta, please!
Pasta with sun-dried tomato ricotta pesto
Red Pesto Pasta with Mushrooms and Sun-dried Tomatoes
Brown Butter Orecchiette with Walnuts and Sage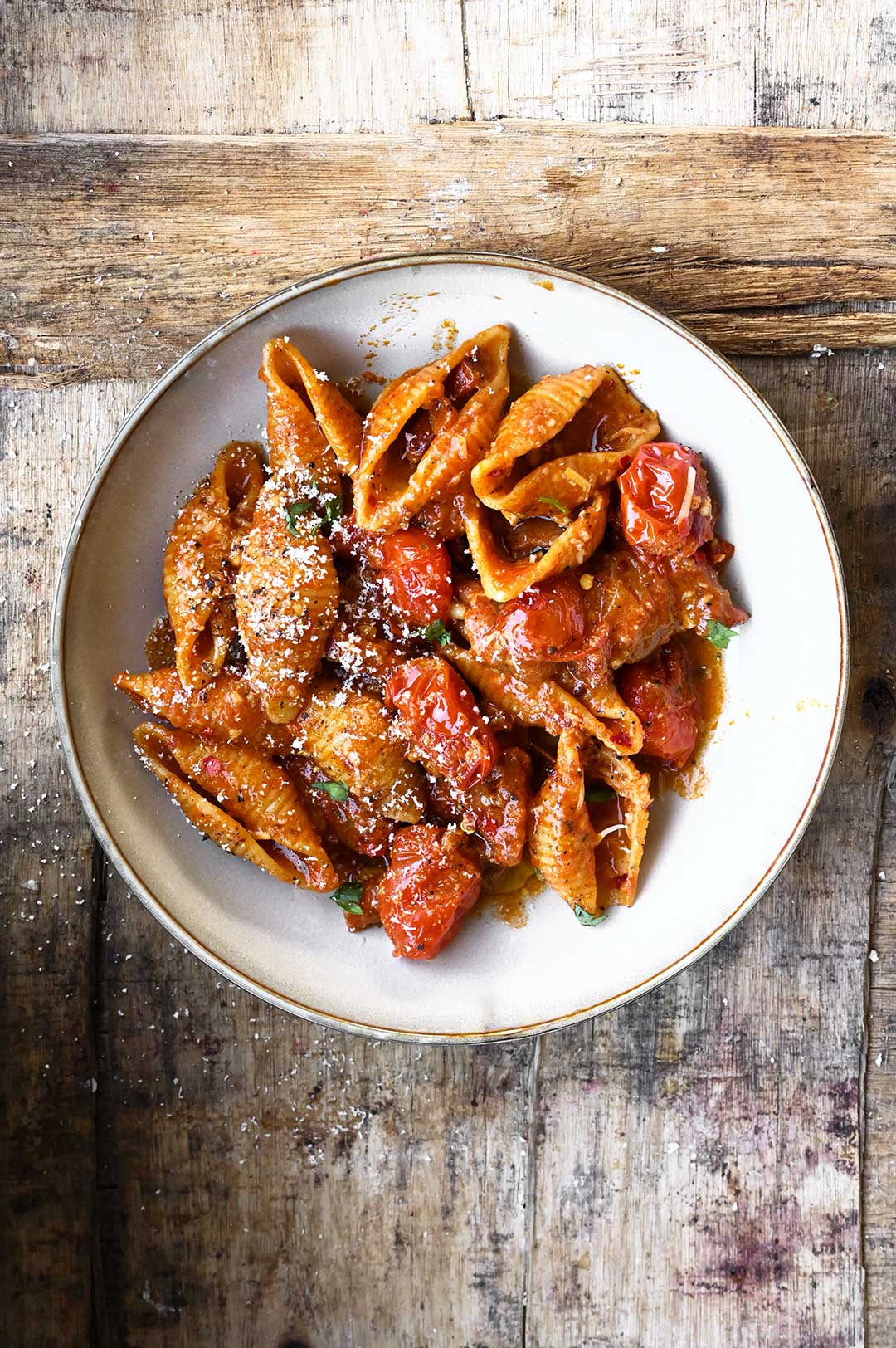 You need
200 g (7 oz) pasta, shells or orecchiette
200 g (7oz) smoked bacon bits
250 g (8.8 oz) cherry tomatoes
50 g (1.7 oz) grated Parmesan, more for serving
70 g (2.5 oz) tomato paste
2 garlic cloves, minced
1 tbsp butter
1 tbsp olive oil
1/2 tsp salt
2 tsp black pepper
1 tsp each: dried oregano, smoked paprika
2 tbsp chopped fresh parsley
red chili flakes, for serving
toasted pine nuts, for serving
Recipe Video
How to
Cook the pasta in a large pot of boiling, generously salted water. Drain, reserving 1 cup of the cooking water.
Heat a large non-stick skillet over medium high heat. Add olive oil and butter. When the butter is melted, add bacon. Cook until crispy and golden brown, stirring occasionally, for about 5 minutes. Add black pepper, cook for 1 minute more. Season with salt, oregano and smoked paprika. Lower the heat and stir in tomato paste, cook for 1 minute.
Add cherry tomatoes and garlic, cook about 2 minutes or until the tomatoes start to burst. Press on the back of the tomatoes with a wooden spoon to release their juices and stir to combine. Add 1/2 cup of the pasta cooking water, bring to a boil.
Toss with pasta and parsley. Remove from heat. Add parmesan, stir until smooth and glossy. Add more cooking water if needed.
Divide pasta among bowls, sprinkle with chili flakes and toasted pine nuts. Serve with extra Parmesan. Enjoy!
PRINT RECIPE