Roasted Eggplant with Smokey Chickpeas and Parmesan. A healthy vegetarian recipe made with crispy smokey chickpeas, parmesan and sun dried tomatoes, all roasted on a soft eggplant and served with spicy aioli. This simple sheet pan recipe can be both, a healthy dinner or a side dish. Can you imagine this with some grilled salmon?! But however you decide to serve it, you're going to love it.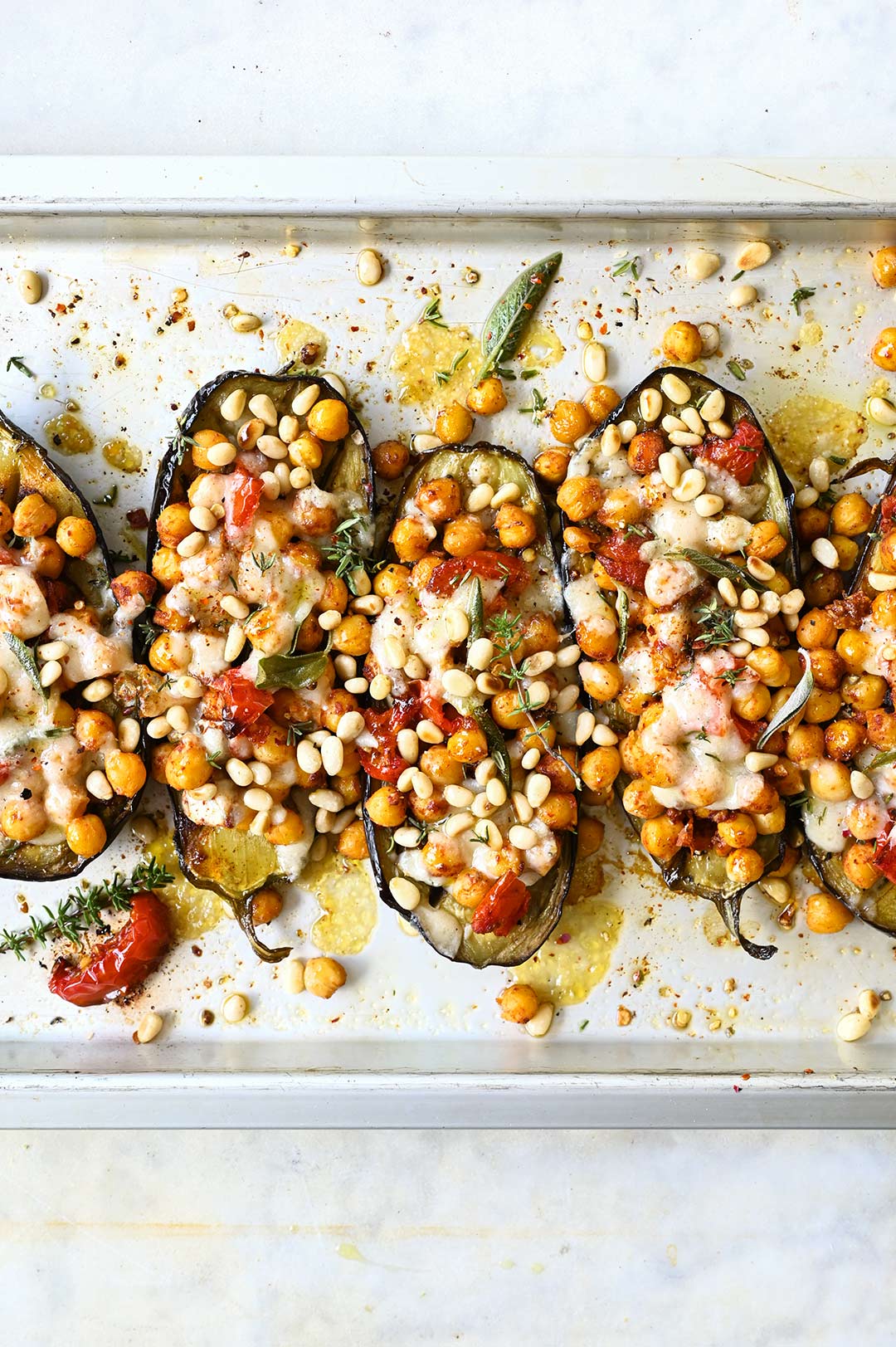 This roasted eggplant with chickpeas is exactly my type of meal. It's uncomplicated, satisfying, and doesn't skimp on flavor. And it's not one of those crazy meals that take over an hour to make. Of course, when eating simpler meals, high-quality ingredients are a must. They impart the ultimate flavor, nutrition and overall deliciousness.
A very delicious vegetarian roasted eggplant recipe. It's different, unique, tasty and pretty simple to throw together too. The entire recipe is made on only one sheet pan. No boiling water, no stove-top, just a baking sheet and some time in the oven.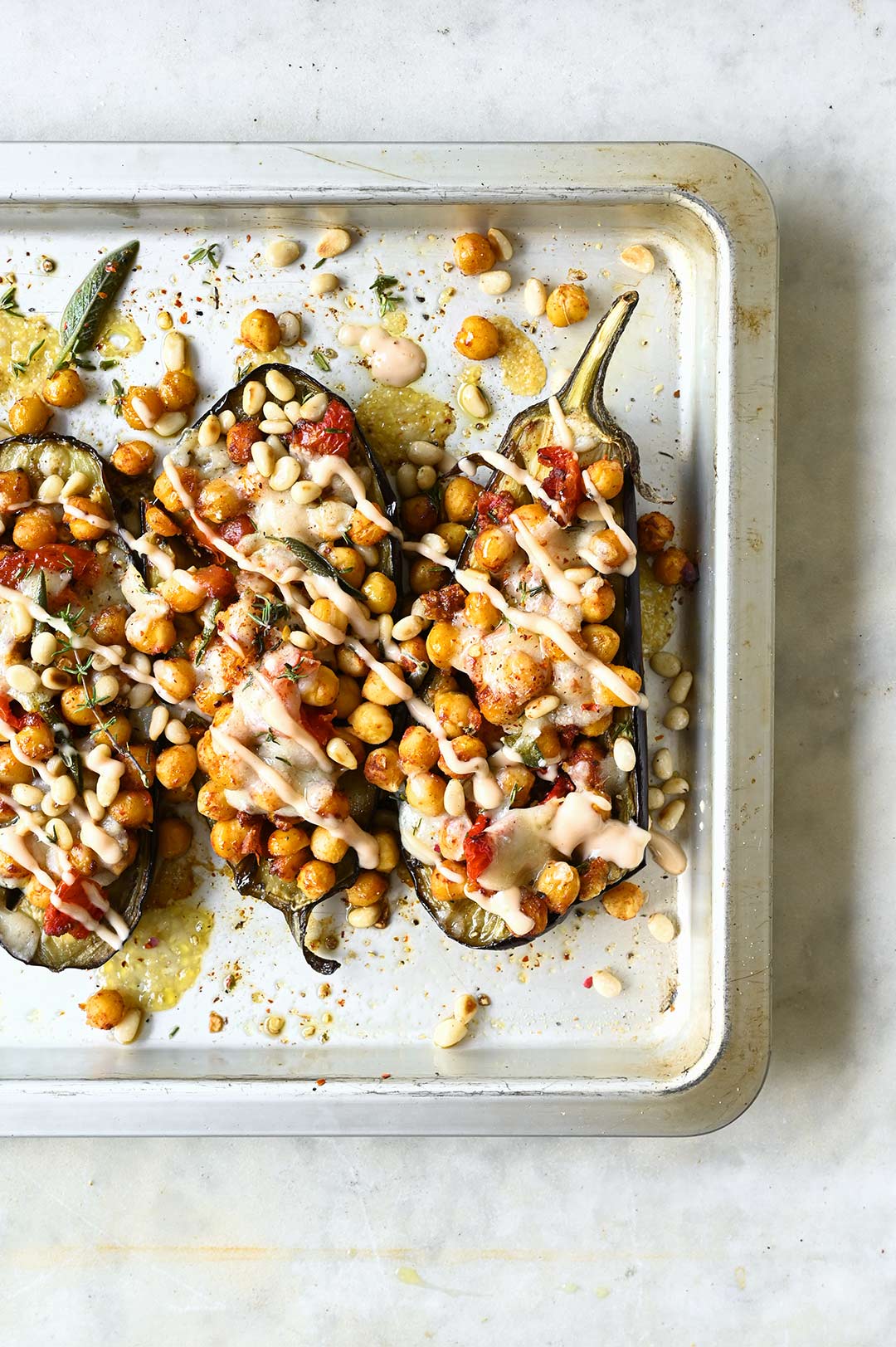 RECIPE NOTES
not a fan of chickpeas? use cannellini beans
instead of sun-dried tomatoes, use roasted pepper
serves 2 as a main course with a side salad and some crusty bread
or 4 as a side with salmon, chicken or steak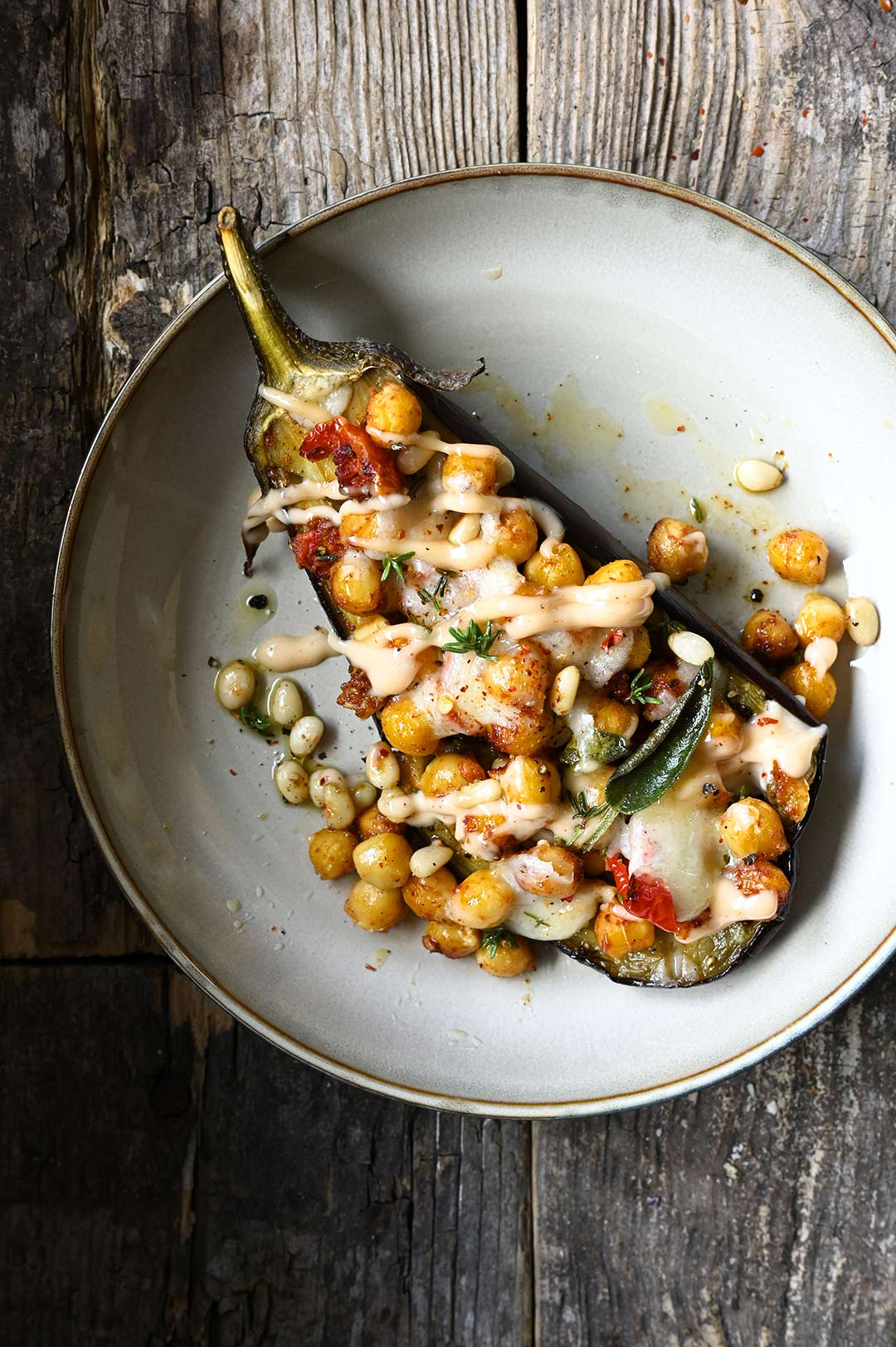 Looking for more eggplant recipes inspiration?
Try one of these favorites.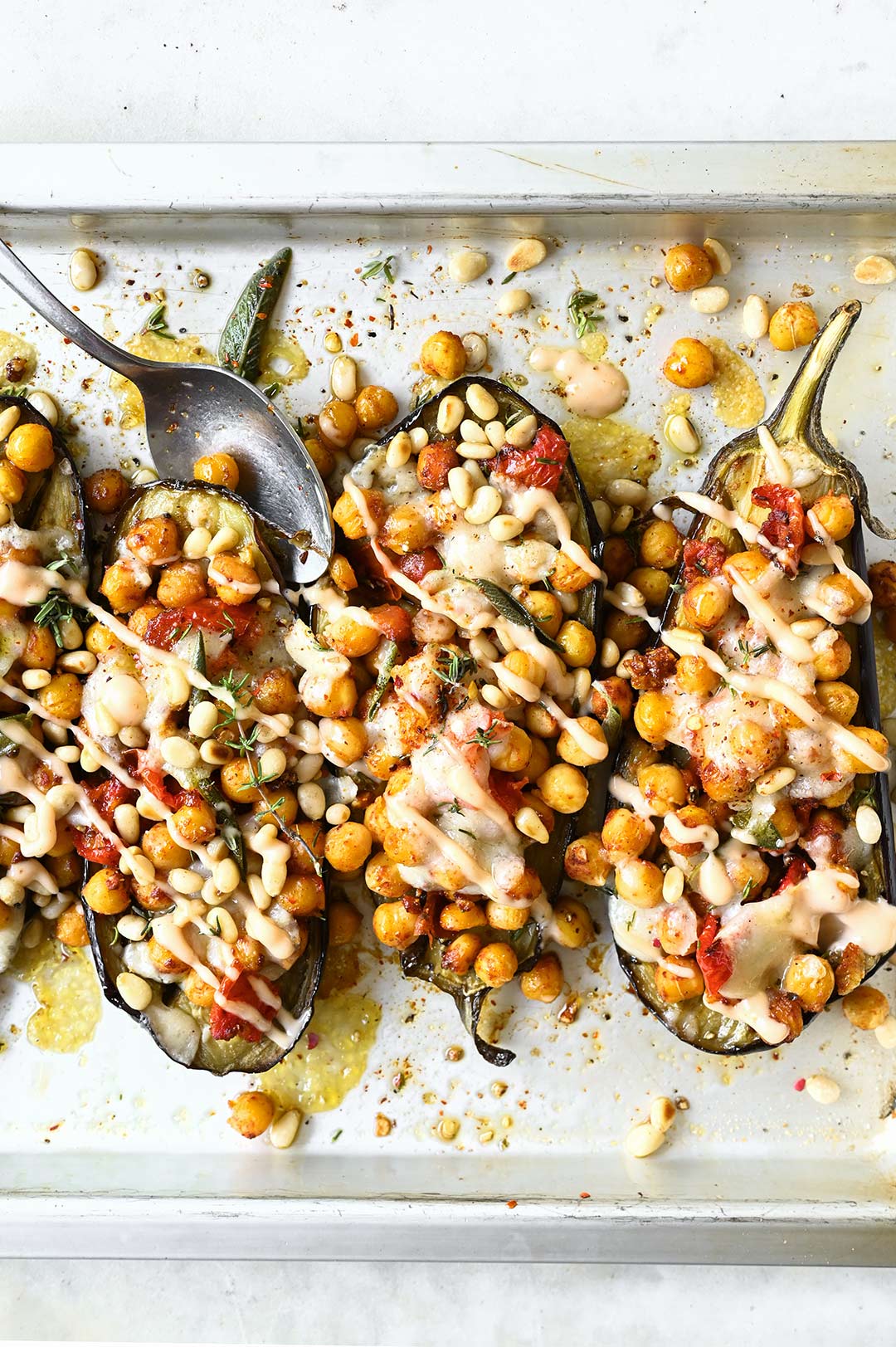 Yield: serves 2
Roasted Eggplant with Smokey Chickpeas and Parmesan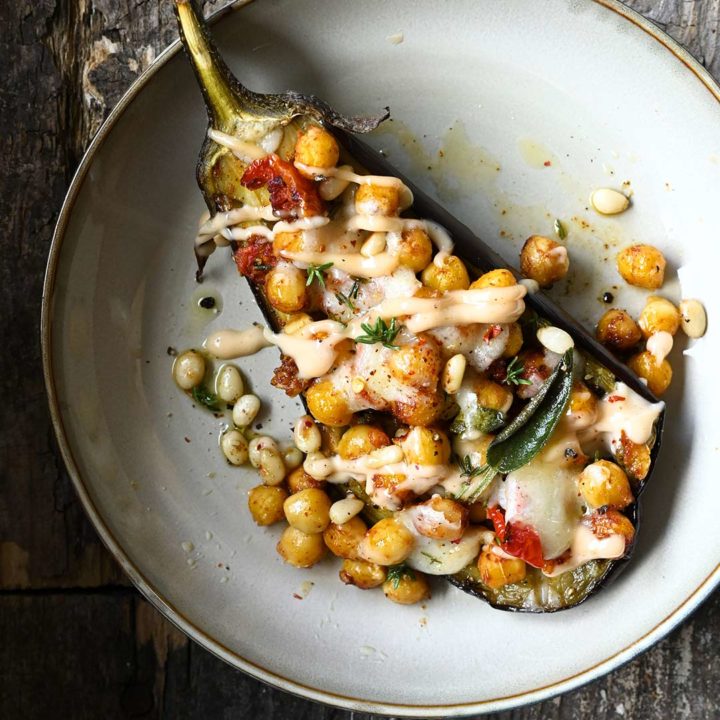 Ingredients
2 eggplants
5.5 ounces/150 g chickpeas, drained
2 ounces/50 g sun dried tomatoes
2 ounces/50 g grated parmesan
4 tbsp pine nuts
fresh thyme and sage leaves
olive oil
smoked paprika
sea salt + black pepper
1 garlic clove, minced
1 tsp lemon juice
1 tsp crushed chili flakes
Spicy Aioli
3 tbsp mayonaise
1 garlic clove, minced
1 tsp ketchup
1 tsp crushed chili flakes
Instructions
Preheat the oven to 200°C.
Cut the eggplants in half lengthwise. With a sharp knife, score the flesh deeply in a diamond cross-hatch pattern, without cutting into the skin. Brush the surface of each half with olive oil and don't forget to go into the cuts. Sprinkle generously with salt, pepper and smoked paprika. Place on a baking sheet and roast for 20 minutes.
In the meantime, combine the chickpeas with sun dried tomatoes, 2 teaspoons smoked paprika, salt, pepper, lemon juice, crushed chili flakes, thyme and sage.
To make the aioli sauce, combine the ingredients in a small bowl.
Remove the eggplants from the oven, spoon the chickpea mixture over the roasted eggplants halves and sprinkle with parmesan and pine nuts. Return to the oven and roast for another 10-15 minutes or until the aubergines are soft and the cheese has melted.
To serve, plate the eggplants and top with fresh thyme and sage leaves and a drizzle of spicy aioli. Enjoy!
Notes
Calories Per Serving: 412 kcal
Nutritional information is only an estimate. The accuracy of the nutritional information for any recipe on this site is not guaranteed.