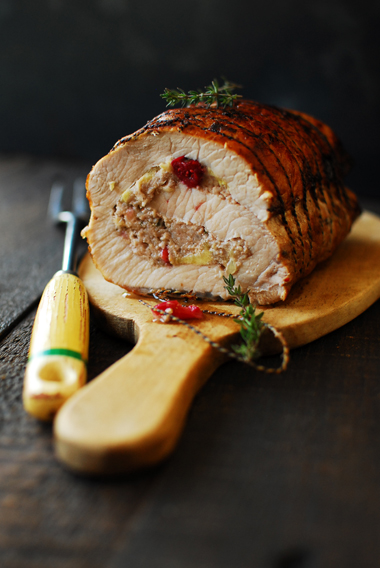 Slow roasted pork tenderloin with a golden crust, stuffed with minced meat and cranberries. The meat is roasted for 2 hours at low temperature, it's the only secret that makes the meat just melt in your mouth. It's tender, juicy and perfect.
Ingredients
1 kg pork tenderloin
200 g minced pork
50 g fresh cranberries
1 apple (Jonagold), cut into cubes
1 slice of bread
3 tablespoons milk
2 cups beef broth
2 sprigs thyme
1 bay leaf
3 tablespoons butter
1 tablespoon olive oil
1 teaspoon sweet paprika
salt and freshly ground pepper
Instructions
Preheat the oven to 160°C. Soak the slice of bread in milk. Heat a tablespoon of butter in a frying pan and simmer the apple for 5 minutes. Mash with a fork, add the cranberries and simmer for 10 minutes.
Combine the minced meat with the soaked bread, thyme, apple and cranberries. Season with salt and pepper.
Cut the pork lengthwise and spoon the stuffing. Roll the pork over the stuffing and tie up tightly with butcher's twine.
Heat the butter in a frying pan, bake the pork on each side until golden brown. Than transfer to a roasting pan, pour the broth, sprinkle with olive oil, season with salt, pepper and paprika and add the bay leaf.  Place in the oven, reduce the temperature to 140°C and roast for about 2 hours. Remove from the oven, cover with foil and let rest for 10 minutes before serving. Enjoy!